ALABAMA FOOTPRINTS – Removal includes many of the speeches, letters and methods used by the U. S. Government to remove the Native Americans from the South.
Makes a great gift!
(Also available as a Kindle book here)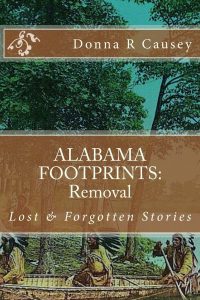 This book documents many of the treaties, enticement, and reasons why the Native-American were forced to leave the South. Beginning with President Thomas Jefferson, the actual excerpts of letters and transcriptions of speeches, and plans of the government made by all parties are included in the book. Through intrigue, greed, and murder, Native-American rights were extinguished in their homeland.
This makes the seventh book in the series. Do you have all the books from the Alabama Footprints Series? Books make great gifts!
Stories include
The true story of the first Mardi Gras in America and where it took place
The Mississippi Bubble Burst – how it affected the settlers
Did you know that many people devoted to the Crown settled in Alabama-
Sophia McGillivray- what she did when she was nine months pregnant
Alabama had its first Interstate in the early days of settlement
Settlement
Stories include
A Russian princess settling in early Alabama
How the early setters traveled to Alabama and the risks they took
A ruse that saved immigrants lives while traveling through Native-American Territory
Alliances formed with the Native-Americans
How an independent republic, separate from the United States was almost formed in Alabama
Stories include
The Yazoo land fraud
Daily life as an Alabama pioneer
The capture and arrest of Vice-president Aaron Burr
The early life of William Barrett Travis, hero of the Alamo;
Description of Native-Americans of early Alabama & the visit by Tecumseh
Treaties and building the first roads in Alabama
Stories include
Tecumseh Causes Earthquake
Terrified Settlers Abandon Farms
Survivor Stories From Fort Mims Massacre
Hillabee Massacre
Threat of Starvation Men Turn To Mutiny
Red Eagle After The War
Stories include
The Birth of Twickenham
Captain Slick – Fact or Fiction
Vine & Olive Company
The Death of Stooka
President Monroe's Surprise Visit To Huntsville
Stories include
Who Controlled And Organized The New State of Alabama?
Tuscaloosa Had Three Other Names
Chandelier Falls & Capitol Burns
Alabama Throws Parties For General LaFayette
Francis Scott Key Was Sent to Alabama To Solve Problems
Stories include
Intrigue and murder after Treaty at Indian Springs
President Adams and Governor in a stand-off
Gold causes Expulsion of the Cherokees
Cherokee Chief Ross became homeless
Plan For Indian Removal Started With President Thomas Jefferson