(TRANSCRIBED FROM The Alabama Historical Quarterly, Vol. 02, No. 03, Fall Issue 1940)
RECOLLECTIONS OF WILLIAM L. YANCEY
By Joel Barnett
(The letter reproduced here was originally printed in the Montgomery Advertiser, July 18, 1914. Mr. Barnett, long since dead, was acquainted with all the public men of his times and knew Mr. Yancey in an intimate way.)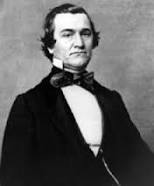 Photograph of William Lowndes Yancey
Editor The Advertiser:
I hope you will permit me to commend in an humble way the plans now in motion for the celebration of the 100th anniversary of the birth of one of Montgomery's greatest citizens, Hon. William L. Yancey.
Although but a young man when Mr. Yancey passed from the political stage in the South, I have very keen recollections of him as a man and as a statesman. In the flush of vigorous and enthusiastic youth, I held him as the model of what the leader of a great people should be. As a contribution to the series of recollections now occasionally appearing in your paper, this communication is written.
First time I saw Mr. Yancey
The first time I ever saw Mr. Yancey was at the home of Col. B. J. Baldwin, who then resided near Fitzpatrick station, now in Bullock, but then in Montgomery county. He was accompanied by Mr. George Hails, father of our fellow townsman, Mr. George Hails of the tax collector's office.
They were on their way to High Log, where Mr. Yancey was to speak in joint debate against Hon. Henry W. Hilliard. My boyish imagination was fired by the conversations of my elders, who characterized Mr. Yancey as the Demosthenes of fiery and impetuous speech, and Mr. Hilliard as the polished and faultness (sic) Cicero.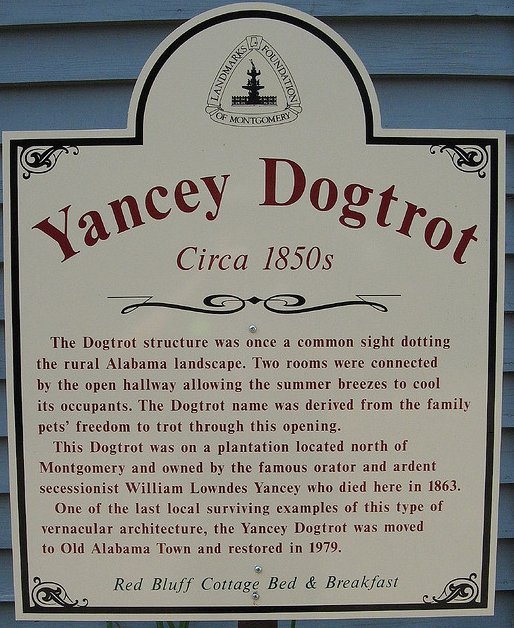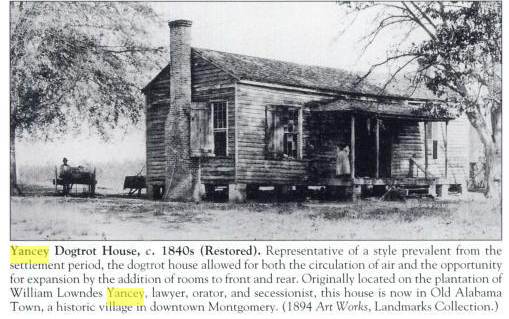 William Lowndes Yancey's admirers
Among the numerous devoted friends and admirers of Mr. Yancey in Montgomery were Mr. George Hails, above referred to, Dr. Carnot Bellinger, who had married the sister of Mr. Hails; Captain John Cheney, whose wife was the sister of Dr. Bellinger; Colonel Bolling Hall, Hon. John A. Elmore, Hon. W. P. Chilton, and a host of others. Among his young friends were Captain James Stewart, now living in Montgomery, and the late Col. John W. A. Sanford, of beloved memory.
Among others I should mention in this connection was Hon. James Yancey Brame. Sr., once sheriff of Montgomery county, and the father of my friend James Y. Brame, Jr., Montgomery. Mr. Brame was closely related to Mr. Yancey, as his middle name shows.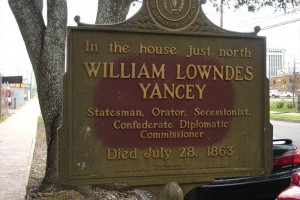 He was an effective speaker
I recall having heard Col. James Gilchrist relate, in that thrilling conversational style for which he was so much noted, that Mr. Yancey was never so effective in speaking as when he was faced by great opposition. From Colonel Gilchrist's statements it appears that Albert Jones had been murdered near McGehee's Switch in the lower part of this county, and that a number of negro slaves in that vicinity were charged with the offense. The citizens were intensely outraged, and the negroes were threatened with lynching. By request, Mr. Yancey and Colonel John A. Elmore drove out to the scene.
After a few moments' conference, Colonel Elmore appealed to Yancey to speak to the crowd in the attempt to quiet them, and to secure for the negroes a hearing. As a result of his appeal, Colonel Gilchrist states that the hot passion of the company was cooled, and that the negroes were turned over to the officers without harm.
His greatest speech
I have talked with many of our older men, who had heard Mr. Yancey on more than one occasion, and in great crises, say that perhaps his very greatest speech here was the one made by him at the Southern Commercial Convention which met in Montgomery in 1858, in opposition to Hon. Roger A. Pryor of Virginia.
This speech, it was said, placed Mr. Yancey in the front rank of constructive statesmen, and indicated large ability as an economist. Certain it is that the convention brought together some of the greatest leaders of the South. At that same convention Mr. Hilliard was also one of the speakers supporting Mr. Pryor.
Col. John W. A. Sanford, whom I have mentioned above, was certainly one of the most cultured men who ever lived in Montgomery. He was widely read and had an extended range of experience in public life. He told me once that he had heard all of the greatest orators of his time, including Prentiss, Clay, Webster and Douglas. Their best efforts, he said, were not equal to the best oratory of Yancey. He gave it to me as his deliberate opinion that Yancey was the greatest natural orator whom the United States had ever produced.
His health was impaired in 1862
Mr. Yancey returned from England in February, 1862. Soon after his return to Montgomery, he made a visit to Central Institute, then in Coosa, but now in, the upper part of Elmore county, Alabama. His son, Goodloe H. Yancey and I were then in attendance upon this far-famed school, conducted by Captain T. C. Bragg, one of Alabama's greatest ante-bellum teachers.
Mr. Yancey spent about three weeks there, and I saw him often. He was reserved, quiet of manner, and wholly unassuming. He made no speeches while there. He seemed to be in a serious and reflective state of mind, whether on account of the condition of the country or of his own health, which I later learned was much impaired, I do not know. Probably this was due to both causes.
JOEL BARNETT.
Montgomery, Ala., July 17, 1914
William Lowndes Yancey died of kidney disease in July 27, 1863
Discordance:: The Cottinghams 

Historical fiction series about the ancestors of a family who originally settled on the Eastern Shore of Virginia in 1638 and migrated to Alabama in the early 1800's.