[Here's an interesting news article from 1910 pleading for the football rivalry between Alabama and Auburn to continue in Birmingham after being suspended.]
Alabama and Auburn have met in the Iron Bowl for so many years that we may not realize that the two colleges refused to meet on the gridiron for a number of years. Alabama and Auburn (Auburn was then the Agricultural and Mechanical College of Alabama) played their first football game in Lakeview Park in Birmingham, on February 22, 1893.
Lakview Park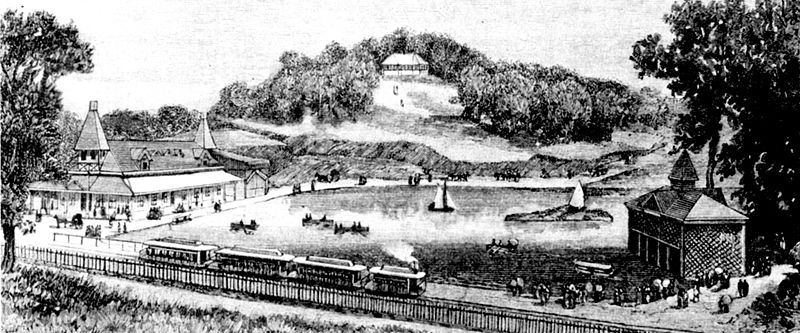 The series continued through 1907 and was suspended for several reasons, some of which are related in the news article from 1910 below. The series was not renewed again until 1948. Today the series is considered one of the best and most hard-fought rivalries in all of sports.
Howard College mentioned in the article below is now Samford University in Birmingham, Alabama.
Football Comment
The Tuscaloosa News September 22, 1910
(By Atticus Mullin in the Birmingham Ledger)
The three Alabama colleges are certainly unfortunate in their relations to each other. This season there is but one struggle between Alabama colleges. Howard plays Auburn. Alabama refuses to meet Howard and of course all know of the long-standing troubles between Auburn and Alabama.
Right now is the time for all of these troubles to be patched up. Auburn should meet Alabama every year in Birmingham. Alabama should meet Howard every year in Birmingham. Howard should meet Auburn every year in Birmingham.
Every game between the Alabama colleges would be a paying one. The expense of Auburn to Birmingham is but little. Alabama's expenses to Birmingham is very slight. It costs Howard nothing to play here. Then why in the name of common sense should the Alabama schools be running all over the south and as far north as Virginia to play schools when they could make money right here in Birmingham and give the local people a run for their money.
In spite of everything stated publicly to the contrary, Auburn's reasons for not wanting to play Alabama have been because Dr. J. W. H. Pollard was the Alabama coach and Auburn men had formed a deep-seated opposition to him. This is the milk in the cocoanut (sic) as far as Auburn is concerned.
The reason why Alabama would not play Auburn, in the opinion of the writer , when sifted down, came to this very Coach Pollard. All known that Pollard has a strong inclination to have things his own way. Now that he is not with Alabama any longer, the writer sincerely hopes that the silly differences between Auburn and Alabama will be settled and that next year we can see these two colleges meet on the gridiron.
Let the Auburn and Alabama alumni in Birmingham come out publicly and say what they think about the plan of getting together.