It Happened at 4:01 P.M.
(Transcription from a history of Tuscaloosa written by an older resident, Ben A. Green, in 1931 who was the managing editor of The Tuscaloosa News July 31, 1949)
March 21, 1932 at 4:01 p.m. brought to Tuscaloosa and Northport this community's greatest weather tragedy. It was a vicious death-dealing tornado that crushed out 38 lives, sent 250 other persons to the hospital, destroyed 98 homes, damaged hundreds of other buildings, and caused 2,000 persons to be temporarily homeless. During that emergency period which followed the Tuscaloosa Red Cross Chapter and the American Red Cross spent almost $50,000 in relief and rehabilitation, restoring scores to normal security. Storm fatalities included 22 negroes and 16 white persons.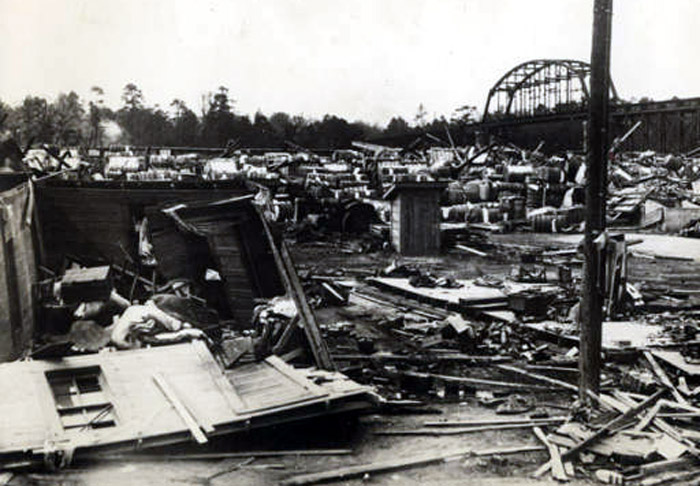 The natural storm overshadowed the growing "depression" that year, and caused thousands of Tuscaloosans to become "storm-conscious" for the rest of their lives. Just two weeks before the Northport tornado there was a similar storm at Moundville which took nine lives and caused much damage.
Gave birth to twins
The March 21, tornado advanced upon Tuscaloosa from the southwest, coursing along the Eutaw Highway. It dipped at a point about two miles south of West End. A fringe of the wind struck the Tuscaloosa Country Club, demolishing the clubhouse and littering the golf course with trees. The club clock was stopped at exactly 4:01 p.m. One person was killed on Sanders Ferry Road. Several score were injured in that area. Mrs. Edward Tucker had a house blown from around her, but was unhurt. Twenty-four hours later she gave birth to twins at Druid City Hospital.
Tornado fury was vented upon the center of Northport, after the whirling vacuum had passed over the Warrior River and caused a brief water-spout to burst from the stream. Six men were killed when a brick livery stable collapsed. The storm cut a path some 300 yards wide and five miles long, causing extensive damage to homes along Bridge Street. The entire area between Bridge Street and Main Street for two blocks north of the river was converted into a jumble of wreckage.
Druid City Hospital became an emergency first aid center, and the University gymnasium was pressed into use as a temporary hospital with small cots on the gym floor. Hundreds of students helped with emergency rescue work. Uniformed National guardsmen were on the scene within a half hour after the storm struck.
Strange stories and miraculous escapes
Strange stories abounded about miraculous escapes, chickens picked clean by the wind, furniture blown for half a mile, and reports of deaths which proved to be erroneous. The Tuscaloosa News printed an extra at 7 p.m., as soon as electric power was restored. A lumberman reported dead in the extra, believed caught under wreckage at his plant, was later found to be alive among the rescue workers. George Drolet, long a leader in Red Cross work, directed much of the rehabilitation effort with the assistance of B. P. Head. Dr. George H. Lang was chapter chairman and Mrs. Jennie Brown, chapter secretary. Both served valiantly for many years.
Discordance: The Cottinghams
 Inspired by true events and the Cottingham family that resided in 17th century Somerset, Maryland, and Delaware, colonial America comes alive with pirate attacks, religious discord, and governmental disagreements in the pre-Revolutionary War days of America.