Jeremiah Austill ((1793- 1881) was one of the participants of the famous Canoe Fight that took place in Alabama in 1813. We hear his actual words in this autobiography from him. The autobiography was published in The Alabama Historical Quarterly in 1944 and the fourth part of the article is transcribed here which tells about the relationship with the Native Americans
JEREMIAH AUSTILL AUTOBIOGRAPHY
Part IV
Soon after, Weatherford surrendered, and peace was made with the Indians, whereupon the people of Georgia commenced moving upon the Alabama.
Weatherford's surrender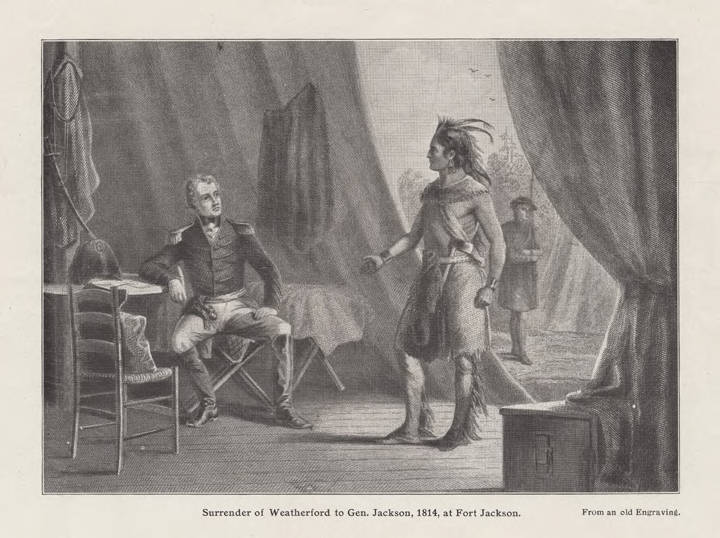 I determined to select a location, and went up with eight others to settle about the Tallapoosa. I made a location on the bluff where Montgomery now stands.
At the same time, Col. Fisher, of St. Stephens, induced a man by the name of Jones, wife and two daughters, to occupy a Mail Stand, on the road above Murder Creek, near a small creek, with a view of resuming the transportation of the mail, and upon my return, I reached within five miles of Jones—leaving the road some half mile, camped for the night, lest the Indians might be on my track, as it was known that small parties were still out.
Murder Creek, Escambia County, Alabama
The next morning, just after sunrise, I crossed the creek, proceeded fifty yards, ascended an abrupt elevation of ten feet, in full view of the stand twenty yards off. At that instant, Jones cried "Murder!" and I saw four Indians holding him down on his back, and another elevating his tomahawk to split his head, and with a flash of mind, I looked back and called out "Come on", and charged upon the Indians, who let go Jones, and fled for the swamp some three hundred yards. I passed Jones in hot pursuit, as he was rising up, and he said, "Ah, damn you, you run now, do you."
Three Indians fired at me
I pursued on until they approached the swamp. I then drew up and looked back and abused my Company for not coming up. Three of the Indians fired on me as they entered the cane, without effect. I remained there some ten minutes, talking all the time, that they might believe that I was not alone. On my return, Jones and his family, whom the Indians had not seen, being after water, had packed up their clothing and were on the way to Claiborne. I remained with them for some ten miles, I then left, and reached Claiborne that night. The next day Jones arrived and said to me he would stop until he reached the Mississippi.
I reached Mobile at sunrise
Soon after, the Government forbid all persons from settling upon public land without a special permit. My uncle, Col. D. Files, was then opening a store at St. Stephens, and urged me to abandon my contemplated location at Montgomery, and act as clerk for him; this was in the latter part of 1815, where I remained until the month of November, when John Hillard died in Mobile, to whom my Uncle had given a letter of credit for twenty thousand dollars, and had just arrived with a stock of goods. On receipt of the news, I mounted a horse and reached Mobile at sunrise, discharged the goods, and opened the store and sold about three-fourths of the stock up to the first of June. I then shipped the balance to St. Stephens.
Came down with yellow fever
Soon after my Uncle was appointed paymaster to settle the debts incurred during the war, with a draft on New Orleans for the money. I set out for New Orleans, and arrived there by steamer the 28th July, drew the money, bought a bill of groceries, and on the first clay of August was taken with yellow fever, and would certainly have died but for Dr. Carr, who insulted me very highly, and I discharged him, and my friends called in a German doctor—and from one hundred and eighty pounds I was reduced to less than one hundred, and did not leave until the 8th of September, and it is more than probable that I would have been robbed and murdered on my return.
Two butchers and a Creole, hearing that I was to bring a considerable amount of money on my return, waylaid the road fifteen miles above Mobile for some time, being disappointed, they robbed a stranger coming down to the city of six hundred dollars. The Creole was taken upon suspicion and turned State's evidence. The butchers escaped, so ended the case.
SOURCE
The Alabama Historical Quarterly, Vol. 06, No. 01, Spring Issue 1944. The autobiography of one of Alabama's most distinguished pioneer citizens. (This valuable paper was presented to the Alabama State Department of Archives and History in 1912 by R. T. Irvin, of Mobile. It had probably come into Mr. Irvin's hands through Judge Henriosco Austill, son of Jere Austin. It was through Judge Austill that a very beautiful oil portrait of his father was presented to the Department and hangs on the walls of the World War Memorial Building in Montgomery. Judge Austill came to Clarke County with his father in 1813 and took part in succeeding years in the perilous border warfare of that day. He was only nineteen years of age when he participated in the famous Canoe Fight with Sam Dale and others. In his mature years, he became an extensive planter, raising huge cotton crops. Descendants reside in South Alabama, Virginia and other sections of the country. He died in 1881.)
Check out genealogy books and novels by Donna R. Causey