REMINISCENSES OF THE EARLY DAYS IN CHAMBERS COUNTY
By E. G. Richards1
VI
The first family that ever lived in what is now the town of LaFayette was that of John Atkins. Mr. Atkins was a resident of West Point, Ga., at the time the selection of the county site for Chambers County was made. He was a carpenter by trade and had but recently married. He at once determined to settle at said county site, believing it a good place to follow his trade. Accordingly, in the month of August 1833, Mr. Atkins, with some hands to assist him, went to said county site, which was then in its natural forest, cut down timber and built him a comfortable log house and soon after completing his house moved his family to the same.
This scribe was then living in West Point, Ga., and was reading law, and desired to look out a suitable location for the practice after admission. As such he rode out to the new county site one evening to look at the place and surrounding country, while Mr. Atkins was building his house and found him just completing covering the same. This was late in the evening. I spent the night with him.
After supper, he and his assistants by bedtime had hewed some puncheons which they had prepared out of split logs for flooring, sufficient for us to sleep on. So, with our saddle blankets for bedding, John Atkins and myself slept the first night in the first house that was ever built in what is now the town of LaFayette, Alabama. In a short while after Mr. Atkins moved his family to his new residence.
Three other families moved there
W. H. H. House, Clerk of the Circuit Court, also built a house and moved there. Then followed Henry T. Dawson, from Butts County, Ga., and James Thompson, late of Jefferson County, Ala., who was then Judge of the Chambers County court.
The above named four families were all the white families that were living at said county site, at the sale of the town lots, which sale was had on the 23rd day of October 1833. Said sale was largely attended and the lots all sold at fair prices. A number of those who purchased lots at this sale commenced building as early as possible, and the town built up rapidly. But one difficulty in the way of improvement was a want of sawed lumber.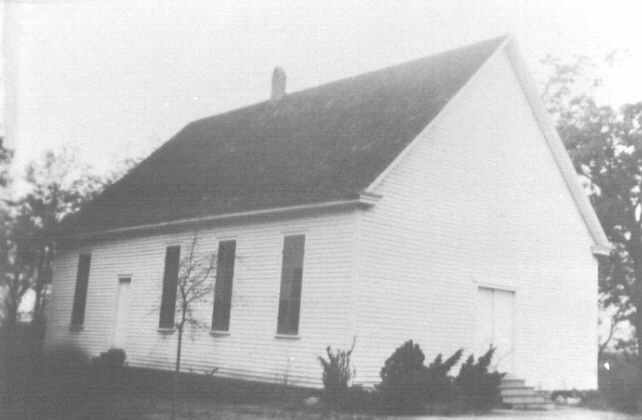 Mount Pisgah Primitive Baptist Church Chambers Co. AL ca. 1930, Chambers County, Alabama (theusgenweb.org)
Saw Mill was built
But in the meantime, Messrs. Spencer and William George built a saw mill on a small creek four miles west of town, which furnished builders with plank for floors and door shutters, but the most of the early built houses were of logs. At the sale of lots Mr. Goodridge Driver purchased the lot on which Dr. Frederick is now living, and as early as practicable, built a house thereon and opened a hotel, which was the first hotel built in LaFayette. Mr. Driver afterward enlarged his buildings and continued to keep a hotel up to the time of his death. Mr. Lewis Daniel at said sale purchased the lot and afterward built the house now occupied as a hotel by Mr. Jesse O'Hara. Mr. Daniel occupied the same as a hotel for one or more years then sold it. The house has changed hands a number of times since, but most of the time has been occupied as a hotel.
Before Mr. Daniel built his hotel, there was a log building with several rooms in it on the lot D. G. Allen and family now reside, which was kept as a hotel by Henry Kellam, Esq., but which was used only as a family residence after Mr. Daniel built his hotel. James T. Livingston, about the same time, built him a hotel on the lot on which the Bank of LaFayette now stands, which he occupied as such for one or two years, and which was kept as a hotel by his successors until a few years before the lot was sold to the Bank company. •
The population increased in 1834 and 1835 to several hundred. The first death that ever occurred in LaFayette was that of Miss Sarah Gipson, a most excellent young lady, who was an inmate of the family of Dr. Thomas Russell. She died from the effects of measles early in 1834, and hers is the first grave ever dug in LaFayette Cemetery.
The first couple that was ever married in LaFayette was that of Augustus H. Cunningham and Miss Nancy McDonald, both of the town of LaFayette. The rites were celebrated by the Hon. James Thompson. This being the first couple the Judge had ever been called on to marry, and he being very formal in all he did, excited some curiosity in the minds of the young men in town to witness the performance. This scribe had the honor of being one of the few who witnessed the ceremony, which was well performed, with the exception of a little blunder which the Judge committed in a portion of the ceremony, which served for the young people to laugh about for some time after.
The first physicians that settled at said county site were Thomas R. Russell, Augustus Owen, Cuthbert G. Hudson, P. T. Richardson, Jesse Boring, Ed. Bacon, Samuel Thompson, P. M. Shapard, Lanier Bankston. These did a good practice while they remained in LaFayette. The attorneys who were early settlers at LaFayette are as follows:
This scribe was admitted to the practice of the law by the Superior Court in LaGrange, Troup County, Ga., in the month of September 1833, and on the first day of October 1833, engaged board with John Atkins and claimed what is now LaFayette as his place of residence, and has lived in or near said town ever since,  being the first attorney that ever settled in Chambers County. But in a few weeks thereafter came L. B. Robertson, then George D. Hooper, Mathew Phillips, Robert Baugh, James E. Reese, and a little later G. W. Gunn, James W. Harris, and J. J. Steiner. The above all settled in LaFayette and while they remained here did a fair practice. Leroy Gresham read law in LaFayette in 1834 and engaged in practice but soon after moved to Dadeville, where he continued in practice until his death.
U. S. Sen. Thomas Heflin (left) and Probate Judge A. J. Driver, Jr. (right). -found in Cornerstone time capsule (Alabama Department of Archives and History)
Several attorneys visited LaFayette in early days
Besides the above, there were several attorneys who visited LaFayette in 1834, and 1835, with the view of permanent location, but who after a few months residence changed their minds and left. Among these were Mr. Weisner, from Franklin, Tenn., who returned to Tennessee, after a few months residence in LaFayette. Nathaniel Harris and James Johnson, from Georgia, lived here a few months. Mr. Harris moved to Montgomery, Ala., and after a few years died there. Mr. Johnson moved to Columbus, Georgia, and after several years successful practice, was elected to Congress, and afterward in the days of Reconstruction, was Governor of the State of Georgia. George W. Gunn moved to Tuskegee, Alabama, and was engaged in a lucrative practice for several years; was also elected to the Senate of Alabama from Macon County, one or two terms. J. W. Harris returned to the State of Georgia and J. J. Steiner to the State of Ohio, from whence he came.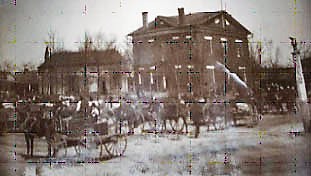 Chambers County's original Courthouse – only known photograph of the original courthouse, constructed in 1836 found in the cornerstone of the 1899 courthouse when opened in 2003 (Alabama Department of Archives and History)
Several of the above-named attorneys were men of high order of talent. But I have not attempted to eulogize any of them. I have not even mentioned the titles some of them bore. I have simply given the names of the first physicians and attorneys who settled at LaFayette in its early days, that, as a matter of history, the present and future generations may know who they were. It is a sad reflection to this writer to know that not one of the above-named physicians or attorneys are now living except Hon. George D. Hooper, who is now living in Opelika, and myself.
SEE MORE PHOTOS OF EARLY CHAMBER COUNTY AT GENWEB ARCHIVES
1HON. EVAN GOODWIN RICHARDS, author of a series of articles on Chambers County, published in the LaFayette Sun, during the year 1890, was a minister and lawyer. He was born August 26, 1807, at Northampton County, N. C., and died December 31, 1893, his last residence being LaFayette, Alabama. His father was a native of Wales, who settled in North Carolina in 1815 and removed to Madison County, Alabama. He went to the country schools of that County in 1830 and was licensed by the Methodist Church to preach. He located at LaFayette, that same year and was one of the chief promoters of the Opelika, Oxford and Guntersville Railroad, being its first President. He was also among the first to advocate the building of cotton factories in the South after the War Between the States. He was a Democrat and supported Stephen A. Douglas for the United States Presidency in 1860. Mr. Richards married Sarah Dickens Clark Webb, of Perry County, in 1835, and they were the parents of a large family of children.
FreeHearts: 2nd edition A Novel of Colonial America
Col. John Washington (ancestor of President George Washington), Randall Revell, Tom Cottingham, Edmund Beauchamp ward off Indian attacks and conquer the wilds of Maryland's Eastern shore in 17th century colonial America in this historical novel, inspired by true events.