Though it has not been completely proven, some researchers believe Kenneth Stewart who arrived in North Carolina from Scotland is the first immigrant to America of the line. He arrived in 1775 in Wilmington, North Carolina with family members: Wife Isobel 30; Son William; Son John 5; Son Banco 3; Daughter Christian 3; Son Alexander 14.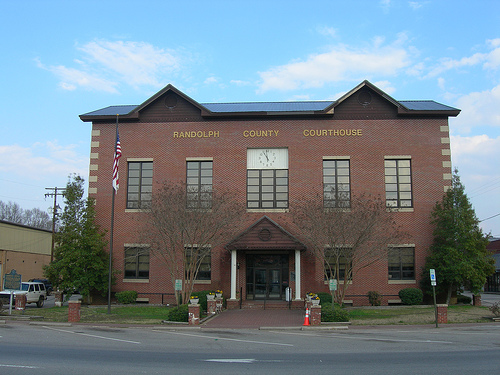 Randolph County, Alabama Courthouse
The John listed above is believed to be John R. Stewart born ca. 1770 and this is the line we follow in SOME DESCENDANTS OF KENNETH STEWART (1735-1793) as he travels further south, through Georgia and finally, his descendants settled in Randolph, County, Alabama.
The GEDCOM records, genealogy notes, and biographical information in this e- book include descendants who were pioneers of North Carolina, South Carolina, Pike County, Georgia and Randolph County, Alabama.
Descendant surnames included in this book are: AIKEN, BUSTER, CARVER, CLARDY, COTTINGHAM, CREWS, DAVIS, DENNIS, DEWBURY, DOBSON, FRENCH, GAY, HARWELL, HAY, HINTON, HOBBS, HOLLOWAY, HOUSTON, JORDAN, LYNCH, MAYBERRY, MCKINNEY, MCLEOD, MOORE, NELSON, PATTON, PHILLIPS, RAMPY, WORTHAM
While every attempt has been made to document all data found in this compilation, as with all genealogy works, there is the possibility of inaccuracies. Please use this book as a starting point in your own research.
Browse the FREE SAMPLE pages (which includes a brief descendant outline in the first pages) on Amazon to see if this is your family line.