AUTOBIOGRAPHY AND CIVIL WAR LETTERS OF
JOEL MURPHREE OF TROY, ALABAMA
1864-1865
Introduction "by
H. E. STERKX
(Dr. Sterkx was a member of the history faculty, Troy State Teachers College)
Part IV
JOEL DYER MURPHREE TO WIFE, Near Atlanta, Ga., June 5, 1864
My dear Ursula
Have you quit writing. The last letter I received from you was written the 15th May. If you have written to me since I have not got them. I have been with the army or until three days since I returned to our Camps with are six miles east of Atlanta. I have written several letters to my relatives and friends in the last three days and have requested that you be informed that I was well. I wrote to your Pa yesterday and also to Dr. Jack Dyer. Ursula I have nothing worth communicating that you have not already learned if you have an opportunity of reading the papers in fact in Camp is a poor place to learn anything that is reliable. Our Army is now near Lost Mountain which is about 35 miles from Atlanta. Johnston has held his present position for some time and the impression is that he will be able to retain it, It is a clear case the Yanks do not intend risking a general engagement. They also say they have to distribute their forces along the railroad behind the main army to prevent their supplies from being cut off which weakenens their army too much to rist a fight. Of course we have to make the necessary allowance for such talk coming from them as it does. There is one thing certain that the prisoners have but little in their haversacks generally hard bread and green beef. Ursula as soon as this fight is over I shall make an effort to come home either temporarially or permanently. I have not been home-sick until the last three days but I can account for it I think, it being the only idle time I have had since I have been in the Service. If I must remain in the Army I would prefer being kept tolerable busy. I would give any reasonable amount to be at home with you and the children for a few days. I havt seen any of the boys for ten days. Baily Shep & John were well then. I have not seen Tom since we left Calhoun but heard, from him two weeks since he was well and safe. I am anxious to hear from Edwin have any of us got a letter from him since I left home. Is Dan at home yet. How is Mr. Jones, Dr. Fannin & Mother getting on. Tell old Ned he must be obedient to his Miss Ursula do whatever she tells him and any thing else he sees should be done and of all things must not sauce her. The same advice to Mariah and Charity. Tell Josy and Eugene they must be good children mind their mother and learn to be smart. Tell Wm Dan & Mary to write to me Mr. Jones can for Elizabeth I would like a few lines from Wm Love also
Write soon to your affectionate
Joel
JOEL D. MURPHREE TO WIFE, Near Atlanta, Ga., June 14, 1864.
Ursula
I received yours of 28ult. a week ago. I did not answer it immediately because I had nothing to communicate, and am in like condition now, but I must say something or you might think I had found a wife up here for the present, and had laid you on the shelf. No such good luck however, in fact I have been in no situation for sweetheart hunting. I have been tormented equal to Jobs of old until last week. I have been afflicted with Diarrhea, Itch and Piles and part of the time lousey, but thank the Lord for His blessing I am now clear of all. After a general and thorough greasing for about a week for the itch I yesterday washed off and put on clean clothes from the skin out. I am truly glad to know you are all getting on at home so well, and that we for once have the brag garden (let me here inform you that I never received the letter in which you say you answered my numerous questions, hence I have heard nothing from the Strawberries, Irish Potatoes, Ground Peas & when you write again tell me about every thing). I think the soil is improving and with proper care and attention we can continue to have a nice garden.
Well Ursula how did you get the news of Joel Rainer death. I am hapy to inform you that Joel was not dead on the 5th inst. Bro James saw and conversed with him on that day. I have not heard from him since. Baily was well Monday, have not heard from John & Shep for several days. Lt. Genl Leonedas Polk was killed yesterday. I was truly sorry to hear of the death of the Powell boy, and John J. White.
General Leonidas Polk, CSA (Alabama Department of Archives and History)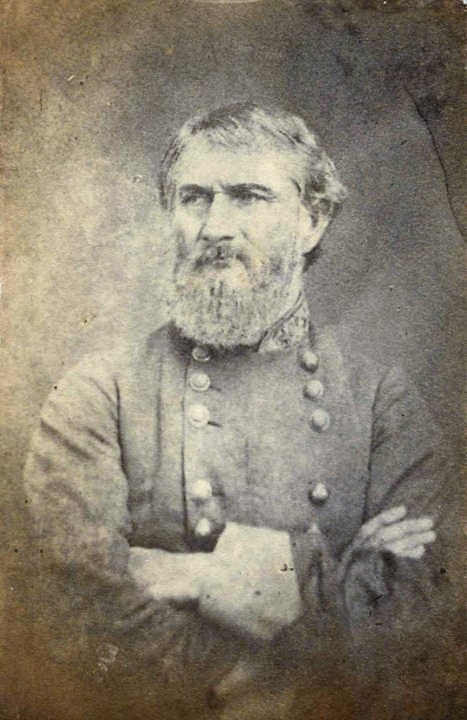 I received a letter from Mr. Jones dated the 2nd Inst. He stated that Josy has the Measels and I suppose by this time Eugene and Ally have it. You will have trouble now. I wish I could be there and share your trials with the little fellows. Ursula take good care of them and dont let them expose themselves. You know how fatal relapses of the measels generally proves. I know Josy regrets failing to attend the examinations. I am very proud of my Josy and know she will make a smart woman if she lives. She is so dilligent to learn, studies her books so well.
I recollect telling Mr. Jones to pay Mr. Monroe $600 but the understanding between us was that the money would be paid when I got my exemption. If I did not so instruct Mr. Jones I intended doing so and the fault is mine. Tell Mr. Jones to write to W. R. Pickett Q. M. at Montgomery for my obligation to make shoes. If A. W. Starke or Mr. Brown goes to Montgomery soon send by either of them for it. I will write to Monroe myself concerning our contract. Jim and Mr. Bisinger are well. Henry says tell Lydia that he is well and if she dont answer his last letter he wont write anymore. Why do I never hear from Dr. Dyer. I have written to him, but not a word do I hear from him, is he mad. When you see him, tell him to write to me.
I believe I never have said any thing about our fare. We have plenty. We draw Bacon, & Meal regularly, and some times Flour Rice and Molasses, We do not consume all the Bacon, the surplus we exchange for Milk and Butter. The Ladies have been very kind to me since I have been in the service, while in Alabama I never paid a cent for any thing I go of them, and my calls were prety frequent for Milk & Butter, here I cannot expect it as it is a very poor Country.
Ursula this is the worst penned letter I have ever sent you, badly composed and worse written dont show it to any one, give my love to Mother Brothers & Sisters. Tell me something about Sam. Tell Bet to write to me. I never shall forget the tears that stood in her eyes the day I left her. A kiss for every one of the children & two for you. Joel
You say Mrs. Welch is on the road to Boston. I expect you will accompany her and may be arrive there first. Have I guessed the secret
Joel
JOEL D. MURPHREE TO WIFE (Near Atlanta), June 30, 1864.
Ursula
I have suffered a good deal since I wrote you last. I have been confined to my bed (on the ground) most of the time for the last week. This morning I feel a great deal better. I slep more last night than I have for four previous. I am very weak, but this morning I feel like I could set up all day.
Ursula I think of nothing but home. Yes home it is a sweet place. I feel like I would give half my estate to be at home with you & the children and my kind old Mother. She is allways so good to me when I am sick. I have written to Bro. James and Col Cunningham to get me a furlough for 30 days but I have very little hopes of getting it. I expect the Genl will say send him to the Hospital & there I do not want to go. I have all most entirely lost my appetite. I want buttermilk or something iced. I hav t had milk but once in a week. Ursula give yourself no uneasiness about me, I am not dangerous. I will keep you advised of my situation. If I get very bad off I will write for you to come to see me, but dont come until I write for you. This is no place for a lady. I have not seen Jim for three weeks, he is well however. I hear from him every few days. All our folks were safe a few days since. Hoow and wheer is Sam.
Is my apple orchard bearing well. Give me all the news has the old red cow had a Calf yet (dont laugh) reccolect I am interested in having milk enough for you & the children.
Good bye
Joel
JOEL DYER MURPHREE TO WIFE (near Atlanta), July 2, 1864
Ursula
The last letter I received from you was written on the 15th ult. I am sure you have wrote to me since then, and I suppose the letters were sent from Atlanta to the front and are now in the possession of Bailey or Bro. James. I wrote you a few days since at which time I was very sick, but on that very day I commenced improving and am now allmost as well as usual I am weak, yet and am troubled a great deal at night with a cough. My appetite is tolerably good now. I do not believe I would have been any better off even now had it not been for the kindness of.Maj. McQuinn. He came to my tent and found out the condition I was in, and that I had no appetite. He give me a cup of Flour and I got some dewberries and had Henry to make me a tart. I eat of that and commenced improving immediately. Give yourself no more uneasiness about me. I will be well in a few days. I have heard nothing from my application for a furlough, presume I will not get it. I have not seen James, Bailey or John in about a month. Bro. James is stationed with the Commissary near the front, drawing and issueing Forage for the Horses of the Brigade. Bro Tom I have not seen in two months though I heard from him yesterday I saw a gentleman that conversed with him yesterday. He is well, and says his horse looks well . . . Ursula how are my sick children I hope they are well. Is Mother well. How are Dr. Fannin & Marys health is Bro Dan at Troy yet. Have any of the family wrote to Brother Edwin, is Sam at Home or on the Coast making salt, if at home tell him to write to me. I would like to get a letter from Bet. How is your Pa has he a good crop, does his negroes continue to steal and runaway. Tell Wm and Dan to write to me, and give all the news about Troy Tell Genl Wiley that I wrote to him sometime ago and have received no reply. John Key the same. I can give you no more news. I am about 20 miles from the front, and know nothing that is going on except what I see in the News Papers. There is no doubt about our men killing and cripling about 4000 last Monday, our loss did not exceed 150. The Yankee loss has been very heavy compared to ours since we have made our last stand. They have charged our works several times and have been slaughtered terably on every occasion, Ursula are my Boots done
Your Husband
J. D. Murphree
JOEL DYER MURPHREE TO WIFE, Near Atlanta, Ga., July 8, 1864
Ursula
Johnstons army has again fallen back. We now ten miles from Atlanta. I must confess that I am alarmed about the fate of Atlanta. If Johnston is not reenforced my opinion is Atlanta will soon be lost to the Confederacy and the loss of Atlanta will be the greatest loss we have ever sustained. I have not heard from any of the boys since I wrote to Mr. Jones. I presume they write tell Mother I have written two letters to Bro Edwin lately.
Your affectionate husband
J. D. Murphree
JOEL DYER MURPHREE TO WIFE, Atlanta, Ga., July 13, 1864
Ursula
This leaves me well. I am weak but am gaining strength slowly. I have the most ravenous appetite I have had for twenty years. I can eat any thing and a considerable quantity of it I am now with Brother James and my fare is better than it has been with the exception of buttermilk. I had been getting half gallon milk a day for a week before I came here for which I paid one dollar per half gallon. I have not been with Jim before three days ago for more than a month. Commissaries and Quartermasters fare better than any other persons in the Service. Our Brigade Commissary has genuine Coffee and Sugar all this while and are never without Flour. The Brigade Quarter Master fares equally well. The smaller fry of the same department do not do so well but some better than the Common Soldiers. For the last three days we have been getting some vegetables. We are now camped in half a mile of the fortifications around Atlanta and I expect in a few days we will move into the city. I saw Baily yesterday but I was so busy issuing clothing to the Brigade and Regiment that I had no time to talk with him. Our Brigade has been resting for two days past. Since our army crossed the Chattahoochee River there has been little fighting noone with small arms. I think the enemy have taken a fright and are not inclined to persue us this side of the river, I hope so at least. Tom is making an effort to regain his position in the 57th Ala. Regt. He is clearly entitled to it and I do hope he may succeed. Tom and Baily both made their statements in writing a few days since to the Brig. Gen which I presume will be sent up to Lt. Gen Steward for his approval or disapproval. I expect the case will go to the War Department before it can be finally settled. I forgot to state that I received yours of the 1st Inst Ursula I am needing my pants and Boots very much the Boots particular. There is some talk of the Officer of Regimental Quarter Master being abolished if so I spoke to Col C about it yesterday and he has promised to look after my interest if it should occur. My respects to friends and love to relatives and kiss the children. Tell Mother Tom is Well write every week I will get your letters more regularly now.
Goodbye
J. D. Murphree
SOURCE
The Alabama Historical Quarterly, Vol. 19, No. 01, Spring Issue 1957.
ALABAMA REVOLUTIONARY WAR SOLDIERS VOLUME I – Many of these soldiers received grants in Georgia, Tennessee and the Mississipi Territory, parts of which later became the state of Alabama.
This book includes genealogical and biographical information on 26 Revolutionary Soldiers who were in early Alabama and/or collected military pensions for their service.