Two horse racetracks flourished around the turn of the century in Birmingham, Alabama. Trotwood Park was located at 75th Street and 9th Avenue North.
The Birmingham Jockey Club was one mile in length and ran parallel to Third Avenue West. It was part of the Birmingham Fair Association.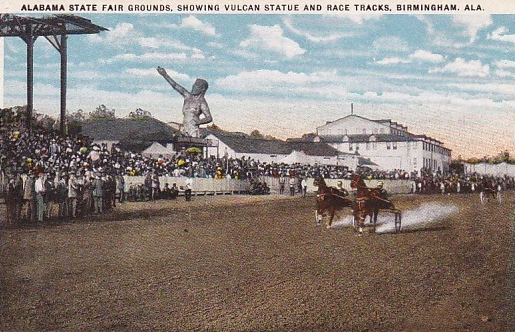 Birmingham Jockey Club was reorganized
The Birmingham Jockey Club, failed during it's first year of operation. However, the club was reorganized in April 1889. The reorganization meeting was attended by Fred Sloss, J. W. Worthington, T. G. Hewlett, F. W. Dunn, I. Epstein, Jonas Schawb, E. S. Costello, P. J. Robert, Ed McCrossen, John Sutcliffe, Fred Averett, among other citizens and stockholders. The following board of directors were elected.
J. F. B. Jackson
B. F. Roden
A. B. Thompson
H. C. Brown
Fred Sloss
John B. Boddie
William Hardy
E. Solomon
Morris Adler
Col Jackson was unanimously elected as president, Mr. R. M. Mulford, cashier of the American National Bank was treasurer, and Mr. F. W. Dunn was general manager. The first event after reorganization was held the 1st week in July.
Trotwood Park in East Lake
Trotwood Park in East Lake closed shortly after the turn of the century. "Mrs. Thelma Green, of Helena, reported to the Birmingham News that she was born and lived in a house that served as the stables and grandstand for Trotwood Park. Her Aunt Susie and Uncle Charlie Graham, managed the park and her mother worked at the track boarding the horses."i (Charlie and Susie were also the Aunt and Uncle of Becki McAnnaly, an Alabama Pioneers' author).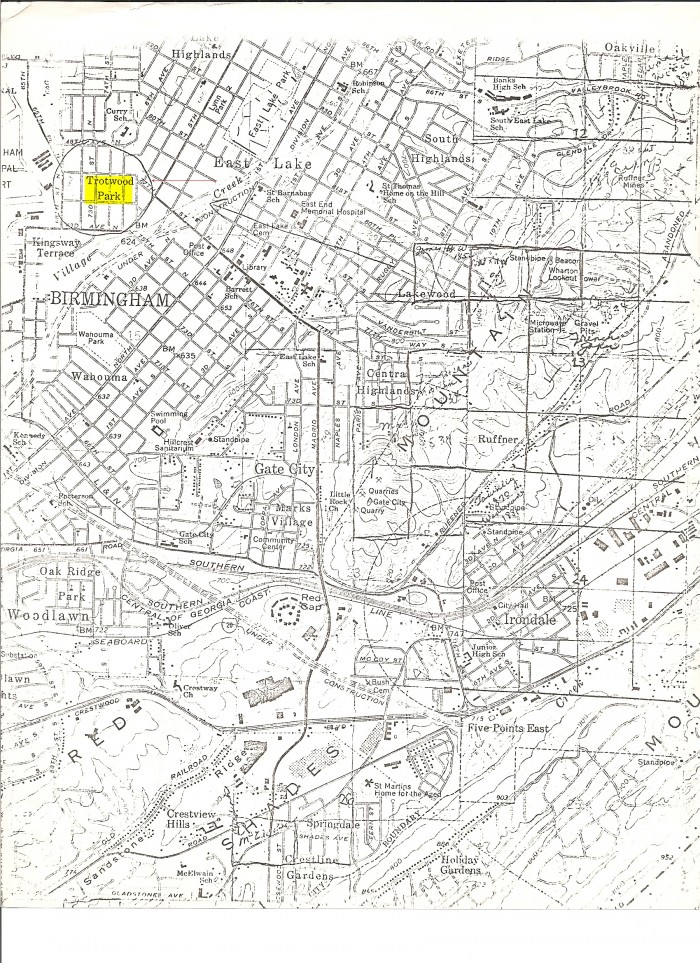 Below is a picture of the main building at Trotwood Park. The people in the photo are probably Susie and Charlie Graham, mentioned above who managed the track for a period of time. There is no date on it, but it appears to be made in late 1800s.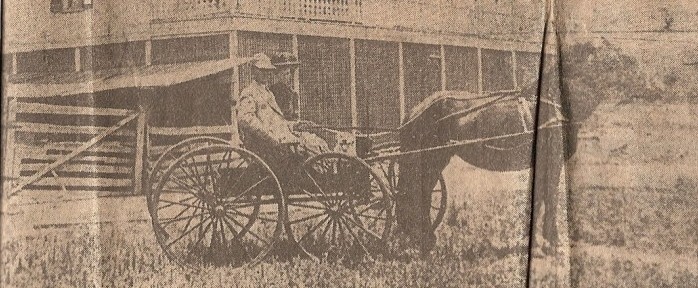 Mrs. Green recalled, "I can still remember when I was 4 or 5 years-old and we'd run around the track and play out there. The house was built 12 foot in the air with the big front porch serving as the grandstands. The space under the house was fenced in and that was where the horses were stabled."
"I wasn't born until after they had quit running the races, but I sure remember the track, " Mrs. Green continued. "I still remember my mother and aunt and uncle telling stories about the races, too. The races were for rich folks then. Birmingham's rich folks would come and sit on the porch and watch the races every weekend. It was a big social event."ii
Mrs. Green said there was no legalized gambling ("Aunt Susie would have run them all off"). Both horse tracks in those days were all harness races with a driver operating from a two-wheeled, one seat sulky carriage pulled behind the horse.
Judges at the state fair races, according to The Birmingham Daily News of 1891, "noted that year's state fair races judges were Hamilton Bushey and David Bonner. Bushey was editor of Turf, Field and Farm, a well-respected horseman's journal, and Bonner was the 'most noted owner of fast horse in the world' and founder of the New York Ledger."iii
Horses and drivers who raced were not usually from Birmingham but in 1902, Katie S, belonged to a Birmingham owner, stole the show with a big victory by beating horses from Kentucky, North Carolina and around the country.iv
SOURCES
Weekly Age Herald – May 1, 1889

Trotwood information and photograph submitted by Becki McAnnaly
Check out genealogy and novels by Donna R. Causey