First Deed in the City of Birmingham
On the 1st day in June in 1871 lots were sold in the city of Birmingham. "The lots had been numbered and wooden pins driven into the ground to mark the limits. The branch water flowed across them in undisputed right of way; the browsing cattle and the birds, feeding their unfledged broods in the boughs of the trees, were the sole visible occupants. Many hopeful speculators had come, some of both sexes, and some who had walked for miles, because at the termini of one of the railroads they could find no conveyance, private or public. (continued below)
The photograph below was made by Colonel A. C. Oxford in 1873, Birmingham's first photographer. He came to Birmingham from Marion Alabama and was a famous Confederate Veteran. He attended all reunions with his camera, his uniform and his daughter. His Confederate Album is in the Alabama State Archives. William H. Brantley purchased it for $75 and presented it to the Archives
The sale of lots was satisfactory. The first lot was bought by Major Andrew Marre for $150. It was located at the northeast corner of First Avenue and 19th Street. Major Marre may be names as Birmingham's first settler.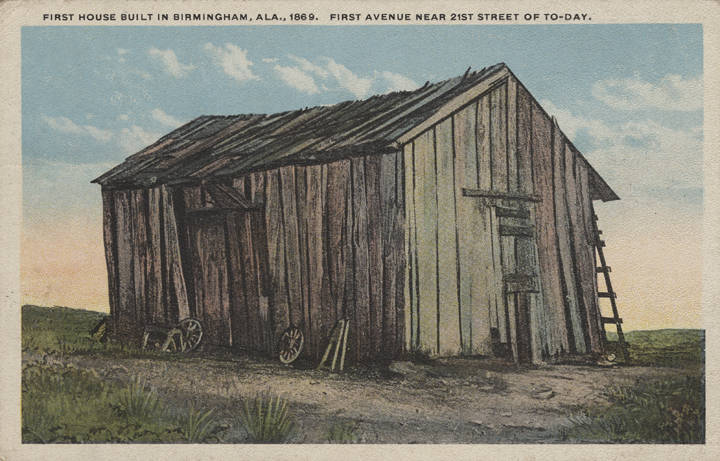 Founder member of Birmingham Freemasons
Andrew Marre was a merchant and cotton buyer. He came to Jones Valley in Jefferson County, Alabama from New Orleans, Louisiana. He constructed a two-story stone building on the lot to house his Marre & Allen general store. He also built a house on the southwest corner of 19th Street an Avenue E on the south side of the Railroad Reservation. He was a founding member of the Birmingham Lodge No. 384 of Free & Accepted Masons in December 1871 and a director of the Birmingham Insurance Company which was organized in 1884.
Note: Birmingham Lodge No. 384 has merged with other lodges over the years and is now a part of Hoover lodge No. 644 in Hoover, Alabama.
Robert H. Henley was the first mayor of Birmingham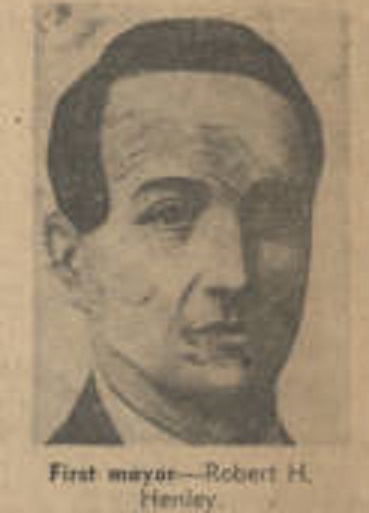 First house in 1871
The first house erected in the new city was completed August 28, 1871.
Municipal powers were granted to Birmingham on December 19, 1871, after a petition was submitted to the General Assembly by Colonel Powell and other leading citizens. Colonel Powell was president of the Elyton Land Company and a founder of the city. The first officials were Robert H. Henley, mayor; J. H. Francis, B. F. Roden, W. J. McDonald, A. Marre, J. B. Webb, John A. Milner and T. S. Woods, alderman; William Alexander, clerk; James McConnell, treasurer, and O. D. Williams, marshal.
The last spike of the Alabama and Chattanooga Railroad was driven May 15, 1871, and the South and North Alabama Railroad was opened for business on September 29, 1872. by February 20, 1873, the city of Birmingham had a population of about 4,000, six churches, four hotels, a national bank, two mills and several small manufacturing enterprises. Birmingham was thriving.
1873 Photograph by O. V. Hunt at Birmingham Public Library that identifies some houses & buildings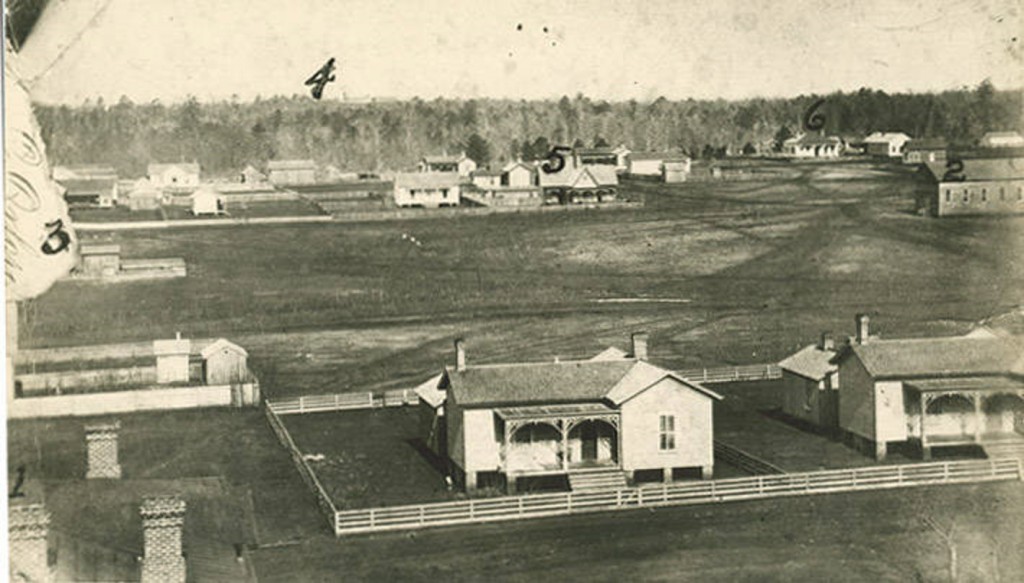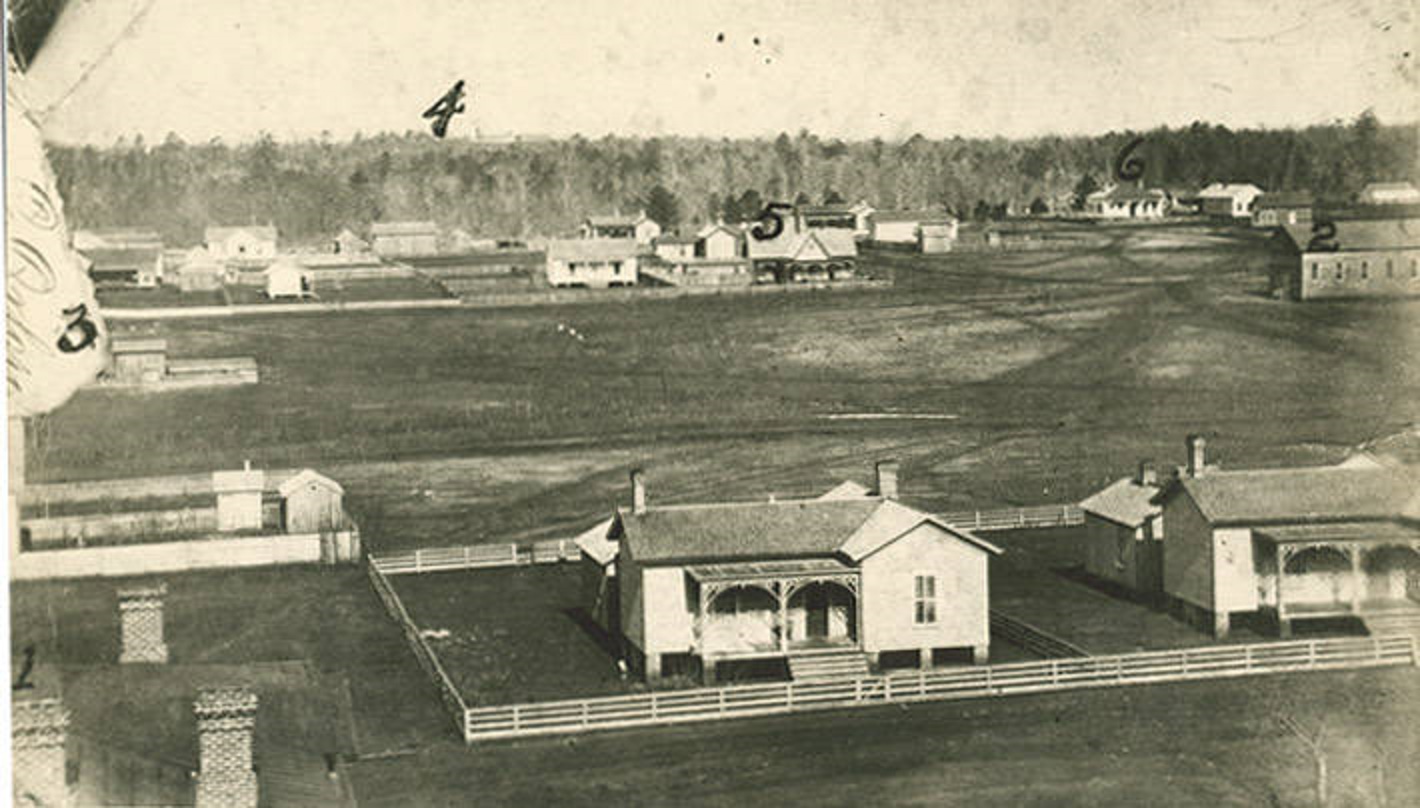 Key to photograph above
Birmingham in 1873 from top of Court-house showing:
Chimney of old sail
First Baptist Church 6th Ave. and 22nd St.
First Methodist Church 6th Ave. 21st St.
First Birmingham Water Works 13th Avenue and 22nd St.
T. L. Hudgins Residence 6th Ave. and 21st St.
Col. Terry's Residence, where Phillips High was later built
SOURCES
Peoples, Jared Encyclopedia of Alabama
Jefferson County and Birmingham, Alabama historical and biographical. Published 1887 by Teeple & Smith in Birmingham, Alabama
Birmingham Public Library
We have been chronicling and sharing Alabama's true history for over 10 years through alabamapioneers.com, our books, and now our Podcast, "The Alabama Grist Mill"