In 1818, before Alabama became a state, Anne Newport Royall (June 11, 1769 – October 1, 1854) was a traveler in Alabama. After her husband died, she was left penniless and she toured Alabama for four years as one of the first newspaperwomen in America. She wrote letters to her friends about Alabama and the letters were published as a book entitled Letters from Alabama in 1830.
On May 3rd, 1821, Anne was in Moulton Alabama (now in Lawrence County, Alabama). In this story she describes her experiences and observations in early Alabama.
The letter has been transcribed exactly as published. (Including the misspellings)
Moulton, May 3rd, 1821.
Dear Matt,
I Am fertile in anecdotes, and I send you the following, not quite three days old: Three evenings since, as I stood in our door, a genteel looking man rode up, and dismounting, asked " if he could be entertained?" I replied in the affirmative: he passed by me into the house, as though he felt little concern for my reply.
Was a joke
I still remained in the door, and Mr. Burlison, who had been at his plantation, appeared, walking slowly towards the door, with his eyes fixed on the stranger's horse; and when he came up, slapped his hands on it and said, "this is my horse; who rode it?" I replied, a stranger. He stepped in the house, and I turned from the door at the same time to look at the gentleman, who had taken a seat, and found him smiling at Mr. Burlison, as he heard him claim the horse. This was a mere joke, it appeared, got up for amusement, between the stranger and a nephew of the Captain's, who had also arrived from East Tennessee.
Mr. Burlison had loaned the horse to his nephew some time back, to ride home to Tennessee; and when they arrived in Moulton, the young man stopped up in town, with the stranger's horse, and sent the stranger forward with the borrowed horse. As it turned out, however, it was quite a flat joke, and is merely referred to as a preface to something more interesting.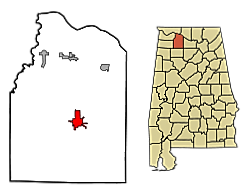 Map of Moulton in Lawrence Co., Alabama
He entertained us
The gentleman, like all those who visit the country, was endless in his praises, and entertained us until a late hour with his travels, and the incidents of the journey, which was several hundred miles, namely, from Salem, Virginia—though he was now, he. said, near the end of his journey—but never dropped a hint of his business
Thus the evening passed away, and everyone was pleased with the stranger, and all seemed anxious to know his business in this part of the country; and no one, for a wonder, asked his name. He was well dressed; by no means foppish; rather spare, and rode a first rate horse, followed by another equally valuable. Some of us thought, most of us, indeed, were certain, he came to purchase land, as nothing else brings people to this country. Not a syllable of purchasing, or a word, on the object of his journey escaped him. This was provoking, particularly to us females.
Stranger retired to bed
The stranger retired to his bed, and next morning chatted till after breakfast, and seemed in no hurry to leave the house, and we concluded he was going to spend the day with us. We retired to dress and was absent some time; when returning to the parlor, we found the gentleman still sitting there, familiarly engaged in conversation, and seemed to win much upon the respect and esteem of the company.
At length, about 10 o'clock, he took out his pocket book, and taking a paper from thence, asked Mr. Burlison how far it was to a Mr. King's? As there are several of that name, the question remained unanswered, until he, the stranger, named the distance he lived from a particular Mill, which was down, as the river runs, about seven miles distant from Moulton. This being ascertained, the stranger sat musing sometime with the paper in his hand, and his eyes bent on the floor, absorbed in thought.— At length, he said, "I have a sister at this Mr. King's, if she still be living!"
We held our breath
We women held our breath, and a painful silence reigned throughout the company. The stranger, after a pause, during which he labored under strong emotions, proceeded: "I am full of hopes and fears, respecting my sister.— She wrote to us six months since, but her letter never reached us until about a few hours before I sat out on this journey, and I have not seen her for nearly four years."
As I lived in the same county some years, from which he was, though unacquainted with the family, I became rather more interested than the company, and inquired, "by what means his sister happened to be so far from her friends?" He replied, "it was a long and rather a melancholy story, but he would relate it as briefly as possible.
Gained the affections of my sister
About four years ago, a French Doctor, as he called himself, came to our town, and spent several months. During the time, he called often at my father's, and before we were aware, he succeeded in gaining the affections of one of my sisters, and made proposals of marriage. This was opposed by all the family, as the man was a total stranger, and was forbid the house, and my sister forbid his company—here we thought the matter at an end.
Meanwhile my younger brother and him meeting by accident, quarrelled and fought a duel. During the time, however, he procured letters from New York, and Philadelphia, from various persons, whether genuine or forged, I do not know; but these letters represented him to be a man of the highest respectability, and a man of fortune, which lay principally in the Spanish dominions, near Pensacola.
My sister kept correspondence
He contrived to have these letters shown to my father; but it had no effect; and the matter seemed (as we thought) to have died away. But my sister, whom it appears, kept up a correspondence with him, declared she would never be happy if she did not marry Doctor Gennee, and that she would have him if she were forced to run away with him.
Thus she teased us all, night and day, and finally prevailed, though against the wishes of every friend she had. The Doctor, after his marriage, was anxious to go on to his possessions in Florida and to induce him to treat my sister well, my father gave him 1000 dollars in cash, and bought a first rate wagon, entirely new, filled it with every species of best furniture, for house keeping, put a fine team of horses in it, with a slave to drive it, and with a saddle horse for my sister. They took leave, and we heard no more of them, till we received a letter from my sister dated about six months since, which filled us with astonishment and distress.
She was left often without money
I have the letter here now," he added, "and will read it." It was a long letter, and the young man was so overpowered by his feelings, that he was forced to pause several times, often the tear stealing down his cheek. The amount of the letter was:—That they arrived in safety in Florida; but her husband had no property there, and left her often without money to help herself, and went off she could not tell where, a longtime; that he was very cross and ill-natured to her from the time she left her father's, and at last he sold every thing they had, and went off no one knew wither, leaving her without one cent in the world, or a particle of property.
She was ashamed to apprize her father and brothers, as they had opposed her marriage; that she struggled to sustain life, though at the same tim» she prayed for death: At length, growing calm, she thought of returning to her friends, if she had to beg her way, which she would certainly have to do.~
She set out alone towards Nashville
Finally, her wrongs and her suffer ings excited the compassion of some humane individuals, who furnished her with a pony, and a few dollars. She set forward alone, steering towards Nashville, pursuing Coffee's Trace. This was an appaling undertaking for a female, through an uninhabited country of swamps and cane-breaks. She often lost her way, and wandered about for days and for nights without food, and often without water.
At length she gave out, and could travel no farther. She had been for some time aiming to reach a settlement, she had had in view from the first, and intended to stop there and write to her friends. This is the settlement (principally religious people) where she now is. The first house she called at, the people refused even to let her come in, much less would they give her food to eat. What are you travelling alone for? It is a bad sign—you must be a bad woman.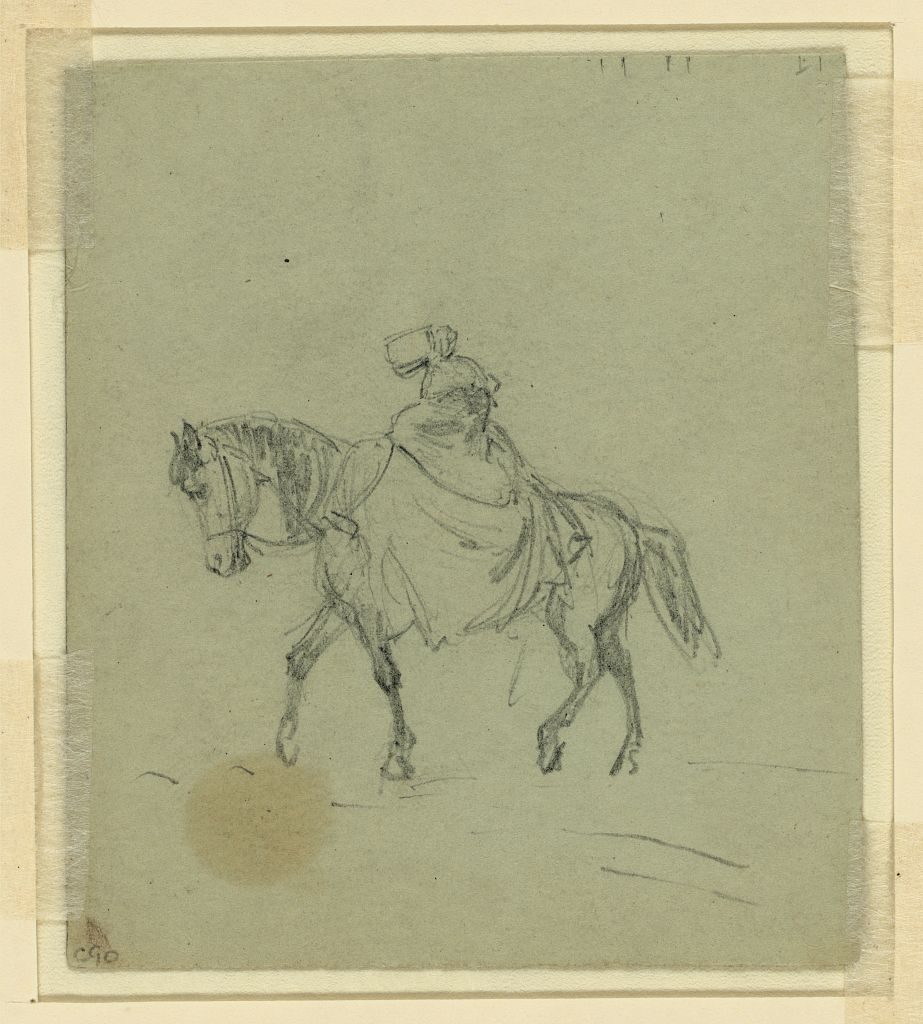 Woman on Horseback artist Alfred Rudolph Waud ca. 1850-1860 (Library of Congress)
She went to another, and another house, but was turned away from all, with more than brutal cruelty. She now lost all hope, and sat down on the road side! While she was sitting there, this Mr. King was passing by, and telling him her story, he took her to his house and treated her with great kindness. In a tew days she wrote the letter mentioned, but by some means it did not reach its destination for six months.
A pathetic appeal
The letter contained a pathetic appeal to her father and brothers for forgiveness, and if they thought her worthy to be received into the family again, to send for her; if not, she would remain with her kind friend.
Shortly after the letter arrived, this young man, who kept a Latin School in the neighborhood, came home, and his father requested him to get ready and go for her as quick as possible.
He set out for Mrs. King's
After relating the story, he ordered his horses, and set out; and this day (the 2d) he passed by here, about one o'clock, P. M., with his sister, a very fine looking woman; but they were in a great hurry, and we only saw her on horseback.— While they were yet in sight, some of the neighbors of Mr. King, who were at the house when the brother called, and who had rode up with them part of the way, stopped at our house, and related a most pathetic scene between the brother and sister.
The brother and sister wept
They flew into each others arms, and were for many minutes unable to speak. The sister at length burst into a flood of tears, and the brother likewise wept. But this was a trifle to the scene that followed. This lady had never been taught to work, and by way of amusement, she had induced Mrs. King to teach her how to work, such as spinning, carding, &c. She soon became very expert, and by way of remunerating her friends for their kindness in saving her life, worked late and early, thinking she could never do enough for them.
But when the people who had turned her out of doors found she was a decent woman, and was industrious, they had the effrontry to come to King's to seduce her away. "His house, (being a poor man) was not fit for her to stay at; come to our house," was their language. The lady refused their invitation with disdain, and remained with her friends; and so strong was her attachment to Mrs. King, and Mrs. King for her, that when they came to take leave, it was difficult to tear them asunder. Thus ends the story.
It made an impression on me
What think you, Matt, of the christian religion? Between you and I, and the bed post, I begin to think it is all a plot of the priests. I have ever marked those professors, whenever humanity demanded their attention, the veriest savages under the sun. Now, this King made no pretensions to religion, and though this is, as you say, a Jay's treaty, I must add another instance of their brutality—it happened when I was very young, and made an impression on me which I shall never forget.
A presbyterian Elder, (and to this day I do not know the meaning of the word,), who prayed a long prayer, night and morning, owned a ferry. A poor woman, as I supposed then, (as she was on foot,) stopped at his door, and inquired what the ferryage was, saying she wanted to cross. She looked tired, hungry, miserable. The wretch asked her how much money she had? She showed him some in an old rag, and taking up a bit, I think it was, asked him "if that was enough?" "No." She took a half bit1 and holding them in her hand, asked "if that would do?" He shook his head. She had but one more bit, which she said was all she had. He would not touch it. She said, "I must cross; for God's sake take all, and put me over.
"No; he turned off and was going into the house. The woman wiped the tears from her eyes with her sleeve, and pulling off a blue and white checked handkerchief, which she wore round her neck, called him back, and told him "she must cross the river if she had to go without a handkerchief;" and the wretch took it and the money too!!!
One of these hypocrites told me once "I ought not to judge all by one." No! But I judge all by all, for they are all the same.
This man lived on North river, Virginia.
Yours, &c. •
1A small coin current in those days
RIBBON OF LOVE: 2nd edition – A Novel of Colonial America 

 – the true story of religion in America –

Inspired by true historical events, Mary and Henry Pattenden flee to America to escape persecution –  It is almost impossible to put the book down until completion. – Dr. Don P. Brandon, Retired Professor, Anderson University