Betty Jane Rase, was a teenager from Phillips High School in Birmingham, Alabama, then she became Miss Birmingham, Miss Alabama and was suddenly propelled onto the world stage with her marriage to Mickey Rooney.
Betty Jane was the daughter of Ernest and Lena Rase of 708 9th Court West. Ed was a mechanical engineer with U.S. Steel and later Bechtel Mfg. Co. She was a musical prodigy who learned to play the piano at the age of 3 and developed a fantastic singing ability. She, at 17, was 5'7″ and beautiful and a senior at Phillips High School. She won the 1944 Miss Birmingham Contest which also made her Miss Alabama. She was the 4th runner up for Miss America. i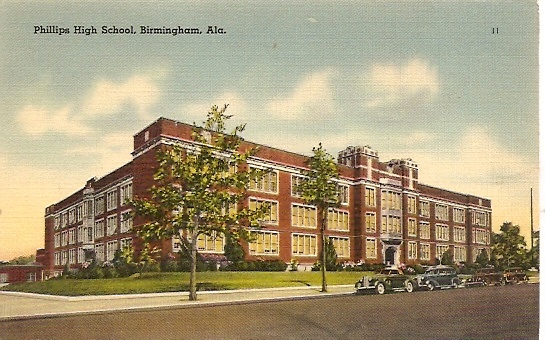 He was drafted
The well-known, actor, dancer, singer, composer, musician, comedian, inventor and show business historian Mickey Rooney was born Joe Yule, Jr. on September 23, 1920. In 1939, 1940 and 1941 he was the top movie star in the world.
"When World War II broke out in 1941, Mickey continued making movies as usual but was drafted into the U.S. Army in 1944, shortly after his divorce from his first wife, Ava Gardner, who some said was the most beautiful woman in Hollywood. Mickey was stationed at Ft. Sibert near Gadsden, Alabama, which was a chemical warfare base."ii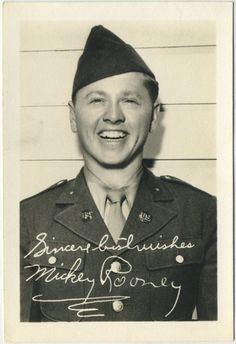 Stationed in Gadsden
While stationed at Gadsden, he was invited to come to Birmingham for the opening of a new movie in 1944. This movie was "National Velvet," which was a young Elizabeth Taylor's 7th movie. "At a post-movie party, Mickey met Lily Mae Caldwell, the well-known Birmingham News writer and for many years the lady behind the Miss Alabama contest. The contest, at that time, was sponsored by The Birmingham News, the Alabama Theater and WSGN Radio."iii
Lily Mae Caldwell introduced Mickey to Betty Jane Rase and in 15 minutes Mickey proposed marriage and Betty Jane accepted. Mickey was soon to join hundreds of other stars entertaining the troops and would soon be shipped off to Europe. It was war time and marriages were often quick.iv
Married a Birmingham girl
While many say they were married in Las Vegas, the Birmingham News front page headlines: "It was reported that the day before, Saturday, October 1, 1944 Mickey Rooney, Miss Birmingham Married After Whirlwind Courtship"
The "News" article, by Lily May Caldwell, went on to say "that it was an afternoon wedding in the home of Major Harry F. Jackson (known as the Frank Nelson house). The minister was Rev. Marvin Franklin (South Highlands Presbyterian minister) and best man was Pvt. Robert Guy, former member of the Kay Kyser Orchestra. It noted that Mickey misplaced his marriage license and the ceremony was put on hold for Mickey to retrieve it.
The "News" went on to state that Mickey and Betty Jane Rase had been introduced one week earlier by his friend Francis Falkenberg, manager of the Alabama Theatre, at a private showing of "The Seventh Cross" and that Mickey's friends, the Charlie Preston's of Birmingham, had driven Betty Jane over earlier that week to see Mickey at Camp Sibert where wedding plans were made. On Friday Mickey returned to Birmingham to meet the bride's parents while attending a private screening of his latest Andy Hardy movie, "Andy Hardy's Blonde Trouble", at the Empire as John Douglas' guest. (Douglas was probably the Empire manager).
Lily May Caldwell went on to write that Betty Jane had been offered contracts from Selznick and Paramount Studios after the Miss America contest a few weeks earlier when she stopped the show singing "My Hero" from "The Chocolate Soldier", winning a National Talent Award and placing fifth in the finals. Betty Jane, a cousin of John Charles Thomas the opera star, had a beautiful lyric soprano voice and received training under some of the country's finest teachers as well as being a brilliant pianist.
The Frank Nelson mansion was on Niazuma Avenue in Forest Park. After a one-night honeymoon, Mickey left for Europe. v
A follow-up article by Thomas M. West, Jr. in the Birmingham-Jefferson Historical Society July 2009 newsletter stated: Francis Falkenburg long time former manager of the Alabama Theatre, that after the marriage the head of MGM Studios phoned Falkenburg to direct him to have the marriage annulled! This, of course, did not happen. Whitmire said that Rooney was staying at the Thomas Jefferson Hotel so it is assumed that the one night honeymoon must have been there.
Betty Jane Rase and Mickey Rooney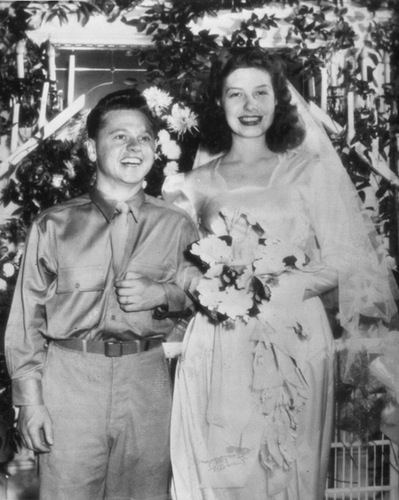 Two children born in Birmingham
Mickey Rooney, Jr. was born July 3, 1945 in Birmingham, and named Joseph Yule, III at birth. Betty Jane's obstetrician was Dr. James Hayes Williams with offices at 1321 South 19th Street. Her pediatrician was Dr. Hughes Kennedy, Jr. Later in life, through his stepfather Baker's influence at Disney, he became one of the original Mouseketeers, along with his brother. He appeared in three movies and three television programs, was involved in music and lives in Hemet, California. vi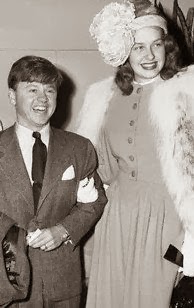 Their second child, Timothy Timmie Hayes Rooney was born in Birmingham on January 4, 1947, and, unlike Mickey, Jr. looked just like his father. At age 10, he was stricken with polio and was paralyzed for two years. "Tim appeared later on "Maverick, Surfside Six, Bewitched, Gidget and Dr. Kildare, as well as three movies. He did voiceover work in The Jetsons and Mr. T. Tim suffered from dermatomyositis, a terrible disease much like his horrible bout with polio. He passed away on September 23, 2006 at his ranch in Hemet, California. Mickey and Betty Jane Rase Rooney divorced June 3, 1949, but not in Birmingham where it all began in 1944."vii
She was a singer and songwriter
Betty Jane (May 6, 1927 – April 2, 2002) was a singer, songwriter and vocal contractor and worked as a backup singer on recordings by Elvis Presley, Frank Sinatra, Bobby Darin, The Righteous Brothers and Sam Cooke, among others. She also sang on the radio, with big bands and did voice work for television and films and appeared on television variety shows. viii She was known as B. J. Baker. Here is one of her solo recordings.
She married again
Later, Betty Jane married Barney Kessell (1923-2004), the legendary guitarist, influential jazz artist, composer, arranger, session player and record producer. For several years he was voted the world's greatest guitarist in the Playboy, Downbeat and Esquire polls. They were divorced in 1980.
Betty Jane Rase, Miss Alabama of 1944, passed away on April 2, 2002, in Rancho Mirage, California. ix
From the 1940s, Baker sang in big bands and on the radio, and in the 1960s, she appeared in several television shows, including the variety shows of Dean Martin and Judy Garland. She backed Elvis Presley in his recording of "Can't Help Falling in Love", Lloyd Price in "Stagger Lee",Sam Cooke in "You Send Me", Bobby Darin in "Dream Lover", Frank Sinatra in "That's Life", Jackie Wilson in "Baby Workout", The Righteous Brothers in "You've Lost That Lovin' Feelin'" and Nancy Sinatra on her 1969 album Nancy. She also was well regarded as a vocal contractor for backup singers and recorded extensively with the Anita Kerr Singers.
In addition to her studio singing, Baker lent her voice to Linda Low's songs in the 1961 film version of Flower Drum Song and to The Story of Babar, the Little Elephant (1968 TV movie). Babar Comes to America (1971 TV movie) and Heidi's Song (1982).
She died at age 74 in Rancho Mirage, California of complications from a stroke.x
Her body was buried at sea.
Check out genealogy and novels by Donna R. Causey
Some stories include:
The true story of the first Mardi Gras in America and where it took place
The Mississippi Bubble Burst – how it affected the settlers
Did you know that many people devoted to the Crown settled in Alabama –
Sophia McGillivray- what she did when she was nine months pregnant
Alabama had its first Interstate in the early days of settlement