The Ghost of Roupes Valley Ironworks(Tannehill Furnaces)
by
Shannon Hollon
Since the late 1800s, locals have told of ghostly images and presences at Tannehill furnaces. The work at the furnaces was hot, dangerous, and nonstop.
Ghost Story of Isam Hardee
A story tells of the sad fate of a slave ironworker by the name of Isam Hardee. Isam was a trusted worker at the ironworks. The Furnace master trusted him so much it was Isam's regular duty to take a mule and pick up the hired workers wages from the bank in Bucksville and bring them back to the paymaster at the Works.
Roupee Valley Ironworks
One day as Isam was on his was back from Bucksville, highwaymen with shotguns ambushed him and robbed him of the wages. Isam knew the furnace master and ironworkers would be furious. They would never believe he was robbed. He was so distraught he climbed the charging bridge and jumped into the fiery furnace Number 1 rather than be lynched by a mob.
Prowled the yard looking for his body
The 2800 degree flames consumed his body. Only a tiny piece of iron and slag was salvaged for his family to bury. Afterwards workers claimed that Isam's ghost prowled around the furnace yard, searching for his body.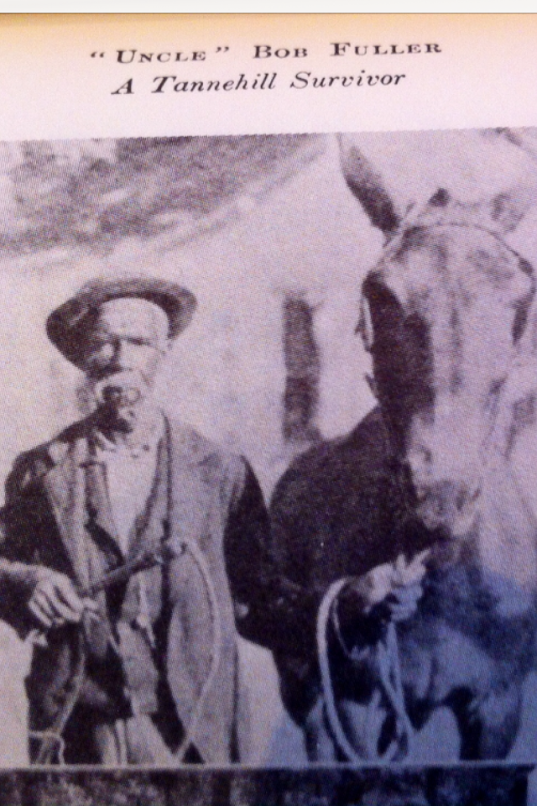 Uncle Bob Fuller – a Tannehill survivor and friend of Isam Hardee
Even many years after the furnace was destroyed and abandoned, some  locals say a shadowy figure still appears at sunset near the charging door of furnace Number 1.
Based on the Book: Tannehill Ghost Stories and other selected shorts
By: James Bennett
Tannehill and the Growth of the Alabama Iron Industry by James Bennett