EARLY NORTHERN ALABAMA
(while part of the Mississippi Territory)
From Recollections of Mississippi and Mississippians
Excerpt was written by Reuben Davis, 1889
"The life of every man of action is full of incident, more or less interesting to those who come after him; and especially is this the case when that life includes the early scenes of a newly-settled country, and the stirring events that led up to and culminated in a civil war of vast proportions and results. Perhaps some slight record of such a life as this, and some brief sketches of the men and manners of a period fast becoming historic, may not be unacceptable to the Mississippian of today. In writing a sketch of my own life, I mean to make it a thread upon which to string some memories of old friends and comrades, and of the stirring times through which we passed together. Many of them — most of them, alas! — have passed " beyond the river," and the world has changed since we were young together. If those who come to take their places are as brave, honest, kindly, and loyal, they also may hope to build up and redeem the country bequeathed to them by noble sires.
Reuben Davis portrait (Library of Congress)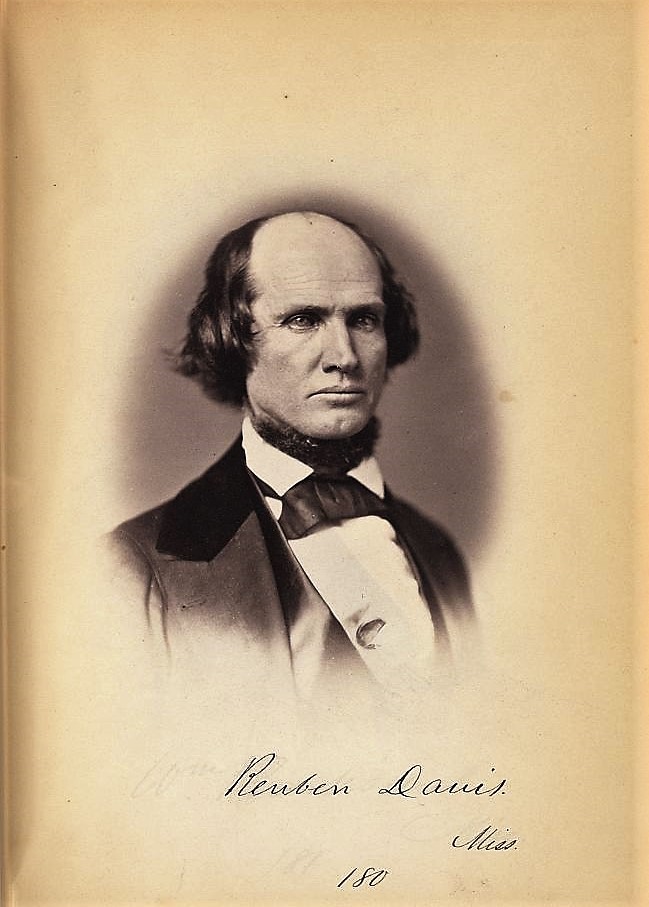 Father was a Tennessee pioneer
My father was one of the earliest settlers in this country. He was a man of limited means, and though of strong and vigorous intellect, had only the imperfect education of the pioneers of that day. His chief study was the Bible and a few volumes of history, which formed his only library. Although a Baptist minister of high standing, he occupied himself, during the week, with ordinary farm labor, and could never be induced to accept any compensation for his services in the church: this would have been, according to his belief, " serving the Lord for hire." Both my parents were born in Virginia, and remained there after marriage until fifteen children were added to their family. They then removed to Tennessee, and settled near Winchester, where I, their twelfth and last child, was born. I can remember that I was a feeble child, and considered very inferior to my brothers and sisters in strength and endurance, yet I have outlived them all, and am the last of that large household.
Moved to North Alabama
When I was about five years of age, my father removed from Tennessee to North Alabama. The land had been recently purchased from the Indians, and many of them yet roamed the dense forests of that section. I well remember how I hunted with these wild companions and was taught by them to use the bow and arrow. Even now I can recall something of the emotion excited in my youthful breast by the wild yells of a party of drunken savages passing near my father's house. Occasional deeds of frightful atrocity were committed in the immediate neighborhood.
Long before I was competent to reason upon it, the problem of race-hatred was forced upon my observation. The fierce antagonism of one race for another and the frequent rising of the conquered against the conqueror were met then as practical questions, — as the fashion of the day was, — without much speculation or moralizing. Later in life, I have encountered the same problem under new phases, and I confess that I still see no way out of the difficulties presented by it.
Front of the Reuben Davis House, located at 803 W. Commerce Street in Aberdeen, Mississippi, United States. Built in 1847, it is listed on the National Register of Historic Places. (Library of Congress)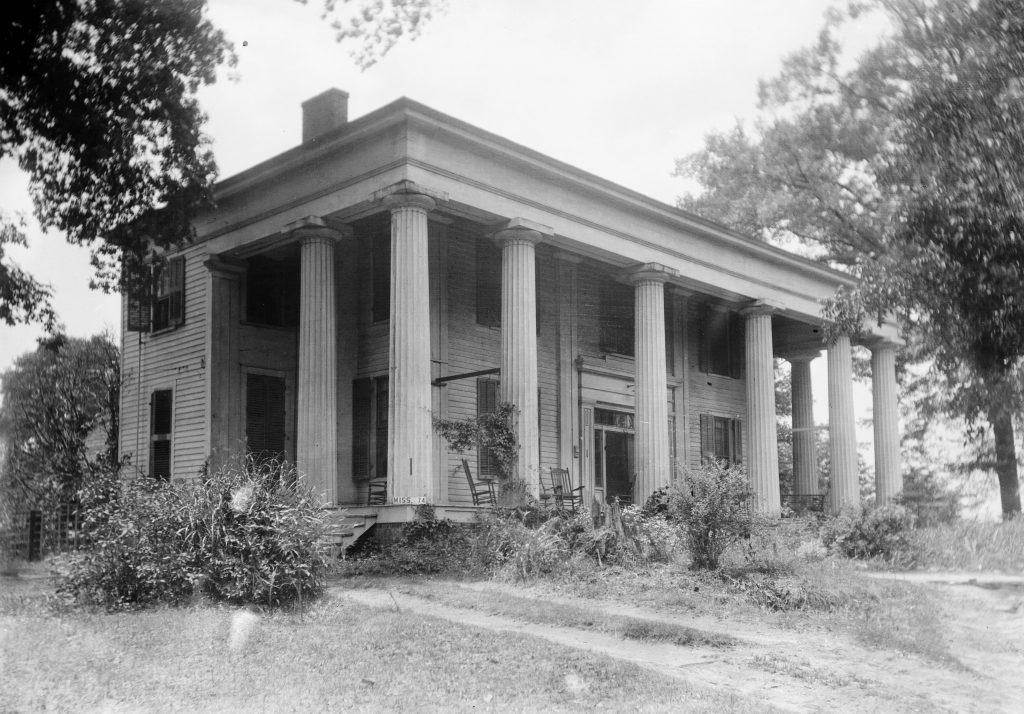 Rough Code of Honor
At that time the country was as wild and unsettled as possible; there were no laws, no schools, and no libraries. Every man did what was right in his own eyes, but in spite of general recklessness and lawlessness, there was a rough code of honor and honesty which was rarely broken.
The settlers lived a life of great toil and many privations, but they were eminently social, kindly, and friendly. They practised the most cordial and unstinted hospitality; and in case of sorrow or sickness, or need of any kind, there was no limit to the ready service rendered by neighbors and friends. In those days, people who lived many miles apart counted themselves as neighbors, and even strangers soon became friends. There was this great advantage that, while none were very wealthy, few were poor enough to suffer actual want.
As an American poet has said of another Arcadian country, "There the richest were poor, and the poorest had all in abundance." The simple habits of the laboring man were not shamed by the ostentation of his more prosperous neighbor; and there was none of that silent, perpetual contrast of luxury and penury, which now adds bitterness to class-hatreds, and, perhaps, lies at the root of the labor troubles of to-day.
Father purchased good land
At the sale of public lands, ordered by the general government, my father purchased a section of good land.
Clearing land and opening a farm required constant and severe labor, and I, with my five brothers, performed our full share. Upon this farm I remained until I was sixteen years old. By this time we had conquered the first difficulties that the settler encountered, and our home, though plain, was one of comfort and great abundance.
My brothers and myself, assisted by six colored hands, cultivated the land, and attended school only about three months in the year. In this way, we learned to read and write, as well as the rudiments of arithmetic and a little Latin.
Did not read the Bible
Unfortunately, these schools were for the most part taught by incompetent adventurers, who, having failed at everything else, offered themselves as teachers. My father did not allow his children to read the Bible, holding that it could be studied with profit only by those whose minds were fully matured and informed by experience. I was, however, taught that the world was exactly six thousand years old, and I believed it to a day; I was told that Adam was created out of the dust of the ground, and Eve out of a rib of Adam's side; I believed this too.
I was informed that, placed in a delightful garden, they ate of the forbidden tree, and thus came death and all our woe! All this I devoutly believed upon my father's testimony; and if, in later years, I have questioned many things that I accepted then, I have never seen reason to regret that my boyish mind was nourished upon a religious system containing a few simple beliefs and a rigid morality.
Mother died when I was twelve
Having few books and no excitements in life, my mind naturally exercised itself upon the life around me and the wonders of nature. The histories I read inflamed my imagination with hints of the great world outside of the quiet valley which was all I knew. I longed to learn; to take my part in active life, and to have some small share in the brilliant rewards held out to honorable ambition.
My mother died when I was about twelve years old, and the grief which this loss occasioned shadowed my existence for years. She was a woman of great tenderness and sweetness of character, and I was passionately devoted to her. Throughout my whole life, I have carried the most affectionate memory of her in my heart. Although naturally of a sanguine temperament, I had occasional fits of deep despondency, induced, as I now see, by the monotony of my life, and the apparent lack of prospect for getting on in the world.
My boyhood
About this time, also, I was penetrated by what I considered an undying passion for a little girl who went to the same school with me. She was in my eyes the most beautiful and amiable of human creatures. What agonies of love and shyness I suffered on account of her! After some time, which seems an eternity in my recollection, her family removed to a distant part of the country; and before I saw her again, we were both grown and married. She has long been dead, — a woman old and worn, — and is no doubt forgotten except by one old man, to whom she remains the innocent mite of a girl who charmed his boyish fancy.
"While still but a lad, I left home to begin a new chapter in my preparation for life. My father had decided, after much hesitation and many misgivings, that I should be allowed to study medicine. All my own desires pointed even then to the law, but my father held stubbornly to his peculiar theories on that subject. It was very clear to him, he said, that lawyers were wholly given up to the Devil even in this world and that it was impossible for any one of them ever to enter the kingdom of heaven. That being the case, he could not, in conscience, allow a son of his to enter the ranks of a profession foredoomed to everlasting burnings.
He also entertained strong doubts as to the final welfare of medical men in general, but admitted that some few might be saved, provided they used their best endeavors not to kill their patients, and resisted all temptation to prolong illnesses with a view to pecuniary profit. After solemn admonitions on these points, I left home, with my father's consent and blessing, to read medicine with my brother-in-law, Dr. George Higgason, in Hamilton, Monroe County, Miss. It was about sixty years ago that I thus became a citizen of Monroe County, and cast in my lot with a people with whom I have been identified for more than half a century.
Read medicine with Dr. George Higgason
I was fortunate in being placed with Dr. Higgason, who was not only an excellent physician, but an elegant and accomplished gentleman; he was a man of extensive reading, and his information was accurate. So great was his popularity that he was repeatedly elected to the legislature. At that time Monroe County was composed of the territory lying between the Alabama line and the Tombigbee River. Hamilton was the county seat, and was a delightful village of some five or six hundred people. The country was for the most part covered with forest, and very abundantly watered.
A malignant type of bilious fever prevailed in those days, and was too often fatal. In many of its symptoms it closely resembled yellow fever, and at that early day, the medical profession had not learned to manage that class of diseases. Owing to the great fertility of the soil, the people were generally prosperous.
I suppose there was never a community more frank and genial in their hospitality, or more liberal in their dealings with both friend and stranger. It is not too much to say that every house was opened to the traveller — every hand outstretched to aid and welcome him. It seemed impossible to pass a house without stopping to eat and drink with the friendly owners, or to spend the night. Instead of regarding it as a trespass upon their hospitality, these good people actually seemed hurt and offended if even a stranger passed without breaking bread with them.
Treated like queens
There were few ladies, comparatively, and among such a chivalrous body of southrons, those few had everything their own way. Most of them were lovely and elegant women, and, in spite of the roughness of life in a newly-settled country, they were treated like queens by every man who approached them. Some of those gracious and beautiful women are still embalmed in my most grateful and affectionate remembrance for their kindness and attention to me. As I was still a mere boy, shy and awkward, and wholly unaccustomed to society, I don't know what would have become of me without the advice and encouragement of these kind friends. They have grown old long ago, and passed away from this world, but in my memory they live always, fair and young, and blessing all around them with their sweet and gracious kindness. May the earth lie lightly above them!
Journey to Hamilton
This journey to Hamilton being my first glimpse of the world outside of my own neighborhood, I was naturally much impressed by everything I saw and heard, and particularly by the people I met. Dr. Higgason and I travelled on horseback, as -was the custom for men, women, and children in those days. The country between Russellville and the state line is full of natural beauty, and at that time was much wilder and more impressive than it is now. Most of our way lay through almost unbroken wilds, and the bright streams and watercourses flowed through a virgin land in all the fresh beauty of a new creation.
Soon after crossing the Mississippi line, we came to the plantation of Mr. Reagen, who was the first Mississippian I became acquainted with, and whose cordial greeting seemed to welcome me to the State as well as to his own fireside. He had a valuable place in the rich bottomlands of the Sipsey, and his family lived most comfortably in a neat log-house, well finished and well furnished. They were kind, Christian people, and, as Dr. Higgason was their family physician, received me as a friend, and gave me a standing invitation to their house. That night we stopped at the house of Mr. Benjamin Lann, and received all the kindness that could be extended to the most honored guest.
His good wife smiled as she presided over her well-spread table, and pressed each dish upon the travellers. There were young people in the house, and some of the youthful neighbors coming in, we had a merry evening. From there to Hamilton we stopped for a longer or shorter time at every house. Higgason knew everybody, and everybody knew him, and I began to feel that it would be my own fault if I did not soon feel at home in such a genial atmosphere. Especially was this conviction forced upon me when we spent one night at the house of Colonel Willis, at that time one of the most prominent citizens of the county.
He was originally from Georgia, a man of cultivated mind and polished manners, and of means sufficient to enable him to live in much more style than was at that time common in this country. His plantation was large, and cultivated by many negroes. It was adorned by a very handsome and commodious dwelling, and was the happy home of one of the most agreeable families 1 have ever known. His wife was an accomplished and charming woman, and she had the rare good sense to adapt herself to the life her husband's interests required, and to find happiness and contentment in her cheerful domestic life. I shall never forget the kindness of these good people both then and during the many years during which they continued my steadfast and faithful friends. They said to me when I bade them good-by after that first visit, " You are young to be away from home. When you get homesick, come out to us, and let us try to make this another home for you." Thus began a friendship that was never broken until death removed these generous souls."
Alabama Footprints: Settlement is a collection of lost and forgotten stories of the first surveyors, traders, and early settlements of what would become the future state of Alabama.
Read about:
A Russian princess settling in early Alabama
How the early settlers traveled to Alabama and the risks they took
A ruse that saved immigrants lives while traveling through Native American Territory
Alliances formed with the Native Americans
How an independent republic, separate from the United States was almost formed in Alabama