A "rolling store" salesman carrying sack of flour into rural home. Coffee County, Alabama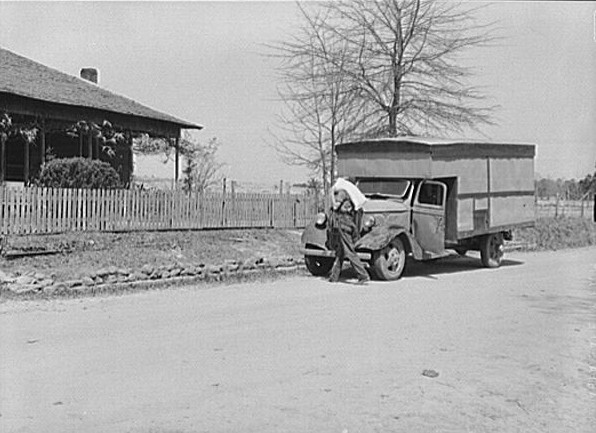 We all know the Rolling Stones are going to be around forever, but will rolling stores be making a return?
Papa's Rolling Stores and Customer Service
written by
Becki McAnnally
March 3, 2012
Today, we hear so much about "Customer Service" and " Customer Satisfaction". There are reams of articles and books written on the subject, and billions of dollars made every year on programs teaching hospitals, businesses and others how to instill in employees the desire and skills to deliver the best of customer service….and on how to measure the quality of the services and the satisfaction levels achieved. This will be of even more importance when our Health Care Law really goes into effect.
Inside of rolling store with tank of kerosene on back (at left). Coffee County, Alabama. Average daily sale is sixty dollars and they take in lots of produce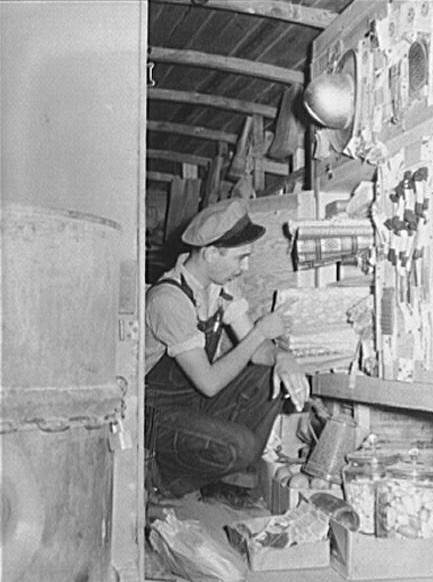 Customer service meant delivered to your door
But this story is about an earlier time when the best of customer service meant that products and services were delivered right to your door !!! (It really caught on, because nowadays we can't get a lot of the services I remember, but you can certainly get many that are very useful, and some, due to improved technology, are delivered instantly!!!
I can remember when the ice man delivered a huge block of ice, which went in a wooden icebox lined with metal…a piece of treasured furniture that I still have to this day. He came at least twice a week, because there were no freezers then, except for very small sections in the earlier refrigerators, which so many people did not have. Then there was the man who picked up and delivered the dry cleaning, and of course, for those who did not have a cow, how could we forget the milkman???
They operated two rolling stores
When I mentioned to my husband, Dale, the topic of my article, he reminded me of his great-grandfather, Joe D. McAnnally, and his son, Dault, (his grandfather, "Papa") who owned and traded a vast parcel of farming land known as part of "McAnnally's Cove" in Blount County, to a man for fully a stocked grocery store and large home in Garden City, Alabama, in 1923.  In the late 1930 's, they began to operate two rolling stores, and Dault also owned a chicken, eggs, feed and potato business, and quite a lot of the surrounding farmland.
He hired drivers and sent out the rolling stores to all the surrounding area in Cullman County.  The stores were made from new bus frames and chassis, then the back was covered in plywood. The inside had slanted shelves, so the goods would not roll around or fall to the floor and be damaged. On these rolling stores, there were canned goods, bread, bologna and other sandwich meats; butter, cheese, vegetables, watermelons and cantaloupes in season; sacks of flour, meal and sugar in white cotton sacks that made great dishtowels; soft drinks in a large drink box filled with ice; material, sewing goods, candy, kerosene ("coal oil") and many other items that were so useful to the farm families who couldn't always get to the store.
Folks had no money so they bartered
A great many of these folks that the rolling store served had no money but would barter chickens and eggs and other produce for items they needed. For that reason, the drivers carried chicken coops on top of the truck, and a ladder so they could access them for the trades. They met a serious need during a perilous time.
Dale said that on occasion Papa would drive the store, and he would accompany him. He vividly remembers the people out in the field who would see them coming, stop the mules, lay down the plow lines, and come running to the truck! The ladies would always come out of the house if they were inside, to look at the materials, ribbon, and sewing notions, and the children, of course, always wanted candy and soft drinks. Papa would fill the kerosene cans, then put a potato in the spout to keep it filled, if there was no cap!
He would talk too much
The other drivers and my husband's mother hated it when Papa drove because he loved to talk to everyone so much. He would walk the fields, check the height of the corn, examine the cow, chickens, and pigs or talk about how dry or wet it was.They wouldn't get home until really late, and everything in the truck had to be restocked …making everyone late to get home. And Dale had missed his mother's supper, but he certainly wasn't hungry…he had eaten all day!!!!!
It was a simpler time, but the idea of great customer service wasn't lost on Papa McAnnally! And if he had thought to do a satisfaction survey, I am sure he would have scored in the high 90's, if not 100's, because he believed in great "Customer Service"!!!
Family Surname Books – use the Search box to see if we have a book on your ancestor
Check out genealogy and novels by Donna R. Causey
Vinegar of the Four Thieves was a recipe that was known for its antibacterial, antiviral, antiseptic and antifungal properties for years. It was even used to cure the Bubonic Plague.