(Margaret Eades was the wife of Jeremiah Austill of the Legendary Canoe Fight. She, like her husband was an early pioneers of Alabama. In this autobiography we hear her actual words of her experiences and the massacre at Fort Mims. The autobiography was published in The Alabama Historical Quarterly in 1944)
LIFE OF MARGARET ERVIN AUSTILL
The Creek War
PART IV
After we had been in the Fort six months, the Indians became very hostile, crossed the Alabama and burned houses, corn, destroyed cattle, and killed people that were at home in spite of all that could be done by the scouts. Every family was obliged to go into a Fort. There was an old widow named Cobb, who had two sons old enough to be in the service, but she told them to stay at home and make corn, she was not afraid of Indians, but one day while the boys were plowing in the field, they saw Indians jumping over the fence, the boys stripped the gear off the horses, mounted in a moment, and flew to the house, calling their Mother.
They rode from Choctaw Bluff, eight miles away
She ran out to meet them, and just as she passed her chimney corner, she saw her dye tub with indigo blue, she just turned the whole contents into her lap, jumped up behind her son and galloped to our Fort from Choctaw Bluff, eight miles. When they arrive, they were all blue, from head to foot. That was the only thing they saved was the thread that was in the blue dye. The women in the Fort all joined and soon made a piece of cloth of the blue, for all had spinning wheels and looms in the Fort, for it was the only way that clothes were obtained in those days.
Fort Mims Massacre
The day Fort Mims fell was a sad day to all the country. Every heart nearby became paralyzed with fear, and our men that had been so brave, became panic striken, and their families pleading to be taken to Fort St. Stephens. Father and dear old, Captain Foster spoke to them in vain, they stampeded, some families took to the canebrakes, some to St. Stephens, some down the river to Fort Stoddard where the arsenal is now.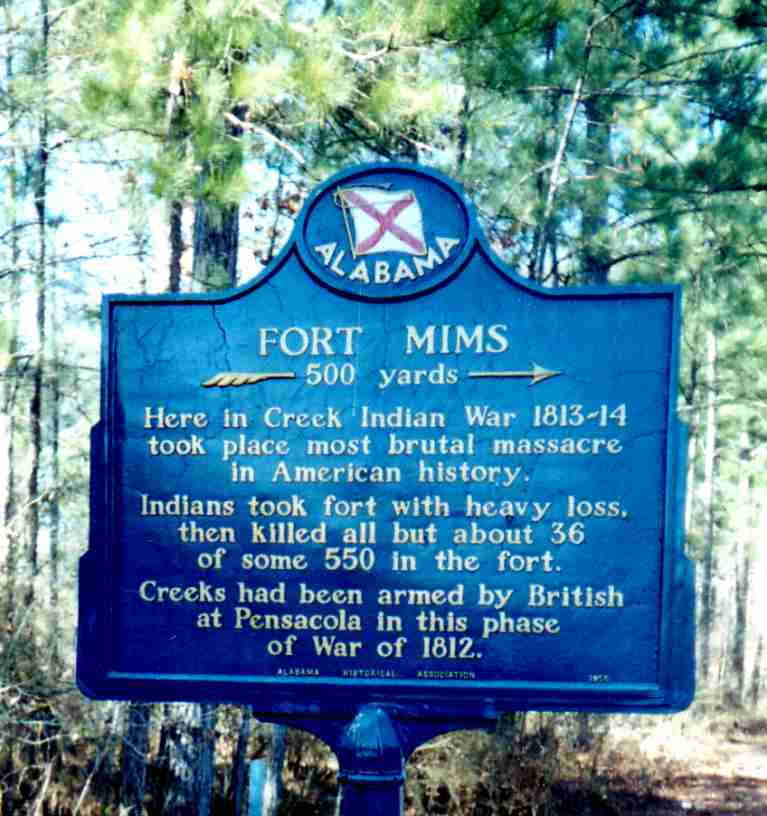 Just as Father and Mother, with Sister and myself were in the act of getting into the canoe to cross the Bigbee, for not a soul was left in the Fort, a young man came running down the bluff calling to Father not to leave him, for God's sake, to be murdered, for the Indians were coming. "Oh, don't leave me, I shall die if you do." Mother was standing on the bank until we were safely seated, for the canoe was a small one, could only carry four persons. Father told the man that it was impossible for him to take him in that his family must be saved first.
She said take the coward in, I will wait here
The poor fellow cried out, "Oh, God, I shall be killed." Mother said, "Oh, dear husband, take the coward in, I will wait here until you come after me," and she actually pushed him in, and with her foot sent the canoe flying off, and sat down on the sand quietly waiting Father's return. As soon as the boat struck shore, the fellow made tracks for the Choctaw Nation.
In a few days, after the excitement, all the people returned and pledged themselves to remain and hold the Fort. In the meantime, the young folks were courting and making love, although they were in a Fort expecting to lose their scalps at any moment. Mr. George S. Gullet became engaged to my sister, Mary Eades, and then implored our parents to allow the marriage, because he could be of so much help to us, could take care of Sister, and then Father would only have Mother and me to take care of, so they consented that the marriage should take place in the Fort.
They had a wedding supper
Mother sent Hannah word that she must get up a large wedding supper, and manage to get it to the Fort. Hannah came down in a complete upsetment, "Name of de Lord, Missus, what I gwine do for all de silibubs and tings for Miss Mary's wedding?" Mother said, "Never mind, Hannah, make plenty chicken pies, I can buy turkey from the Choctaws, save cream, make plenty of potato custards and huckleberry tarts. We will have coffee enough for all the Fort, so go right at the work." "Well, well, did I ever tink to see de day, did I ebber, my Lord, Miss Mary must be crazy."
But she set to work with a will. Invitations were general to the whole inhabitants of the Fort, they were married, and a jolly wedding it was. One old man sat down to the long table, looked over at Mother, and she said, "Help your self, sir." I thank you, Madam, I will with presumption." I laughed, and being a little girl, was sent off from the table.
All the gallant young men joined General Jackson's army
Not long after the wedding we had a respite, the Indians were driven back, and all returned joyfully to their houses. Very few had been destroyed this side of Choctaw Bluff, but we could hear of fearful murders. Men would venture too far, and again and again we were forced to return to the Fort until at last General Jackson came to our rescue and finished the war. All the gallant young men joined his army.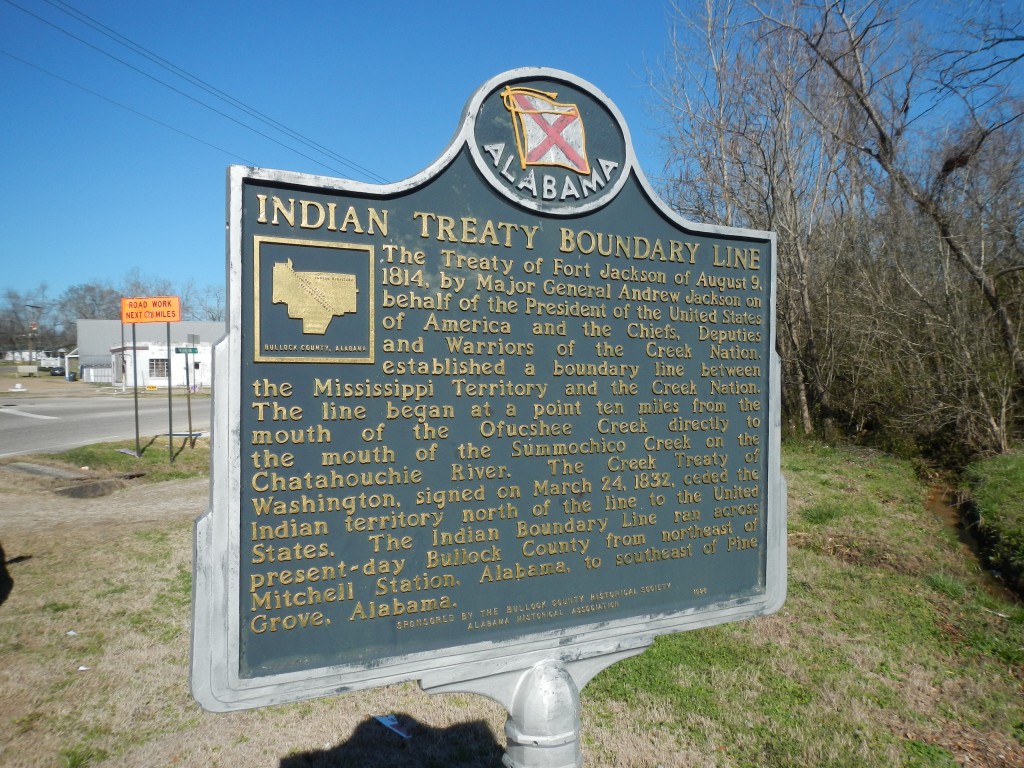 My Father carried his provisions up the Alabama in his barge, even as high as Fort Jackson above Wetumpka. Sam Dale, Jere Austill, and many others were with Jackson fighting like heroes for many months, and after the Indians gave up, they went with Jackson to Pensacola and Mobile, some went to New Orleans. Austill was very sick at the Battle of New Orleans, but one of his cousins was killed there, he was a Files.
About the last of Fourteen all the people were gay, money was plenty, and the people were pouring in by thousands. The County was filled with young men looking for land, school teachers getting up schools. The largest school in the territory was at St. Stephens, there I was sent with many a poor little waif to learn grammar. Our teacher was Mr. Mayhew, from North Carolina, a splendid teacher and good man.
SOURCE
The Alabama Historical Quarterly, Vol. 06, No. 01, Spring Issue 1944. (Margaret Eades who has left this hitherto unpublished account of her experiences as a young girl, daughter of a pioneer and witness of many of the bloody scenes of the Creek Indian War of 1813-14, married Jeremiah Austill. Mrs. Austill died in 1890 having borne several children whose descendants still live in South Alabama and other sections of the country.)
Do you need some guidance in your tracing your family tree? Genealogy is a fun hobby that can include the whole family.
Save time and avoid pitfalls in your research. WHERE DO I START? Hints and Tips for Beginning Genealogists with On-line resources
is filled with simple, no-nonsense instructions to set you on the path of your families' ancestry with the following information:
WHERE TO FIND – on-line resources, experienced genealogists will not be aware of many of these.
COURT RESEARCH – how to do courthouse research, where to find birth, death, social security records free on-line.
EIGHTY – ONE QUESTIONS – you should ask your elderly loved ones before it's too late.
TIPS ON BREAKING DOWN THE WALL – Everyone faces some difficulties in research, often called a 'brick wall' but WHERE DO I START? provides suggestions for overcoming them
Check out genealogy books and novels by Donna R. Causey