The following is an abridged excerpt from an article that was originally published in a New York newspaper and republished in the Jacksonville Republican on May 11, 1837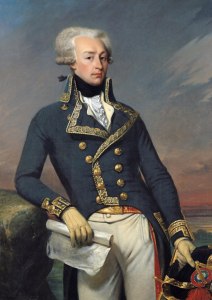 George Washington, at the age of 28 years, was Commander in Chief of all the armed forces of Virginia.
La Fayette was but 23 at the siege of Yorktown and was Commander in Chief of the French National Guards at 32.
Com. Perry gained his victory on Lake Erie at 27.
Milton had written his best miscellaneous poems at 26.
Charlemagne had made himself master of France and a part of Germany at 29.
Raphael was not 30 when he began to be called the "divine" Raphael.
Isaac Newton had reached the pinnacle of his knowledge and fame at 30.
Hamilton was secretary of the United States Treasury at 32
John Jay was Chief Justice of New York at 32.
Napoleon was First Consul of France at 32.
Harvey discovered the circulation of the blood before he was 34.
John Calvin, says Bancroft, secured an immortality of fame before he was 28.
Papinian became an oracle of Roman law at 34.
Byron had produced his most brilliant works at 34.
Mozart, the great German musician, died at 35.
Hannibal, at 36, was thundering at the gates of Egypt at about 30.
David was publicly acknowledged king of Judah at 30.
John the Baptist had finished his work at the age of 35.
Thomas Jefferson signed the Declaration of Independence at the age of 33.
Jesus Christ finished his work before he was 33.
RELATED STORIES:
Did you know that most of the soldiers at Iwo Jima were only 17, 18, and 19-years old?
It might have been called the Boys' War instead of the Civil War – here are the interesting facts
The Grand Masters of Free & Accepted Masons of the State of Alabama 1811-2011 – 

biographical data into the lives and backgrounds of all the Grand Masters of Freemasonry in Alabama from 1811 to 2011. Many early photographs of the Grand Masters are included in this work.