Madison County, Alabama is considered the birthplace of Alabama, established on December 13, 1808. One of the earliest known cemeteries is Cumberland Presbyterian Campground, Mount Paran Cemetery is in New Market, Alabama. It is located off Winchester Road.
Cemetery established in 1806
The cemetery was established as early as 1806 and is the final resting place for many of the county's earliest pioneers, with the earliest surviving grave stone dated 1826. The historic old cemetery has more than 400 gravesites, including one of the largest intact "slave" cemeteries in Alabama.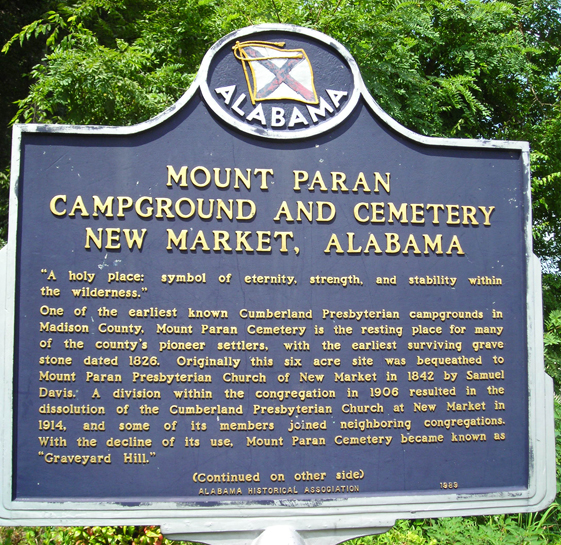 Mount Paran campground & cemetery historic marker (www.huntsvilleal.gov)
With the decline of its use, and after a division within the Presbyterian Church and dissolution of the Cumberland Presbyterian Church in New Market around 1914, Mount Paran Cemetery became known as "Graveyard Hill." Many old families of North Alabama are represented here, including as many as twenty Confederate soldiers. War of 1812 Veterans and other Revolutionary War Veterans are also in the cemetery.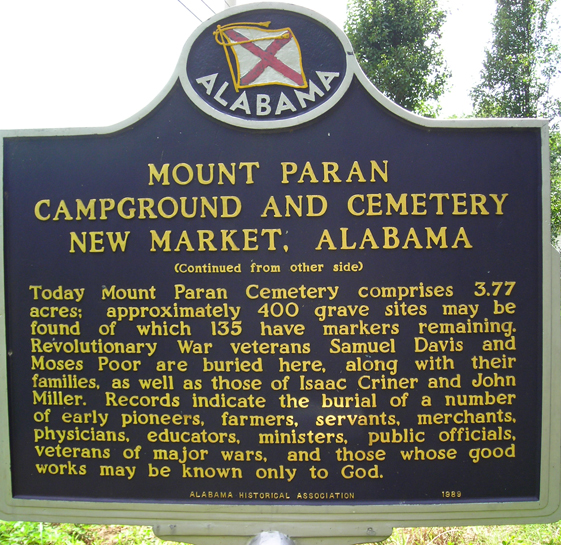 Mount Paran campground & cemetery historic marker (www.huntsvilleal.gov)
Site bequeathed by Revolutionary War Soldier
The six acre site was bequeathed to Mount Paran Presbyterian Church of New Market in 1842 by Revolutionary War Soldier, Samuel Davis. He as well as several generations his family are buried at Mount Paran. Moses Poor, another Revolutionary War soldier is also buried there.
The campground was a favored campsite for early Cherokees of the area and used as a muster ground during the early Mississippi Territorial Days of Alabama. Captain John Williams was the muster Captain Andrew Jackson is said to have spent much time at the old campground during the early days of the Creek War. Isaac Cook, James Cook and Anna Cook buried at Mount Paran. Isaac Cook chartered the Masonic Lodge at New Market, Alabama in 1839.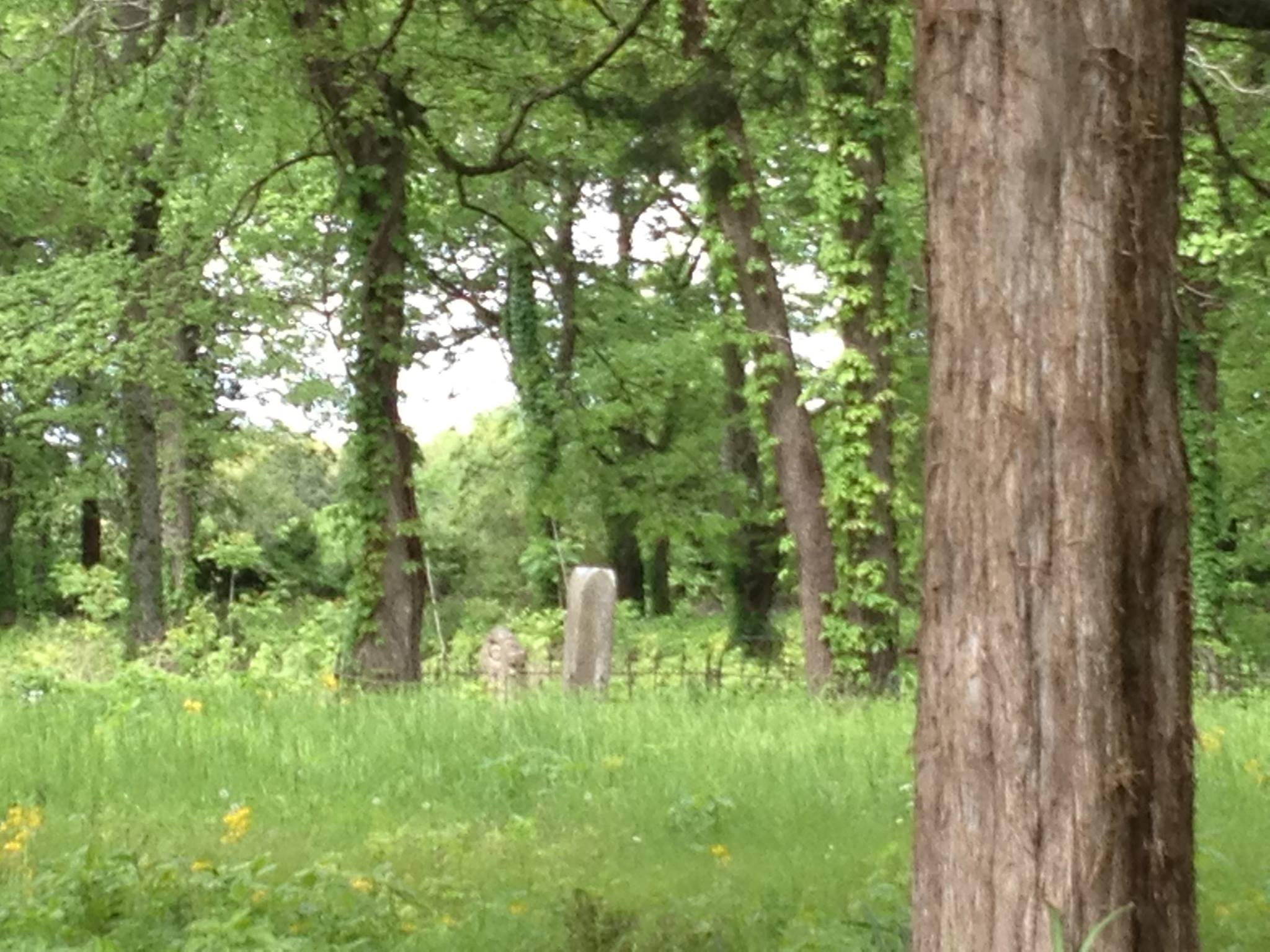 Mount Paran Campground and cemetery (from savegraveyardhill facebook page)
Rev. William Crutcher of old New Market is also buried at Mount Paran Cemetery, his descendants married into the family of Charles Word. Other early settlers buried there include; Isaac Criner, descendants of Drake/Harris, Edwards family, and John Miller.
Due to the illegal destruction of the ancient old cedar trees by an illegal timberman in 1966, many of the old boxtombs and ancient old stones were destroyed. The division in the Cumberland Prebysterian Church in 1906 resulted in unclear ownership of the six acre site but in 1988 records were located.
Mary Miller deeded land in 1849 to serve both Methodist and Cumberland Presbyterian congregations. The original building burned and the Methodists in 1882 sold their interest in a second building. This second church was destroyed by a tornado in 1884. The present building was erected in 1888. In 1906 the Cumberland Presbyterians left to form a new church, and the remaining members affiliated with the First Presbyterian Church.1
A facebook group (Save Graveyard Hill) has been formed to restore and preserve this cemetery.
SOURCE
Huntsville.gov
Biographies of Notable and Not-so-Notable Alabama Pioneers Vol. I

Revised with direct links to many sources and burial sites! This book includes the genealogy of and biography of William Barrett Travis of Alamo fame and Elisha Cottingham, the Alabama descendants from the

Tapestry of Love, Historical Fiction Series

by Donna R. Causey.