[The article below was written in 1930 by Mildred Reynolds Saffold. She describes the beautiful mansion of Belvoir, the home of  Chief Justice Reuben Saffold. She also includes biographical information about the family, including a love story, and and a disinheritance]
The day was as beautiful as a summer's day, and as we went spinning along the winding roads of Autauga on our way to "Belvoir," it was only by the vast fields of golden-rod spread lavishly over the rolling range of hills, and the burning hues of Autumn that we could judge of the season, and its month.
Belvoir near Pleasant Hill, Dallas County, Alabama ca. 2011 by photographer 

Altairisfar (Jeffrey Reed)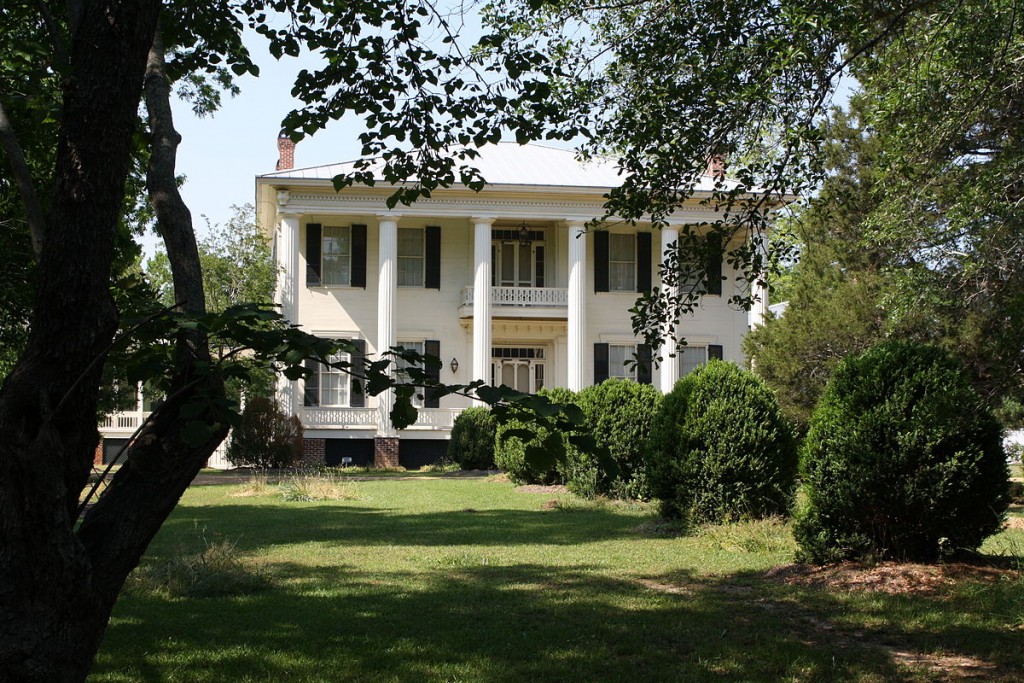 Artist, Composer and Historian tour Belvoir
The party consisting of a poet, an artist, a composer, and an historian, transcended the limitations of deadly duties, and for the day, became only bondsmen to beauty. The woods, and still green waters along the way, gave a sense of space, and solitude; and it was easy for an artist to interpret the mysterious ways of sunshine and shadow and—the undulations of a dreamy Mother Earth, and the changing colors on her breast—for a poet to catch the looping flash of a blue bird flying against a veiled horizon, and run it in rhyme; for the composer to sense the harmony of a dying year in the poignant note of some solitary, wind blown tree, and set it to song; and last, for the historian to grasp the fragments of some story, some name, or tradition, to record for a busy changing world, knowing full well that history rescued from the deluge of time, can alone make amends to man for the short span of life allotted to him.
Belvoir – Pleasant Hill, Dallas County, Alabama ca. 1980
(Alabama Department of Archives and History)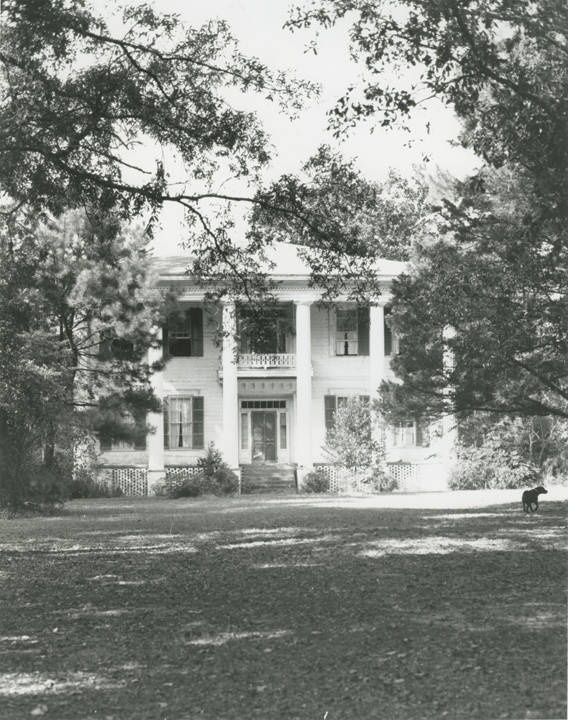 Father was a minute man in the Revolutionary Army
On, and on we sped, surrendering our time only to some secret paradise for Fall bloom, or a fleeting glimpse of some carved chronicle of the dead in lonely churchyards dotting the way; for the principal objective of this excursion was "Belvoir" the Dallas County home of the late, Chief Justice Reuben Saffold, of whom the late Dr. Thomas M. Owen in his history of Alabama writes—"was a lawyer and Chief Justice of the Supreme Court of Alabama." Continuing, the sketch further says, "He was born September 4th, 1788, in Wilkes County, Georgia, and died at Belvoir in Dallas County; son of Reuben, and Sarah (Lynde) Saffold, the former an early settler in Wilkes County, a planter, a minute man in the Revolutionary Army, later receiving a grant of 250 acres of land in Washington County in gratitude for his services.
Judge Saffold received his academic education in his native county, taught school, and read law in the office of Major Edward Payne in Watkinsville, Morgan County, Georgia; temporarily locating in that place after being licensed to practice.
Moved to the Mississippi Territory in 1813
In June, 1813, he removed to Jackson, Clarke County, then the Mississippi Territory, conducted thither by General Sam Dale, picturesque frontier guide, and Indian fighter. Here he resumed the practice of his profession which was shortly interrupted by his engagement in the war with the Creek Indians. He had an appointment as Colonel,—commanding a company in service along the Perdido river, and was in the battle of Burnt Corn.
After the establishment of peace, he resumed the practice of his profession, and was a member from Clarke County of the Legislature of the Mississippi Territory, and a member of the Convention of 1819 in Huntsville which framed the first Constitution for the State of Alabama and was elected as Judge of a second Circuit Court thereby being ex-officio, a member of the State Supreme Court.
Chosen to Supreme Court
In 1832, when a separate Court of last resort was organized, he was chosen as one of the three members of the Supreme Court. In 1819, he removed to Dallas County; Cahaba being the State Capitol, but upon resigning as Chief Justice, removed to Mobile. After the expiration of a few years, returned to 'Belvoir,' his former home situated a few miles northward on the Mount Pleasant road. Here he resumed the practice of law, having his office on his own grounds. In 1843 Governor Fitzpatrick tendered him the position as Associate Justice of the Supreme Court, but he declined the honor. Colonel Albert James Pickett, author of the State's early history said of Judge Saffold, The reports of the Supreme Court of Alabama are enduring memorials of his strength of mind, patient investigation, and profound learning.
Married in Morgan County, Georgia
On April 1st, 1811, Judge Saffold was married in Morgan County, Georgia, to Mary Evelyn, daughter of Colonel Joseph, and Jane (Walker) Phillips, a granddaughter of Joseph Phillips, a minute man in the Revolutionary command of Colonel Elijah Clarke, and who received in 1785 from the State of Georgia a grant of 550 acres of land in Washington County for his services. At the time of the horrible massacre of Fort Mims, August 30th, 1813, Mrs. Saffold was in a neighboring fort, and heard the firing at the former place.
Brought secretly as an infant
Family tradition claims that the original ancestor, William Saffold was brought secretly in infancy to Charleston, South Carolina, to prevent his inheritance of valuable estates in England. The name Saffold seems to have originated in Saxony, Germany. Such is the life history of the first Saffold in Alabama, and the builder of "Belvoir."
The sun was high in the heavens when we left the main highway making a southerly dip into the county, and as we passed old landmarks along the way, it was evident that many old Dallas County homes are still rich in significant survivals of antebellum culture. Continuing our journey for a few miles, a curving road soon brought us face to face with "Belvoir" a lonely, lovely, place, appropriately suited to its name as it stands in silent dignity overlooking the quiet hills and valleys of the surrounding country.
Many weddings took place in the house
Built in the year of 1825, the touch of time grew manifest as we approached the place, and the house; of which the present owner and his lovely wife graciously welcomed us, proclaimed both by style of architecture, and location, that the original owners, were people whose ways had peace, and rest in them.
As I entered this house that had known the sun of more than a hundred summers; that had withstood the winds of as many winters; whose walls had once been warmed by the affection of a large family, and consecrated by their tears, I felt the spell of another day, and I tried to people it; and in my imagination picture them in their habit as they lived, and as I sat that grey-golden October after in the long, dim parlours, I tried to visualize a far away January night in 1841 when Jane Elizabeth, first daughter of the house plighted her troth in these same rooms to Dr. James Berney of Charleston, South Carolina; of the wedding festivities of Mary Anne, who two years later became the bride of Colonel James M. Bolling of Virginia; and of Caroline Sarah, whose affections having taken her further afield was married in 1851 to Dr. Philip Noble Cilley of New Hampshire—I even tried to visualize the home coming of Joseph, oldest son of the house and his lovely bride, Frances Elvira Bibb, as he brought her in 1841 on her first visit to this house; of Benjamin who in that same year was married to pretty Mary Ellen Brown, and of Milton, who some years later (1856) came bringing his bride, Georgia Eleanor one of the beautiful Whiting sisters of Montgomery, to know the place, and meet his people, but somehow my imagination failed me, for there was not even the whisper of a ghostly presence, and the rooms having grown dim and chill, seemed only to speak of a perished century, and was pathetic with the suggestion of dead generations.
Stricken with yellow fever
Romance, that offspring of love often lurks in old houses, and "Belvoir" would lose much of its interest, and intimate charm if it could not furnish its proportional part; and tradition has it that Addison, (born 1815) third son of the house who, when nothing remained of a love affair, begun when a student at the University of Virginia, but the memory of a lost happiness, decided to cast his lot in a still newer country than his native Alabama, and it was while carrying his slaves to Texas, where he intended in the future to reside, that he was stricken with yellow fever in New Orleans and died. His body was afterwards brought back, and buried at "Belvoir" where under the cherry laurels, and crepe myrtle of the family burying ground, his dust concludes the romantic chapter of him, whose heart had once enshrined an idol of clay.
Belvoir near Pleasant Hill, Dallas County, Alabama ca. 1997 prior to restoration by photographer 

Altairisfar (Jeffrey Reed)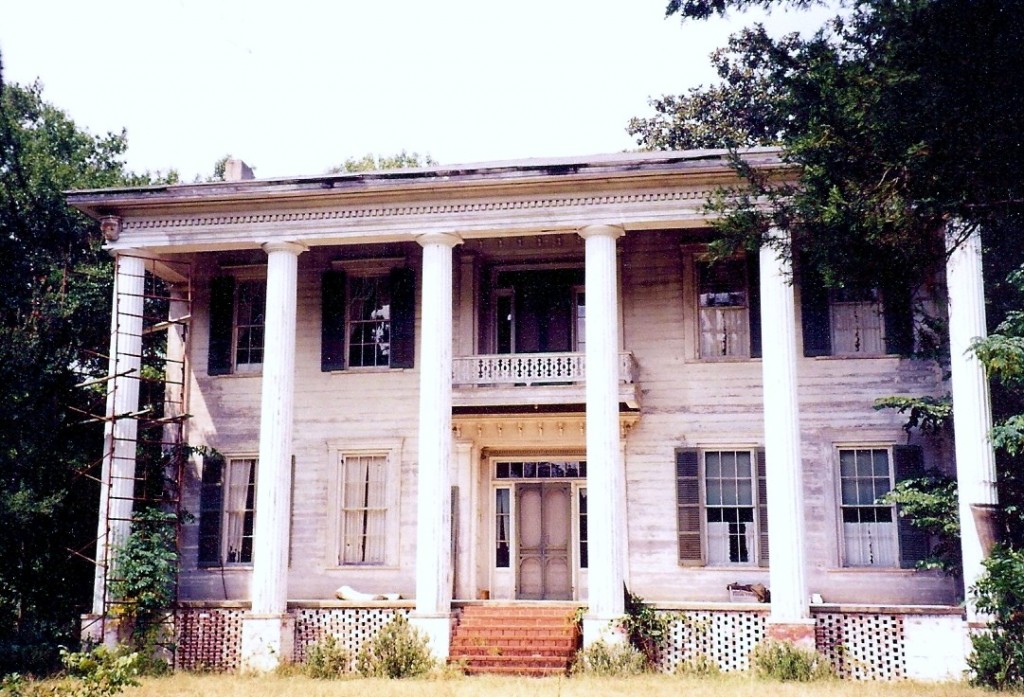 No girl could defy parental authority, and she remained unmarried
The sons of Chief Justice Saffold were all University men, and his daughters were given equal advantages in education for women of that day, and it was upon the occasion of Eliza Evelyn's visit to Europe (a great event in the early fifties) as a finishing touch to her accomplishments that the romance of her life began. Her love story is one of old fashioned tenderness, and renunciation, for it was in Paris when her heart was a-flame with romance, and her beautiful face a-flower with perfection that she met, and loved a handsome young Frenchman, but as foreigners were not considered desirable matrimonial ventures by the old conservative Southerners of those days; especially when it meant the sea between—and certainly no girl of that period would have dared to defy parental authority, Eliza Evelyn, youngest daughter of the house remained unmarried, and to the end of a long life, true to a foreign lover; but always there was something of sorrow hidden in her weary voice.
The muted love story of Eliza Evelyn so captured the imagination of her two great nieces, Georgia Saffold Gates, and Evelyn Saffold Taber that they begged to see the room where she had lived out her long and lonely life, but as they tripped softly down the broad stairway that had once echoed to the foot falls of their unhappy kinswoman, it was evident that all that had greeted them in the dim perspective of her room beyond, was a deep silence, broken only by the whisper of the wind in the cedar trees outside.
Graveyard near the home
When the South was younger by many years, it was the custom of those having landed estates to set apart some sweet, isolated spot near their dwelling places for the dedication of their dead; due no doubt to the difficult transportation over uncertain roads in certain seasons, and as we went along, following a little path that seemed to have run away and got lost in the woods, we soon came upon an enclosed plot steeped in solitude, and overgrown with cherry laurel and crepe myrtle.
Within that enclosure, rests the remains of Chief Justice Saffold, his wife Mary Evelyn, and several of the twelve children born to them. There is no record of the first grave made, nor of the last, but it is evident from the little remnants of Cinnamon rose, and Sea Lavender, that Eliza Evelyn was the last survivor.
As we turned to leave this little sanctuary of the dead, the caw of a passing crow overhead, and the drowsy tinkle of a cowbell in the distance, seemed to emphasize the stillness, while over in the west as the sun went lower, and lower, a little breeze laden with the fragrance of fresh earth, and fall bloom sprang up; and pausing in its course, gently caressed the lonely graves like an evening benediction.
Judge Saffold helped to frame Alabama's constitution
George Eliot has said, that "breed is stronger than pasture" and it is interesting to know that from the portals of "Belvoir" the descendants of Chief Justice Saffold went forth taking their places in the front rank of their chosen professions. Of his five sons, four became lawyers, jurists, and statesmen, while the other, became a power in the world of medicine and surgery.
Among his grandsons, and great grandsons can be numbered lawyers, physicians, college presidents, bankers, army officers of rank, lecturers, writers and men eminently successful in the business world. Being a man of integrity, profound learning and wisdom, Judge Saffold first cleared away all hampering obstacles of a new country; helped to frame the constitution of his adopted state, selected, and settled in this quiet place, the very name "Belvoir," with which it was christened making for contentment. Here, he gave his children the benefit of an environment that became an influence upon their characters, and as one looks back over more than a century of yesterdays that have gone to join the vagabonding shades of time one can but feel that no more fitting tribute can be paid to the memory of an honored forbear, than for his descendants even unto the third and fourth generations to be worthy of one, who by example and achievement, made the world a better place for having lived.
Overhead, the heavens still held a wondrous blue, though the day was all but spent. As we turned our faces homeward, a mist rose from the valleys curling up over the trees like incense.
As we sped along a road that curved, and dipped in its course, the moist air from the low lying wood spaces was heavy with the fragrance of damp earth, and last year's leaves. Darkness had fallen when we reached our destination, and in the north the Dipper lay sprawled across the sky. As we said our goodbyes we felt that in our little excursion to "Belvoir," we had sensed the romance of a pilgrimage, and the companionship of an expedition.
More about the Saffold family can be found at Saffold Roots
The Collias family from Boston has restored the beautiful home.
SOURCE
Transcribed from Alabama Historical Quarterly Volume I No. 3, 1930 (Owing to pressure of work in the Court, Chief Justice Anderson was not able to prepare the sketch of Judge Saffold as a part of his series on the Chief Justices of Alabama. In writing of "Belvoir", as one of the series of Historic Homes in Alabama, Mrs. Mildred Reynolds Saffold has included a biographical sketch of Judge Saffold, which supplies the missing link in Judge Anderson's series of articles. Editor.)
I enjoyed this book very interesting how the colonists lived and the hardships they went through. Made me want to know a little more about the history of our country.
Read this book for the 2nd time and I am cannot wait for the 3rd book in this series by author Donna Causey. I don't think there is another historial fiction out there that would make a better movie. This author's caractures come to life on the pages of all her books and need to be shared on the big screen.
I HAVE READ ALL THREE BOOKS IN THE SERIES AND WOULD RECOMMEND THEM TO ANYONE. THEY SHOW WHAT LIFE WAS LIKE IN THE 1600'S, AND THE HARDSHIPS PEOPLE ENDURED.