He was born September 17, 1923, in Mount Olive, Butler County, Alabama and was regarded as one of the most significant and influential musicians of all-time.
He recorded 35 singles (five released posthumously) that would place in the Top 10 of the Billboard Country & Western Best Sellers chart, including 11 that ranked number one. Do you know his name?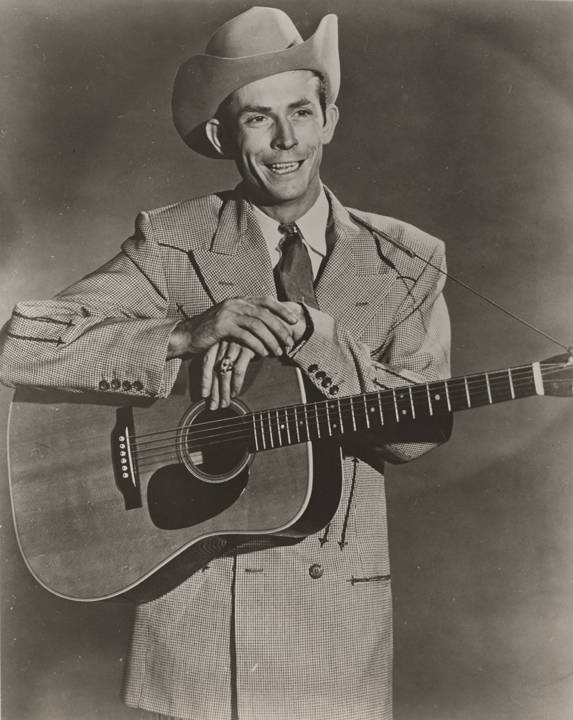 Hank Williams wearing a houndstooth jacket and holding a guitar ca. 1940 (Alabama State Archives)
Hank Williams, Sr. was the third child of Lon and Lillie Williams and grew up in a household that never had much money. His father worked as a logger before entering the Veterans Administration hospital when young Hank was just six. Father and son rarely saw each other over the next decade, with Williams' mother, who ran rooming houses, moving the family to Greenville and later to Montgomery, Alabama. His childhood was also shaped by his spinal condition, spina bifida, which set him apart from other kids his age and fostered a sense of separateness from the world around him.
Hank Williams boyhood home in Georgiana, Butler County, Alabama is now Hank William's museum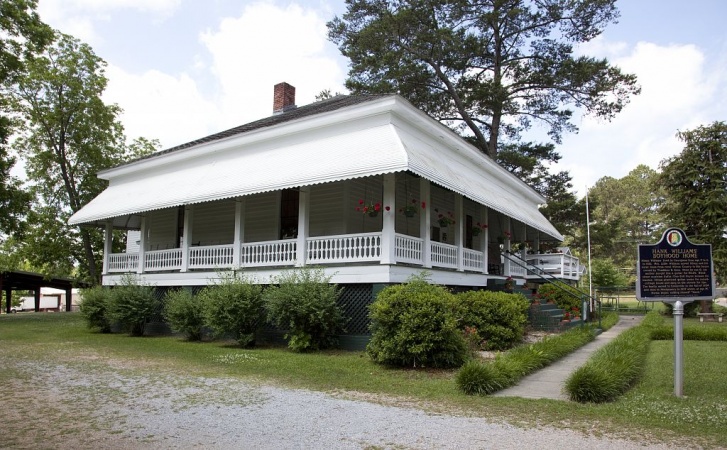 Picking up the guitar for the first time at the age of eight, Williams was just 13 when he made his radio debut. Williams moved to Georgiana, where he met Rufus Payne, a black street performer known as "Tee Tot" who gave him guitar lessons in exchange for meals or money. Payne had a major influence on Williams's later musical style, along with Roy Acuff and Ernest Tubb.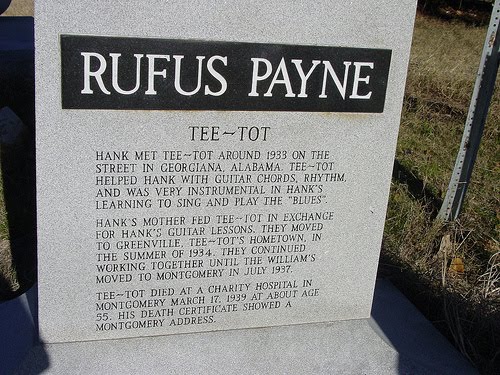 Hank & Hezzy's Driftin' Cowboys ca. 1938 – Left to right: Smith Adair, Braxton Schuffert, Irene Williams, Hank Williams, Freddie Beach. Front: Carolyn Parker and unknown woman
(Alabama State Archives)
During this time, Williams informally changed his name to Hank, believing it to be a better name for country music. He moved to Montgomery and his music career began there in 1937 when WSFA radio station producers hired him to perform and host a 15-minute program. A year later he was entering talent shows and had his own band, Hank Williams and his Drifting Cowboys which was managed by his mother, Lillie. He dropped out of school to devote his time to his career.
Hank Williams with guitar on streets of Montgomery, Alabama in 1938 (Alabama State Archives)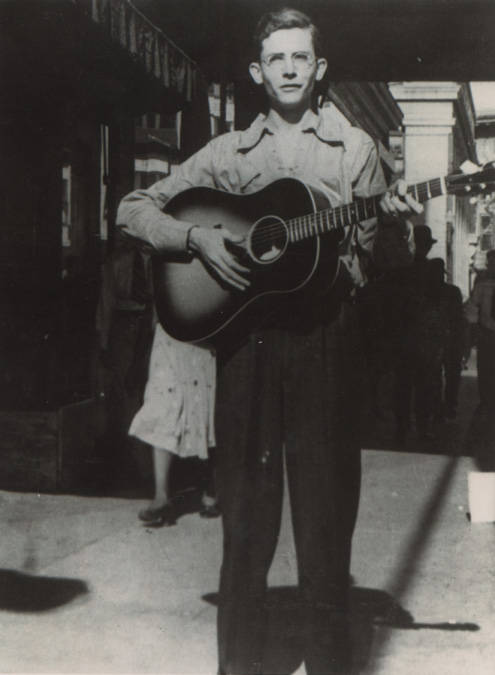 Early Hank Williams, Sr.
According to his biographer, Colin Escott, this is the earliest known recording of Hank singing one of his own songs. The song was recorded in the spring of 1942 by the owner of Griffin's Radio Shop in Montgomery, Alabama.
Hank Williams' First Recordings (Aug./Sept. 1938)-Fan It / Alexander's Ragtime Band
His mother drove the group to venues in her station wagon and collected gate money. By the early 1940s, Hank was one of the biggest draws in the region, and had come to the attention of several Nashville artists and music business luminaries. But his reputation as a singer was already matched by the one he'd built for drinking and unreliability. Most considered him an unsafe bet.
I recently found this old song by Hank Williams. I never heard Hank Williams sing it before. The Blind Child, brings back many memories for me personally. I remember my grandmother singing and playing this on the piano often. I can still hear her singing it in my mind and it brings back warm memories. I am curious to actually know the age of the song. I don't believe it was one he wrote. If you have more information about it, please share in the Reply section below. I'd like to know more about the song.
Hank Williams at opening of Chevrolet dealership in Luverne" in Crenshaw County, Alabama ca. 1940 (Alabama State Archives)
In 1943 Hank met Audrey Mae Sheppard, an Alabama country girl with 2-year-old daughter Lycrecia from a previous marriage. Audrey learned to play stand-up bass well enough to play in the band, and began acting as manager.
On December 15, 1944, Williams married Audrey Sheppard. It was her second marriage and his first. Their son, Randall Hank Williams, who would achieve fame in his own right as Hank Williams, Jr., was born on May 26, 1949
Hank Williams, Audrey Sheppard Williams and the Drifting Cowboys band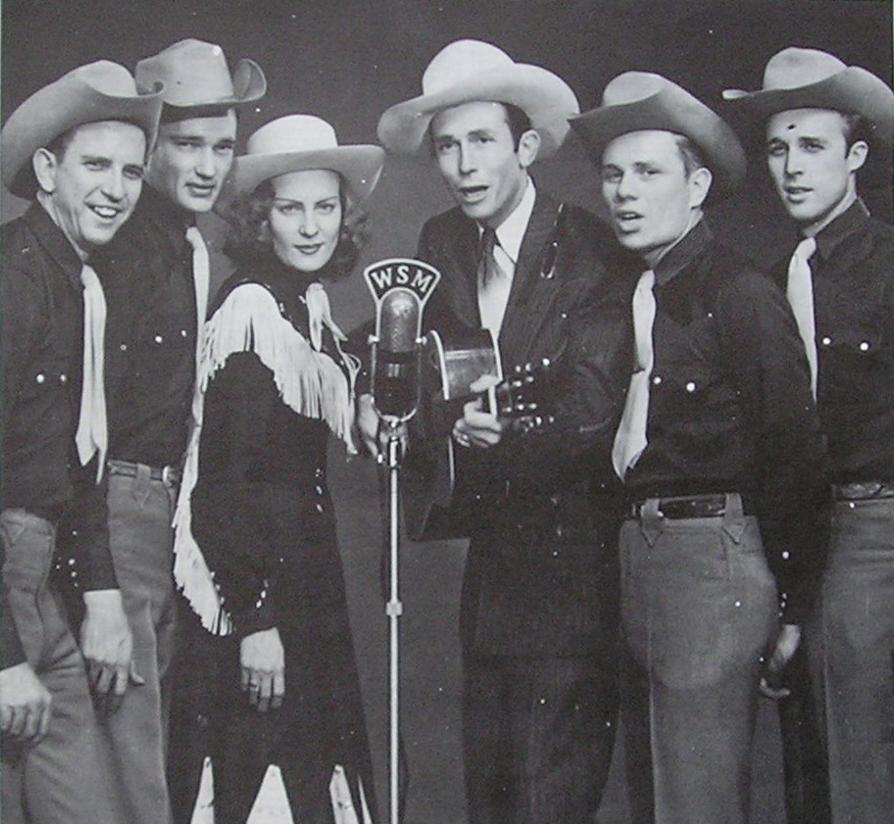 Hank and Audrey Williams (Lycrecia – Audrey's daughter and Hank Williams Jr)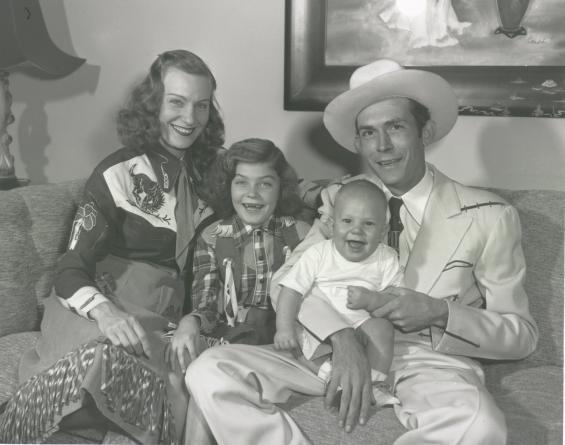 Desperately craving a singing career, Audrey pushed for inclusion in the show at every chance. Her ambition, however, far exceeded her talent. Audrey would vie with Lillie for Hank's attention throughout the relationship.
Films of Hank Williams performing live are rare but this one was made in 1952.
This is an especially rare film of Hank Williams performing with Anita Carter, the sister of June Carter (Johnny Cash's wife) on the Kate Smith Evening Hour. June Carter introduces them.
https://www.youtube.com/watch?v=orM1yplEltI
In 1946 Audrey accompanied her husband to Nashville to meet publisher Fred Rose. Fred and his partner Roy Acuff, later a giant in the industry, ran a successful "hillbilly" publishing concern. At first Fred was interested in Hank only as a writer. Hank had begun writing shortly after he started singing and playing guitar, and he sold songbooks at his club appearances. Within the year, however, Fred had made Hank's singing career a pet project, and arranged for him to record four songs for the Sterling label. In March 1947, in a deal engineered by Fred, Hank signed with MGM.
This is a live radio show of Hank and Audrey Williams singing.
Hank Williams at WSM Studios – Spring 1952 (Alabama State Archives)
Hank Williams at his last personal appearance Dec. 28, 1952 (Alabama State Archives)

In 1951, a fall suffered during a hunting trip in Tennessee reactivated his old back pains. He later started to consume painkillers, including morphine, and alcohol to ease the pain. His marriage with Audrey, always turbulent, rapidly disintegrated, and Williams developed a serious problem with alcohol, morphine, and other painkillers prescribed for him to ease the severe back pain caused by his spina bifida. The couple divorced on May 29, 1952. His alcoholism worsened in 1952, on August 11, 1952, Williams was dismissed from the Grand Ole Opry for habitual drunkenness.
After his divorce, he had a brief relationship with Bobbie Jett. His alcoholism worsened in 1952, on August 11, 1952, Williams was dismissed from the Grand Ole Opry for habitual drunkenness.
During his last recording session on September 23, 1952, Williams recorded "Kaw-Liga", along with "Your Cheatin' Heart" and "Take These Chains from My Heart". Due to Williams's excesses, Fred Rose stopped working with him. In October 1952 he married Billie Jean Jones. By the end of 1952, Williams started to suffer heart problems. Hank Williams had a heart attack at the age of 29 in 1953 in the backseat of his Cadillac exacerbated by pills and alcohol. Williams died in the early morning hours of New Year's Day in 1953 at the age of 29 from heart failure exacerbated by pills and alcohol.
His final single released during his lifetime was titled "I'll Never Get Out of This World Alive". "Your Cheatin' Heart" was written and recorded in 1952 but released in 1953 after Williams's death. The song was number one on the country charts for six weeks.
Hank Williams – 40 Greatest Hits
After Hank Williams died, a daughter from his brief relationship with Bobbie Jett, was born January 6, 1953 in Montgomery, Alabama five days after her father's death. She was legally adopted by Hank Williams's mother Lillian Stone in December 1954. She was then named Catharine Yvonne Stone. After Lillian died in 1955, the young Cathy was made a ward of the state of Alabama and subsequently adopted by parents who renamed her Cathy Louise Deupree.
Jett knew she was adopted, but she did not learn who her biological parents were until the early 1980s. Although Hank Williams had executed a custody agreement three months before her birth that gave him custody of his unborn daughter, she was forced to go to extreme lengths to prove the relationship and be recognized as Williams' daughter. Her older half brother, country music singer Hank Williams, Jr. was reportedly very slow to accept her as kin.
Jett Williams
Hank Williams, Jr.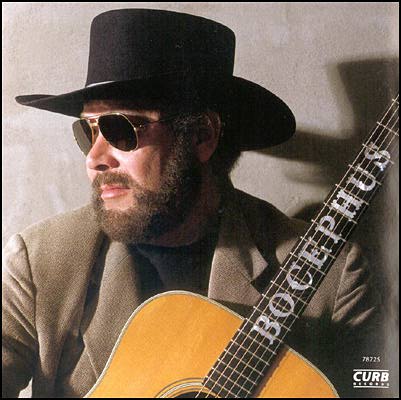 In September 1984, she met and retained Washington, D.C. investigative attorney Keith Adkinson to help her. Within days, he had a copy of the custody contract, and within months had conclusive proof Jett was defrauded for the financial gain of others. A lawsuit was filed based on this discovery. On September 28, 1986, Jett and Keith married in Washington. Adkinson passed away 19 June 2013.In 1985, the Alabama State Court ruled she was the daughter of Hank Williams. On October 26, 1987, the Alabama Supreme Court ruled she was entitled to her half-share in the Williams estate, as she had been the victim of fraud and judicial error. Hank Williams, Jr. appealed the case in federal court, but the ruling stood when the United States Supreme Court refused to hear the case in 1990.
Lillie Stone, Audrey Williams, and Hank Williams, Jr., seated on a bed while looking through letters and cards received after the death of
Hank Williams, Sr (Alabama State Archives)

This video is long. It includes the whole recorded funeral service of Hank Williams, Sr. and also shows his body in the casket as people walk by paying their respects. You may not want to watch it if this scene bothers you, but I'm glad that someone recorded the minister's words.
Last Rites for Hank Williams in Montgomery, Alabama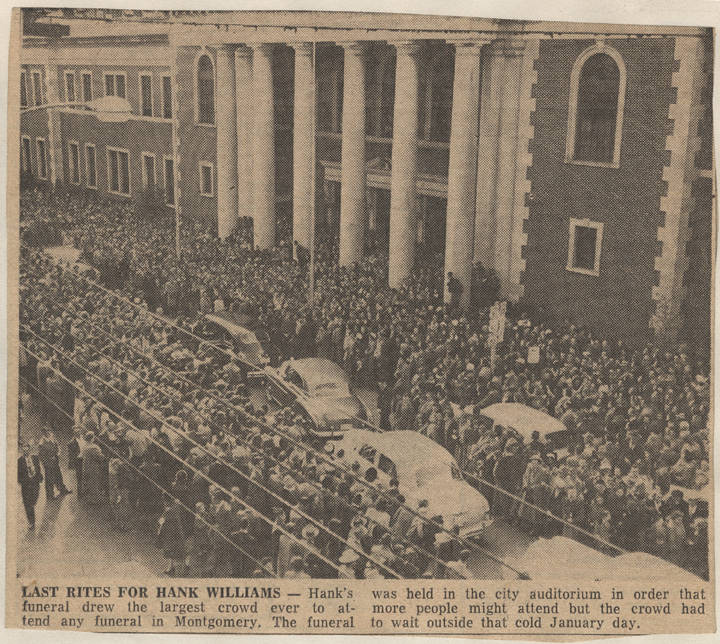 Hank williams 1952 Blue Cadillac in which he took his final journey is in Hank Williams Museum in Montgomery, Alabama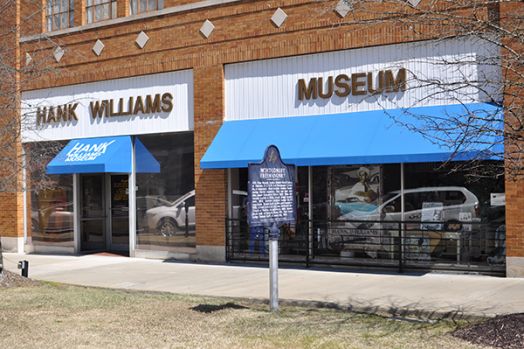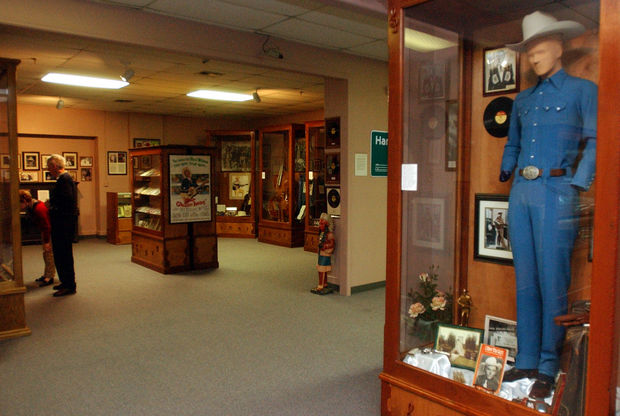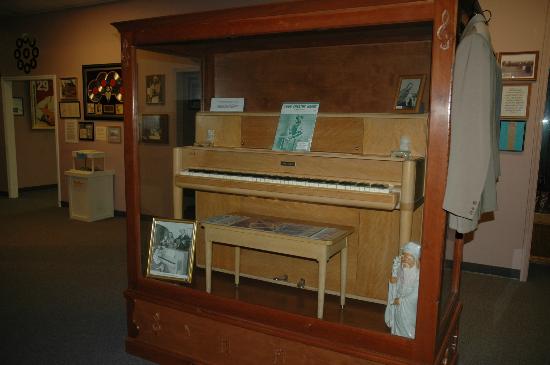 He is buried in Oakwood Cemetery cemetery in downtown Montgomery, Alabama.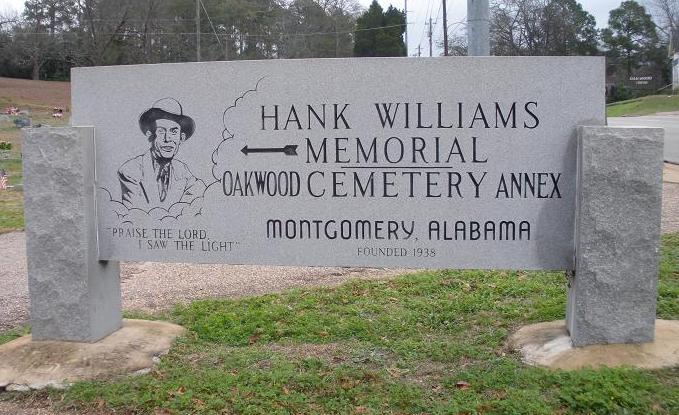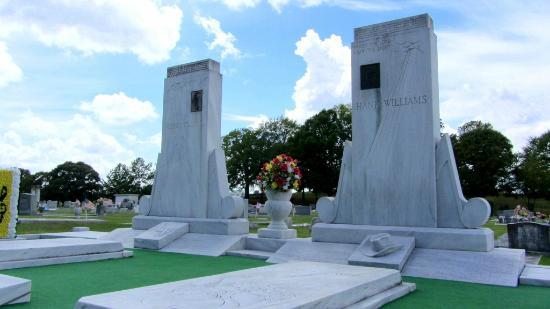 Discordance: The Cottinghams (Volume 1)

–

A novel inspired by the experiences of the Cottingham family who immigrated from the Eastern Shore of Virginia to Bibb County, Alabama