LOCAL NEWS IN ALABAMA 1877-1879
(Transcribed from The Alabama Historical Quarterly, Vol. 08, No. 01, Spring Issue 1946
Huntsville jail has been satisfactorily repaired.
Selma is being put in excellent sanitary condition.
The work on the Muscle Shoals Canal is progressing finely.
Montgomery consumes 12,000 pounds of ice per day, all made at home.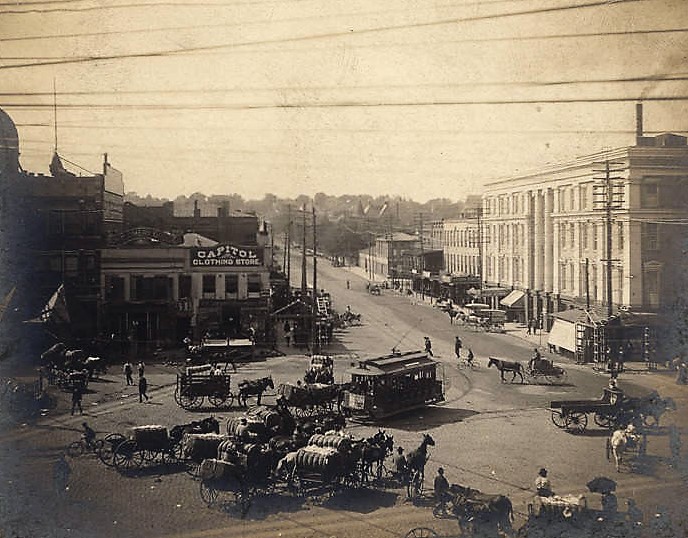 Wagons hauling cotton bales at Court Square in downtown Montgomery, Alabama with street car visible ca. 1870-79 
Considerable sickness is reported in various sections of Sumter county.
The District Grange Fair will be held at Eufala, beginning Nov. the 12th.
A rich vein of gold has been discovered in Randolph and Cleburn counties.
The Mobile Cotton Mills, recently established in that city, are a success.
A new Post Office named Tuckersburgh has been established in Chambers county.
There is a cow in Livingston that has given six measured gallons of milk in one day.
At a dinner in Folkland for the benefit of the Lee Monument Association about fifty dollars were raised.
Arthur Bingham and others, are erecting a Flouring Mill, a Rolling Mill and Iron Foundry at Talladega.
Gen. Gorgas, the new President of Alabama University, comes to our State with good recommendations.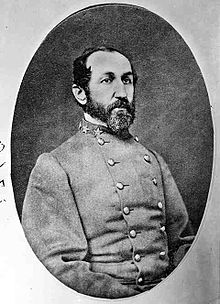 General Josiah Gorgas, President of the University of Alabama and father of Dr. William Crawford Gorgas
The Alabama Grange Fair will be held in Mobile, commencing October 26th, and continuing to Nov. 2nd.
In the country tributary to Selma the corn and oat crops are better than for years, and the yield of cotton will be larger than last year.
New corn sells at 40 cents in Talladega.
Troy Episcopal church is nearly completed.
Ned Strong is in Huntsville jail for burglary.
The health of Tuscaloosa is said to excellent.
Over six hundred visitors are at Blount Springs.
A Missionary Baptist church has been organized in Troy.
There are 110 cases on the criminal docket of Dallas county.court.
There will not be a single avowed Radical in the State Senate this winter.
The Masonic Fraternity, of Columbiana, have completed their Lodge.
Talladega is to have an ice factory, with a capacity of two tons per day.
Troy received a bale of new cotton the 9th which sold for 15 cents per pound.
The Coosa river has been lower this season at Centre than ever was known before.
Maj. Thos. Cobbs, of Livingston, has a cow that gives six gallons of milk a day.
Four distilleries are in operation within three miles of Brooksville, Blount county.
Two men in Murphree's Valley have threshed 7,085 bushels of wheat and oats this season.
C C. Sheats is Revenue Collector for the First Division of the Second District of Alabama.
A new coal mine is to be opened soon, six miles west from Birmingham, by the Pratt Coal and Coke Company.
The safe in the depot of the Selma, Marion & Memphis Railroad was robbed of $300 or $400 the 11th .  All the iron has been laid on the Wetumpka branch road, and trains will begin to run regularly by the first of September.
The Selma, Marion & Memphis Railroad was sold in Marion, the 12th for $75,000;
Gen. E. W. Rucker, purchaser.
Fred Bridgeman, formerly of Tuskegee, received one of the four gold medals awarded to painters at the Paris Exposition.
A revival has been in progress in the colored Methodist church at Greenville and 75 had joined the church up to last week.
The directors of the A. G. S. Railroad have published a pamphlet called "Hill Country of Alabama," which advocates emigration
Four negroes brutally assaulted a white man named Atkin in Pike county recently, and were bound over in the sum of $150 each.
John Sea well, colored found John Cook, a colored brother, in his cabin in the wrong bed Friday night, the 9th, in Tuscaloosa, and chopped his head off.
Jones, alias Sherwood, charged with conspiracy to throw the pay train off the S. & N. R. R., has been fined $500 and sentenced to six months imprisonment.
Crops in Greene county are growing finely.
A literary society is to be organized in Troy.
The Masons of Cullman will build a new hall.
A new Episcopal church is being built in Troy.
Linden has been made a money order post office.
The oat crop in Etowah county was never better.
The Mobile & Ohio railroad is laying down steel rails.
Crop prospects in Barbour county are very flattering.
Work has begun on the Episcopal church at Scottsboro.
The cotton worm has appeared in Montgomery county.
Walnut Grove, Etowah county, has two Sunday Schools.
The Presbyterian church at Talladega is being repaired.
A lodge of Knights of Honor has been established at Eutaw.
A mutual fire insurance company is to be organized at Cullman.
New wheat has sold as low as 50 cents a bushel in Talladega.
Crop prospects were never so good in Dallas county as at present.
The new Baptist church at Talladega was dedicated on the 13th.
A series of meetings are being held in the Opelika Baptist church.
A great deal of fruit is being shipped North this season from this State.
The Selma and Gulf R. R. will be offered for sale on the 16th of September.
The foundation for the Baptist church at Scottsboro; has been completed.
A "union" church has just been completed at Brown's on the Alabama Central railroad.
Tallapoosa county ships large quantities of corundum, for emery wheels, to Massachusetts.
A valuable mineral spring has just been discovered in Pike county, near the line of Coffee county.
A protracted meeting is in progress with the Cumberland Presbyterian church in Birmingham.
The oat crop in some sections is so large that the farmers are troubled about what they shall do with it. The next session of the General Assembly meets on the 12th of November. Its term is limited to fifty days.
The farmers of Calhoun county report the best corn and cotton crops that have been known for many years.
Col. W. H. Chambers assumes the duties of his office as Professor in the Agricultural and Mechanical College next January.
The net earnings of the Mobile and Girard railroad, for the year ending May 31st, were $22,677 in excess of the previous year.
Prominent agriculturists are introducing the cultivation of Jute in the State. It will be a valuable acquisition to our natural products.
The village of Perote has a municipal law which forbids dancing at any public building within its corporate limits. The law is rigidly enforced.
Check out all genealogy books and novels by Donna R. Causey
Discordance: The Cottinghams (Volume 1)

 – 

A novel inspired by the experiences of the Cottingham family who immigrated from the Eastern Shore of Virginia to Bibb County, Alabama
Filled with drama, suspense, humor, and romance, DISCORDANCE continues the family saga from the Tapestry of Love series with the children of Mary Dixon who married Thomas Cottingham.