Beautiful excerpt from Journal of seventh governor of Alabama reveals their courtship in early 1800s 1
(Mrs. Gayle, wife of John Gayle, Alabama's seventh Governor, left a journal which her descendants preserved for more than a century before publishing it. Governor and Mrs. Gayle were the parents of Mrs. Amelia Gayle Gorgas, who was for many years librarian of the University of Alabama and for whom the new University library is named. They were also the grandparents of William Crawford Gorgas, the world's greatest sanitarian, a native Alabamian, who was decorated by King George, while lying on his death bed in London. This excerpt from her Journal reveals the courtship between she and the future seventh governor of the State of Alabama)
The changes that take place in this world afford a curious subject for speculation. I love to revert to the years 1817, 18 and 19—1 was in my 16th year at the latter period, and surely there was not a being alive so utterly exempt from all cares. My home was on the Alabama; but when I could part from my mother I left its solitude and sought the pleasures St. Stephens2 at that time afforded, in its gay society. Just entering upon life myself I was content to witness the triumphs of the girls a few years my senior; and when attention was paid me, I received it as quite gratuitous, and not at all my due.
Official portrait of John Gayle, seventh governor of Alabama (Alabama Department of Archives and History)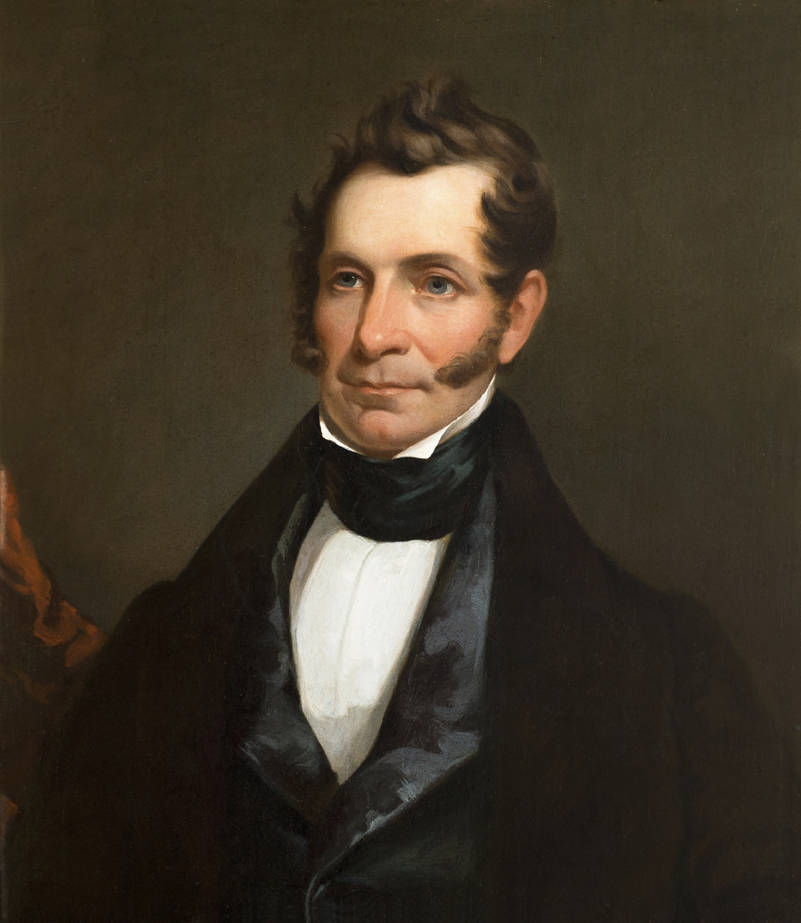 Future husband was popular among the girls
Everything was a source of delight to me. My future husband was then the favorite gallant of the beauties who were wise enough to avail themselves of the half-civilized state of the country, to throw off much of the ceremony that has since crept like frost-work over them. I can see the laughing parties sometimes walking on the river bank, with only veils carelessly hung on their combs, sometimes with feathers waving as they dashed through the wild woods on horse back, managing the spirited animals they rode with the skill of Arabs, and then I was always with them for I was accustomed to the saddle from the time my little hands could grasp the reins—but above all I loved excursions on the water—talkative as I generally was, I was unwilling to hear a word spoken. All who have floated silently down a stream have heard the sweet lulling sounds that are heard nowhere else. The dripping of willow boughs in the water—the waving wings of white fowl that look like lights bleaming over the surface—the fish now and then rising and falling in their element again—the silence, the coolness, the shade, and the thousand unanswered charms such trips offer, make them peculiarly pleasant.
A Receipt for Courtship 1805 (Library of Congress)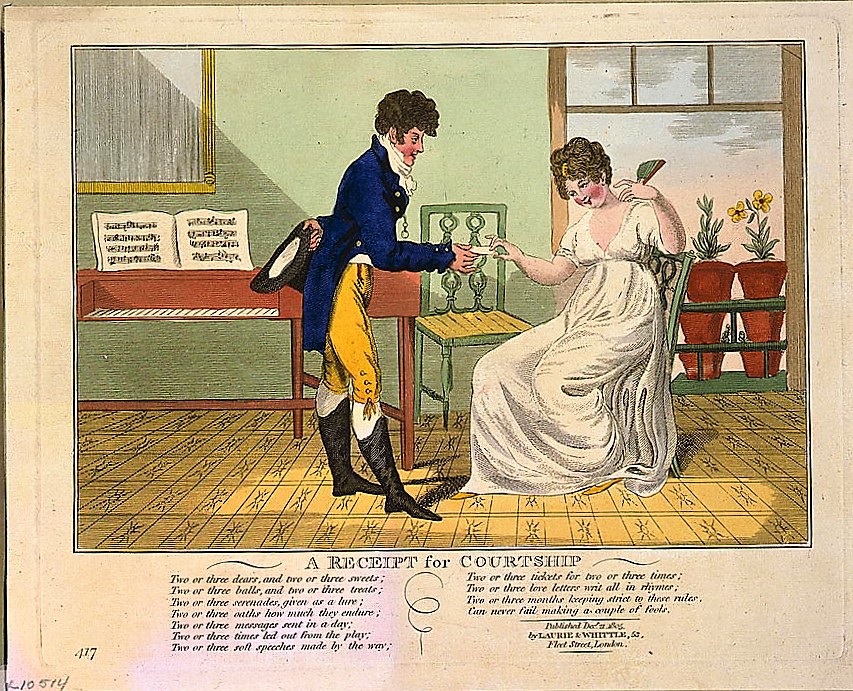 Courtship
I dearly loved.my mother, as well I might. Before my marriage she was friend, sister, parent, all in one. She entirely had my confidence in those matters of courtship, where girls usually seek a confidant of their own age. I strove to remember every word that I might repeat it to her. She listened smiling, quiet and fearless too, for she knew my heart remained untouched till her own favorite addressed me. Then it is true I forgot to wait until she knew all; for I was overwhelmed for the moment—the vows of others had brought the blood in crimson tides to my cheeks: but not one had power to drive it impetulously back upon my heart, leaving my cheeks blanched, and my tongue silent.
Would to Heaven I could never forget that moment. My mother and myself were just starting to old Mr. Gayle's, as Mr. Gayle3 and his friend Maj. Armstrong rode to the gate, just from there on their way to Claiborne,4 where he resided. He told the Major he would return with us—and be home the next day. His friend smiled, put an arm thro' his and walked till we were ready.
Mr. Gayle's intentions were evident to him while to me, not an idea of the kind once occurred; indeed, I suspected he was at that time courting Louisa Hollinger, now wife of George W. Owens, and bantered him on the subject with a freedom that our intimacy warranted, and with a levity that my youth was the best excuse. His language was a little unusual, and I told him he had become quite complimentary; still I did not dream of the turn it was yet to take.
Out jaunt was a merry one—nearly two days were spent with our friends, when my mother, Mr. Gayle and myself mounted our horses for home. I was in high glee tho' I know he was silent, often abstracted; my tongue, my uncurbed tongue, rung an incessant peal—I wonder he did not discover enough of the shrew to put all courting notions out of his head.
Mah had let her horse slacken his gait and I drew up mine to wait for her. While I was looking back he called me, and asked if I was fond of poetry I replied in the affirmative, of course, and he said he had selected a piece he thought extremely interesting, and if I would come up he would repeat it.
Marriage proposal
I immediately cantered to his side and pushed the sunbonnet I wore, to hear: 'What is it?' I asked—but the change in his countenance struck me dumb, almost senseless he was without a shade of colour, red as he generally was, he spoke in. a quick, earnest, unsteady voice—but all that part is like a dream.
I know he told me it was unnecessary for me to reflect and consider, that I had known him all of my life and could say at once if I deemed it safe to place my happiness in- his keeping that it would be the duty as it certainly would be the pleasure of his existence to cherish the precious deposit, etc., etc. Had death been the forfeit I could not have spoken.
I felt cold as if the blood did not circulate. He entreated me to say one word; and put back the bonnet that had fallen over my face-I do not know what he read there, or what I replied to his impassioned interrogations— but his features were quivering and beaming, and he said he was the happiest of men.
I looked back at Mah,—I could see at that distance she felt much emotion, her face was flushed, her smile was uncertain and she shook her head as much as to say—'all of value depends upon what you have done'. My thoughts were in a whirl and I could say nothing, but Mr. Gayle talked enough for half a dozen We stopped to eat melons under the shade, when we started he assisted me as he always did, but I was unnerved completely—I could not spring and fell in his arms. The circulation was restored immediately, for I never hated anything so much.
When we arrived changed my dress, and flew to tell Mah all—he remained quite late and proposed to ride to a near neighbors to eat melons—we met two gentlemen, one a warm friend of mine. I believe poor Guild sincerely loved me; but he knew it would answer no purpose to tell me so while the other person was speaking to Mah, he came round to me and said in a low voice: 'It is all over.' A few moments brought us to the door, and Mr. Gayle took his leave, to be down again in two days. I gazed after him and scarcely dared to ask myself: is that my plighted husband! How did the pulses of my happy heart beat towards him! Oh, what a life was mine— I knew he was the darling of my parents, and I never had seen a fault in him—I had called him brother in my childhood, friend in my youth, and now I whispered in the depths of my bosom lover.
Dangerously ill before marriage
Time flew—in three months we were to be united—two or three days in each week he spent at Sheldon, as I had named our residence. It did not need amusements to make us happy.—We sat in the passage or under the trees, with no wish ungratified. His affection was the purest on earth, and it was given to me.
The days drew near and in the midst of the preparations his servant came to say his master was dangerously ill—my blissful visions disappeared like frost-work—I could think of nothing but the being I loved scorching with fever and racked with pain. Mah promised if he did not speedily grow better she would go and be his nurse, and that I should see him. He did mend in a few days—Jim came smiling to tell that Master was getting well, and the next day he got in a sulky and came down. I never could explain myself, why I did not meet him, nor why I should have shown so little joy. God knows that and every warm feeling was gushing over my heart—he fell upon the bed in weakness and then I could no longer restrain myself, but paid him all the attention I could—suffered his arm to keep its place around me and obeying the gentle direction he gave it, laid my head upon his bosom.
His eyes were closed but he has since told me, his feelings then were an agony. Mah sat a little apart, a quiet witness of our happiness. Time, time, why did you not become stationary then? But I should have thought of no period but the present, of no heaven but that of loving, and being loved. A wise Creator has awakened me by taking my beloved Mother to himself—an infant then was yielded, and then my only parent—friend after friend died—yet I am in danger of forgetting what may be, in the possession of that matchless husband, who has a thousand times surpassed all that his virtues promised, and my young heart hoped.
1Transcribed from The Alabama Historical Quarterly Vol. 05, No. 02 Summer Issue
2St. Stephens, located in Washington County on the west bank of the Tombigbee River, about 100 miles by river from Mobile; settled by the Spaniards, 1790 and American colonists in 1802. In 1817 the first Alabama Territorial Legislature convened there and was made officially the capital of the Territory. From a population of hundreds of citizens, the place is now entirely depopulated.
4Claiborne – located on the East bank of the Alabama River, in Monroe County, incorporated December 13, 1819; fifteen miles above the scene of the famous Canoe Fight between the Indians, Samuel Dale, Jerry Austill and James Smith in 1813.
The Journal of Sarah Haynsworth Gayle, 1827–1835: A Substitute for Social Intercourse

Astonishing, tragic, and remarkable, the journal of Sarah Haynsworth Gayle, wife of early Alabama governor John Gayle, is among the most widely studied and seminal accounts of antebellum life in the American South. This is the first complete edition of the journal in print.