Sometimes it is funny seeing life through the eyes of a child. 
A little boy opened the big and old family Bible with fascination, he looked at the old pages as he turned them. Then something fell out of the Bible and he picked up and looked at it closely. It was an old leaf from a tree that has been pressed in between pages.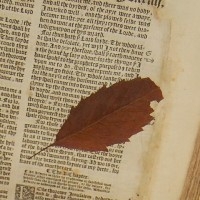 "Momma, look what I found", the boy called out. "What have you got there, dear?" his mother asked. With astonishment in the young boy's voice he answered: "I think it's Adam's suit!"
Did you know that in the founding days of America many citizens were persecuted because of their religious beliefs?
Read about this period of American history in the historical series, Tapestry of Love. Inspired by true events, these three books take you back to the time when our founding fathers who were immigrants from many countries, began to build new lives and a new country. All historical events actually took place on the Eastern Shore of Virginia and Maryland in the 17th century. Each book has an appendix at the end that delineates truth from fiction and sources and would make great gifts for history lovers or those who want to learn more about the early days of America. The descendants of the family depicted in these novels eventually settle in Alabama.
The series consists of three novels which are available in Ebooks as well as Paperback: