No bacon or grease for the beans and cabbage? This was the solution in early days of Alabama
CHEROKEE COUNTY, ALABAMA
REMINISCENCES OF ITS EARLY SETTLEMENT
By
Part V
A clipping from the Gadsden Times
(Transcribed from The Alabama Historical Quarterly, Vol. 08, No. 03, Fall Issue 1946)
HARD TIMES IN OUR NEW HOME
Our bread corn had to be hauled from the older settlements. It was a weeks' journey for the driver, wagon and team, to go for and return with a load of corn. Some adventurer brought a small drove of hogs from Tennessee, which he sold to the new settlers at exorbitant figures. Trusting to good fortune, or hoping to get a full half support from the game in the forest, there were but few, if any, who supplied themselves with more than half rations for the year.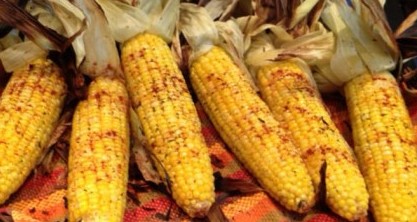 Of one thing we are quite sure, viz: there was no bacon to grease the beans and cabbage with when it came to the season of the year for such vegetables to put in their appearances. Every housewife was taxed to her utmost ingenuity to invent some new mode of cooking vegetables that would supersede the old time honored and much abused system of cooking everything in connection with "old Ned."
Many used milk and butter as a substitute; one good woman of our neighborhood had brought a large quantity of beef tallow from Carolina, and used the tallow freely in cooking her vegetables, which by the way was an admirable substitute, provided they were used while they were warm.
The worst difficulty in the way of this mode of cooking lay in the fact that one soon lost the use of the roof of the mouth, by the unconscious but constantly accumulating amount of tallow that would inevitably deposit itself in that particular locality. This good woman, was, with all her other good qualities, quite a philosopher. She used all her powers of elocution to prove to her family and visitors that this was not only the most economical but also the most palatable and healthy mode of cooking.
Her concluding argument ran thus: "What on airth is so good for a cold or a fever as taller grease? If you'll grease a person all over when they've got a burnin' fever, it'll cool the fever in less nor no time. Don't the scripture say if anybody's got a fever to grease 'em with oil and pray for 'em and they shall git well, and don't every mother grease her baby all over with hot taller when it's got a cold, and what is good for the outside, don't it stand to reason is good for the inside ?"
This argument always received the hearty endorsement of her hungry visitors, and the family without a dissenting voice nodded assent.
GRIST MILLS WERE SCARCE
We had to go back into Georgia to get our corn ground. My father was always an independent spirited man. Impelled by his native character, he determined to have a mill of his own. He never was a man to trumpet his plans to others; he, however, on this occasion informed the family that he had made up his mind fully on the subject, and at all hazards, he would put up a mill on . . .
"THE ARMSTRONG PLAN"
He accordingly cut a large pine that had the lightwood element predominating to a very large extent, cut off a cut about three and a half feet in length, then chipping out one end in a concave shape, built a fire in it and kept it burning for several hours, then he extinguished the fire by the application of water, and so his mill was complete!
I had the honor of being promoted to the office of miller, and did the grinding for the family for a season; but like many of my race, who do not know when they are doing well, I became dissatisfied with my position. My principal objection was the pounding and braying of corn in the mortar. It seemed to me that the corn, after beating it for hours, was very much like Solomon's "fool," who after braying and pounding in the mortar, continued to be a fool."
So my corn, after much pounding, continued to be corn. It was necessary to success, in grinding on that pattern of an Armstrong mill, that one should "possess his soul in patience." I politely expressed this objection to my kind-hearted father, who encouraged me to perseverance by informing me that he would, as soon as roasting ears began to harden, put me in possession of a new and improved pattern of an Armstrong mill.
My father always kept his word at par, so in the fullness of time, the old milk pan was converted into a new mill. It was nailed to a board. My father then furnished me with a dozen ears of corn and gave me the bread-tray to be used as a meal box, renewed my commission, and left me in my glory. I was much pleased with the new mill; for a time I admired the rapidity with which it ground, but soon found, to my sorrow, that it was impossible for me to run the mill and retain the nails on my fingers and thumbs; one after another they passed away, leaving my poor hands the worse for the wear and tear.
I assure you, gentle reader, that from that hour to this I have had no use for a mill that does not run by either steam or water, and I always feel sorry for the poor fellow who bears the name of Armstrong, for, for the life of me, I can't keep from associating him with the mortar and (gritter) grater pioneer notoriety.
Continue with VI
Check out all genealogy books and novels by Donna R. Causey
Discordance: The Cottinghams (Volume 1)

–

A novel inspired by the experiences of the Cottingham family who immigrated from the Eastern Shore of Virginia to Bibb County, Alabama
Filled with drama, suspense, humor, and romance, DISCORDANCE continues the family saga from the Tapestry of Love series with the children of Mary Dixon who married Thomas Cottingham.