Reminiscences of Old St. Stephens
 PART III
(This transcription was read at the Centennial Celebration, May 6, 1899. It was published in four installments in the Washington County News, St. Stephens, May 25, and June 1, 8, and 15, 1899.)
by
Miss Mary Welsh, of Shuqualak, Missi
LAWYERS.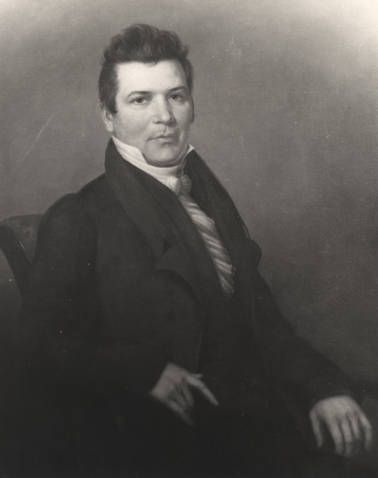 Well, there is no living without the law, and its expositors, lawyers; and old St. Stephens was fortunate in counting among her citizens those able jurists of wide-spread reputation, Judges
Ptolemy Harrisii and William Crawford.iii Of the family of Judge Harris the eldest daughter, Mrs. Elizabeth Wilson, lives in new St. Stephens, on or near her father's old homestead. Of Judge Crawford's family, only the tall marble shaft which marks the grave of his youngest daughter, Mrs. Caroline Browne, wife of Samuel Thompson Browne, of Virginia, now remains. It is on a high hill in the old town, in what was once the garden; every vestige of the residence is gone. Both these gentlemen were too widely and favorably known to give room for comment from any one. But truth is imperative, and before we dismiss the subject of law, be it known to the shame of the old town that many claims within its precincts were settled by bankrupt law. Did that have anything to do with hastening its downfall? What think ye who read this?
PHYSICIANS.
As unhealthy as the location was reported to be, physicians did not seem to flock to it.iv In the early days, Dr. Thomas Dean was the only one whose name I recall. He had no family, and died in St. Stephens about 1831-2. After his death, Dr. Joseph A. Huber, a wiry little Frenchman, embodied the whole medical skill for town and country for several years. He lived in the hills ten miles or more away, where it is thought he died. He always rode in a gallop, walked with a quick, nervous step and diagnosed his cases with astonishing rapidity but skillfully.
I speak advisedly, for I am a living proof of his skill. After an attack of fever the sight of one of my eyes became very seriously affected and was almost gone when he was sent for. By the blessing of God upon his skill, he restored it, and saved it for me for all these years. I was then seven or eight years old, and in gratitude I record this to his memory. He never fastened his horse, but would gallop up to the gate, spring off and order any servant or child that might be in sight, to hold the bridle and let him graze; and woe to the one who disobeyed, for he carried a keen riding-whip and used it without fear or favor. Of course, every child or servant who was not compelled by circumstances to "stand his ground" dodged under cover the moment he came in sight. In course of time, Dr. Samuel S. Houston a man of family, settled in town; he was a mild mannered man and a good practitioner.v He died there.
After him came Dr. Middleton Dougthery, of Charlotte, N. C, who died in St. Stephens July 16, 1835. I think the last physician of the old town was Dr. Hawkins; he married Miss Coleman, of Jackson, then called Pine Jackson.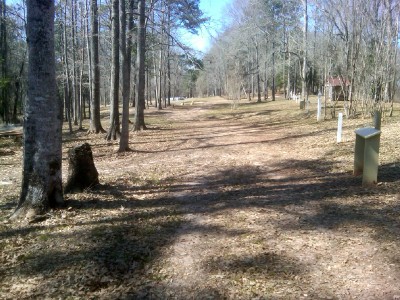 MERCHANTS.
Prominent among the merchants of the early times was Mr. John Bours Hazard. He came when quite young from Connecticut in the employ, I think, of the Messrs. Snow. Afterwards he began merchandizing, (sic) brought his three sisters south and settled a home just where new St. Stephens now stands.
The two elder sisters married the Mesrs. Snow, and went either to Mobile or Tuscaloosa. Mr. Hazard married in St. Stephens, Mary Fairfax, a daughter of Col. William Aylett, of King William County, Va., and after quite a short life of remarkable energy and usefulness he died, mourned by all in the surrounding country. His grave, in his former garden, is about the center of new St. Stephens, only a few feet from the court-house for the town is directly on the site of his old country home. vi Col. Aylett left the place in the general exodus and went to Tuscaloosa; his son Alfred died while on a visit to old St. Stephens, and his grave is by the side of Mr. Hazard's.
His youngest sister, Miss Ann Hazard, who remained with him throughout his life, deserves special mention in the annals of old St. Stephens, not alone because she was so closely identified with the old place which she loved with the devotion of a daughter of the soil, but also because she was a remarkable woman.
After her brother's death she stepped heroically into his place in the family, and in those days when so few avocations were open to women, it was no light thing to do. By teaching she educated the children until the elder ones became self-sustaining, supporting the whole family in the meantime. She taught first near the old home; afterwards in different localities in Alabama and Mississippi, carrying the family with her. "Cast thy bread upon the waters; thou shalt find it after many days."
Certainly, certainly Mr. Hazard's loving care of his young sister did yield large results to his family. I was one of her pupils in Mississippi and know that she was a Christian in heart and life, of indomitable will, untiring energy and scrupulously conscientious in her duties as teacher. She did not confine her work to the school room, but at all hours and everywhere she sought by precept, by example, by loving judicious counsel, to lead her pupils into a higher conception of the dignity and requirements of life than mere living. Her oft repeated injunction was, "Do try to live so, that when called to give up this life you will have the happy consciousness that the world is better for your having lived in it."
She exemplified her own injunction. Overcome at last by age, disease and work, she quietly sank to sleep in the arms of the Saviour whom she had served so long and so faithfully. Her body lies in a grave at DeKalb, Miss., but she still lives in the hearts of her pupils. She was a citizen of St. Stephens and made as honorable a record in life as any of the best; so I make no apology for introducing into these reminiscences this short tribute to her worth. It is not the half that I could say, or that my heart dictates.
iMiss Mary Welsh, daughter of Capt. George Welsh (son of Wm. Welsh and Jane Thompson) and his wife, Sally Gordy (daughter of Elijah Gordy and Tabitha Melson), was born at St. Stephens, Nov. 9, 1823. The Welsh family is Irish, coming from Penn. to Buncombe Co., N. C and thence to St. Stephens. The Gordys are of French origin, and came from Delaware to Clinton Co., Ga. In the thirties Miss Welsh's immediate family removed to Mississippi. Her "Reminiscences" give the facts of her early life. She has been a professional teacher, newspaper writer, and Assistant Superintendent of the Confederate Orphans' Home at Lauderdale Springs, Miss. After a long life of useful labor and effort, she now lives quietly at her home full of pleasing memories of men and things of "ye olden time" in the first settled regions of the State.
iiBrewer's Alabama, p. 576. His wife was a daughter of Col. Wm. McGrew- Balls' Clarke County, Ala., p. 447
iiiBrewer's Alabama, p. 392. He was the second Federal Judge in Alabama, serving on the bench, 1826-1849. Balls' Clarke County, p. 443.
ivDr George Buchanan, one of the original directors of the Tombeckbe Bank, was here in the practice in 1816.
vBall's Clarke County, p. 446.
viThe following is his Epitaph: "Sacred ] to the memory of | John Bours Hazard, | who was born | at New London, Connecticut, | on the 6th of September, 1802, | and died at this place | on the 23rd August 183S, I and is here interred. | "
He was a son of Capt. Charles and Ann (Bours) Hazard; and of his sisters—Abby married Henry A. Snow, and Caroline married Zabdiel B. Snow, both of Tuscaloosa.
Our ancestors had to be resilient when they faced obstacles in daily life, from dealing with pests, medical emergencies, caring for clothing and cleaning shortcuts. Almost everything they used in daily life was homemade. Some ideas were great but some were very strange.
This book is a collection of household tips, medical cures, clothing care and old recipes from the 1800's and 1900's. Many of the tips, such as the household cleaners, cooking tips and ways to control pests, still work and are helpful in today's 'green' environment while others such as 'how to cure a dog of eating eggs' will make you laugh. Either way, this book will help you appreciate the difficult life your grandparents endured.
With Bonus: First two chapters of historical fiction novel Ribbon of Love