Abraham Mordecai was an early settler who lived his last days in Dudleyville, Alabama in a log cabin.Below is a sketch of him written by Alabama Historian, Albert J. Pickett, in 1847.
A SKETCH OF THE LIFE OF "OLD MORDACAI"
Living at Dudleyville, Tallapoosa County, Ala.
He settled in Montgomery County in 1789. He was the first native-born citizen of the United States who lived here and the first cultivator of Cotton in the State of Alabama, &c. &c
In the outskirts of Dudleyville, in the county of Tallapoosa, at the foot of a hill, are three solitary Indian huts. In one of these mouldering (sic) monuments of the red race, I found a man of another age. It was eight o'clock in the morning. He was busily engaged in preparing his homely meal. With a benignant smile he invited me to a seat.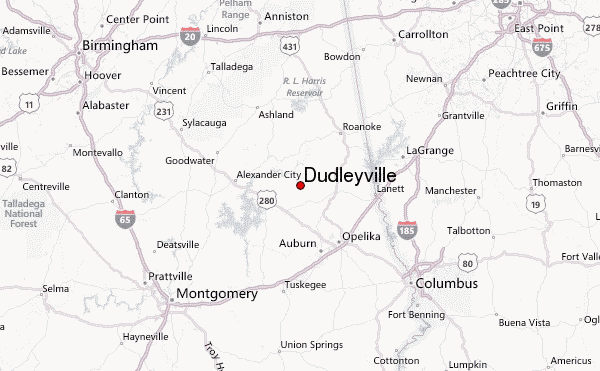 Lived alone
He lived entirely alone. Beside his bed was a coffin, made for him by directions several years ago. Upon this singular household appendage reposed an old Bible, from the pages of which he was accustomed to derive consolation, and the assurance of eternal life hereafter. Several old trunks, two or three chairs and a table, together with numerous bottles (sic) suspended by strings around the walls, completed the entire furniture of the cabin.
The old man was of low statue (sic), round and compactly built, his limbs and body being admirably knit together. While his head bore the emblems of age as to colour, it was nevertheless covered with a profusion of hair. His forehead was well formed, his mouth large and expressive, his eyes of a deep hazel hue, which ever and anon would sparkle like diamonds, at the mention of old occurrences.
Before partaking of his meal, now hastily prepared, he stood beside the table and in the most devout manner, repeated a feeling grace, blessing his maker for the long preservation of his life, and the comforts then spread before him.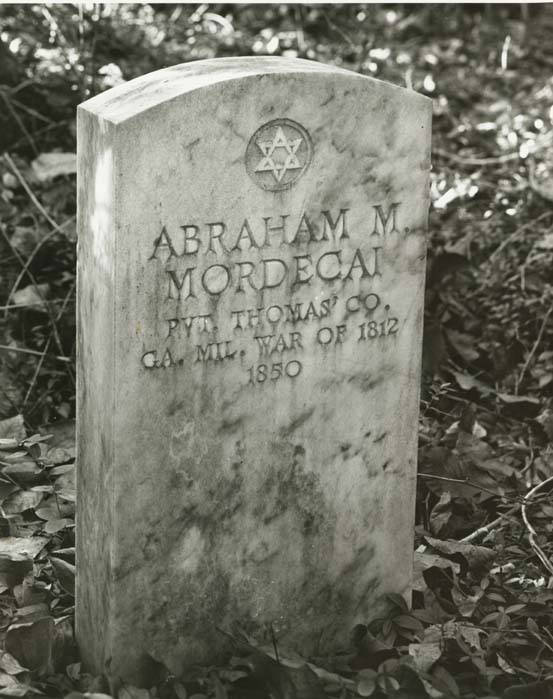 Citizens of Dudleyville supported him
Supplied by the kind citizens of Dudleyville with the necessaries of life, this man of years and former enterprise, lives upon, the lands of an old Indian countryman, whom he has known for the last sixty years. The solitude of the place, the rude and comfortless cabin in which he dwells from choice, the coffin upon the floor, the dress and appearance of the ancient inmate, his piety and resignation to immediate death, were calculated to impress the visitor with singular emotions.
This venerable personage is familiarly known in that region, as "Old Mordacai." While drawing upon a memory post retentive of early incidents in Alabama, some items of his own life were casually elicited during the discourse.
Trader in Indian merchandise
He was born in Pennsylvania the 24th October, 1755. His father was a Jew and his Mother was of German blood. Although now ninety-two years of age, his mind is unimpaired and he walks without difficulty to the village. He has pursued a variety of occupations during a long life, the first was that of a butcher. He served three years in the ranks of the American army during the Revolution, and was present at most of the engagements in Delaware and New Jersey.
In 1783 he settled among the Cusseta Indians, at a place called Buzzard Roost on Flint River, in the present State of Georgia; and there became a trader in Indian merchandise.
About this time James Seagrove, was appointed Indian Agent, and resided at St. Mary's. Unlike his worthy successor Col. Hawkins, Seagrove, never visited the Nation in Alabama, but transacted his business through agents.
Mordacai, being a man of agreeable manners, of adventurous spirit, bold and active, was often selected to bear Talks to the distant Tribes. He was generally accompanied by Timothy Barnard, whose Father had been a Colonel in the British service. The names of Barnard and Mordacai, are frequently to be met with in the American State Papers, (Indian Affairs,) in reference to these very expeditions.
Asked to arrange for ransom
On one occasion, sixty years ago, Mordacai penetrated to the heart of the Chickasaw Nation, on admission of peace, and passed by the Falls of the Black Warrior, where no Indians lived at that time.1 During this period the Creek Indians were accustomed to commit depredations, upon the settlers in the present State of Kentucky, and bring back to their towns, many unfortunate captives.
The Indian Agent at St. Mary's, employed Mordacai to visit the Chiefs and arrange for their ransom. His knowledge of the Indian character, connected with a remarkable adroitness, contributed to the success of such applications, and enabled him to relieve from wretchedness and misery, many women and children, who ceased to hope for relief.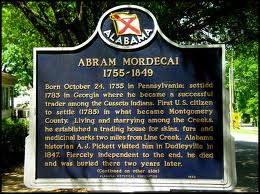 Established as a trader
We now rapidly approach that part of Mordacai's life, connected with the soil embraced in Montgomery county. In 1789, on a hill precisely where Mrs. Burch's house now stands on the Line Creek road, this man established himself as a Trader among the Cuwalla Indians, who then lived two miles distant, west of the mouth of Line Creek; some of this tribe also lived in the prairies adjoining, on the other side of his store.
His buildings were erected by Spanish deserters, and were built in the Spanish style, of mortar and frame work, but were destroyed in 1812. For twenty years he carried on an extensive trade, dealing in skins and furs, pink root and other medicinal barks. These he conveyed to Augusta and Pensacola on pack horses, and to New Orleans and Mobile, in large canoes, with no companions but the savages who were employed to assist him;
On one occasion he sold to Gov. Durfort (sic) of New Orleans, thirty gallons (sic) of oil, which the Indian women extracted from the hickory nut, and also cakes made of the same. The latter was esteemed by the Spaniards, as a great delicacy, when served up with condiments. The oil was obtained by boiling the broken hickory nuts in pots of water, and skimming the oil as it floated on top.
He acquired a thorough knowledge of the Spanish tongue in the course of his traffic, while the Indian language had almost become his mother tongue.
First native-born citizen of the United States in Montgomery
I have intimated that Mordacai was the first native-born citizen of the United States, whoever settled in Montgomery county. It is so, but there was however one before him of English birth, who lived hard by. During the Revolutionary war, an English soldier deserted from the British ranks, and fled with his wife to the Creek Nation. He died shortly afterward at Careta (sic) (Cusseta), where Columbus is now. The woman being of a bold and romantic spirit, penetrated still farther among the red people, and finally settled upon a creek well known to us all, and which still bears her name. "Old Milly" and Mordacai lived many years close neighbors in this savage land. She married an Indian and owned several slaves, many horses and cattle.
Visited Montgomery often
Mordacai in these times often visited our own town, but then inhabited by a different and perhaps more innocent population. It was located at old Alabama town, and the name was Aconschauta (sic) meaning Red ground. Persons acquainted with this spot are aware that the soil is very red. In the "times that tried men's souls," Alabama was in the occupancy of the Royalists.
Their agent, a British officer named Tate, lived in the Red ground town and was successful in his exertions in getting the Indians to war upon the Americans. Aconschauta (sic) contained, in Mordacai's time, four hundred hunters, and the culture of com was carried on in the Bend opposite.
Conferred with Col. Hawkins about a Gin
In 1804, Mordacai, living at Pole Cat Springs, conferred with Col Hawkins upon the propriety of establishing a Gin, and introducing the culture of cotton. He desired to place it at his store. Hawkins entered warmly into the project, for that indefatigable and honest Agent was extremely desirous to bring the Indians to a proper system of Agriculture, and to teach them the arts of civilization. But, however, he objected to the location for Mordacai's own good, and advised the erection of the Gin House at Weatherford's race track (sic) on a beautiful Bluff, just below the junction of the Coosa and Tallapoosa. Here, in Loftin's plantation, within three hundred yards of Dr. Rieves' (Rives) Gin.
House, in Montgomery county, the first Gin House in the State of Alabama, was built at great expense, in the year 1804 by this same Mordacai.
Col. Hawkin's was of opinion that it was a proper situation, for the Indian women could bring their cotton down either river in canoes and sell it here. He procured the consent of the Hickory Ground Indians for its erection. Mordacai commenced operations, and the first year sold his cotton in New Orleans, at thirty-three cents per pound.
Altercation with Coosawda Chief
In 1805, two of Mordacai's horses strolled into the low grounds opposite Coosawda, and eat some young corn, belonging to the Indians o that town. Towerculla (sic), (otherwise called Capt. Isaacs,) Chief of Coosawda, had never liked the residence of this white man so near him. He now availed himself of this excuse to drive him off.
Selecting fifteen of his warriors, each with many long hickory poles, he surrounded the house of the innovator. Mordacai offered to pay any price for the trespass of his horses, but Towerculla thirsted for his blood. He presently stuck him a blow.
Mordacai being a man of prodigious strength, clasped him around the waist and sought to throw him over the bluff. But the other Indians soon felled him to the earth. They now, man to man, threshed (sic) him with their merciless poles until he became insensible to feeling, and as they supposed was dead. Cutting off his left ear they left him to the care of his Indian wife, by whose hands he was nursed a miserable sufferer, for several months. I have lately seen his close cropt (sic) ear and the immense knots raised upon his body, and it is wonderful that he recovered.
Some time after this, the Indians burned up his Gin House with all his cotton, and destroyed a fine Boat for which he paid $400 in New Orleans. He was now a ruined man, wandering about the Nation until the war of 1813 commenced, when he fled to Georgia, joined Gen Floyd and was in the engagements of Autossee and Caleeba (sic).
In 1814, when Gen. Jackson assigned the Indians their future limits, Mordacai returned with his Indian family to the Creek Nation, where he has lived ever since, refusing to emigrate with his children to Arkansas in 1836.
These lines have been penned, supposing that the people of Montgomery County would like to know who first lived in their county after_ the Spanish and French dominion had terminated, and who was the first to grow cotton in Alabama, and to gin it. That man was Charley (sic) Mordacai, now breathing out a few more days of his existence, in a lonely hut in Dudleyville.
Respectfully, A.  J. Pickett.
Robinson, October, 4th 1847.
You will note that Col. Pickett says his coffin was beside his bed. Judge Johnson says he remembers the coffin which was made for him by a local carpenter. Apparently, from Mr. Johnson's references he buried the old fellow between the two hickory nut trees. His grave is there today, and I have seen it often. It is now marked and it is indicated that the Tohopeka Chapter of the Daughters of the American Revolution sponsored that marker.
Mr. Harry Herzfeld and myself had long advocated it and eventually our dreams were realized for we got the marker placed there. The cemetery is not great distance from the burial place of Lemuel P. Montgomery, for whom the County of Montgomery was named and it is quite fitting that it should be so. Both Mordacai and Montgomery saw service at Horseshoe Bend and today Horseshoe Bend is much in the life story of the period—even if the last Congress did not appropriate any money to start the promotion of the National Park there.
When Col. Pickett wrote about him, in 1847, he was 92 years old and there are other references to show that Mordacai lived at least two or three years longer for he was living in 1850. Col Pickett died in 1851.
Mordacai's gin house site was actually opposite the present town of Coosada, in Montgomery County and Mrs. Burch's house referred to by the Colonel was at what we know today as Waugh, a village on the route to Tuskegee, so these locations are intimately tied into the life of "the old Jew" as many people knew him and Klink's story, and Col. Pickett's story, and Gen, Woodward's story of this early settler and his neighbor, Milly, are all the more intimately woven into pioneer days of Montgomery.
Col. Pickett's contribution to the paper as of 1847, was during the climaxing months of his gathering of material for his history of Alabama and it was not long after this period before he sent his copy to Charleston where the first edition of this celebrated volume was turned out
SOURCE
An old clipping by Col. Albert J. Pickett to the Flag and Advertiser, dated October 4, 1847 published in The Alabama Historical Quarterly, Vol. 20, No. 01, Spring Issue 1958, p. 28
1Tuscaloosa was never an Indian town until about 1800. When the Tusckabatche Chiefs established there a small town, as a resting place, in their visits to the Chickasaw Nation.
ALABAMA FOOTPRINTS Statehood presents the times and conditions they faced in lost & forgotten stories which include:
Who Controlled And Organized The New State of Alabama?
Tuscaloosa Had Three Other Names
Chandelier Falls & Capitol Burns
Alabama Throws Parties For General LaFayette
Francis Scott Key Was Sent to Alabama To Solve Problems