Anne Royall (June 11, 1769 – October 1, 1854) was by some accounts the first professional woman journalist in the United States. When her husband's died in 1797, there was intense litigation between Anne and her Royall relatives over his estate. After seven years of fighting, his will which left her most of his property was declared void and she was left penniless. The next four years, Anne traveled Alabama and wrote letters to her friends about the evolution of the young state. The letters were published as a book entitled Letters from Alabama in 1830.
On June 6th, 1822, Anne was in Huntsville, Alabama (now in Madison County, Alabama)where she wrote her friend Matt about a disastrous tornado that hit the town.
The letter has been transcribed exactly as published. (Including the misspellings)
Huntsville, June 6th, 1822.
Well, Matt, what shall I give you now? It is so long since I wrote to you, that I forgot what I last said. If I recollect right, I have, upon the whole, entertained you with a little of every thing, except love; and I confess I do not know how to write upon that subject; and yet, how easy it appears to be to most people. But I can give you a little upon hate.
I have often mentioned the great wealth of this place. Here are Colonel Leroy Pope, General Brayhan, Doctor Fern, Doctor Chambers, Doctor Manning, Thomas Bibb, Esq. and a score or two besides, that are rich as princes, and are stigmatized, by a few of the vicious, by the appellation of nobility! If by this designation, they mean the performance of noble actions, which is really the origin of the word, they could not better apply the term. But I am inclined to think, in the present instance, it is used by way of contempt. But let envy alone. Only because these people, by their own foresight and industry, laid out their money in the right time, and at the right place, instead of spending it in taverns and gambling houses, they have drawn down upon them the envy of little minds, who never did a generous act in their lives— But what do you think of Doctor Manning, the greatest planter in the state, but one—and him I know nothing of; he living in Laurence county, over the river. Doctor Manning, this year, has seven hundred and sixty acres in cultivation; and Doctor Chambers, and a dozen others, very little behind him!
Planter does not ship his own cotton
The merchants, in other states, hold the farmers in vassal, age—but, here, the merchant is held in subjection by the planter. The planter does not ship his own cotton: this is done by the merchant, and at his own risk. The planter delivers it at the gin, and has no more to do with it. The merchant is glad to get it at the planter's own price, as he has no other way to pay for his goods, in New York, where the money of this country will not pass.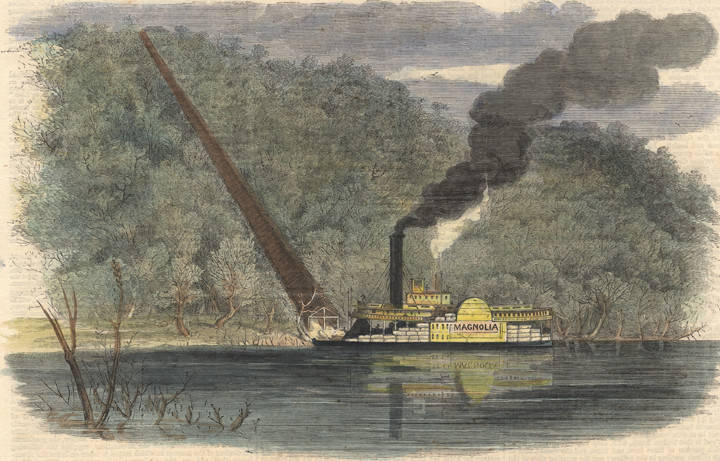 Loading cotton onto the steamboat Magnolia (Alabama Department of Archives and History)
The merchant goes to market but once a year. The usual mode of transportation for goods is to wagon them to Pittsburg, and thence down the Ohio, and up the Cumberland and Tennessee rivers. Groceries are laid in at New Orleans.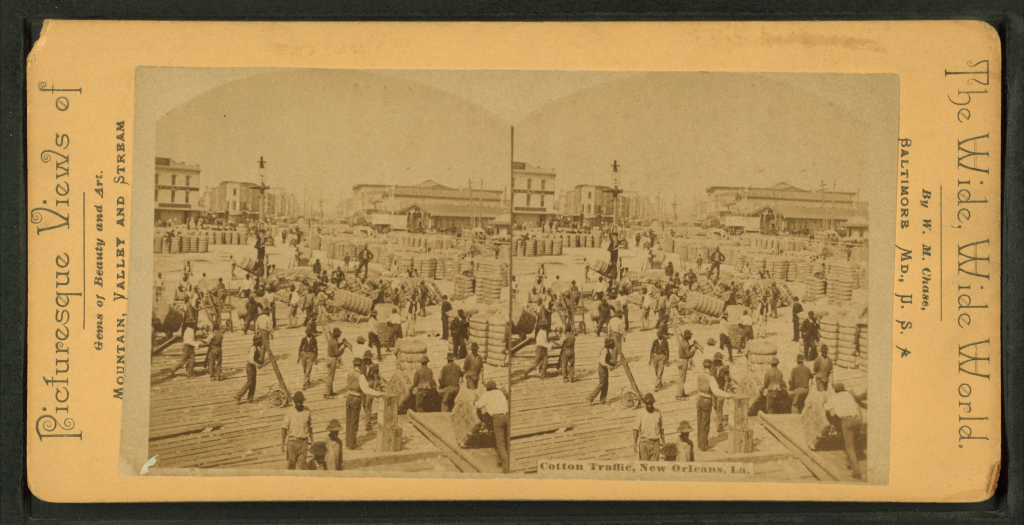 Cotton traffic, New Orleans, LA, by Chase, W. M. (Library of Congress)
It is in contemplation, I am told, to establish a mercantile house at New Orleans, or some point in these states, to import direct from Liverpool.
Through the politeness of Colonel Pope, I obtained the following intelligence, which I send as I received it in a letter:
"Poplar Grove, 25th January."
"I beg leave to apologize to you for not answering your letter sooner, which I had the pleasure of receiving some days ago. My absence from home was the cause of this neglect. I regret much that it is not in my power to furnish you such information, on all your inquiries, as would be of interest to yourself, or others. On such of your inquiries as I am able to answer with any degree of correctness, I will do with pleasure.
Quantity of cotton
Your first question—The quantity of cotton raised in Madison, the last three years? From the best information that I have been able to obtain, and which I think is pretty correct, there has been raised about fourteen thousand bales, annually, the last three years, being in the total weight, about fourteen millions two hundred thousand pounds; the average price I conceive may be fairly said to have been twelve and an half cents per pound, making the total sum, annually, in this article shipped from the county of Madison, five hundred and twenty-five thousand dollars.
Quantity of land cultivated
The quantity of land cultivated in this article is about sixteen thousand eight hundred acres, which produces upon an average, one thousand pounds of seed cotton per acre, and from five to six acres cultivated to the hand.— The use made of the cotton seed after it is ginned, is various,: some make manure of them, for which they answer a good purpose; some feed horned cattle, and if properly prepared, it is excellent food for stock of that description; and sheep will eat them freely.
The carriage from here to Tuscaloosa varies, it is from two to four dollars per hundred weight. With respect to the temperature of the air, and other particulars, I refer you to John Boardman, Esq. of this place, who will furnish you with the information you want.
"POPE."
Upwards of two million dollars
Since this communication, I have received the receipts of shipments of cotton for this year, which amounts to upwards of two millions of dollars, from all the counties bordering on the Tennessee river!!!
There is a country for you.
All, except Madison, was in woods two years ago. I have known cotton to bring twenty five cents; but Colonel Pope gives the average. Would you believe it? The people are leaving this beautiful country, and going, some to Texas, some to Missouri, and some to Red River, and others, the plague knows where. But if they find a handsomer, or richer country, I am much mistaken.
Rapid growth of vegetables
The rapid growth of vegetables would astonish you. Go into a garden one day, and the next you would scarcely know the same. I have never been more surprized at this rapid growth.
In the common way we had strawberries and peas the last week in April. Irish potatoes and snaps, first week in May. Early York's, and cucumbers the last day of May; and on the same day, a summer turnip that measured seven and an half inches round. This being near the northern boundary, I am told they are two weeks earlier to the south. . But no country can excel in fruit. You may sit down in one place in the gardens, and gather half a bushel of strawberries.
The wild fruit, such as plumbs, &c. are as delicious as our tame fruits. The woods and praries abound with all sorts of fruit, and they have, it is said, the true Muscodine grape: 1 have seen and eat them. They are larger than our Fox grapes, and of a greenish color. They grow in profusion on all the rivers, upon a large vine, which runs to the top of the tallest trees. Ten bushels at the least might be gathered from one tree; and were it not for the overflowing abundance of other good things, I am certain, though I never heard it mentioued, these grapes would make good wine.
Alabama is so hot
You have often heard said, "Oh, that Alabama, is so hot, I could not live there; and it is so sickly, too." What abominable fools. It is much warmer there (West Virginia) than here, in summer; and why? Because our days here are much shorter—Even a goose knows this.
Again, we have a pleasant breeze through summer here, which sets in a little after sunrise, every fair day, and blows till sundown. Our nights in summer are long, in proportion as the days are short; it is therefore cool and. pleasant. It is, however, sultry in cloudy weather, as there is then no breeze. But I have never seen the Thermometer, in summer, here, as high as it is where you live.
Almost everyone rides in carriages
You recollect your old school mate, Doctor Erskine: he lives here, and has become wealthy. He married, sometime since, the beautiful Miss Russel, and has one child. The Doctor is highly respected in Huntsville, both as a gentleman and a physician; and has handsome practice. He rides in his carriage, and ranks with the first men in the place. Almost every one rides in carriages here—very few are ever seen on horseback.
Curse of slavery
With all these blessings, however, we have a few curses; and one of them is slavery! Not that the slaves are treated bad. If we except the total neglect, on the part of their owners, to enlighten their minds, they live as well as their masters; and are by no means hard tasked. But they are the most immoral and cruel brutes in the world.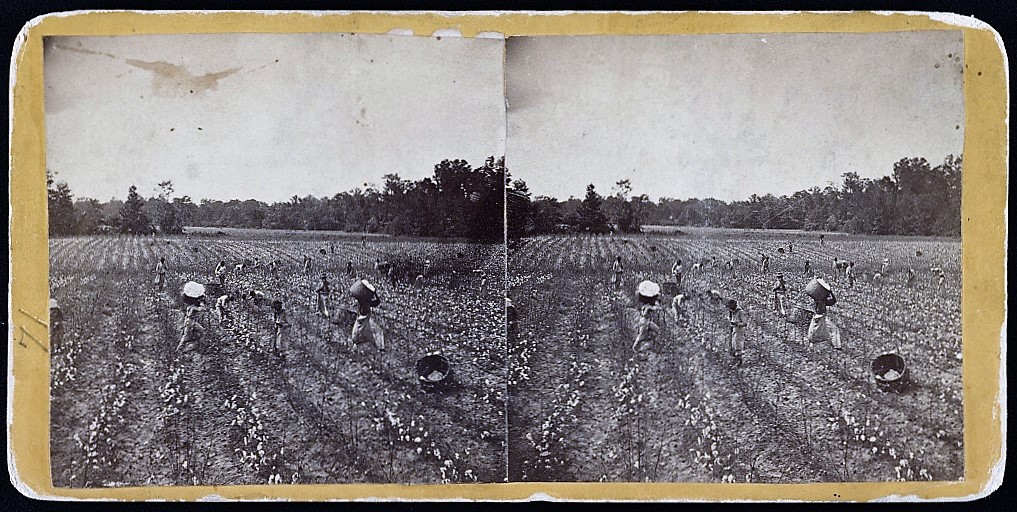 Picking cotton near Montgomery, Alabama 1860 (Library of Congress)
One shrinks with horror at their barbarity to poor innocent brutes. I never have looked into the streets, since I have been here, but I see those brutal negroes torturing and wounding poor innocent cats, dogs, hogs, or oxen, and no one interferes to prevent it.
The white people do not see it, as they are seasoned to it by habit, and appear as callous as the brutes themselves. I have (but it is almost too shocking to relate) seen cats lying with their backs broke, for two days at a time, in the street, and when I entreated these ruffians to kill them, to put them out of their misery, they burst into a laugh in my face. A curse must fall on a land so lost to feeling.
Those innocent creatures were given to us for our use, and not to glut a worse than savage disposition. And yet, these negroes are very pious. They have two churches, and prayer meetings every night. There were seven fights here, between negroes, near the doors of their churches.
Missionary preached
We went to hear a Missionary preach the other night, and he collected a large sum, several hundred dollars, to convert the Heathen.1 What a burlesque. Where are greater Heathens to be found, than these negroes. There is a great deal of preaching here; and a great many ill uatured remarks pass between the presbyterians and methodists; but whether it be to determine which shall save most souls, or receive most money, I am too ignorant to discover. I hope that the one or the other may take those in hand. They need not go far for the Heathen.
From what I have heard, it appears the methodists have braved every danger, and preached to the people gratis, in the settling of the country; and now that there is no danger, and the people have become wealthy, those sly fellows, the presbyterians, are creeping in to reap the harvest. But the methodists have a great advantage, in point of talent, many of them being the best orators in the country. But they all draw too many women after them, in my humble opinion.
Yours, &c.
1This was the first Missionary I ever heard; and it was amusing to hear the women next day passing severe reflections on Colonel Pope, because he put only 25 cents in the hat. "Such a man—a man of his wealth—to give a quarter-—Did you ever see the like! They would have given all they had!" It was, beyond doubt, the worst laid out quarter he ever spent.
Letters from Alabama, 1817-1822: Biographical introd. and notes by Lucille Griffith
FreeHearts: 2nd edition A Novel of Colonial America
Col. John Washington (ancestor of President George Washington), Randall Revell, Tom Cottingham, Edmund Beauchamp ward off Indian attacks and conquer the wilds of Maryland's Eastern shore in 17th century colonial America in this historical novel, inspired by true events.