AN EXCERPT FROM EARLY HISTORY OF PIKE COUNTY ALABAMA
(Covering the period from 1821 to 1900) 1
By MRS. MARGARET PACE FARMER2
EARLY CHURCHES OF PIKE COUNTY, ALABAMA
There were three churches in Orion in the early days — Methodist, Baptist, and Presbyterian, Mr. McKee, a Presbyterian minister, organized the Presbyterian Church. The membership of this church was moved to Troy in 1890, and the building was moved to China Grove.
About 1858 the Methodist Church was organized in Orion. The building was made from a store building which formerly belonged to Angus McLeod, and was just across the road from the school building. Mr. Lloyd Williams built the Methodist Church building in Orion and a Frenchman was hired to paint it.
Fellowship Baptist Church was organized January 25, 1828, with a membership of three white men, three white women, and one negro woman. A Baptist Church building was erected in 1830; it was built of logs and had an open fireplace. In 1840, this church split over missions. The Missionary Baptist building was built in 1842 at a cost of $550.00, and a larger church was completed in 1858 at a cost of $1,250.00. The whites of the three churches shared membership and burial grounds with the slaves. The first church for negroes was built in 1870.
The oldest Methodist Church in Pike County is the old "Williams Church" of Brundidge. Brundidge church history is interesting, many of the pioneer churches being constituted nearby such as Antioch, Baptist Rest, Mt. Zion, Paran, Old Salem Baptist, which have been conspicuous in the past religious history of this section.
First Presbyterian Church in Pike County known as Philadelphia Church was established in 1837 and was situated one mile north of Brundidge.
Mrs. Ann Love wrote to the Methodist conference in South Carolina to send a preacher to Troy. She also gave the land and $350.00 cash for the building of the first Methodist Church. This church was organized in 1843 and was located on Church Street. Later it was moved to the comer of Church Street and Brundidge Street; and still later to the corner of Walnut Street and North Three Notch Street.
Troy Methodist Church South, Troy, Alabama ca. 1900 (Alabama State Archives)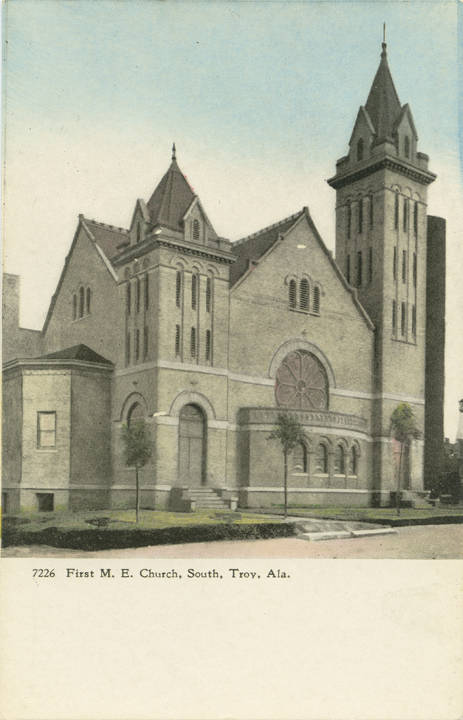 A Primitive Baptist Church was organized near the present site of Troy in 1831 at the home of Lewis Pugh. In 1835 a church was built where Beulah Church stands on the South Three Notch Road. A cemetery was laid off nearby. Ann Love lies buried in this cemetery, the only one in existence at the time of her death.
In 1836, Mr. Pugh and his family went to trade with the Indians near Chattahoochee Shoals and he and his entire family were brutally massacred by them.
The First Baptist Church (Missionary) was on South Three Notch Street. It was built in 1850. Later this church was moved to the north side of College Street; and in 1888 it was moved directly across the street to the corner of College Street and Cherry Street.
Baptist Church, Troy, Alabama ca. 1900 (Alabama State Archives)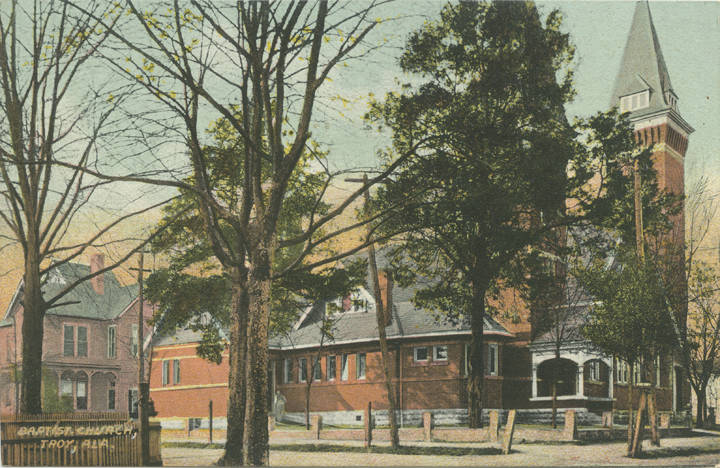 The Second Baptist Church, later dissolved, was organized in 1878 and was located on the corner of East Walnut Street and North Brundidge Street.
There was no Presbyterian Church in Troy until 1871 and no Episcopal Church until 1876. An Episcopal Church building was dedicated in 1880.
It would not be practicable to try to list the beginnings of all the churches throughout the county. It is presumed that their development parallels the history of the churches in the communities listed. Before the building of the churches in the county, the court house on Deer Stand Hill was used by all denominations for church services. Preachers were rare and when travelling through here made appointments one year ahead.
1Transcribed from the Alabama Historical Quarterly, Vol. 10, Nos. 01,02, 03, 04, 1948
2(Margaret Pace Farmer is the wife of Curren Adams Farmer, of Troy, a member of the faculty of the State Teachers College there. She was born in Troy, October 28, 1912, the daughter of Matthew Downer and Sarah Sinclair (Collier) Pace. She received her early education in Troy and received the B. S. degree at State Teachers College, August 1932. She has taught in the High School at Enterprise, Brundidge and the Elyton School in Birmingham. She is a member of the Troy Methodist Church and in addition to a series of articles on Pike County which have been published in the Troy Messenger, she has also presented through radio station W. T. V. F., a series of programs on. Pike County history. She was married to Mr. Farmer at Troy, December 1, 1934 and they are the parents of three children, John, Hollinger and Julia.) ADDITIONAL NOTE ON Margaret Pace Farmer obituary 2007 – Margaret Pace Farmer died Friday, Jan. 19, 2007, at the age of 94, leaving a legacy that will benefit many generations to come. Bill Rice, Troy historian, said Farmer was so important in preserving the history of Troy and Pike County that it is hard to think that anyone else could have done what she did.
Margaret Pace Farmer wrote the best history books about Pike County that have ever been written, and they will always be the best history books about the county," Rice said "The first was a classic history of the county until 1900. The other was the 150-year history of the county, through 1971.
"Every history that had been written about Pike County was wrong until she wrote those two books. Margaret wrote a weekly historical column for The Troy Messenger and was personally responsible for The Troy Messenger being put on tapes and on file for use in historical research. She was also responsible for the re-establishment of the public library in Troy."