WILSON'S RAID AND OTHER RECITAL 1
Recording A Persistent, But Unavailing Attempt To Capture At Montgomery In 1865, Mr. Duncan Blue Graham, Treasurer, And To Seize Funds Of The Confederate State Of Alabama
(*As related by Florence Leonora Graham, daughter of Duncan B. Graham (Mrs. John T. Northington, deceased) to her daughter, Mrs. Mary Northington Catts.)
"When our failing cause was near an end, and Wilson's Raiders reached our undefended city, among the hasty acts of his calvary was to seize the former First Capitol of the Confederacy; and first of all offices,—my father's office,—the State Treasury. The Treasury was bare. Neither money, nor my father, could be found. He, with other State Officials, had been warned what to expect.
Moved cash and State funds to Coosa County
My father (Duncan Blue Graham, Alabama State Treasurer) had taken all cash and other State funds from his office and gone to Coosa County to one of his near relatives, Daniel Crawford. Mr. Crawford owned a very substantial old home in Coosa as well as one of the largest mill houses on a nearby creek. Secretly, these two gentlemen had, during that night (for greater safety to Alabama's meagre remaining, but all the -more needed cash) resacked it in several stouter sacks of the mill, wired them, chained them, and waded with them out into the creek, where the chains were made fast to anchors, and the sacks buried back underneath the bank of the creek, and there left them, the money safe from seizure, should by chance my father be captured. Paper money and treasury records were buried elsewhere on Mr. Crawford's place.
"So soon as the raiders found both cash and State Treasurer flown, my father's home was found, about two miles South from the Capitol on the Norman Bridge Road, and forthwith it was ransacked for my father, or for any letter or communication which would indicate where he could be found. When nothing could be found, a cordon of soldiers was thrown around it, and no one permitted to pass in or out through it; and for days and days we were cut off from the outside world. This was done with the hope of capturing my father, whom the commanding officers thought, perhaps, might attempt to slip in home at night, or send a communication to my mother.
"When no communication came, in course of time my young brother, Duncan B. Jr., was permitted to pass out into the city on needed errands for the family.
Governor Shorter left
"Governor Shorter had been advised, previous to the arrival of the raiders, to leave Montgomery to prevent capture, and he had preferred to leave for his home at Eufaula, where he could be near his family. After his departure, it was discovered some very important papers had been overlooked, and that these needed to reach him without delay. -It was also discovered the raiders had all roads so closely guarded that those seeking to make delivery were in doubt it could be done. It was especially desired that the papers should not fall into the hands of the Federals.
Papers needed to be taken to Governor Shorter
"Someone from the State House saw my brother in the city and asked him if he thought he could get through the lines on the South side of the city and take the papers and deliver them to Governor Shorter at Eufaula! He said; "he thought he could; the soldiers at his home were letting him and his pony come into town; that both of them knew every path and pig trail in South Montgomery, yet neither had been to Eufaula; but if. he found the roads guarded, he could take to the woods and hold to the Southeast." The papers were given him and he came home with them hidden on his person to tell my mother what he had agreed to do.
"My mother, (after the soldiers had taken charge of her home and premises), each night when the blinds had been closed, hung quilts over the windows so she and her family could have privacy from any prying eyes, and, at least, this possible freedom from the indignity put upon her.
"My brother in the early night scouted to see if he could get through, but found no chance; yet fortune seemed to be favoring him,—a storm was brewing! At midnight it came on in earnest. He slipped through to the lot, saddled his pony and eased him out into the weather, and found the premises too well guarded. After waiting for more than an hour and a half in the rain (drenched from head to foot, and his papers wet) he put his pony back in his stall and tried to slip back into the house and found the back door too well guarded. He told my mother if he could not get through, and, on return, could not reach a rear door, he would watch his chance, crawl underneath the house and tap the floor underneath where she sat, and that would mean a certain door. When the tap, tap, came, she thought he had long passed the guards and was on his way. She got him back into the house, built a fire and had him stretch before it to dry, while she dried the papers. At four o'clock he tried it again. The guards were tramping about in the rain, and when they shifted from his vicinity, he mounted his pony and went through on his more than ninety miles journey. When for more than a week my mother had no word whatever from her young son she was almost distracted. In fact, she became very much worried about him after the sixth night.
"Her worry had been occasioned by Governor Shorter, whom, when he received the papers and learned from the fifteen-year-old young courier under what circumstances they had been given him, and the efforts he continued until he passed the yankee guards at his home (and how often, on his journey, he saw—what he thought to be Federal calvary and took off into the woods and continued along a parallel course to the main road until he could get back into it) was so charmed with him, the Governor kept him at his home for several days, and sent a verbal message of thanks to my mother and to say he had her boy rest up a while before allowing him to return. But the unknown delay had been too much of a wait for a mother who lost this boy two years later.
Indignity my mother suffered
"One closing incident of the indignity my mother suffered from that guard, and an outrageous one, considering she was in her own home, and, at the time, had a young child but a few weeks old. Yet, she could afterwards say: "the devil himself,—if any part of a gentleman,—should receive distinction!"
"One morning the yankee Captain who had his guards on duty, rode out with others for relief, and could find none there. He was puzzled; his knock at the front received no response; but hearing voices in the rear, he came around the house, and through the dining room windows beheld his yankee yeoman just taking their seats at a private dining table, my mother serving them. Stepping within, he inquired: .
"Mrs. Graham, what is the meaning of this?"
"It means," said my mother, "these renegades drove my servants off of my premises, and although I have a very young infant at my breast, they demanded that I, and I alone, prepare them a hot breakfast!"
"Madam, I am ashamed that such an indignity should ever have happened to you, and every guilty man here is now under arrest and shall be punished!"
"Arise, you renegades" he commanded, "And turn each one of you your pockets upon the table!" "No. filth out of their pockets shall go upon my table," said my mother. "I ask you to take them out!"
———
The residence of Mr. Duncan B. Graham of that time faced the Norman Bridge Road, and stood near the present Northeast corner of First Street, now Graham St., and Cloverdale Road, the property a quarter section (upon which now a greater part of Cloverdale has been built) extended one-half mile south on the East side of the Norman Bridge Road to the beautiful old show place of the Mastins, and of these families, Belle Graham married Thomas Mastin. She lived only a short while after marriage at this old home amidst its cedars and broad acres.
No picture is here offered of Mr. Graham, as many of him are to be found upon Alabama 'shin plasters.' My wife says of her grandfather, when looking at some of these: "He was no one's pretty child!" This being the most inconsequential part of fine character, makes but little lament. True it is, however, whether the requirements of State impelled it, and from no part of conceit he decided but the one time to leave it extant, (or, indifferent to whit part—for art—Alabama's war-time lithographer might devise to make him as handsome as he should have been), this is the only one known.
It is my desire to offer and have appear herein a picture of his brother, Mr. John A. Graham, in Highland togs. I do not know (and for no better reason than my ignorance is vast in such matters), whether the beauty of his Scotch plaided breeches is blocked out (for pride in them) upon cloth of a design from the Graham Arms, but the Arms of the 'Graham Clan', I am told, carry a base and background from some such cloth.
John Archie Graham, Coosa County in two pictures below. He is wearing traditional Scottish clothing. John was the brother of Duncan Blue Graham, treasurer of Alabama from 1860 to 1865 (Alabama Department of Archives and History)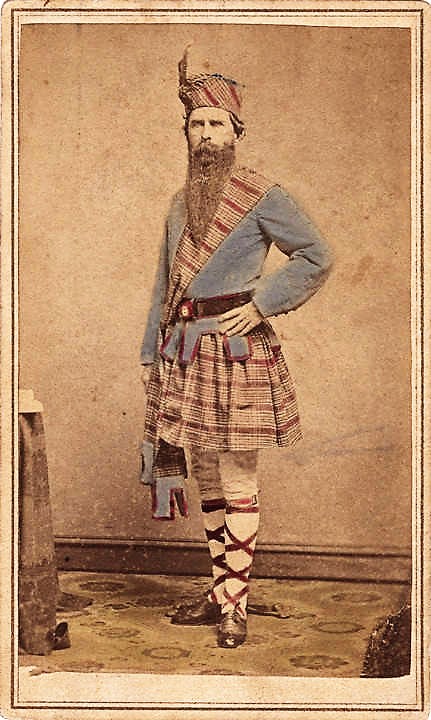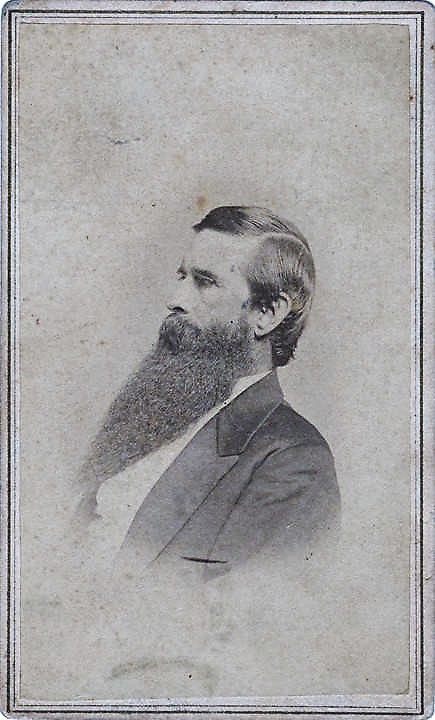 Mr. Graham was a lawyer and practiced at one time in the Circuit of which Coosa County composed a part, (and elsewhere), a man of ambitious ideals and poetic temperament. One of his poems of earliest martial appeal, calling the Confederate States to arms, sounds a clarion as clear and warlike as Sir William Wallace to the ancient Scots, is here also offered:
(For the Advertiser)
THE GATHERING BY JOHN A. GRAHAM
Ho ! champions of the right! ho! gallant sons of gallant sires!
Arise in all your wonted might! defend your homes and altar-fires!
The vandal foe is- on the march, arise! and meet him at the line,
And hurl the foul invador back that would despoil each hallowed shrine.
Ho! from Texas' fartherest bound—from Louisiana's smiling plains—
Mississippi's swelling tides, and Alabama's bright domains—
From Georgia's green Savannahs—from flowery streams of Florida—
From the Carolinas' hills and vales, where freedom's prestine fires play—
From the heights of Tennessee—from Virginia's mountain band,
And from the classic fields and shores of gallant knightly Maryland,
One thrilling shout is heard, of stern resolve, that dooms to death the foe,
Whose foot would press the soil where freemen live, and heroes sleep below!,
Ho! their mustering squadrons come, and forming, cheering, onward sweep
A wave of living fire, rolling high and broad and long and deep—
A host of true and dauntless men, whose hearts beat high, devoid of fears—
Sweep on! sweep on to meet the foe! freedom's conquering Chevaliers! —
Montgomery, Ala., May 7, 1861.
——
After the war, Mr. Graham resided in Florida, and also at Washington. The favor of fortune for him (like that of thousands of others of the South shot to death in smoke and gunpowder) seems in his efforts to regain it, (from many letters and poems on it, found among the effects of his niece, Mrs. Northington), often far-flung, but just as fickle and fore-parted. One of his poetic compositions on the conglomerate, carpet-bag rabble which infested and debauched the sacred walls of our State Capitol, in its candor of free expression and insatiate humor, (a sense of possession which always comforted and supported him), will bear no reproduction here; but it is my desire that this, and the 'Clerk from Coosa to the Clerk of Montgomery' be preserved in our State Archives. Also some letters to him from Admiral Raphael Semmes.
Mr. Graham, when in Montgomery, (and from many old letters to show it when absent), was, seemingly, the favorite brother of Mary Isabel Graham. Mary Isabel purchased from her brother, Duncan B., two and one-half acres on the North side of his quarter section, and here she built a home and maintained a private school. She was a highly educated, independent person concerning all matters of her affairs, and for Scotch adherency to Presbyterian faith and what constituted character. She lived alone and christened her premises Mount Calm. She possessed a sweet voice, and it is said the calm placidness of her premises remained unbroken, only except at such times as she and her brother John sat beneath the big broad oak, yet standing on 'Mount Calm', and sang their old world Scotch and sacred songs.
Mount Calm remains to-day on old Norman Bridge Road (South Decatur Street) at the head of Clanton Avenue, and looks down on an Avenue christened for an immortal who took most part in driving the carpet-baggers from their seat of glory. His ultimatum on that day 'to proceed to count the vote' shall not perish!
But, Mary I. Graham, in her State's distress, bought State Bonds, which never to her dying day, nor since, have been paid.
1Transcribed from The Alabama Historical Quarterly, Vol. 05, No. 04, Winter Issue 1943
The first four Alabama Footprints books – Volumes 1-IV have been combined into one book
ALABAMA FOOTPRINTS Exploration

ALABAMA FOOTPRINTS Settlement

ALABAMA FOOTPRINTS Pioneers

ALABAMA FOOTPRINTS Statehood