Note from Donna Causey: Everything written below is an exact transcription (with possible misspellings) from the From Cahawba Democrat (Cahaba, Alabama) February 1, 1840, so it was written shortly after his death.– I have no idea if words were misspelled. According to the news article George Culvert born 1744 served under General Anthony Wayne. 
George Culvert, a head chief and warrior of the Choctaw nation, was born in 1744. He died at Fort Towson, Arkansas November 1839. When the Choctaw and Chickasaw were displaced from their lands in the southeastern United States, the fort served as a point of dispersal upon their arrival in the west. Culvert probably went there as part of the removal of the Native Americans from the Southern States.
Served under Washington in the American Revolution
He served under Washington in the revolution, and from him received a commission of major of militia in the U. S. service and a sword. He served under Gen. Anthony Wayne, and also under General Jackson against the Seminoles in 1814. For his bravery, Jackson presented him with a colonel's commission, and afterward (during his presidency) with a sword. He educated his sons and established them on plantations among his people.
From Cahawba Democrat (Cahaba, Alabama) February 1, 1840
DEATH OF COL CULVERT
Extract of a Letter from an Officer in the United States Army
FORT TOWSON1,(ARKANSAS) NOVEMBER 7, 1839
"We this day buried, with the honors of War, General George Culvert, the head Chief of the Choctaw Nation, a man of superior intelligence, the greatest of Warriors, and the white man's friend. He was a Revolutionary veteran; he served under General Washington in our struggle for Independence, from whom he received a commission of Major of Militia in the United States service, and a sword. He served under General Wayne, and also under General Jackson, in the Florida War of 1814, against the Seminoles; for his bravery, General Jackson presented him with a Colonel's commission, and afterwards a sword, when President of the U. States. He gained the entire confidence of the officers he served under for his integrity and valor; he was physically and mentally a great man; although 95 years of age, he walked as upright as a man of 25."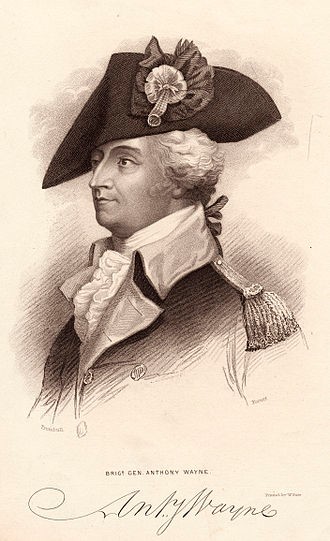 Gen. Anthony Wayne
"The commanding officer, on having received and read the commissions, ordered an escort from the fort of three officers, a captain, and two subalterns, also all the men doing military duty, to escort his corpse to its last resting place with reversed arms, and buried his remains with the customary salut (sic) due his rank; he was interred with his saddle and bridle, the swords presented to him by Generals Washington and Jackson, and a United States flag. He was of great importance to the cause of civilization among his people, by examples of industry; he was a planter, his fields of cotton whitened the hills and dales near the fort. He educated his sons, and located them on plantations among his people, which worked a moral influence among them; he was looked up to as a father, and exercised a father's influence over his people." (National Intelligencer)
1Fort Towson was first established to protect the southern border of the Indian Territory against Spanish colonies to the south. After Indian Removal and the resettlement of the Choctaw in the area, the fort was revived to protect Doaksville, a mile to the west. It became the economic capital of the Choctaw Nation.
SOURCE
The New American Cyclopaedia, George Ripley, Charles Anderson Dana D. Appleton, 1868
Cahawba Democrat (Cahaba, Alabama) February 1, 1840
Faith and Courage: 2nd edition -A Novel of Colonial America 

In this action-packed novel, George Willson witnesses the execution of King Charles II and is forced to leave the woman he loves to witch hunters in 17th century England as he flees to his sister, Mary, and her husband Ambrose Dixons home in Colonial American. Ridden with guilt over difficult decisions he made to survive, George Willson and the Dixon's embrace the Quaker faith which creates more problems for their survival in the New World.