DISASTER AT MARVEL
(transcribed from -Blocton Enterprise, Thursday, 26 October 1916
On last Saturday afternoon about 2:42, a terrific explosion occurred at Marvel mines, and the lives of 18 men were snuffed out in a moment. The explosion was felt all over the countryside, and in a short time, the mine entrance was surrounded by a throng of white-faced men, weeping women and children. President B. F. Roden was actively engaged in directing the work of rescue. Mr. George Jones of Garnsey, one of the men engaged in rescue work, fell and was killed, thus bringing the total number of victims to 19.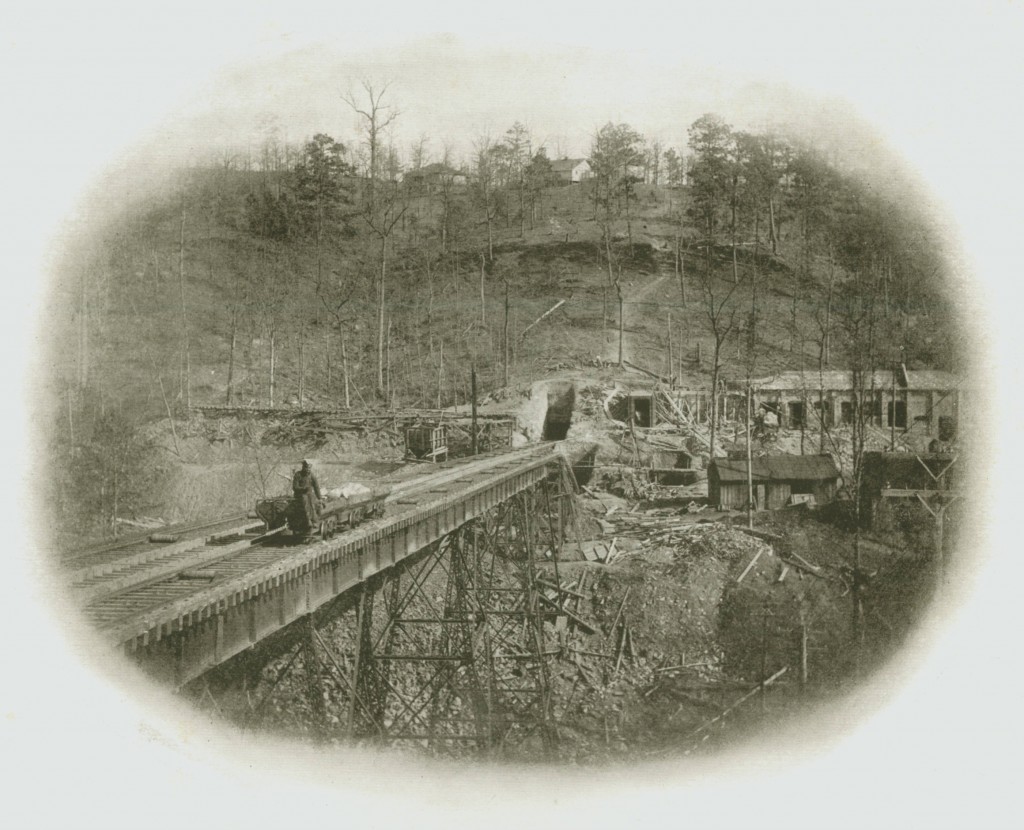 Photograph of mining operations at Marvel, Alabama 1920 by Davis Advertising & Sales Company (Courtesy of Birmingham Public Library)
Cause of explosion unknown
The cause of the explosion is not known. Mr. M. A. Lowery one of the dead men, is said to have inspected the mine early Sunday morning and reported it free from gas.
The following is a list of the dead:
White
George Jones, who gave up his life trying to rescue others;
W. F. Cochrane, master mechanic, married;
W. B. Freeman, chief electrician, single;
Grover Finley, boss driver, married;
Bruce Finley, single;
M. A. Lowery, married;
D. N. Ogletree, battice man, single;
Dewey McDonald, single;
Mose Harwell, machinist, married;
George Liddle, pumper, single;
H. F. Lowery;
Dave Pervis.
Colored:
John Stoke,
Roscoe Robinson,
Early Collins,
Lindsey Martin,
John Bell,
Sim Wells
Kinney Martin.
The news of the explosion reached Blocton about 5 o'clock, and a large crowd from here left immediately for the scene of the disaster, and to aid in the rescue. All of the bodies were not recovered until about 11 o'clock Monday. The bodies of Messrs. Grover and Bruce Finley were brought here Monday afternoon on a special train and were interred at Mt. Carmel Cemetery.
Two brothers killed
The Red Men and Odd Fellows were in charge, and Revs. Sandlin and Crim being the officiating ministers. There have been few sadder sights in Blocton than that of two brothers being carried, one behind the other, to their last resting place. Mr. Finley their father, had a blacksmith shop for several years in the lower end of town. The sad catastrophe has cast a gloom over the entire district, and the little city of Marvel mourns indeed for her dead.
Bibb County Courthouse & Jail, Courthouse Square, Centreville, Bibb County, AL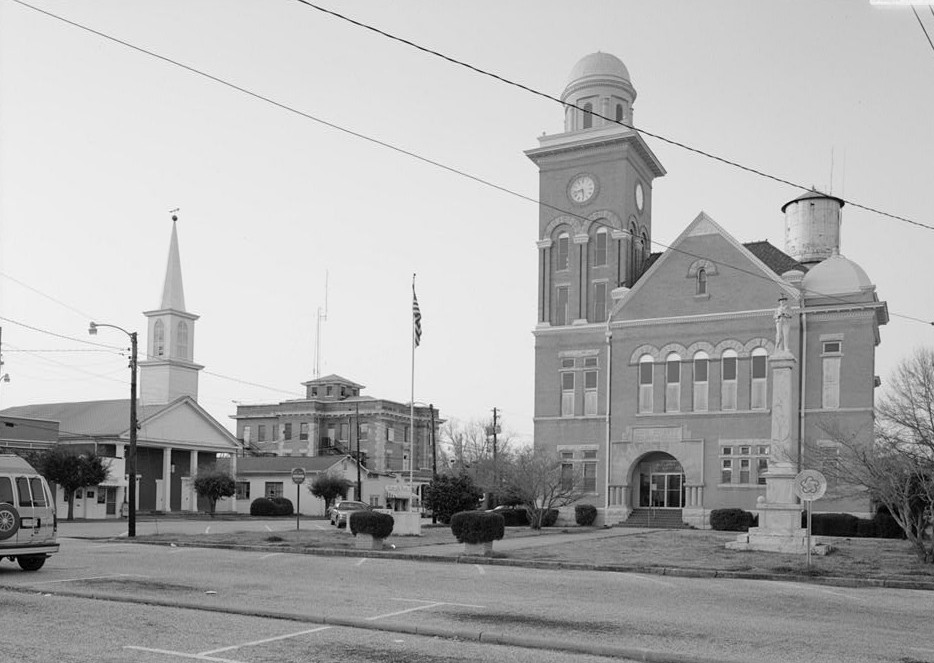 Marvel is located less than two miles east of the Cahaba River near Woodstock. The coal mine operated from the early 1900s to the 1950s. Marvel was a thriving community in its 'hey day'
The photograph below, made in 1993, is the unusual water tower at Marvel which has a crenelated top. (photograph from Library of Congress)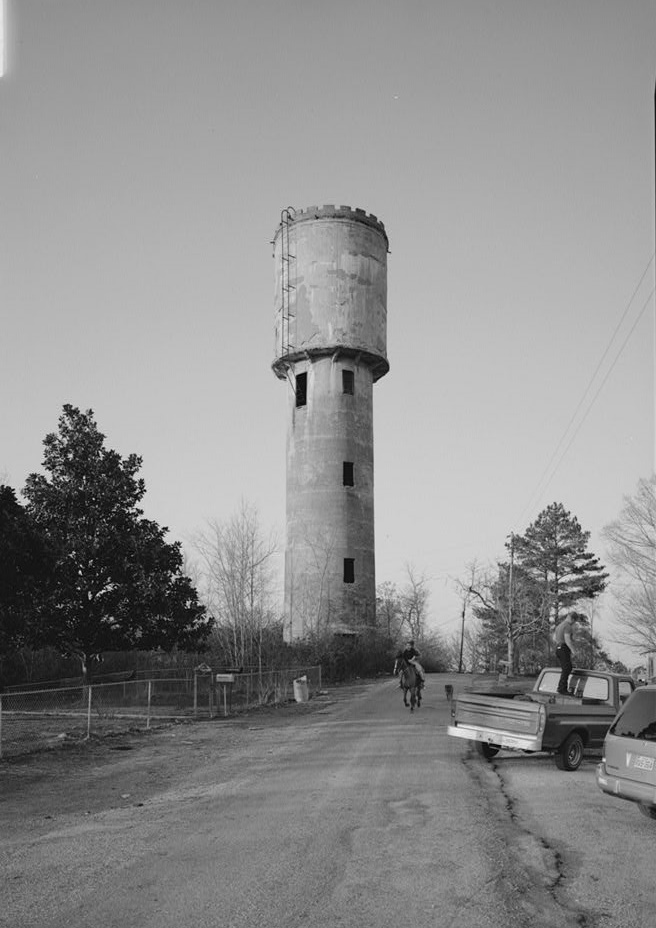 Many families arrive in Bibb County, Alabama as groups and often married close neighbors. Some descendants in this Volume moved further west or elsewhere in the state or Alabama.
Several children moved to Milam, Texas and Falls County, Texas. Many burial sites and census records are included whenever possible.
The heads of families included in this volume include: WILLIAM and JANE (MAJOR) NICHOLS; AMELIA STACY; NIRUM PETERSON; JOSHUA YEATES/YATES;THOMAS and KARON HAPPUE "CARRIE" (TUBB) MEGGS/MEIGS; JAMES MASON; ZACHARY "ZACH" YOUNG – married JENIFER MOORE PERKINS and MARY ANN PERKINS; DAVID and POLLY (SHUTTLESWORTH) THOMPSON; WILLIAM MCTYER/MCTIER; WILLIAM and JANE K. (MOORE) PERKINS.