Mountain Tom Clark was a notorious outlaw gang leader who terrorized helpless citizens after the Civil War. He confessed to at least nineteen murders. The people of northwest Alabama called the gang the Bugger Gang.
(Transcribed from Florence Times Daily – Mar 4, 1893)
OUTLAW TOM CLARK
History of War-Time Terror to North Alabama
His Final Exploits, Capture and Hanging – A Correct Write-Up of This Fiend
As a preface to my story, I will say to The Reaper's readers that everything that will not bear the closest investigation has been ignored, because, even of the man who is steeped in crime, the truth is what history demands. Stories of excesses have been searched thoroughly and traced to their origin, and where they were entitled to credence, they are here related.
TOM CLARK, THE BAD MAN
Tom Clark first made his appearance in Lauderdale county, Ala., in 1862 or 3. He went from one of the mountain counties, but whether he was a native of the State or not is not positively known. He located in the Blackburn settlement, and was known as "Mountain Tom Clark," for in the near neighbor hood lived another man also named Tom Clark, who was styled "Chinubee Tom Clark." It is of "Mountain Tom" I write.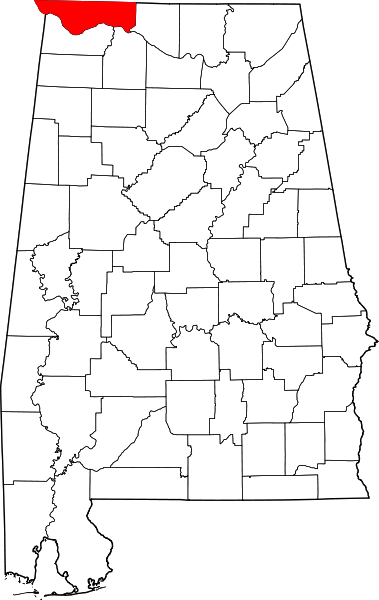 Lauderdale County, Alabama
HIS ADVENT
was caused by the rigid enforcement of the conscript law. He was run from his mountain home by the officers and sought a retreat in Lauderdale county, but there they fell onto him again. On a cold and disagreeable day, while building a stick chimney to his uncompleted house, in which his wife and babe of a few days of age were ill, the power of the conscript act fell upon him. He was taken on the way to the Confederate army, but he made his escape, and in his unlettered mind the passions of a thousand devils were aroused. He became a demon. Being a mountaineer, he was an unerring shot with a rifle, and the suspicion that a man was a conscript officer sealed his doom. The Confederate officers getting "too anxious for his services" he concluded to enlist in the United States service.
HE ENLISTS
He went to Clifton, Tenn., and there enlisted in the Federal army. Here would have ended all his trouble had he so conducted himself as to have gained the esteem and confidence of his superiors and comrades. But his avarice here forfeited his life by all military laws, and to save that miserable and blackened life he again forfeited it by desertion.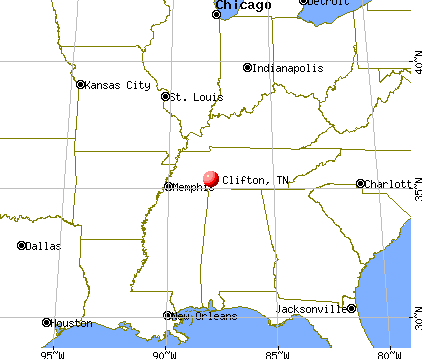 Clifton, Tennessee
HIS CRIME
After enlisting and being mustered into the army he was detailed as a guard, and, at that time, orders were strict and discipline rigid. Everything was in confusion, and scouting was the order of the day, guerillas (sic) and bushwhackers were running amuck. Orders at the post were to let all persons enter, but let no one under any circumstance pass outside the guard line. Here Clark made the mistake of his life. A man past the meridian of life, wanted to go outside the lines, and being the average in intellect, was not long in discovering the weakness of Clark. So the gentleman informed him if he would only let him pass out of the lines no one would be the wiser, besides offering him at the same time a gold watch. The rich color aroused his greed for lucre, and soon the watch was in Clark's pocket and the stranger going his way. His absence was soon noticed and an investigation instituted. Clark had enough foresight to see that his duplicity would be discovered, and he be shot at the stake by sentence of a martial court, and to escape such a fate, he deserted.
A HUMAN FIEND
Soon after his infamous acts as a soldier, he, in company with one of the worst gangs of cutthroats that ever cursed the face of the earth commenced a reign of terror. Men reared in the county, some of them in the town of Florence, who had served in the Confederate army, became deserters and had enlisted in the Federal army only to desert as soon as they could well do so with the accoutrements (sic) furnished, to engage in a series of the most bloody and brutal murders and robberies that ever blackened the pages of American history.
HIS GOOD NATURE
At Bainbridge, on the Tennessee river, his gang killed three Confederate soldiers. He went to Bainbridge for the purpose of killing Silas Green, who had been wounded in a fight with Clark some time previous, but he had escaped to the south side of the river. The soldiers were on the bank of the river and were waiting for an opportunity to cross to the opposite shore; one of them had gone to the cabin occupied by Mrs. Green and children to get fire from which to kindle their campfire, when the villains rode up and without warning shot two of them to death, then riding up to the cabin met the third man at the very threshold, shot him while pleading for his life, and after he fell a member of the gang seeing he was not dead remarked, "_____ you aint you dead yet?" shot him again in the breast, holding his pistol so close that it set fire to the dead man's shirt. After these heartless murders one of them took fire from the hearth and set fire to the cabin, and Clark put it out and told the scoundrels to leave. While he has been accredited personally with these murders, they were committed by other hands that paid the penalty seven years before Clark expiated his crimes.
HIS CROWNING ACTS
were committed in April, 1865, when old man John S. Wilson was cruelly tortued (sic) with fire to make him reveal the hiding place of his money. They piled books on his breast and burned them, poured burning coals on his feet, and failing to procure the desired information, they cruelly shot to death this feeble, sick old man, also Matthew Willon, Jr., the plantation overseer, Mr. Twitty, and wounded a young man named Foster, who saved his life by feigning death. This occurred at the Wilson homestead, where now is located the thriving German settlement Saint Florian. After these deeds of blood that caused the fiends to dance with glee they went thundering into Florence, where they held high carnival until near the hour when ghosts cease to walk.
IN FLORENCE
they tortured several citizens. That reliable and christian citizen, Dr. Joseph Milner, and that good old market gardener, John Kackelman, were maltreated and tortured: Edmund Poole, col., was also tortured and robbed, together with many outrages that would make the imps of perdition stand in amazement at their brutality.
During Clarks' career as a guerilla, (sic) he murdered a man named Howell, shooting the old many while sitting on a fence, and then putting his gun through the fence shot Howell again as he lay on his back.
EXPIATION
Soon after the Wilson murder two members of this gang of vilains (sic) were shot to death by federal aurthority (sic) for the many crimes committed by them, out a little way from town on the Military road, in a little ravine, and amid their ribald and blasphemous remarks the fatal volley was fired and their souls were ushered into the presence of an offended God.
Seven years and a half after the military execution of Campbell and Oliver, Clark was hanged by a midnight mob. He was arrested in Jackson county, Ala., and carried to Florence and incarerated (sic) in jail. In October, 1872, a mob of citizens forced the jail doors open and took Clark, together with two burglars, to the lot on which now stands the Masonic hall and hung all three to an elm tree. As the two men died seven years previous blaspheming, Clark went before his offended Maker pleading, for that mercy and forgiveness he never showed or granted his helpless victims.
In this article I have omitted a great many stories that could not be traced to any reliable source. Clark, like all "bad men," had the credit of crimes he never committed and some that were not committed at all, but those he die commit were so fiendish and diabolical that the ordinary criminal would shudder with horror at the thought of their committal. T. S. Fedore, in Sheffield Reaper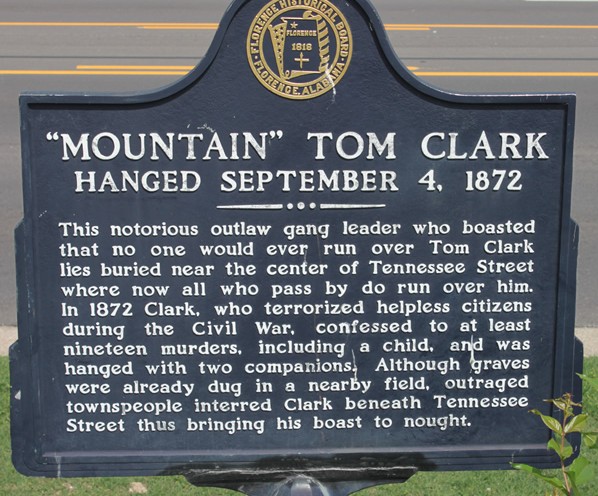 At first, Tom Clark and the other two outlaws lynched with him were buried in a field across from the cemetery, but one of the men in the mob recalled Tom boast that "No man will ever run over Tom Clark!" so his body was later dug up and buried under Tennessee Street outside the gates of the Florence Cemetery. It is still there today.
Alabama Footprints Confrontation

is a collection of lost and forgotten stories that reveals why and how the confrontation between the Native American population and settlers developed into the Creek-Indian War as well as stories of the bravery and heroism of participants from both sides.
Some stores include:
Tecumseh Causes Earthquake
Terrified Settlers Abandon Farms
Survivor Stories From Fort Mims Massacre
Hillabee Massacre
Threat of Starvation Men Turn To Mutiny
Red Eagle After The War