HOMEMADE COTTAGE CHEESE
FROM 1924 RECIPE Alabama Extension service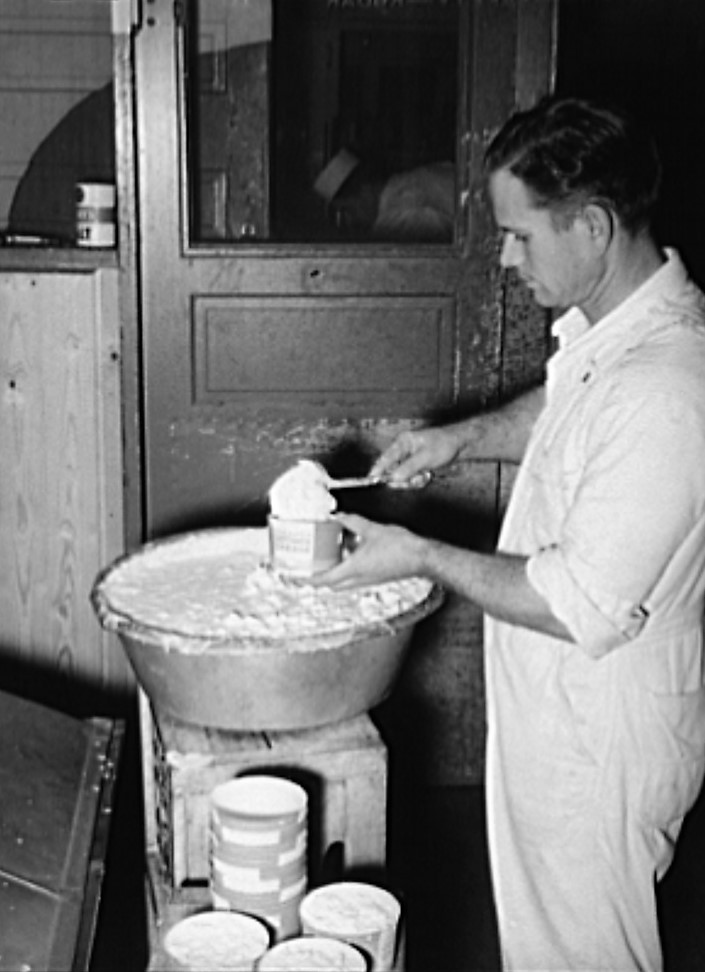 Filling cartons with cottage cheese 1939 (Library of Congress)
SETTING – Place clean sweet milk in pan or bucket and let stand until it is good firm clabber, temperature 75 degrees F.  (one gallon milk makes about 1 1/2 lbs. cheese)
HEATING – When milk has clabbered place pan or bucket into pan of hot water and raise temperature to 90 degrees F. (use dairy thermometer). Hold milk at 90 degrees F. for 30 minutes during which time stir gently for 1 min. at 5 min. intervals.
DRAINING – After clabber has been held at above temperature for 30 mins. pour into cheesecloth or flour sack and drain for 30 mins. or longer. (The longer you drain, the dryer the cheese.) Cheese may be placed in fruit jar and kept in ice box for several days.
SEASONING – Moisten cheese with cream and salt to taste. (1 to 2 tsp. salt to 1 1/2 lbs. cheese.)
Have you heard excessive brain labor causes baldness or the cure for wrinkles is a tepid bath in bran?
Do you want to know Thomas Jefferson's recipe for Vinegar of the Four Thieves or how to make Ox Tail Soup?
Have you ever had 'blueberry pickles', 'batallia pie' or 'snow birds'? You will learn all this and more in "Vinegar of the Four Thieves."
Our ancestors had to be resilient when they faced obstacles in daily life, from dealing with pests, medical emergencies, caring for clothing and cleaning shortcuts. Almost everything they used in daily life was homemade. Some ideas were great but some were very strange.
This book is a collection of household tips, medical cures, clothing care and old recipes from the 1800's and 1900's. Many of the tips, such as the household cleaners, cooking tips and ways to control pests, still work and are helpful in today's 'green' environment while others such as 'how to cure a dog of eating eggs' will make you laugh. Either way, this book will help you appreciate the difficult life your grandparents endured. With Bonus: First two chapters of novel Ribbon of Love