Anne Royall (June 11, 1769 – October 1, 1854) was a traveler and writer and was one of the first newspaperwomen. She married Captain William Royall, a gentleman farmer who served in the American Revolution. When he died in 1813, she was left penniless after a brutal court battle with her dead husband's relatives, Anne traveled Alabama for the next four years. She wrote letters to her friends about the evolution of the young state. The letters were published as a book entitled Letters from Alabama in 1830.
Below is the transcription (with misspelled words) of a letter Anne Royall wrote on Christmas day December 25, 1817 which provides a glimpse of Huntsville before it became a state and descriptions of the Kentucky citizens compared to Tennessee citizens.
Huntsville, December 25th, 1817.
Dear Matt,
A Merry Christmas to you, in the first place. I was saluted by a few guns, last evening, which reminded me of old times.
The face of the country has changed five times in my tour! From Big Sandy River (the boundary of Kentucky and Virginia) to Mount Sterling, the soil is black, firm, uneven, and covered with heavy timber, beach and oak principally.
From Mount Sterling to Danville, called first rate land, it is generally black as your hat, but in many places, for instance on the margin of creeks, it has a grayish color, and resembles calcined stone, and has a light crumbling appearance; the growth is locust, cherry, and walnut; very low, as I remarked before. I do not think it produces better than Kenhawa bottom. It is. well watered. Some of the farms are wretchedly managed. I was told these were the School lands.
Patrick Henry's sister was very active
Upon leaving Danville, a very handsome little town, the timber gradually diminishes, and you are soon in the barrens, and the soil changes to a redish, or chocolate color, and very little water: but the land is rich and level. I forgot to inform you that I met with Mrs. Madison1, the celebrated Patrick Henry's sister.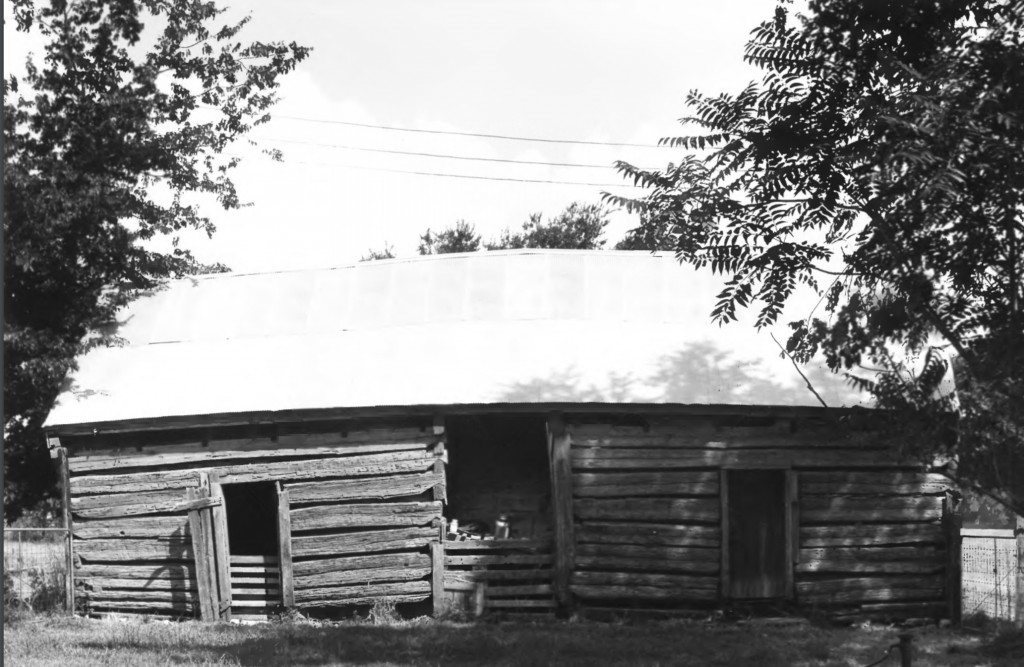 Susan Henry Madison lived in this log cabin – In 1975 it was an outbuilding on the Davenport farm which was formerly the Murrell stage coach stop in Tennessee.  (National Park Service)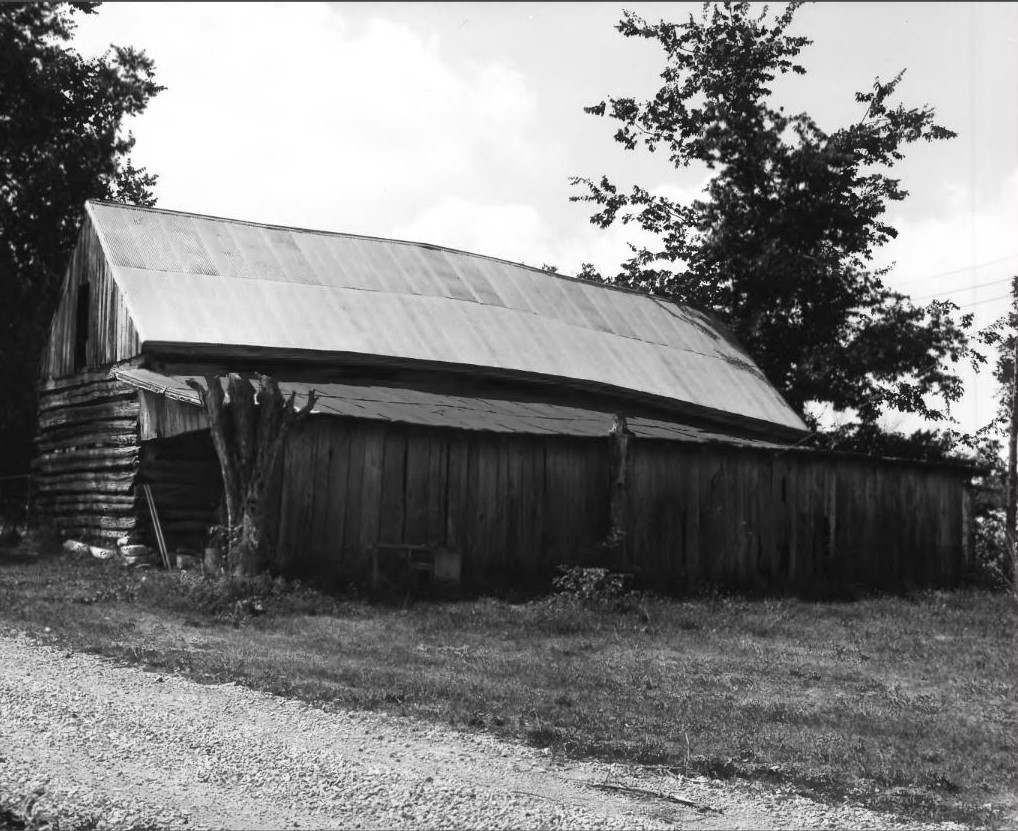 Susan Henry Madison log cabin back – 1975 it was an outbuilding on the historic Murrell farm in Kentucky (National Park Service)
She has removed to the barrens, and has an excellent farm. I dined at her house. She has two sons who live with her, both single; also, a grand daughter. She is quite an active woman, and very little inferior, it is said, to her brother, in mental powers, Seeing a house on the road, some distance ahead, I sent my servant forward to bespeak breakfast, concluding it was a tavern. When I rode up, what was my surprise to find Mrs. Madison, who formerly lived in the same county I did. 1 was invited in; but my companions, finding it was a private house, rode on. But to return:—these barrens have no timber but black Jack. They continue to Red river, in Tennessee, one hundred miles. They are not a dead, or prairie like level, but rather waving.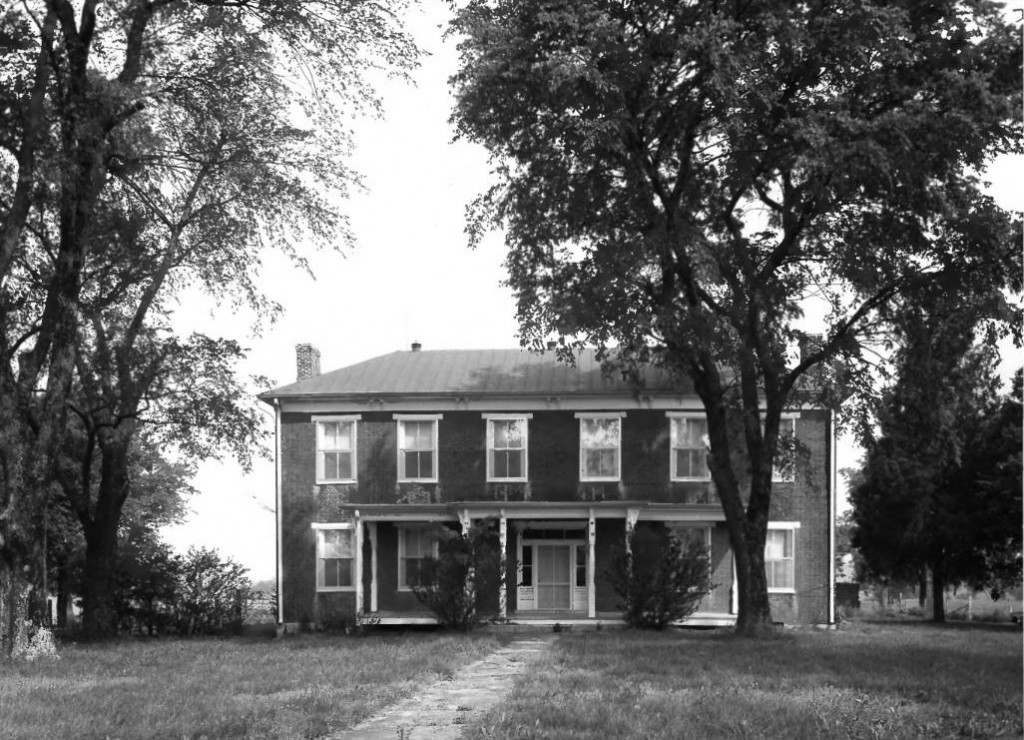 Murrell Stage coach stop  ca. 1973- Samuel Murrell purchased the land from the son of Mrs. Madison. Murrell was prominent in local and state politics and his home was a stagecoach stop until the Louisville and Nashville Railroad came through the area. This house was built in 1840. The log cabin can be seen in the trees on the left. (National Park Service)
Rich black loam and heavy timber near Huntsville
Next to this comes on the lofty timbered black rich soil, and large grape vines, and continues to Nashville. Upon leaving Nashville, the red cedar begins, and though the land is still rich, it is much interrupted with swamps and stones. This is well watered. This description continues to Fayetteville, on Elk river, near the southern boundary of the state. There again we have the black loam and heavy timber, till, within eighteen miles of Huntsville, when the chocolate land comes again, like the barrens; though light, it is not destitute of timber; but water is very scarce; many have to haul the water three miles in summer.
All these varieties of land extends from the mountains, on the left, to the Ohio river on the right.
We forded all the rivers in Kentucky and Tennessee,- excepting Kentucky river, which is very often forded.
Comparison of Kentucky and Tennessee citizens
The Kentuckyans are the handsomest people, by far, in the United States. They are not only stout men, but have fine features, and very beautiful complexions.
The Tennesseeans are not so stout as the Kentuckyans, nor so fair, but they are well shaped, and more active. There is a native bold independence in both, with this difference—. the Kentuckyans are great brags, whilst the Tennesseeans, equally brave and gallant, are wholly unconscious of those virtues. The Kentuckyan is rash and hot headed—the Tennesseean is cool and steady. The Kentuckyan is froward and assuming—the Tennesseean is modest and retiring. There is an independence, even in the children, which is neither awed by fear norwon by love. But what astonished me was their eareless indifference on the subject of their late gallant achievements, particularly at New Orleans. They spoke of it with perfect unconcern, and only mentioned it when applied to, and then with not half the same interest they would on the subject of hunting or killing a deer. Not so the Kentuckyans: they appreciate their bravery in its widest extent. Nor are the Tennesseeans so distinguished as the former for industry, or the art of acquiring wealth; though both are great jockeys.
The Kentucky ladies are very large, but are fair and well featured, and much more polished (excepting the ladies of Nashville) than the ladies of Tennessee: but the latter are better shaped; are very artless; and the young women have a sweet simplicity in their looks and countenance. Both men and women are without disguise, nor have they any of that impertinent curiosity common to other states; I mean that of teazing (sic) travellers. But the most distinguishing trait of a Tennesseean is, that he treats all men alike—the Nabob, with his splendid equipage, receives no more, nor as much attention, as the pedestrian. They are extremely jealous of wealthy, or what we call big, men. One of them, as I came on, being asked rather peremptorily, by one of the big bugs to rub down his horse, cursed him, and told him to " do it yourself—I am no man's servant." He then offered money and apologized; but the brave Tennesseean was not to be hired.
Yours, &c
1Note inserted by transcriber Donna R. Causey, "Mrs. Madison is probably Susannah Henry Madison of Kentucky. She married Thomas Madison, the son of John Madison and Agatha Strother Madison – first cousin of President James Madison. Madison was also related to other families who had careers interwoven in Virginia and Kentucky history"
SOURCE:
FreeHearts: 2nd edition A Novel of Colonial America
Col. John Washington (ancestor of President George Washington), Randall Revell, Tom Cottingham, Edmund Beauchamp ward off Indian attacks and conquer the wilds of Maryland's Eastern shore in 17th century colonial America in this historical novel, inspired by true events.