(Excerpts transcribed from Goodwater Enterprise (Goodwater, Coosa County, Alabama October 13, 1905)
LOCALS CONTINUED
Mrs. George Elmer Crowell and little daughter, of Sylacauga, visited relatives here first of the week.
Miss Hassie Neighbors of Sylacauga, spent a few days this week with her grandmother, Mrs. C. M. Pope.
Mrs. M. I. Freeman has returned to her home at Tohepeka, after several days visit to her son A. W. Freeman.
Wm. Chapman of Birmingham, spent several days this week with his sister, Mrs. B. A. Ford, who is very sick.
Mr. Will K. McNeill, traveling salesman for Carter Dry Good Co., of Louisville, Ky., spent last Thursday in our city.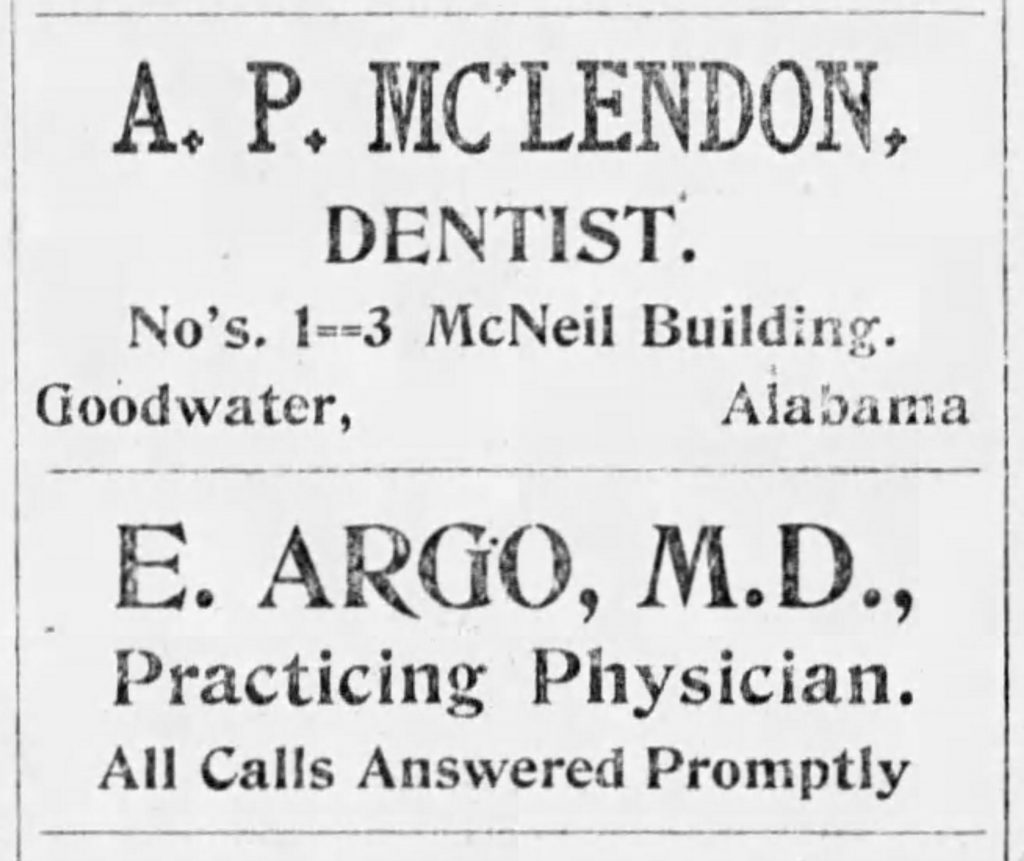 Mr. and Mrs. Tom Guy and children, of Columbus, spent a few days this week, with the former's mother, Mrs. Georgia Guy.
Just before going to press, we learn of the death of Mrs. B. A. Ford of this city. A more extensive notice will appear next week.
We are glad to see Jim Staples back at his post at J. M. Downing's after being confined to his room several days with sickness this week.
Mrs. John E. Mann and children, have returned to their home in Greenwood, Miss., after spending several months with Mrs. Mann's parents, Dr. and Mrs. C. M. Hope.
We are glad to learn that Ruth, the little daughter, of Mr. and Mrs. A. W. Freeman, who has been very sick for the past two weeks, is improving.
Will Stilwell, of Goodwater, was in the city Wednesday. He was returning from Five Points, where he had been on a visit to his mother who is ill. (Opelika Post)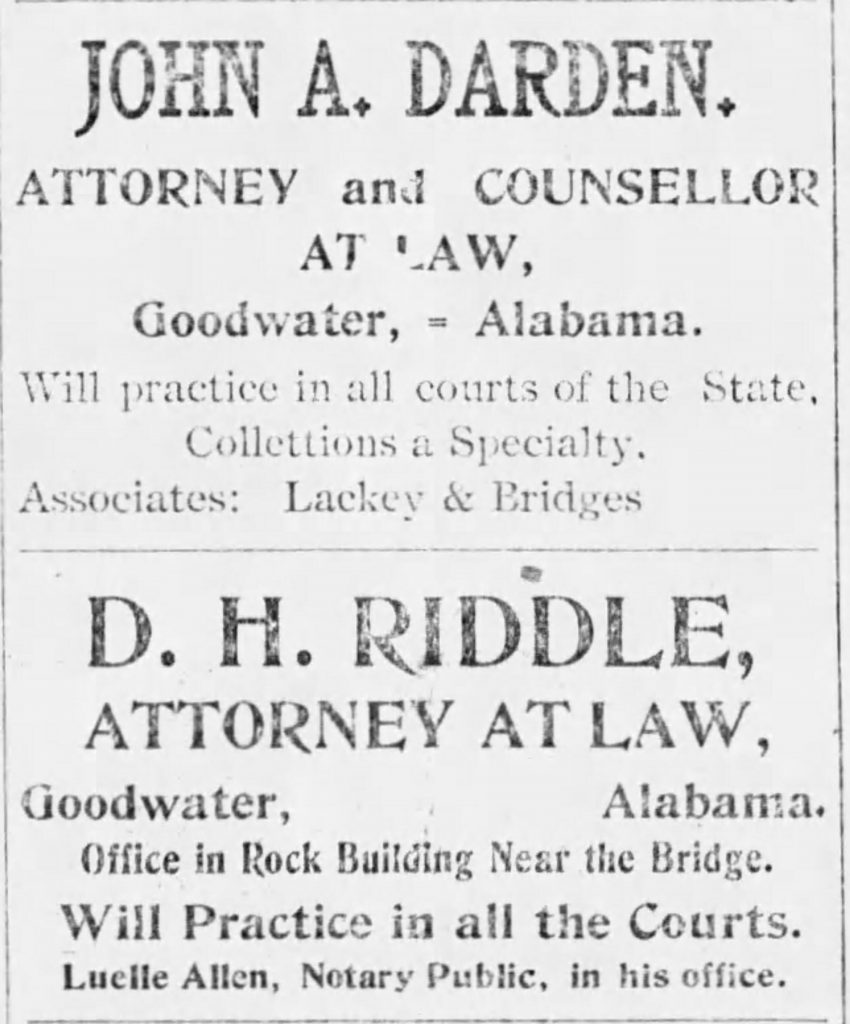 Casey Dunlap of Warm Springs, was on our streets Wednesday. We are glad to see Casey out again, after a long spell of sickness.
He was also here in the interest of the McNeil Marble and Tombstone Co.
Mr. C. M. Tardy informs us that Mr. Pierce Smith of Camp Hill, is a candidate for Sheriff of Tallapoosa Co. Mr. Smith has been traveling in this territory for several years and has many friends who sincerely hope to see him elected for this office.
Miss Kelly McLeod, of Goodwater, has been appointed superintendent of the Home Department, and Miss Amanda McDiarmid of Kellyton, primary secretary of the Sunday school work in this county. These young ladies are well fitted for these places, and we may expect a rapid advance along these lines in our work during the year. (Coosa Argus)
One hundred acres land two miles west of Goodwater, Ala., in good cultivation very well improved. Will sell cheap for cash. R. L. Miller
COMMISSIONER'S SALE
In pursuance and accordance with the terms and directions of a Commission issue and addressed to the undersigned by the Hon. J. A. Crawford Judge of the Probate Court of Coosa County, Alabama, bearing date Sept. the 25th 1905, I will proceed to sell to the highest bidder for cash at public auction in front of the Court house door of said County at Rockford, on Tuesday the 24th day of October 1905, during the legal hours of Sale. The following described real Estate to wit:
The East half of North East quarter (E ½ of NE ¼) and North East quarter of South East Quarter (NE ¼ of SE ¼) of Section Twenty Eight (28) Township Twenty Three (23) Range Sixteen (16) Coosa County, Alabama, which said land is to be sold under the decree of said Court for the purpose of a devision between and among the several owners thereof to wit: Mozelle C. Parker, Paul Parker, Alex K. Parker, John H. Parker, M. Crawford Parker, Lucy Lee Parker and the Lathrop-Hatten Lumber Co.
E. V. JONES, Commissioner.
ALABAMA GENEALOGY NOTES: Volume V
Table of Contents
Introduction
PEOPLE IN THE FLORENCE TIMES DAILY December 15, 1894
NEWSPAPER ABSTRACTS from The Florence Times October 6, 1905
GENEALOGY QUERIES published in 1940