HAPPY BIRTHDAY!
JAMES COLLIER
REVOLUTIONARY WAR SOLDIER
(b . Oct 13, 1757 Virginia – d. August 20, 1832 Madison Co., AL)
Madison County, Alabama
James Collier was born in Lunenburg Co., Virginia Oct 13, 1757, the son of Cornelius Collier and Elizabeth Wyatt. He died August 20, 1832 in Madison County, Alabama.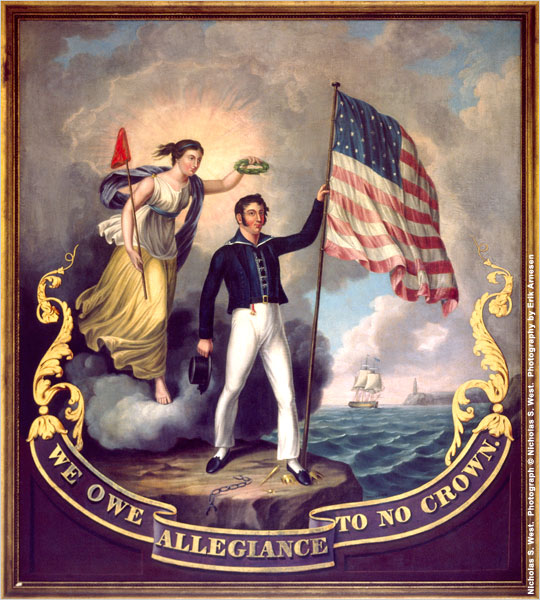 James Collier is buried in Collier Cemetery, Triana, Madison County, Alabama on his plantation about twenty miles from Huntsville. His wife is buried beside him and their monument inscriptions read:
To the memory of
JAMES COLLIER
who was born in Lunenburg Co., Virginia Oct 13th,
A. D. 1757, and died the 20th of August A. D. 1832.
"And though after my skin worms destroy this body,
yet in my flesh shall I see God: whom I shall see for
myself and my eyes shall behold and not another."
To the memory of
ELIZABETH BOULDIN
of Charlotte Co., VA., wife of James Collier, who was
born the 13th of Feb., A. D. 1763, and died the 23rd of
Feb., A. D. 1828.
"All flesh is grass, and all the goodliness thereof is as
a flower of the field, for the wind passeth over it and it
is gone and the place thereof shall know it no more."
James Collier was descended from Charles Collier, of King and Queen county, Virginia, on his father's side, and his mother was nearly related to Sir Francis Wyatt, Colonial governor of Virginia. He married Elizabeth Bouldin, July 3, 1788, daughter of James Bouldin and Sally Watkins, of Charlotte County, Virginia.
James was a large land owner in Lunenburg County and resided there until 1802, when he, with his little family, followed his father and other relatives to Abbeville District, South Carolina. He was a large planter in South Carolina until 1818, when he followed his sons to the territory of Alabama, his older sons having settled in that part of the Mississippi territory called Alabama in 1812. In Alabama, he settled on a large plantation in Madison county, where he lived and died.
In the American Revolution, James Collier was wounded at the battle of Eutaw Springs by a sabre cut across his cheek, in a hand-to-had encounter with a British soldier. He killed the soldier and carried the scar on his face to his grave. His brother, Wyatt Collier , was killed at the same battle when only a boy. An ancestor of Prof. G. Brown Goode was Mary Collier , his cousin. She suggested the old flax wheel as the insignia of the Daughters of the American Revolution.
James Collier 's wife, Elizabeth Bouldin, was the daughter of James Bouldin, who was the oldest son of Colonel Thomas Bouldin of Colonial fame, who settled in Lunenburg county Virginia in 1744, coming from Pennsylvania. James Bouldin'S wife was Nancy Clark, niece of Captain Richard Wood of the English navy. This family of Bouldins are noted for their intellect and their love for the legal profession.
Governor Henry Watkins Collier was a son of James Collier . He was closely connected with the politics of Alabama from 1822 until his death in 1855.
The ancestry of James Collier is as follows:
Charles Collier of King and Queen county, Virginia. On of his children, —
John Collier , Sr. (1680-1735) who was married three times, by his third wife Nancy eyres, had children, among others:
Cornelius Collier, born 1725, married Elizabeth Wyatt in Gloucester county, Virginia, about 1750, lived in Lunenburg county, Virginia, was a soldier in the Revolution and moved to Abbeville District, South Carolina in 1788; he had four sons and one of them was
James Collier (above)
Children of James Collier and Elizabeth Bouldin:
Bouldin Carter Collier (b. July 8, 1789, Lunenburg Co., VA) m. Sarah Slaughter b. Limestone County, Alabama
Wyatt Collier (b. August 19, 1791 Lunenburg Co., VA. d. Oct 6, 1856 Florence, AL) m. Janet Walker, 1828 Nashville TN (b. May 17, 1805 d. Aug. 8, 1869) Florence, AL
Martha Watkins Collier (b. Aug. 29, 1793 Lunenburg Co., VA d. Feb. 4, 1867 MS) m. William Alexander Slaughter, November 21, 1815, Limestone County, Alabama
James Bouldin Collier, Jr., (b. June 16, 1795; d. May 09, 1839) m. 2nd Sarah Ladd, June 03, 1819; m. 3rd Frances Slaughter, June 05, 1828
Eliza Wyatt Collier , (b. May 01, 1797, Lunenburg County, Virginia; d. July 25, 1856, Madison County, Alabama;)m. William Henry Blackwell, December 19, 1817, Madison County, Alabama. He was born Nov. 27, 1790 and died Nob. 26, 1846.
William Edward Collier , (b. August 10, 1799, Lunenburg County, Virginia; d. 1833, Madison County, Alabama) m. 1st Rosalie Stewart; m. 2nd Ophelia Jane (Stewart) Slaughter, December 08, 1829.
Governor Henry Watkins Collier, (b. January 17, 1801, Charlotte County, Virginia; d. August 28, 1855, Bailey Springs, Alabama) m. Mary Ann Williams Battle, April 26, 1826, Tuscaloosa, Alabama; (b. May 16, 1803, Nash, North Carolina; d. April 09, 1867, Tuscaloosa, Alabama)
Thomas Bouldin Collier, (b. January 08, 1803, Abbeville, South Carolina) m. Mary Dent, 1824, Madison County, Alabama; b. Madison County, Alabama.
Charles Ephraim Collier, (b. January 10, 1805, Abbeville, South Carolina; d. March 07, 1888, Madison County, Alabama;)m. Elizabeth Goowyne Stewart June 19, 1828, Madison County, Alabama;( b. December 06, 1812; d. May 21, 1878)
Alfred A. Collier , b. August 05, 1807, Abbeville, South Carolina; d. July 10, 1808, Charlotte County, Virginia
Obituary – Died at his residence near the village, on Monday the 20th instant, after a severe illness of two weeks, Mr. James Collier , in the 77th year of his age. Mr. Collier was a native of Virginia, and at an early period of his life entered the Revolutionary Army. Through the whole of that arduous and protracted struggle for liberty, he manifested the most untiring zeal and unceasing devotion in the cause of his country. He was no less distinguished for his patriotism, than for high-toned honor and those bland and social virtues which endeared him to a large circle of relations and friends.
Overwhelming as is this melancholy bereavement to his worthy family, in which he shone as a most affectionate husband and father, and benevolent master, there is still for them great consolation in knowing that he developed strong hopes of future bliss, that flourish above the tomb, immortal and unfading. Many of his latest moments were spent in prayer; and he maintained throughout this trying interval that propriety which belonged to the character of a man of sense, and that elevated dependence upon a higher power which became a Christian.
Such were, as we have been enabled to sketch them, the life and death of our deceased friend; we see pictured in them the employments of a man bent earnestly and steadily upon the faithful discharge of the duties which pertained to the situation allotted to him by his Creator. No meritorious artifice to attract the popular applause, no disingenuous maneuvering, were perceptible in his character. These qualities rendered him firm and steady in his friendships. His loss will long be felt by the circle of relations whom he has left behind him; and his memory, as a soldier and a man, will be long and affectionately cherished by all to whom he was known.
How often, at the peaceful fireside of this revolutionary soldier, have we heard the tale of the deeds of other years! Even now, can we see, in fancy's eye, the grey-haired sire, traveling with increased emotion through the memorable battles of Gilford, Brandywine, Savannah and Eutaw Springs. His aged and failing eyes glisten again with the fire of youth! At the recollection of their resplendent glories, he springs forward from the venerable chair of age, and in the warmth of emotion, almost forgets, for the time, the lapse of years! But he is gone to the cold and silent tomb, moldering into dust, and mingling again with his mother earth. No more shall his spirit rejoice in the cannon's roar, or the music of the drum. Triana, Madison Co., Ala. Aug. 18, 1832
SOURCES
MELL, ANNIE R. REVOLUTIONARY SOLDIERS BURIED IN ALABAMA ( The facts of this article on James Collier were furnished by his great-grand-daughter, MRS. ELIZABETH R. BENAGH
Southern Advocate, Huntsville, Sept. 8, 1832.
Kay Blevins ,

[email protected]

Find A Grave Memorial# 17954217

# 39774355

# 38552165

# 38552126

# 70532090

70347828

# 70347757

# 70347693

# 81980136

# 7365985

# 68719731

l# 103385517
Anyone can read E-books—even without a E-book reading device—with the FREE Kindle app for computers, smartphones and tablets. Store your books on the Free Kindle Cloud Reader and save space on your computer. Borrow the book and read it for FREE if you belong to Amazon Prime. Click below for details.