Part 1
ALABAMA IN MEXICO WAR
Letter to
DR. W. S. WYMAN
From
S. F. NUNNELEE
(Written June 14, 1906)
Mexico War Correspondence, Military Records Division Department Archives
and History)
Dr. W. S. Wyman,
Tuskaloosa, Ala.
Knowing that you take a deep interest in whatever pertains to the History of Alabama, I though you might enjoy an outline of the services of the 1st. Regiment of Alabama Volunteers in the war with Mexico. Being on a summer vacation rather than do nothing, I have concluded to write you something concerning the Services of that Regiment of which I had the pleasure of being a member. I say pleasure, because I really enjoyed the whole thing, being young, stout, healthy and full of fun.
As soon as the news reached Eutaw of the victories of Gen. Zachary Taylor on the 8th, and 9th of May, 1846, Sydenham Moore and Stephen F. Hale announced their purpose of raising a Company. Within 10 days the "Eutaw Rangers" were organized and had orders to rendezvous at Mobile.
Everything was full of excitement; and on 2nd. of June 1846 the Company, numbering 100 all told, boarded a boat, (the "Noxubee" I believe) commanded by Capt. Kinney, at Finche's Ferry, amid the waving of hats, handkerchiefs, and the huzzas of a large concourse of citizens men and women, boys and girls. Col. John W. Womack and Hilliard Judge made farewell speeches and Capt. Moore and Lieut. Hale responded on behalf of the company. The company received a banner and also a farewell in town. Miss Sara Inges presented the flag, which was accepted by Wm. A. Bell. The company was officiated as follows:
Sydenham Moore, Captain;
Stephen F. Hale, 1st. Lieutenant;
Dr. J. C. Anderson, 2nd. Lieutenant
Abner Blocker, 1st Sergt;
John Mclntyre, 2nd. Sergt;
Jim Mabe, 3rd Sergt.
Chas D. Graham, 4th Sergt.
P. T. Tannehill, 5th Sergt.
Win. Flinn, 1st Corporal
Bushrod Bajcer, 2nd Corporal
F. A. Ross, 3rd Corporal
Isaac Oliver, 4th Corporal
Col. Syndenham Moore 1817-1862 (Greensboro, Alabama)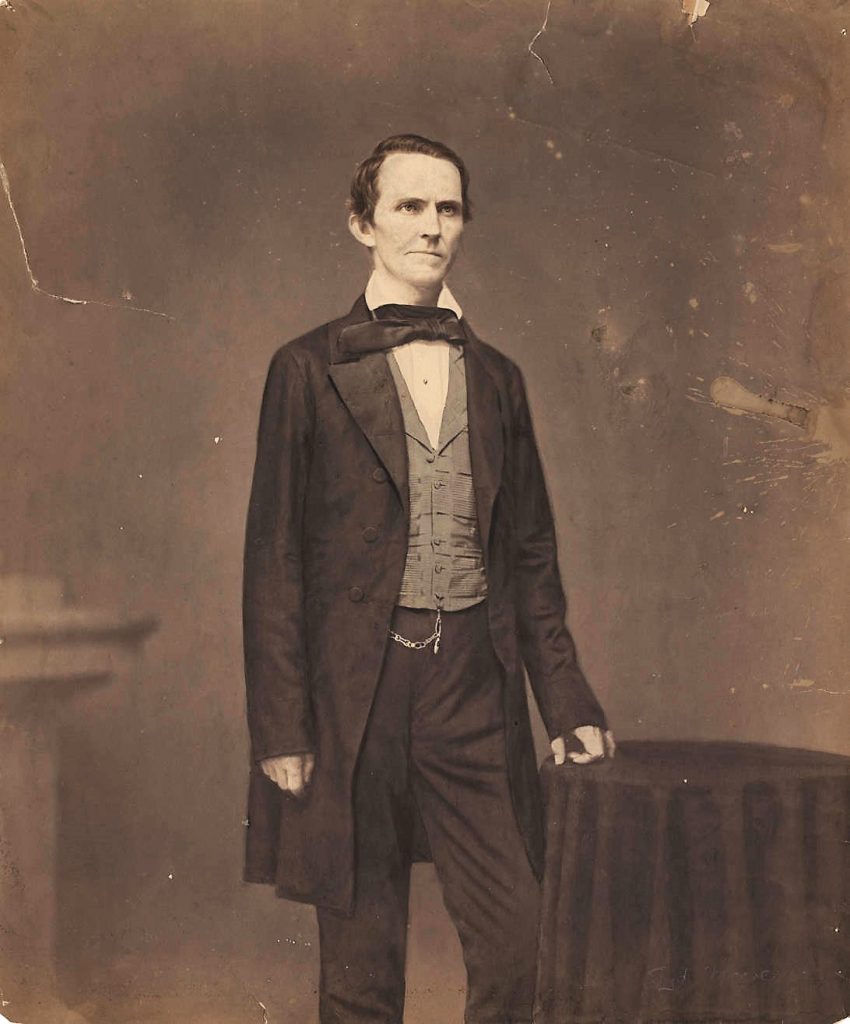 (I believe I, can call the roll, but I will defer the effort, until we left Mobile about July 1st.)
We arrived at Mobile on the 4th or 5th. of June, and were given a reception by Hillary Foster, and in a day or so we were marched out to camp on Yellow Creek, 4 or 5 miles N. W. of the City. In a few days the Regiment was organized, as follows, viz:
John R. Caffey, Colonel
Richard G. Earl, Lieut. Col;
Goode Bryan, Major; and Hugh P. Watson, Adjutant.
These were elected by the men. There were two candidates for Colonel John R. Caffey, of Jackson, and Syd Moore, of Greene. Col, Caffey was a good, and clever man, but had no military gifts. Had Moore been elected, we would doubtless have seen Some hard fighting, for he was a man of ambitious & military bearing.
The "Eutaw Rangers" & Greensboro Volunteers" were the only uniformed Companies in the Regiment. The first wore cottonade suits made by the ladies, with straw hats. The Greensboro Co. wore a green worsted frock suit. Some months later we received, at Camango, navy blue Suits, with brass buttons, and Caps; which was unfortunate—for the other companies seemed to have taken a strong prejudice against us, partly on this account, and the further facts that our Company was, as a whole, a more intelligent class of men,—at least we thought so. But with training the bulk of the Regiment would have made good fighters. The Greensboro, Calhoun, Perry, Bibb, and Talladega boys were of good material.
As far as I can remember, the Eutaw Rangers was composed of the following men:
Syd Moore, Capt, S. F. Hale, 1st Lieut.
Dr. J. C. Anderson, 2d afterward Surgeon, and then re-elected.
Abner Blocker, Orderly or 1st. Sergant
John Mclntyre, 2d Sergeant Jim Mabe-~3d Sergeant
Chas. D. Graham, 4th Sergeant Pleas Tannehill, 5th Sergeant
1st, Wm. Flinn, who perished on the steamboat Tuskaloosa while returning home.
2nd. Corporal, Bushrod Baker, 3d. Corporal John Terry
4th Corporal, J. Oliver, who was discharged at Camango, & S. F Nunnelee was appointed.
The following, as far as I can remember constituted the roster: When we landed on Brazos Island, July 4th, 1846,
Syd. Moore, Capt—S. F. Hale, 1st Lieut.
J. C. Anderson, 2d. Lieut.
Archibald, Sam — Greene
Archibald, J. A. Greene
Archibald, John Greene
Archibald, Sanford Greene
Blocker, Abner Greene
Baker, Bushrod Greene
Bostick, James T. Greene
Bell, Wm. A.
Chiles, Thos. T.
Chiles, Wm. Y.
Collins, Luke
Ensliee, Albert Greene
Fleming from Montgomery
Graham, Chas. B. Greene
Greenwood, Beverly Greene
Hall, Jos. W. Greene
Hobson, John Greene
Hamilton, Peter Greene
Houston, — , Montgomery
Kirksey, Cicero, Miss.
Locket, Lucian, Marion
Montgomery of Montgomery
Mason, J. W. (Mann) Mobile
Nunnelee, S. F. Greene
Oliver Isaac, Greene
Ray —, Greene
Schappert, Geo. died at Camango
Terry, J., Greene
Tannehill, P. T., Greene
Thomas, T. T., Greene
Wilson, W. M., Greene
Ross, J. F.
Ward, Wm. A.,
Goree, —, of Marion
Buffalo, W. W.
Butler, W. A.
Butler, Pick
(Lansford) Curtiss, John
Cross, Flem, Greene
Carpenter, Nath. M. Greene
Cortney – Greene
Dunn, Dr. from Montgomery
Dale, Thorn, from Tenn. (transf)
Drummond from Mobile
Cox from Mobile
Eams from Montgomery
Dr. Gindrat Montgomery
Hardaway, Jas. —- Green
Howe, Jos., Greene
Hunter, —– Hunter
Hamilton, Thos. Greene
Hopkins, A. P., Mobile
Hawkes, F. A., Montgomery
Kercherville, Jack, Miss.
Lewis, of Greene
Maxwell, Alex of Greene
Noble, Jeff, Montgomery
Nunnelee, Wm. D. of Eutaw died on June 4th
Roden, Davis (?) Greene
Roberts, Chas., Greene
Sims, Dr. of Sumter
Sample, W. A., Greene
Travis, —, Gainesville
True, J. A., Greene
Wooten, Greene
Mabe, Jim, Greene
Coleman, Wiley, Greene
Sheffield, W. D., Greene
Dr. Sims of Sumter.
Of this list I know of but two who Survive. N. M. Carpenter of Greene and S. F. Nunnelee of Bibb.
This is not a complete roster, as I write from memory,
Of those who composed the Eutaw Rangers, at that time, I cannot name to day. (June 12th, 1899) but four who are alive, viz. N. M. Carpenter, Flem Cross, W. Wilson, and S. F. Nunnelee,,
The Regiment, with the exception of two or three companies, boarded the Steamer Fashion at the Wharf in Mobile, the evening of the 1st or 2nd of July, and landed on Brazos Island, about 10 A. M. July 4th., as hot a day as I almost ever experienced. I had been detailed to help unload the Regimental Equipage. We came near having a serious row with the Boat hands.
There were few if any tents erected that day, but the men Scattered extensively over the Island, which was covered with musquite grass and brackish lagoons. Not a tree was to be seen, except in the distance. Many of us visited the grave of Maj. Samuel Ringgold, enclosed with Mexican Muskets. He was mortally wounded on the 8th of May, in the battle of Palo Alto, and died on the 11th following.
We were in desperate straits for drinking water. The Surf bathing was fine. I never before saw more flies and musquitoes. There was no attempt to drill the Regiment farther than to have dress parade, at which many men fell in the ranks from heat or exhaustion, & lack of air. The nights were cool after 9 o'clock, and the dews were heavy. In less than 10 days the men began to take dysentary, and a deputation was sent to head Quarters, asking for a removal of Camp up the river, which empties into the gulf 9 or 10 miles from where we landed. The water of the Rio Grande was as muddy as that of Red River. Orders came to move, We made our way up to the ridges or higher land, a few miles below Mata moras, and pitched camp to the right. It was a mile from the river, whence had to lug water in camp kettles, although a beautiful lagoon lay just at the foot of the ridge on which our Regiment was camped. The Kentucky Regiment was on another ridge to our left, facing the river, and the Georgia Regiment to our right and rear, on another ridge.
We enjoyed the change very much for a week or two, But the water and only hard tack and bacon soon caused almost and epidemic of diarrhoea, and many deaths occurred. We discovered by putting a few slices of cactus leaf in our water that it soon became clear and palatable. But sickness continued, little attention being paid to sanitary conditions.
Discontent and homesickness prevailed. There was no attempt to instruct the men in military exercises. A deputation was sent to Gamango, begging for a change of Camp. —— The removal of the Kentucky Regiment to that point, raising a suspicion that we were being held from our proper places in the line.
I should have stated sooner that we met, at the mouth of the River, Col. DeShea's Command on their return home, which I believe never went farther up the river than Naskita, which is a few miles from Matamoras, above, on the south side. Finally we took boat (the Col. Cross) and proceeded to Camango, beautifully located on the little San Juan river, which flows into the Rio Grande, 4 or 5 miles below. The country around Camango is adapted to agriculture, being high red or brown table land, with very little grit or sand, but which makes a dust as fine as flour.
Here we went into camp and were brigaded with the Georgian and Tennessee Regiments. Brig. Gen. Gideon J. Pillow and Maj. Gen. Patterson were in command. Our Regiment was camped on the San Juan, about a mile above Camango on a high level or plateau. A Camp and parade ground were cleared off, and some attention was given to drill and guard duty. Compared to the military science of the present day, the efforts were farsical in the extreme. Col Coffee was unmilitary like in voice, and general make up. His Company often called him "John" Lieut. Col. Earle was the reverse, all "fire and tow" and wanted every thing done to a niceity, but he lacked military skill and knowledge & Major Goode Bryan (a West Pointer) knew all about it, but seemed disgusted at the idea of ever seeing this material worked up into shape as "food for gun powder" & Capt. R. M. Jones (also a W.P.) often laughed in his sleeve at some of the rare commands and general mixing up in the execution of
Manoeuvers, However, all improved in the course of time.
(Letter continued)
Some Descendants of ELIJAH ABSTON (b.1770) Alabama Pioneer with notes and sources
Surnames of some of his descendants are: ALLEN, AMBROSE, ARNETT, BARRINGER, BELL, BOND, BOYD, BREWER, CRAFT, CRAVEN, CREE, DILL, EDWARDS, FULLER, HART, HAYES, HAYNIE, HERREN, JENKINS, JENNINGS, KIZZIAH, KYZER, LINDSEY, LINEBARGER, LOGAN, MCGAHAY, MAGAHEE, MCCOY, MERCHANT, MINK, MORROW, MOSELEY, MOSLEY, MOSLY, PENCE, POUNDS, PRATT, PREWETT, PRICE, RAINES, RAY, SANDERS, SARTAIN, SEAGLE, SELLERS, SNIDER, TAYLOR, THOMPSON, WRIGHT, YETTER, YOUNG