(Albert James Pickett has been given the title of the first historian in the State of Alabama. Col. Michael Leonard Woods was his son-in-law. The following is Part II of a transcribed speech given by Col. Woods about his father-in-law to the Alabama Historical Society prior to 1904 when it was reprinted in book form by the Alabama Historical Society)
CONTINUED FROM PART I)
PERSONAL REMINISCENCES OF COLONEL
ALBERT JAMES PICKETT
BY COL. MICHAEL LEONARD WOODs1
Montgomery (Alabama)
PART II
When the youth (Albert James Pickett) arrived at Middletown, Conn., where he supposed a school to be in operation under the management of Captain Partridge, he found that the latter had quit the school and with him a large number of the cadets, although the institution still contained the usual complement of professors and instructors. The number of the students grew small by degrees until the school did not exceed thirty or thirty-five.
Col. Albert J. Pickett – Alabama Historian
(Alabama Department of Archives and History)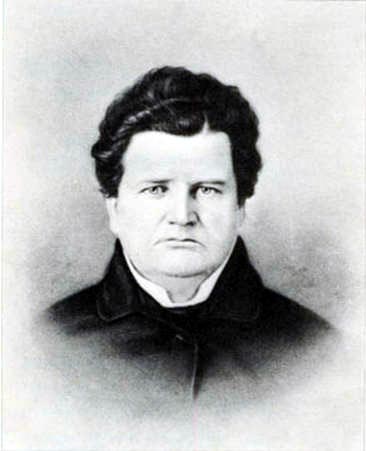 Young Pickett, believing that it would soon cease altogether, as it did, left Middletown for Cambridge, Mass., with the intention of subsequently entering Harvard College, but while there and previous to commencement he received a letter from his father saying that he desired him to attend a literary school in Virginia, which at that time had considerable reputation. He soon repaired to this institution, located in Stafford county, and then under the superintendence of a Mr. Tackett. Here he remained about two years, making good progress in his studies and acquitting himself with much credit.
Return to the State of Alabama
Upon his return home he became a law student in Montgomery in the office of his brother, William Dickson Pickett, then judge of the Sixth Judicial Circuit. He did not apply himself very assiduously to the study of law but devoted much more of his time and attention to literature and political economy and to writing upon these subjects for the newspapers. The conditions were such that he had free use of the columns of The Alabama Journal for his literary compositions, whilst the columns of The Planters' Gazette were open to his political articles.
He was married March 20, 1832, to Miss Sarah Smith Harris, who was the eldest daughter of Mr. William Harris, then deceased, and his wife, Mrs. Mary D. Harris, whose home was at the place now known as Chisholm, or Pickett's Spring.
Sarah (Harris) Pickett (Alabama Department of Archives and History)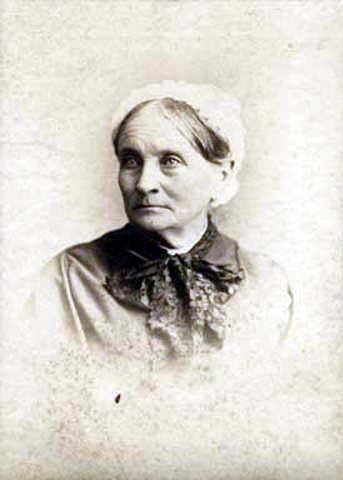 Upon this event, Colonel Pickett left his brother's law office without applying for a license to practice law, and temporarily resided with his mother-in-law. Soon, however, he located in Autauga county, in the vicinity of his father's residence, in a neighborhood distinguished for the production of its soil, the beauty of its scenery. the morality and general intelligence of its inhabitants. Here he remained for two years, devoting his attention to his plantation and his books. He removed to the city of Montgomery in the fall of 1837, and continued a permanent citizen thereof, alternating between city and county at different seasons of the year, until his death, October 28, 1858.
The Creek War
Mr. Pickett was appointed aide-de-camp on his staff by Gov. C. C. Clay. He was active in the field in organizing troops for the Creek War in 1836.
In a sketch of Governor Clay he says in his History of Alabama (Owen's edition, 1900, p. 651) : "Governor Clay has been charged with inactivity and neglect of duty during the Creek War, in the spring of 1836. If we were writing a history of those times, we could vindicate him in a most successful manner, for we were then attached to the executive staff and well remember what transpired. We cannot, however, refrain from remarking that no man ever labored more assiduously to bring into the field a force sufficient to subdue the hostile Indians, and no one ever evinced more willingness to afford relief to his fellow-citizens in the Creek nation, or felt for them more anxiety."
Demand to write a history of Alabama
Early in 1847, Colonel Pickett wrote a series of sketches of New Orleans, entitled "Eight Days in New Orleans," which were published in The Montgomery Journal. These sketches evinced such a degree of research and historical ability that there were many public and private demands made upon their author to write a history of Alabama.
Colonel Pickett, in response to these demands, announced that he had for a long time had it in contemplation to write a history of this State and indicated to a certain extent the character of the contemplated book. He then said, writing from "Forest Farm," March 20, 1847 (Montgomery Flag and Advertiser, March 27. I847) :
"I consider myself a native of Alabama. When a boy only six years old it was my destiny to have been thrown among her forest wilds, amid savages and a few frontier settlers. From personal observation, I know much of the mysterious character of the one and the rude primitive habits of the other. In the period of thirty years, I have lived to see this State rise from an interminable wilderness and take her rank among the richest and most respectable members of the Confederacy. I have seen the spot which now sustains our own loved Montgomery when the wild game sported upon her virgin soil. And while the tall oaks waved in majestic silence, no woodman had been there to disturb the repose of eternal nature! While hundreds are more capable than I am of writing the history of Alabama, I yield to none in enthusiastic attachment and devotion to her soil and people. To both, I am wedded beyond the probability of separation, for I have grown with their growth and strengthened with their strength. I shall esteem it the greatest satisfaction on my side to be able to afford my respected fellow-citizens a faithful record of the interesting country they inhabit, and shall be under everlasting obligations to you and other patriotic gentlemen for any assistance you can render me."
Contributed to public affairs when young
I believe it can be truthfully said that few men have lived a more exemplary and useful life when it is considered that he died at the comparatively young age of forty-eight years. His participation in public affairs began when he was young.
We find him at the September term, 1835, of the Circuit court of Montgomery county, Judge Ezekiel Pickens presiding, a member of the grand jury and the author of the report made by it to the court con— demning the Abolitionists as criminal offenders against the peace and dignity of the State of Alabama by their unauthorized circulation of "seditious pamphlets" and "exciting our slaves to insurrection." '
He also wrote in the fall of 1835 several editorial articles for the Montgomery Advertiser. The subjects discussed in these articles were "The French Question," "The Alabama Legislature," "The Speaker's Chair," "The Proposed Convention" and "The Hon. William Smith." These articles are written in good taste, excellent style and show full information upon the subjects discussed.
Also, in the same year, we find him the chairman of a committee of correspondence of the Democratic Republicans of Autauga county, issuing an address, in pamphlet form, calling upon the friends of the administration of President Jackson to meet at Kingston to consider the suggestions made in the address, it having been proposed to hold a Jackson convention in Tuscaloosa, Ala., December 1835. The other members of the committee were Benjamin Fitzpatrick, John Wood, John P. DeJarnette and Crawford M. Jackson.
Relationship to General Jackson
I may state here that in the summer of 1837 Colonel Pickett, Mrs. Pickett and their daughter, afterwards my wife, then about seven months old, accompanied by Mrs. Pickett's sister, Miss Mary G. Harris, afterwards Mrs. John H. Gindrat, traveled from their home in Montgomery county to the Hot Springs, on the French Broad river, in North Carolina; thence to Nashville, Tenn., to visit Hon. Daniel Graham, an eminent man in that State, who had several worthy brothers in this State, and thence to the Hermitage, where they spent some time as the guests of General Jackson.
General Andrew Jackson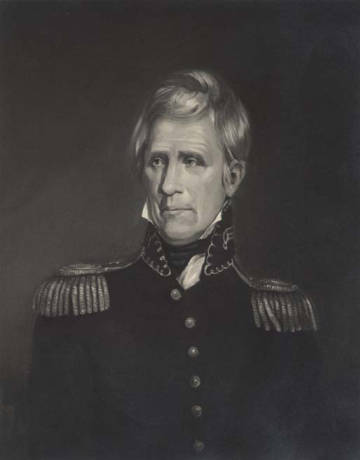 Afterwards, Colonel Pickett was the recipient from General Jackson, or through his instrumentality, of a most excellent oil portrait of the General himself, which now is in the possession of Colonel Pickett's grandson, William Pickett Harris, of Detroit. I have heard Colonel Pickett frequently say that General Jackson was the most courtly and gallant gentleman he ever met, his courtliness and gallantry being especially noticeable when he was in the presence of ladies.
1'For a sketch of Col. Woods see the Alabama Official and Statistical Register, 1903, pp. 18-19.—Em'rox.
ALABAMA FOOTPRINTS Pioneers: A Collection of Lost & Forgotten Stories They felt the lure of the frontier and struck out for unknown territory that would become Alabama, bringing with them only very few implements to survive. From Tennessee, North Carolina, South Carolina, Georgia and many other states they came to settle in the newly opened Mississippi Territory. Alabama Footprints Pioneers continues the series with lost and forgotten stories of the earliest Alabama pioneers.
ALABAMA FOOTPRINTS Pioneers includes the following stories
The Yazoo land fraud

Daily life as an Alabama pioneer
The capture and arrest of Vice-president Aaron Burr
The early life of William Barrett Travis, hero of the Alamo
Description of Native Americans of early Alabama including the visit by Tecumseh
Treaties and building the first roads in Alabama.
Get the Daily Update from Alabama Pioneers
Don't miss out on Alabama history, get our daily updates in your email.