Excerpt from
ALABAMA STATE CAPITOL
AN HISTORICAL SKETCH,
Brochure
by
JAMES B. SIMPSON,
Late Recording Secretary to the Governor
JANUARY 1898
Roemer Printing Co., Montgomery, Ala,, Printers
THE QUESTION OF REBUILDING.
On the 4th day of January, 1850, Mr. R. H. Baker, of Russell, introduced a bill in the House providing an appropriation to rebuild the State House, which bill was referred to the committee on ways and means. A bill for the same purpose was introduced in the Senate, December 21st, 1849, by Senator Abercrombie, of Russell.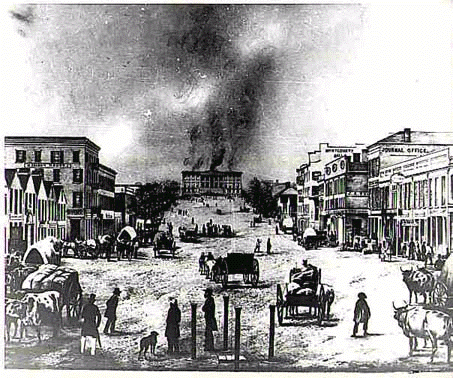 In the house, on the 15th of January, Mr. N. Davis, Chairman of the Committee on Ways and Means, to which the House bill to make an appropriation to rebuild the Capitol was referred, reported, for the majority of the committee, adversely to the bill. The majority report set out that the financial condition of the State was such that it was inadvisable at the time to incur the expenditure necessary to rebuild the burned building. The report further set out that the State was being drained by the annual interest charge on the public debt which hung over it like an incubus, and, that all that was being paid on it, went out of the State to enrich foreigners. The committee suggested that if it was considered expedient to rebuild, it would be better to levy a specific tax on the people for that purpose.
Mr. A. H. Kendrick, of Coosa county, as the leader of the minority of the committee, presented a strong report in opposition to the majority report presented by Mr, Davis. In the opening, the minority report set out the fact that it was absolutely necessary that some safe place should be provided at once for the care and safekeeping of the valuable papers and records belonging to the State, and demonstrated that if building was put off, or delayed, it might be several years before such place would be erected and that, in this time the people of the State would be again racked with the question of a permanent location for the seat of government.
Picture of Old Capitol Building at Tuscaloosa (Erected 1826) – ca. 1840-1849 (Alabama Department of Archives and History)
In the Senate a bill to temporarily remove the seat of government to the old Capitol building in Tuskaloosa received a favorable report from the committee on State Capitol, but Senator Ware, a member of that committee, presented a strong protest against such report, on the part of the minority of the committee, in which he told the Senate that the old Capitol at Tuskaloosa was in such condition that the members fled from it on the approach of a storm, and that the removal of the State records to that building which was admitted to be unsafe, before the seat of government was removed to Montgomery. He said that the temporary quarters provided by the citizens of Montgomery were all that could be asked and protested against even temporary removal.
The first four Alabama Footprints books – Volumes 1-IV have been combined into one book