WHITE MEN ASSOCIATED WITH INDIAN LIFE
By
Thomas M. Owen
(Transcribed from The Alabama Historical Quarterly, Vol 13, Nos. 01, 02, 03, & 04, 1951)
BELSER, JAMES E, lawyer, representative in congress, was born December 22, 1805, in Charleston, S. C.; and died January 16, 1859, at Montgomery. For several years he was one of the editors of the "Planter's Gazette," but later returned to the practice of law. In 1842, Gov. Fitzpatrick appointed him commissioner of the state to visit Washington City, and procure a settlement of the claims of Alabama on the general government for moneys advanced in the Indian war of 1836. He succeeded in obtaining such legislation by Congress as led to the reimbursement of the state for its expenditures.
BOWLES, WILLIAM AUGUSTUS, Indian Trader, was born in 1763, in Frederick County, Md., and died December 23, 1805, in Moro Castle, Havana, Cuba. He was the son of an English school teacher and the nephew of Carrington Bowles, who kept a famous print shop in London. He entered the British army at the age of fourteen; sailed with a British regiment to Jamaica in 1777; later went to Pensacola where he was dismissed from service for insubordination. He joined a company of Creek Indians; lived upon the Tallapoosa for several years; led a party of Creeks to Pensacola, in 1781, and on account of his services on this occasion was reinstated in the British Army. He went to New York where he alternately acted upon the stage and painted portraits. Lord Dunmore, governor of the Bahamas, appointed him trading agent for the Creeks and established for him a commercial house upon the Chattahoochee, but he proved unsuccessful and was ordered to leave the country. He returned and was made chief of the Creeks and became a terror to all interests against which he acted. He was taken prisoner in February 1792, sent to Madrid; deported to Manila; obtained permission to go to Europe when he escaped and after a time returned to America renewing his relations with the Creeks. In 1803 he was betrayed into the hands of the Spaniards, carried to Havana, Cuba, where in a short while he died in the dungeons of Moro Castle. He married the daughter of an Indian chief.
William Augustus Bowles (Alabama Department of Archives and History)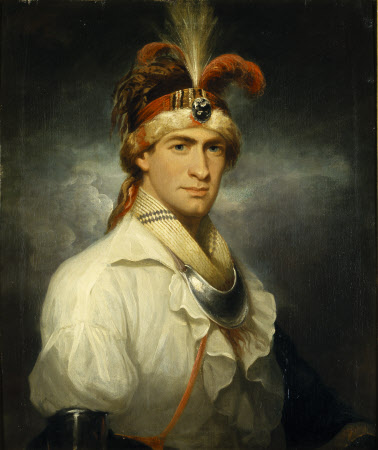 BRADFORD, DANIEL MORGAN, public official, was born September 2, 1793, near Warrenton, Fauquier County, Va., and died October 14, 1869, at Huntsville. Gen. Bradford served in the Carroll Life Guards during the Creek War, first as lieutenant, then as captain, under Gen. Jackson at New Orleans, and was complimented, May 13, 1815, by Gen. Carroll for personal bravery during the campaign. He was located in Huntsville as a dry goods merchant for many years.
CALLER, JAMES, pioneer citizen, was born in 1758, in Virginia, and died December 3, 1819, at St. Stephens; son of James Caller, a native of England who, while serving at the age of eighteen as a shoemaker's apprentice in a seaport town, was captured by British officers and brought to America to serve against the French and Indians, escaped on the landing of the ship at Norfolk, Va., settling in the interior, married, and later removed to Warrenton, N. C. Colonel Caller removed to Alabama about 1801 and located in Washington County, later moving to Clarke. He was a man of wealth and considerable frontier influence; was senior militia officer; was one of the first representatives to the legislative councils from Washington County, and 1807 was territorial commissioner. He was one of the officers in the disastrous battle of Burnt Corn Creek when the Americans were routed by the Indians and Spaniards.
COOPER, WILLIAM, lawyer, was born January 11, 1802, in Brunswick County, Va, and died in Tuscumbia, August 16, 1887. In early years, he was elected a chief of the Chickasaw Indians, This was on account of professional services rendered in defending an Indian who had killed a white man, from whom he would accept no fee. They showed appreciation of this and many other acts of kindness on his part to them by electing him chief giving him the name of "Oolisk," meaning double or four eyes, on account of his wearing glasses.
He served as bank commissioner from 1845 to 1847. Before the War of Secession he was commissioned by Gov. A. B. Moore to go to Jefferson City, Mo., at the time the seceding of the State was under consideration. He was in Jefferson City on December 27, 28, 29 and 30, 1860. History shows the decision of that State. He was also a member of the Alabama State convention; his diary of 1861 showing entry as follows: "Friday, January 11, 1861. Ordinance of secession of the State of Alabama passed the Convention this day at 2 o'clock and 25 minutes p.m. by a vote of 61 to 39."
James Denny Dreisbach and his wife, Josephine Bonaparte Tate Dreisbach. ca. 1890 (Alabama Department of Archives and History)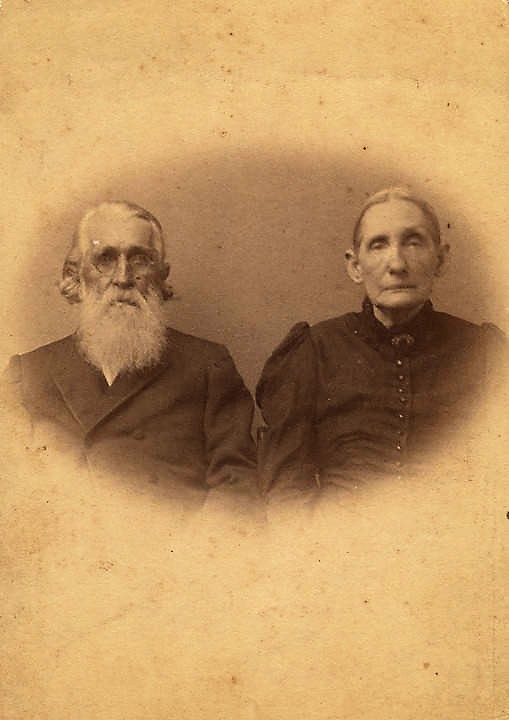 DREISBACH, JAMES DENNY, planter and legislator, was born May 24, 1816, at Circleville, Ohio, and died in October 1896, at Little River, Baldwin County. His parents came from Pennsylvania to Ohio on horseback and settled in the Scioto Valley. His grandparents came from Denmark and settled in Pennsylvania. He came to Alabama about 1843 and acquired lands in Baldwin County where he engaged in farming. In 1861, he organized, and was captain of, a home guard company, which later disbanded and the members entered the regular Confederate service. In 1872-76, he was senator for the district composed of Baldwin, Monroe, and Conecuh counties. In collaboration with Dr. Eugene Smith, he prepared much material on Alabama history. He was an Old Line Whig and opposed secession, but after 1865 was a Democrat; a Mason. Married: November, 1844, near Little River, to Josephine Bonaparte, daughter of David and Margaret (Dyer) Tate, of Little River, the former the son of John Tate and Sehoy McGillivray, and half-brother to William Weatherford, the Creek warrior, Margaret was the daughter of Reuben Dyer, who was one of the victims of the Fort Mims massacre. Sehoy (McGillivray) Tate was the sister of Alexander McGillivray leader of the Creek Indians. All of these are buried together, near Little River, William Weatherford's home, on the land once occupied and, owned by Charles H. Dreisbach, grandson of Sehoy.
FISHER, GEORGE, planter and sheriff, was born in Virginia or Rowan County, N. C., about 1735, served in the Revolutionary War as a militia officer, was a private at the battle of King's Mountain, where he was wounded, and was the owner of a large tract of land and many slaves. George Fisher removed to the Mississippi Territory, 1812, now a part of the State of Alabama, but left his family in Georgia until the Indian troubles were over.
The Fisher home was about three miles south of Suggsville, first in Clarke, then in Monroe, and again in Clarke County. He was the first sheriff of Monroe County after its formation by proclamation of Gov. David Holmes, June 29, 1815.
FORNEY, DANIEL M., public official, was born May 1784, in Lincoln County, N. C., and died October 1847, in Lowndes County. He was a major in the U. S. Army during the War of 1812; was elected representative from North Carolina in the Fourteenth Congress, and was reelected to the succeeding congress, but resigned his seat in that body in 1818. He was appointed a commissioner to treat with the Creek Indians by President Monroe in 1820.
He moved to Alabama in 1834 and settled in Lowndes County, where he died thirteen years later. Last residence: Lowndes County
GARRETT, WILLIAM HAMMOND, soldier and Indian Removal agent, was born February 22, 1819, near Hamburg, Edgefield District, S. C., and died in 1863; son of John Hammond and Mary (Hall) Garrett. He was educated in the common schools of . Cherokee County and represented that county in the house of representatives, sessions of 1843, 1844, 1845 and in the senate of 1847 and 1849. As Indian agent he was instrumental in removing the Creeks or Seminoles to the Indian Territory from Florida. In 1861 he entered the C. S. Army, receiving the commission of colonel; in 1863 while in the active service of the Confederacy, he contracted pneumonia and died soon afterward.
GERALD, PERLEY, Indian trader and merchant, was born January 27, 1800, at Long Saulte Island, N. Y., and died in Montgomery in 1866. He came to Alabama about 1829 and located first in Mobile, as a merchant, later taking as his partner, Samuel Dana Hubbard, Sr., and together they removed to Tallassee to trade with the Indians of the Creek nation. In 1836, when these Indians were removed from Alabama, they wrote to Washington, D. C., for "Their true friend" Mr. Perley Gerald to be appointed to make arrangements for their departure. This was done, and the Indians presented him with many specimens of their handicraft, as a token of their regard.
He was actively engaged along several lines of commercial pursuits. He owned and operated the Montgomery Hall, a leading hotel of the city which stood on old Market Street, now Dexter Avenue, at South Lawrence.
Hayden's Dog Charge.—An incident in the defense of Fort Sinquefield September 2, 1813. During the attack, and when everything in and out of the fort was in terror and confusion, Issac Hayden leaped upon a horse, and dashed toward the Indians, calling to the dogs in the fort, about sixty in number, encouraging them to the attack. This they did with great fury, compelling the Indians to halt and defend themselves, Pickett refers to them as "a canine army". Several of the dogs were killed, and some wounded, but the time gained by reason of their attack, gave the women and children, who were some distance from the fort, time to reach safety.
IRWIN, WILLIAM, public official, was born in Georgia, and died in 1849; He moved to Alabama in 1819, and settled on a plantation in Henry County, near Franklin, and became owner of vast tracts of land. During the Creek War in 1836- 1837, he commanded the militia of the state with the rank of major-general, and had an active part in subduing the Indians in Barbour County. When the town of Eufaula was first incorporated in 1837, it was called Irwinton in his honor. Gen. Irwin was drowned in the Chattahoochee River in 1849, between Columbus and Eufaula, by jumping from the burning steamer "Ham Smith."
The first four Alabama Footprints books have been combined into one book,
ALABAMA FOOTPRINTS Exploration
ALABAMA FOOTPRINTS Settlement
ALABAMA FOOTPRINTS Pioneers
ALABAMA FOOTPRINTS Confrontation
From the time of the discovery of America restless, resolute, brave, and adventurous men and women crossed oceans and the wilderness in pursuit of their destiny. Many traveled to what would become the State of Alabama. They followed the Native American trails and their entrance into this area eventually pushed out the Native Americans. Over the years, many of their stories have been lost and/or forgotten. This book (four-books-in-one) reveals the stories published in volumes I-IV of the Alabama Footprints series.