The merchants of Madison County, Alabama were true pioneers
LATER HISTORY OF MADISON COUNTY
By Thomas Jones Taylor
(Judge Taylor's "Early History of Madison County" was concluded in the Spring, 1940, issue of the Alabama Historical Quarterly. This installment is the second of his "Later History of Madison County", the first being in the Summer, 1941, issue of the Quarterly. This article first appeared in the Huntsville Independent, in 1883 and 1884.)
Chapter VII
Merchants of Madison County, 1820 to 1830.
The decade in our history of which I am now writing witnessed a great development of the mercantile business of the county. Many of the successful and prosperous merchants of the time had commenced business here at an early period, and from small beginnings were now fairly launched in successful and profitable business.
During the prosperous era in the Tennessee Valley from the war of 1812 to the period of which I write, they had kept pace with the country's progress and established their business on a sure foundation. While some of the pioneer merchants had retired from business, and others had sought new fields of enterprise, an unusually large proportion of them were here actively engaged in business, and for many years were prominent business men in our community, and are well remembered by our old citizens. Of the number who came here at the first settlement of the country, Alexander Gilbreath, the first of the number who commenced business in Huntsville, had removed south of the river where many of his family still reside. Luther and Calvin Morgan and Samuel Morgan went to Nashville, and if I mistake not one them was the ancestor of Gen. John H. Morgan, so famous as cavalry officer during the civil war.
Some well-known merchants
Samuel Morgan engaged in business in Nashville, Tennessee, and was for nearly a quarter of a century a prominent and successful merchant in that city. Concerning Joshua Falconer, John P. Hickman, Neal B. Rose and Philip Foote, well known merchants in Huntsville before Alabama was a State, I have but little information, and I believe there are no representatives of their names now in the county.
But many of these old merchants lived and prospered and died at an advanced age in this community, and their families are largely represented in our county. I propose to devote this article to their memory. I regret that my; sources of information are so meagre, as a recital of their struggles and trials and final success would be an interesting theme.
Indians were important part of trade
Before the State was organized and when the Cherokees were east of us and the Chickasaws were west, the traffic with the Indians was an important part of the city's trade, and it was nothing uncommon for forty or fifty Indians from Tennessee river to march into the city and spend a day or two trafficing and bartering with the merchants.
I can recollect many of the old merchants, and their tales of the olden time, when they travelled to Philadelphia and New York on horseback and by stage, were of the most thrilling character. They swam their horses across the swollen and unbridged watercourses, and traversed the Cumberland ridge in parties, as a precaution against robberies that sometimes occurred in the mountain solitudes. Some of them actually loaded wagons with their goods in the northern cities and conveyed them over the long and tedious journey to Huntsville. They were a most remarkable race of men, wise, prudent and courageous, never discouraged by difficulties nor dismayed by toil or danger. I have in previous articles briefly referred to some of them, and at the risk of repetition I again return to them.
Early settlers who were successful merchants
Among the early settlers, Stephen Ewing, James White, James Clemens, Andrew Beirne, William Patton, John Read and D. N. Bradford commenced business here at an early date, and were long well known and successful merchants. Among the number who commenced business from 1820 to 1830 and became prominent in our mercantile community were Frank T. Mastin, Wm. H. Powers, B. M. Lowe and O. D. Sledge.
Stephen Ewing was one of the earliest of our merchants, and was for a long time engaged in an extensive business. He belonged to the old and distinguished family of Ewings that had since furnished so many prominent men in the States of Tennessee, Kentucky and Ohio and was an honorable representative of a remarkable family. With but little capital, he commenced business in a small way, trading in salt and flour between Whitesburg and Huntsville, and won his way to fortune by untiring industry, sound common sense and unswerving integrity. James Clemens was also an early settler and a successful merchant. A man of sound judgment, fine business capacity and imposing appearance, though somewhat reserved in manner, his success was due more to native talent and thrift than to personal popularity. He was the father of Jere Clemens, one of the most brilliant, eloquent and popular politicians of his time.
Jeremiah Clemens ca. 1839 (photograph by McDonald, Robin, Alabama Department of Archives and History)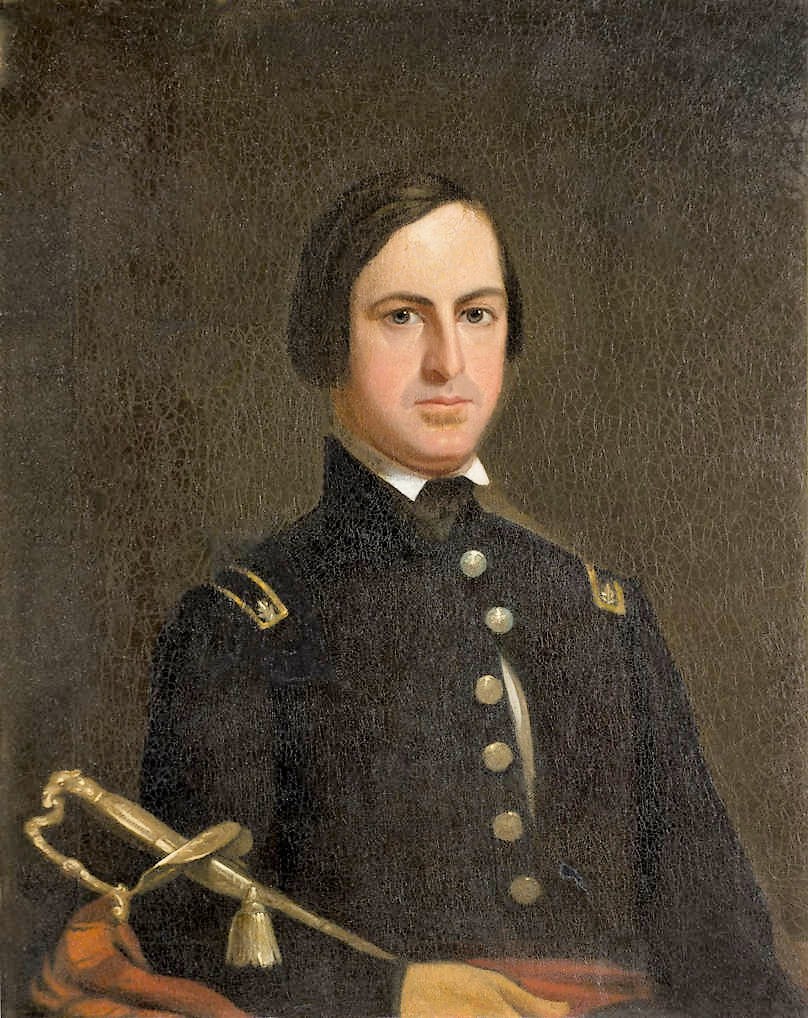 James White and Andrew Beirne were Virginia gentlemen, of the old school, both scions of old and influential families of the Old Dominion, with many of the virtues of the vices of that splendid type of the Anglo American known as the Old Virginia cavalier stock. James White was for a time in partnership with Alexander Gilbreath, the pioneer merchant in the county. James White was a man of considerable means and invested largely in real estate, owning with other property a fine body of land on both sides of Tennessee river near Whitesburg, which town received its name from him. He was blessed with a large family, of which Thomas W. White and Gen'l Ad. White are the representatives in Alabama, many of his descendants living in Virginia, where the family owned a large property.
Of the family of Andrew Beirne, Col. Geo. P. Beirne was the only male representative, and at his death the name became extinct in our county. Col. Geo. P. Beirne was a worthy representative of a noble race, and will long live in the memory of our people, and in connection with this allusion to his father I take the liberty of quoting the following eloquent portrayal of his character from an address to the Huntsville bar in August, 1881, by one who knew him well! "He was as marked and distinguished among his fellow men for his personal appearance as for the attributes of his mind. He was a man of striking personal appearance. A tall and commanding figure, indicative of great strength, and a face of finely marked and manly features, with a broad forehead, a heavy brow and a large and lustrous eye. His face was an index of his character and frankness as a man. In its expression was reflected as distinctly the varied emotions of his nature as the mirror reflects the features of the face. In all the walks of life he exemplified in a high degree that order of refinement and that type of civilization of which are so justly proud, and by precept and example he exerted an influence rarely felt. A, more touching and eloquent tribute could not be paid to any man than to say what can truthfully be said of him, that he will be missed, and his memory cherished sacredly by those who most need an unselfish friend, the widow and orphan."
William Patton, the other member of the old firm of Bierne and Patton, was of Irish descent, and he possessed in a high degree the rare business endowments that form the character of the model merchant. He was at once merchant, manufacturer and farmer combined, and was remarkably successful in whatever he undertook. His cotton gin was one of the first erected in the city, if not the first, and it is said that his son, ex-Governor R. M. Patton, now a man advanced in years, is wont to boast that he was the pioneer gin driver of Madison county. William Patton's first gin stood south of Walker street and east of Meridian Pike, and the motive power is said to have been an old-fashioned one-horse tread-wheel power, and it was the business of the future Governor to keep the old horse that furnished the power to his work. William Patton had a natural turn for machinery, and owned several mill sites on which he experimented more or less. At length he became associated in business with J. J. Donegan, an Irishman also, who became one of the leading merchants of the period.
The Petersburg colony
Patton, Donegan & Co. finally became sole owners of the excellent water power at and above the Bell Factory on Flint river, which was for a long time the site of the most important cotton factory in North Alabama. It is my impression that James Manning was also in the mercantile business, though he was also an opulent planter. He belonged to the celebrated colony from Petersburg, Georgia.
These colonists had come from Virginia to Georgia, and named their new place of settlement Petersburg, after the old Virginia home, and a large number of them came from Georgia to Alabama about the year 1809 or '10. Among the number were the Popes, Walkers, Bibbs, Manning and Coxs, all of whom became more or less prominent in the new country. James Manning is said.to have been a man of high culture, and his talent was inherited by his descendants, among whom were the Lowes and Congressman Van Manning, of Mississippi.
His son, R. J. Manning, commenced business here and rose like a rocket, but lacking the judgment of the older merchants, he made a disastrous failure In his palmy days of prosperity he placed the well-known "Manning money" in circulation at one time as current as a modern national bank note, and erected one of the most costly residences in the city, on the north of Holmes street, which afterwards became the residence of Dr. David Moore.
John Read, one of the oldest merchants in the city, was clerk in the land office when it was removed to Huntsville in 1811, and he was for over forty years a merchant in the town. Francis T. Mastin was from an old and respectable Maryland family, and after living in Virginia for many years came to this county about the year 1826. He was a man of fine business capacity; he accumulated a large property enjoyed an enviable reputation in the community which his descendants have maintained down to the third generation. He was the last survivor of the noble fraternity who left the indelible impression of their high character on the citizens of this town.
B. M. Lowe also came here during his period, and was rapidly advancing to the foremost position among our merchants that he held for ten years. He became exceedingly popular, and among other offices he was elected Major-General of the malitia of that time, considered an exalted and honorable position. Gen'l Lowe married a daughter of James Manning and raised a family noted for culture and refinement. His daughters were intellectual and accomplished. Robert J. Lowe, one of the most brilliant of our young men, died during the first year of the civil war, and the intellectual power and magnetic influence over the people of our late Congressman, William M. Lowe, the youngest of the family, was freely conceded by his most bitter political opponents and at the time of his sudden death his reputation had become national.
William H. Powers, long a conspicuous figure in business circles also commenced business here before the year 1830. He labored under the then disadvantage of northern birth and under a reserved manner and brusque speech and deportment he concealed a liberal and benevolent nature. He was an old line Whig and a strong Union man, but when the war commenced he warmly sympathized with the cause of the south. During the war he went north to his native State, and many unfortunate Confederates immured in Northern prisons were recipients of his bounty and he is held in grateful remembrance by many survivors of the war who doubtless owed their lives to his prompt and judicious aid. After the war closed he returned to the city to which he was bound by so many ties of confidence and friendship, and died at an advanced age, honored and respected by our people.
In closing these sketches of our old merchants, I can but express regret that I know so little of them, and the little that I do know of them has mostly been handed down to the present time by tradition.
Do you need some guidance in your genealogy search? Save time and avoid pitfalls in your research. This book provides simple, no-nonsense instructions to help you get started. Many FREE research links included. Where Do I Start is filled with Hints and Tips to begin your family genealogy research and acquire Genealogy information.