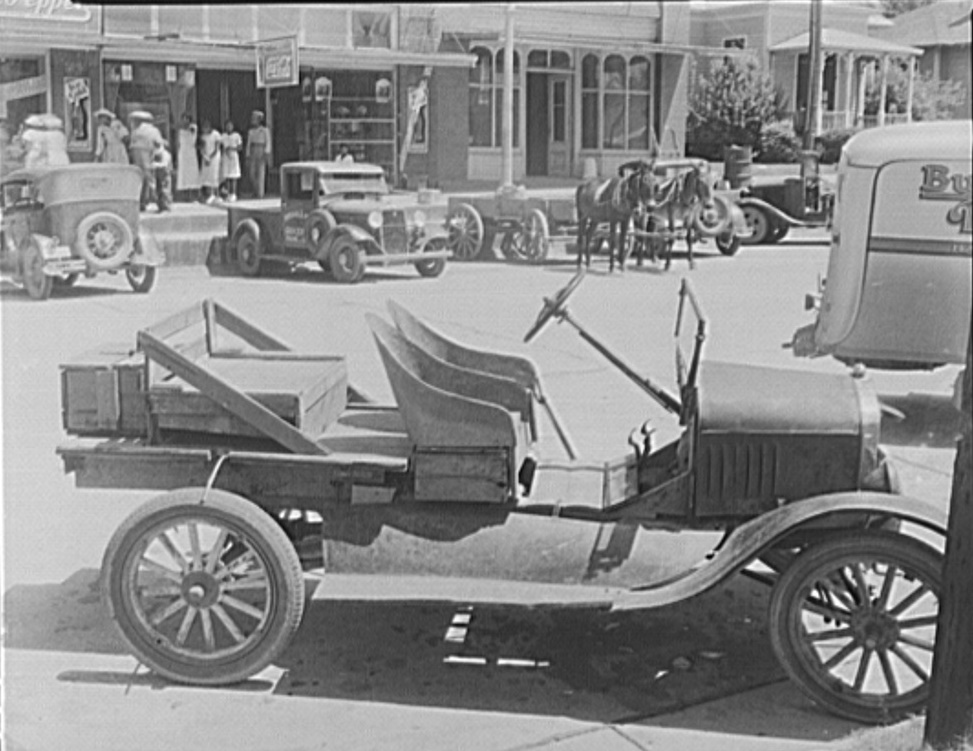 Marion, Perry county, Alabama ca. 1935 by photograher Evans Walker (Library of Congress)
Many people settled in Alabama for a time when the Mississippi Territory opened, then moved further west.
This is a great book for genealogists researching early citizens of Perry County, Alabama. Brush Creek in Perry county, Alabama was settled before Alabama became a state. The area was designated as a Post Office and an election precinct. The settlers listed in this volume are a few of the residents who lived in Brush Creek, Alabama around 1850.
The biographies of the head of households include: MARK SMITH; ANDREW THOMAS, JR.; ANDREW M. RUSSELL, SR.; JOHN COUNTS; MICHAEL MOWDY; JOHN FRAZIER; JOHN FREDERICK SHAFFER; GEORGE GASPER MONTS; JOHN POOL.
The biographies reveal some of the intertwining relationships between the families. Three or four generations of descendants follow at the end of this volume with all notes, sources of information and endnotes. 309 pages Some descendant surnames in this book include: ADCOCK, ALLEN, ARRINGTON, ATEN, ATWELL, BAMBERG, BAILEY, BARTON, BASSINGER, BISHOP, BLACKERBY, BOGGS, BONNER, BOYD, BOYETT, BOZEMAN, BROWN, CANNON, CHRISTENBERRY, CHRISTOPHER, CONE, COOK, COOPER, CORNWELL, COUNTS, COX, CREWS, CURB, DAVIS, DOBBS, DOMINICK, DORMAN, DUKE, DUNKIN, EICHELBERGER, ELLIOTT, ELLIS, EVERETT, FERGUSON, FIFFIELD, FINDLAY, FINLEY, FISHER, FONDREN, FRANKS, GERMANY, GILBERT, GOLDEN, GRAY, GREENE, GRIFFIN, HAGIN, HALL, HAMPTON, HARPER, HARTLEY, HARTON, HAZELWOOD, HENDERSON, HENRY, HERRING, HODGES, HOLLAND, HOLLOWAY, HOLLY, HOOD, HOPKINS, HORN, HORNE, HOUSTON, HUBBARD, IRWIN, KILLOUGH, KIRKLEY, KNOWLES, KORNEGAY, JAGGARS, JAMISON, JONES, KINART, LAGRONE, LANGFORD, LANKFORD, LEGRONE, LEYGRONE, LIDDELL, LOCKE, LOWREY, MADISON, MARTIN, MASSENGALE, MASSEY, MCBRIDE, MCDANAL, MCDONALD, MCFARLAND, MEEKS, MELTON, MERIDITH, MILLER, MOORE, MORELAND, MOSS, MOWDEY, NABORS, NICHOLS, PARLER. PAYNE, PERRY, PIERCE, POOL, POOLE, PRICE, RAWLS, RAY, REDFORD, REDUS, RHODES, RICHARDSON, ROBINSON, ROSELLE, ROWE, RUSSELL, SAVELL, SHAFER, SHAFFER, SHELTON, SHUMAKE, SIMS, SMITH, SPARKS, SPENCER, SQUIRES, STEPHENS, STEWART, STRATTON, STRICKLAND, SUMMERS, TEMPLE, TERRY, THAMES, THIGPEN, THOMAS, TIDMORE, TUCKER, WARD, WALTON, WASHBURN, WEAVER, WEMYSS, WILLIAMS, WILSON, WOOLLEY, WRIGHT, YEAGER
Did you know that you can download and read Ebooks on a computer or Iphone? Click below to learn how.
A Collection of PERRY COUNTY ALABAMA PIONEERS BIOGRAPHIES & GENEALOGIES VOLUME II