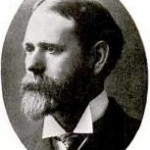 PEYTON G. BOWMAN
BIOGRAPHY and GENEALOGY
(1854 – 1916)
Jefferson County, Alabama
Peyton G. Bowman was an attorney at law in Birmingham, Alabama. He was born in Barnwell County, S. C, Nov. 9, 1854, the son of Peyton G. and Ellen (Tobin) Bowman. His father was a native of Virginia and his mother of South Carolina. They had seven children, five of whom were living in 1904.
Peyton G., Jr., was educated at Wofford College, Spartanburg, S. C. He taught school and read law for several years in South Carolina and in Texas. He was admitted to the bar in San Antonio, Texas, in 1874, and practiced law there until 1882.
He returned to South Carolina and located at Sumter, where he remained until June 1888, when he came to Birmingham and practiced his profession with the firm Bowman & Harsh. In 1900 C. P. Beddow was admitted to the firm and the firm became Bowman, Harsh & Beddow.
Mr. Bowman never sought an office of any kind whatever, but gave his attention entirely to his profession. He took an active part in the Kolb campaigns for governor in 1892-94. He was chairman of the Kolb campaign committee, and he also stumped the State in the interest of Kolb. Mr. Bowman campaigned for Prohibition in 1907 but reversed his opinion in 1911 and took "the anti-prohibition side in a major campaign debate."
He married, Nov. 7, 1877, Marguerette Grenet, of San Antonio, Tex., whose father was Henry Grenet of San Antonio, Texas, a native Frenchman. Peyton Green Bowman died September 16, 1916, and is buried in Savannah Advent Church Cemetery, Bishopville, Lee County, SC with his parents and sister
SOURCES
1900, 1910 Jefferson County, Alabama census: 1870 San Antonio Texas Census
Notable Men of Alabama: Personal and Genealogical, Volume 2 edited by Joel Campbell DuBose
Find A Grave Memorial# 32962645# 32962647# 32962643
Start researching your family genealogy research in minutes for FREE! This Ebook has simple instructions on where to start. Download WHERE DO I START? Hints and Tips for Beginning Genealogists with On-line resources to your computer immediately with the a FREE APP below and begin your research today!