(Transcribed and unedited story from a WPA (Works Projects Administration) writer, William P. Burke
BIGGEST RABBIT RAISING INDUSTRY
Scottsboro, Jackson County, Alabama
written ca. 11/22/37
by William P. Burke
Unique in Scottsboro is the size and prominence of it rabbit raising industry, known to buyers all over the United States. Famed because its bunnies are better as well as bigger, the Scottsboro club has raised around a score of "grand champions," the highest distinction in rabbitdom, attained only after a rabbit has won three blue ribbons in different shows. No city in the United States has come near to equaling Scottsboro's record in prize winning entries.
But prize money is only a minor item in the income of the four principal Scottsboro breeders: Grocer Wayne Wood, Wholesaler W. H. Butler, Bank Teller C. D. Smith and Printer A. B. Cotton. Already this year (1937) they have sold around 200 rabbits for meat at 40 cents a pound, shipped away 300 high priced breeders at prices ranging from $10.00 to $17.50 a piece, and contracted for about $600 worth of rabbits for laboratory purposes. They have found the New Zealand White to be the best all-round rabbit, raise this species almost exclusively.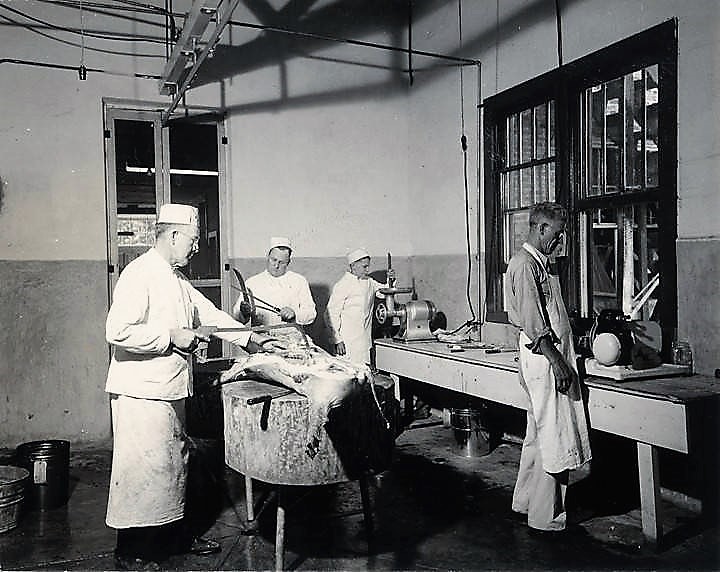 Slicing and grinding meat in the cutting room at the locker plant in Scottsboro, Alabama ca. 1930s- 40s (Alabama Department of Archives and History)
Ref: Alabama Magazine
Issue of 11-22-37
Prior to statehood, Alabama was a vast wilderness with a large Native American population. It is only natural that when new immigrants from other states arrived, conflicts over the land would arise. Soon, these small conflicts exploded into war.
Alabama Footprints Confrontation is a collection of lost and forgotten stories that reveals why and how the confrontation between the Native American population and settlers developed into the Creek-Indian War as well as stories of the bravery and heroism of participants from both sides.
Some stores include:
Tecumseh Causes Earthquake
Terrified Settlers Abandon Farms
Survivor Stories From Fort Mims Massacre
Hillabee Massacre
Threat of Starvation Men Turn To Mutiny
Red Eagle After The War
Amazon.com – Read eBooks using the FREE Kindle Reading App on Most Devices
READ THIS BOOK FOR FREE ON YOUR COMPUTER!