Anne Royall (June 11, 1769 – October 1, 1854) was a traveler and writer and was one of the first newspaperwomen. She married Captain William Royall, a gentleman farmer who served in the American Revolution. When he died in 1813, she traveled Alabama for the next four years and wrote letters to her friends about the evolution of the young state. The letters were published as a book entitled Letters from Alabama in 1830.
In January of 1818, Anne was in Huntsville, Alabama and she provides a wonderful description of the growing community in this transcribed letter.
Huntsville, January 1st, 1818.
Dear Matt,
Now here is the twentieth letter I have written, without receiving an answer to one of them, until to-day—and that is no answer I may say. What are you about? Have you got the blues again, or blacks; or are you in love? I have been thinking that your complaint is altogether a love matter—I am told it has that effect sometimes. Should that he the case, you had better apply to Dr. Matrimony at once, as delays are dangerous. Cupid is a cunning rogue—very likely he has given you a sly shot in your sleep.
But seriously, I am sorry to hear you mend so slow. I am convinced this climate would restore you. It is summer here, compared to our country: the trees, many of them, are still green.
Captain Hunt waged war with rattlesnakes
HUNTSVILLE. You will expect something of this flourishing town. It takes its name from a man called Captain Hunt, who built the first cabin on the spot, where the Court House now stands, in 1802. In front of this cabin, which was built on a high bluff, there was a large pond, which is now nearly filled up by the citizens. Captain Hunt cleared a small field west of his cabin, the same year. This was between his cabin and the Huntsville Spring. He spent much of his time in wageing war with the rattlesnakes, who were very numerous in his day, and had entire possession of the Bluff at the Spring. Thousands of them, it appears, were lodged amongst the rocks, and the Captain would shoot hundreds of a day, by thrusting long canes filled with powder, into the scissures1 of the rocks.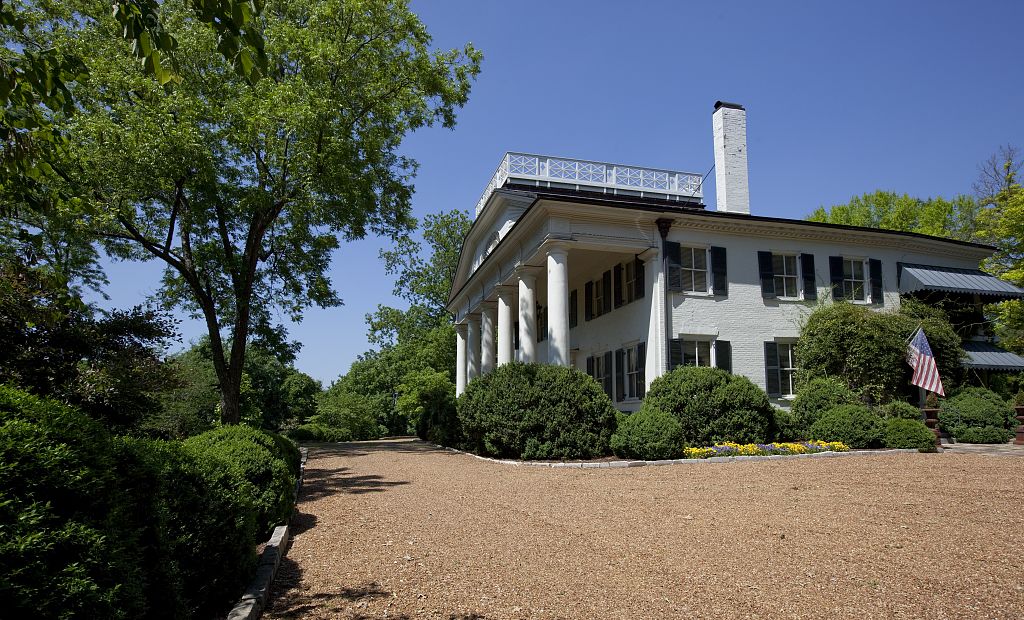 Col. Leroy Pope mansionin 2010 photographed by Carol Highsmith (Library of Congress)
Hunt abandoned his settlement
Whether Hunt, or the snakes acquired the victory, I have not heard, as he was compelled to abandon his settlement to a more successful rival, who purchased the land. This was Colonel L. Pope, who, in company with Dr. Maning, and others, purchased the land at Land Office opened in Nashville; and though this sale did not stand, these gentlemen at this time own vast bodies of land around Huntsville, and are the wealthiest men in the Territory. Colonel Pope, it is said, tried hard to have the name changed, to Twickenham, after the residence of his namesake (and from whom it is said he is descended) in England. But, places, somehow or other, will retain their first names. The land around Huntsville, and the whole of Madison county, of which it is the capital, is rich and beautiful as you can imagine; and the appearance of wealth would baffle belief.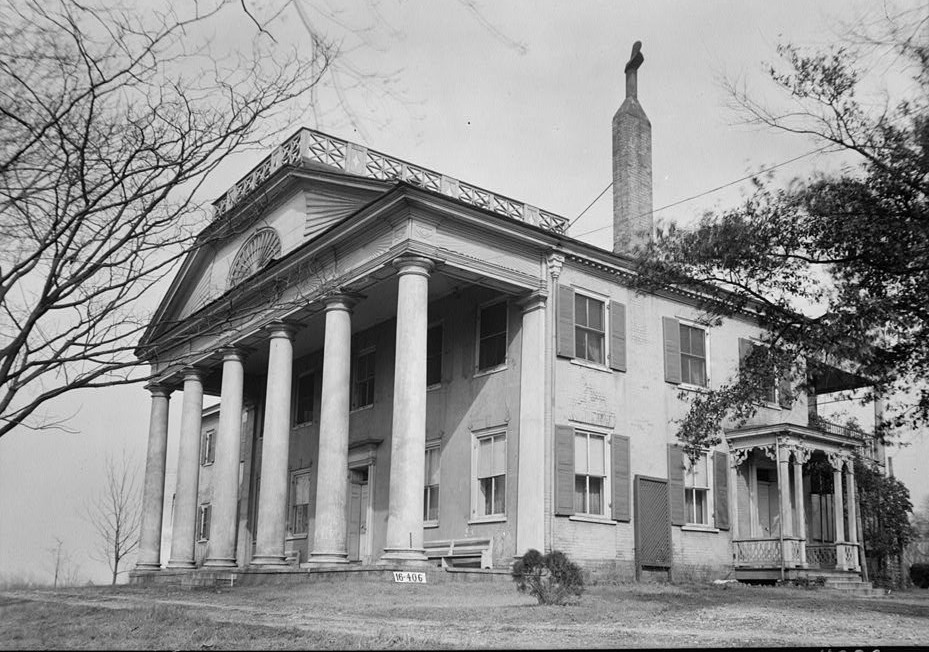 Leroy Pope Mansion 1934 photographed by W. N. Manning (Library of Congress)
Large square in centre of town
The-town stands on elevated ground, and enjoys a beautiful prospect. It contains about 260 houses, principally built of brick; has a bank, a court house, and market house. There is a large square in the centre of the town, like the towns in Ohio, and facing this are the stores, twelve in number. These buildings form a solid wall, though divided into apartments.2 The workmanship is the best I have seen in all the states; and several of the houses are three stories high, and very large. There is no church. The people assemble in the Court House to worship. Huntsville is settled by people mostly from Georgia and the Carolinas—though there are a few from almost every part of the world;—and the town displays much activity. The citizens are gay, polite, and hospitable, and live in great splendor. Nothing like it in our country.
Yours, &c.
1When they were diging the vault for the Huntsville Bank, they found a vast aumber of snake skeletons.
2The author had not seen Philadelphia, or any town east of the Allegheny.
SOURCE:
ALABAMA FOOTPRINTS: Settlement: Lost & Forgotten Stories is a collection of lost and forgotten stories of the first surveyors, traders, and early settlements of what would become the future state of Alabama

.
Read about:
A Russian princess settling in early Alabama
How the early setters traveled to Alabama and the risks they took
A ruse that saved immigrants lives while traveling through Native American Territory
Alliances formed with the Native Americans
How an independent republic, separate from the United States was almost formed in Alabama