SAMUEL NOBLE
A Sketch by His Daughter, Mrs. Kate Q. Roberts1
Samuel Noble, pioneer of the iron industry in the South and prophet of steel was born in Cornwall, England, in 1834. When he was nearly three years old, his father left England and settled in Reading, Pennsylvania.
In 1854 the Noble family decided to make their home in the South, and came to Rome, Ga. They built the first foundry and machine shops in that section, the firm consisting of James Noble, and his three elder sons: John, Samuel, and William.
 Samuel Noble (1834-1888) founder of Anniston (The Anniston Star)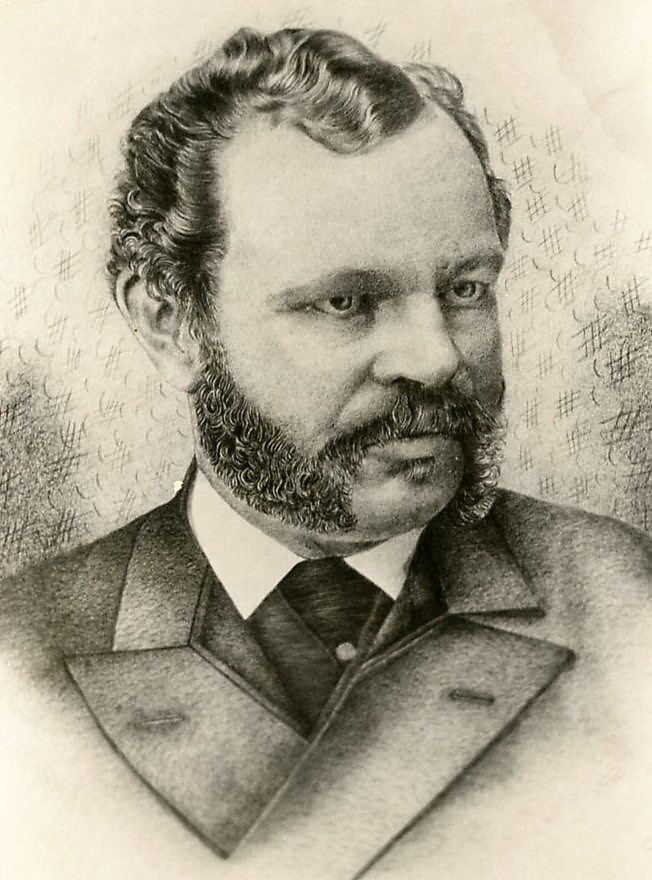 Noble Brothers built furnaces in the South
In 1857 the Noble Brothers built the "Alfred Shorter", the first locomotive built south of the Mason and Dixon line and the blowing engines or Etna, Stonewall, Round Mountain, and other furnaces were all built by them.
During the war between the States, they made the ordinance for the Confederate army (cannon-iron and brass) with their caissons, until their furnaces and foundries were burned by the Federal forces. While keeping ahead of a Yankee raiding party on his way to Rome, Ga., with his friend, Bishop Quintard, he came upon the ruins of the old Oxford furnace burned some time before by the Federals. As he gazed over the peaceful valley he said: "This is where I shall build my city." And by the power of his energy and the force of his ideals his dream has been fulfilled.
He managed to obtain the property, and while travelling for the firm of Noble Brothers, he met in Charleston, General Daniel Tyler, who was much interested in the development of iron properties in the South. A partnership was formed, consisting of Noble Brothers and Gen. Tyler and sons, and the Woodstock Iron Company organized. There were about three farm houses on the property-everything had to be built from the ground up.
Samuel Noble home (Anniston Star)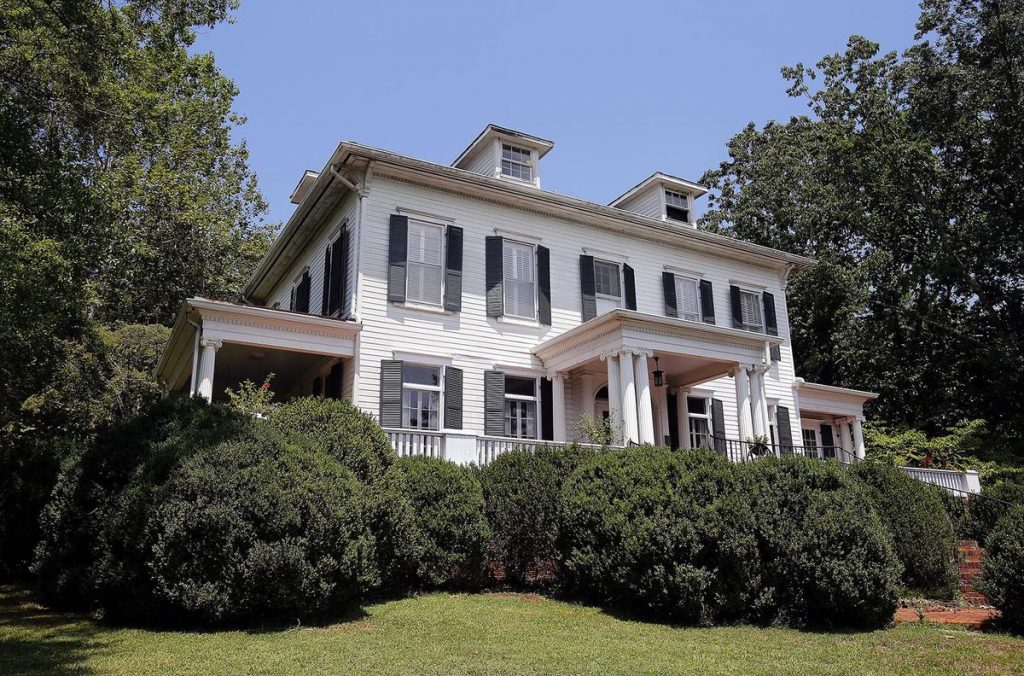 Skilled workers from England and Sweden
In 1872 James Noble went to England and brought back skilled workmen, carpenters, stonemasons, men to roast the ores and others. The charcoal burners were brought from Sweden.
In 1873 the first Woodstock furnace went into blast with blowing engines made by Noble Brothers, and the farming valley became a scene of activity. Houses for the workmen around the furnaces and in the coalings a large flour and grist mill, a larger brick store, and other buildings were constructed, and the rattle of wagons and the clang of the furnace, the smoke of the roasting ore took the place of lowing cattle and the furrows of the plow.
Tribute to Samuel Noble
Bill Arp in his tribute to Samuel Noble in the Atlanta Constitution said: "I remember when the great iron eclipse of 1873 came over our infant industries and crushed them, Etna, Stonewall, Round Mountain, Bart, Ridge Valley and many others surrendered; and some were sold out by the sheriff, and some were never resumed, but the fires of Woodstock never went out. By day and by night the molten mass continued to roll from her furnace, every train carried her charcoal iron into Northern markets."
Iron had fallen from $40 to $18 a ton, and the wonder was how Woodstock could survive the shock. Sam Noble saw the impending crash and at once shipped by express several parcels of their iron to different points up North. Arriving at Springfield, Mass., he went into the Government Armory with a piece of charcoal pigiron under his arm. He laid it down by the riphammer and said: "My friend, I am one of the craft, I am working iron-now I want you to try this sample." The man did so willingly. When it came to a white heat he put it under the steam hammer and crushed it into form, and welded and hammered it, and after careful, patient inspection he said: "This is the best iron I ever handled, where was it made?" Mr. Noble told him and said: "My friend, I wish to make a customer of this armory, will you help? "The man called up the superintendent and had him inspect the iron; and the result was a new customer at a living price. And so he followed up the other samples and made more customers. He knew no such word as fail. He was inventive in resources and aggressive in executing all his -ill his plans and schemes; and while the depression gripped the country the Woodstock Iron Company determined to hold on for the sake of its employees, and the iron continued to pile up in the yard and they borrowed on it at 12% and issued script to the employees which was equal in value to the U. S. Government, and was accepted throughout the surrounding county at its face value.
Woodstock's name changed to Anniston
When the question of a Post Office came up, it was found that Alabama had a Woodstock, so the name of the town was changed to Anniston (Annie's Town) in deference to Mrs. Alfred L. Tyler, but the name of the Woodstock Iron Company was unchanged.
Mr. Noble knew every phase of the industry and was observant of the slightest detail. He had been known to stop an ore wagon in the street and make the driver change his harness so the load weighed less heavily on the animals.
He was ever looking out for the welfare of his workmen, urged them to have homes of their own, and gave them special terms. One of the old darkies said to me a few years ago: "If I's listened to Mr. Noble, I's a benn well off now."
In 1876 Woodstock Iron was used in the great Corliss engine of the Philadelphia Centennial, and I have been told that in the great San Francisco earthquake, Woodstock iron stood the test. In 1879 Woodstock iron had reached such a point that a second furnace was blown in. In 1878, also, Mr. Noble, alive to the devastating of our forests, while in Europe visited Austria, and was shown every phase of the replanting of forests by Prince Schwartzenberg, who was a great factor in its working in that country. He brought home some seeds of Austrian pine, but I do not think they grew. In 1881 he planted the Noble Avenues of water oaks that adorn our city. Many of them have been sacrificed, but enough remain to remind me of the hundreds that once beautified the streets. He also studied iron furnaces both in Austria and in England. In 1881 a waterworks was built, in accordance with his plans; the stand pipe being on the hill by Hillside Cemetery.
Introduced electric lights to the streets of Anniston
There were already macademized (sic) streets, and from an old paper I quote: "Samuel Noble took long strides when he introduced electric lights into the streets of Anniston. The writer remembers passing through the place when it was in its infancy, and recalls the astonishment of his fellow-passengers when we stopped in the glare of the electric light. No town south of Baltimore was illuminated."
In 1881 he bought the Alabama furnace at Jenifer, abolishing convict labor—and formed a company of which he was president. Later the Clifton Iron furnaces at Ironaton—built by and under the management of Mr. Stephen Noble—paid fine dividends for many years. The Anniston Inn which was one of the earliest of its kind, and well known all over the country, was a product of his foresight. In its halls were entertained men of note from many states, and it was a popular resort for youth and beauty. It was designed by Stanford White—and was destroyed by fire in 1923.
He was a prophet of steel and in 1886 wrote a prominent paper:
"I have for a long time believed it feasible to make seamless steel pipes, and have been looking forward to the perfection of a patent that would make steel pipe cheaper than cast iron. I believe the day will come when steel will take the place if iron in the manufacture of stoves; that the plates will be rolled thin and stamped by hydraulic pressure instead of using cast iron. The whole age is tending to steel which can now be developed so cheaply,"
Interest in Good Works
He was interested in all good works. As one of the members of the original Woodstock Iron Company, he conceived and helped to build Grace Church, which was consecrated in 1885, Later he built and gave to Grace Church the Noble Institute for Girls—in the same block—and also a school for boys. When Grace Church found itself-unable to keep up the school for boys it was leased to the city and finally destroyed by fire.
His workmen knew him as one who helped and encouraged them, but expected the very best work from them. Of his benefactions he never spoke, but many struggling young men owed their start in life to him.
He wished only steady growth for Anniston and opposed the "booms" that arose throughout the Country, and persistently refused to allow his name to be used in any such.
He kept open house, and not many days passed without guests  – Pig Iron Kelly, Bill Arp, Henry W. Grady, our dear old Bishop Wilmer, Bishop Quintard were often there and scores of prominent men and women were welcome guests while many friends in the town met at social gatherings at the home.
Rode the mountains and valleys in Cedartown
For many years he was a familiar figure in the countryside on Billy, his special mount and he rode through the mountains and valleys from Cedartown through all the surrounding counties; and all through Clay and Talladega counties he drove for miles with his two hardy French ponies and cart, inspecting ore lands and woodlands.
His sixteen years of hard work had changed the fields into a busy city and made Woodstock Iron Company a three million dollar corporation, with two charcoal furnaces, two coke furnaces hearing completion, owning a railroad extending from Gadsden to Sylacauga, also many acres of coal ore and woodland, with thousands of operatives. He was also an important stockholder in many other enterprises and interested in everything that came to Anniston.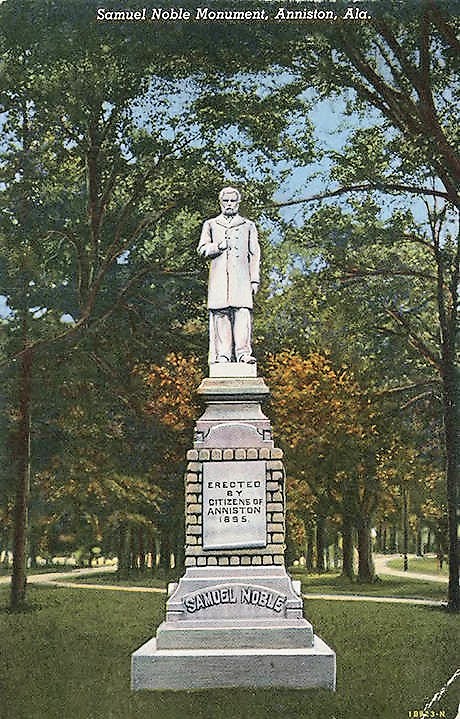 Passed away in 1888
On August 10th, 1888, he was occupied in arranging an exhibit of Anniston products in the freight car, "Alabama On Wheels" that was to tour the country. He was alone in the car when for some reason—it was shunted to Oxford three and a half miles away. Instead of waiting for his carriage he walked back to Anniston through the noonday sun, stopped at a drugstore and drank a glass of iced milk. He ate a hearty dinner and that afternoon was seized with an attack of acute indigestion which caused heart failure. On the 13th of August he passed away, a martyr to his zeal for the city he had founded.
Telegrams came from all parts of the country, and from the Anniston, Talledega, Birmingham, Chattanooga, Baltimore, Montgomery, Selma, Charleston and other papers came tributes bearing on his loss, not only to Anniston but to the whole South.
The Charcoal Iron Workers Association, of which he was president, paid tribute also to him and placed on the frontis piece of their Journal a photograph of Mr. Noble which they were able to do by courtesy of the Iron Age. This latter paper had also a long article deploring his loss.
On announcement of his death, bells tolled all over the city and every business house and industry was draped in mourning. Also railway engines entering the city. All the business houses closed
1This sketch of Mr. Noble, and incidentally of his connection with the iron foundries which he operated prior to coming to Alabama and which will •form a part of the industrial history of Anniston, is given in connection with Mrs. Roberts paper on the Confederate foundry, as a further contribution of the family to the life of that section of northeast Alabama.
SOURCE
This article has been transcribed from The Alabama Historical Quarterly, Vol. 18, No. 04, Winter Issue 1956
Notes and links by transcriber:
ALABAMA FOOTPRINTS Statehood: Lost & Forgotten Stories Once Alabama was admitted as a state of the United States of America on December 4, 1819, a great wave of immigrants from other states and countries came by flat-boats, pack-horses, covered wagons and ships to become the first citizens of the state.