Saturdays in Town in the Country
by
Becki McAnnally
My husband and I both remember a time when you went to "town" on Saturdays. There were lots of good reasons to go to town…buy groceries , shop the clothing stores, see your friends and relatives, and catch up on all the gossip. But there were other times when others knew it was a good time to show up in town when there would be a crowd available to hear them…. preachers and politicians.
Big Jim Folsom gubernatorial campaigns
My earliest recollection of such a day was during one of "Big Jim" Folsom's gubernatorial campaigns. I was about four years old. We arrived in Alabaster , Alabama that  morning , and there were already huge crowds of people milling around the sidewalks and in the stores.
"Big Jim" Folsom shows the gubernatorial candidate in 1954 near Hutchins Quick Lunch that was on Greensboro Avenue near the courthouse in
Tuscaloosa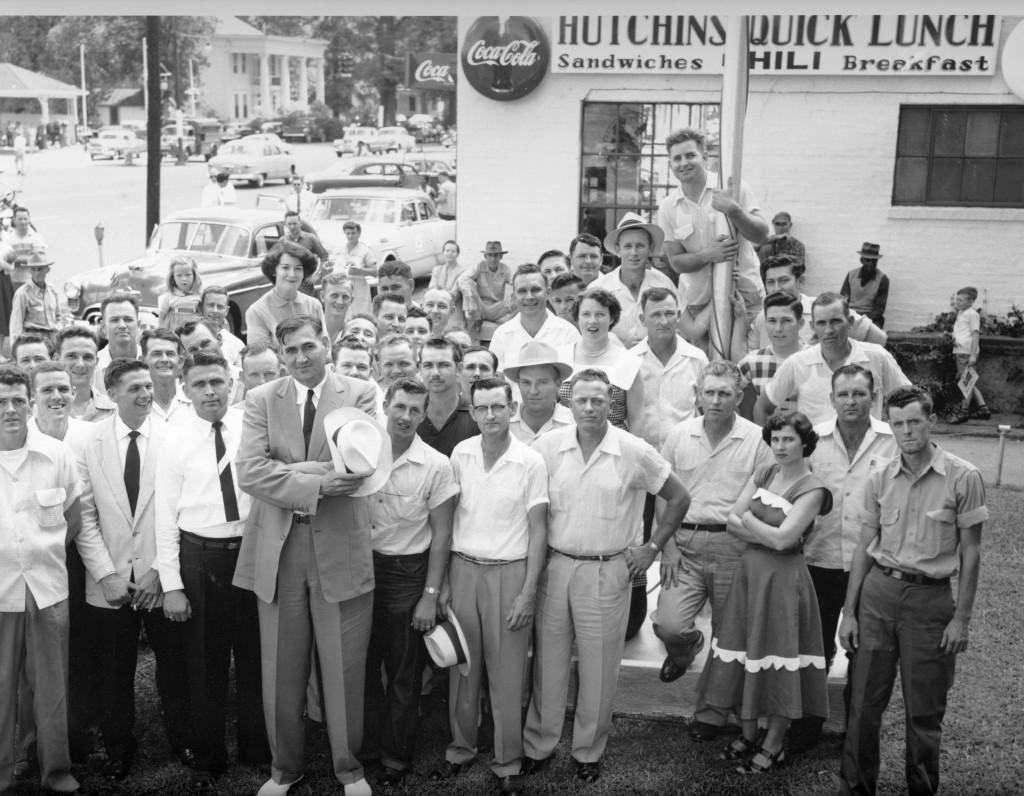 Daddy parked behind the Power company and as we were coming up to the sidewalk, we could hear guitar and fiddle music playing over a loud speaker. As we stepped up on the sidewalk, there was a huge trailer with a full band, playing a "Y'all Come", the campaign song that EVERYBODY knew… and there was a man wearing a cowboy suit and hat singing into the microphone.
Only Patrons can comment or chat.
Join our Alabama Pioneers Patron Community!
The Strawberry Pickers from Garden City
On the side of the trailer was a sign that read "Folsom for Governor" and the name of the man who was singing was Roland "Racehorse" Johnson, and his band, the " The Strawberry Pickers" from Garden City, in Cullman, Alabama.  (Little did I know that he was from the very town where my future husband was growing up! And that Mr. Johnson's own mother, Mrs. Vera, was the best coconut cake and fried pie maker, and all around best cook in Garden City!)
My daddy was carrying me, so I had a really good view. While he talked with his many friends , I watched the people and listened to the music. There were so many people! Then, we stood for the longest while listening to "Big Jim" speak and to the band playing.
Gov. Jim Folsom family 1958 (Alabama Department of Archives and History)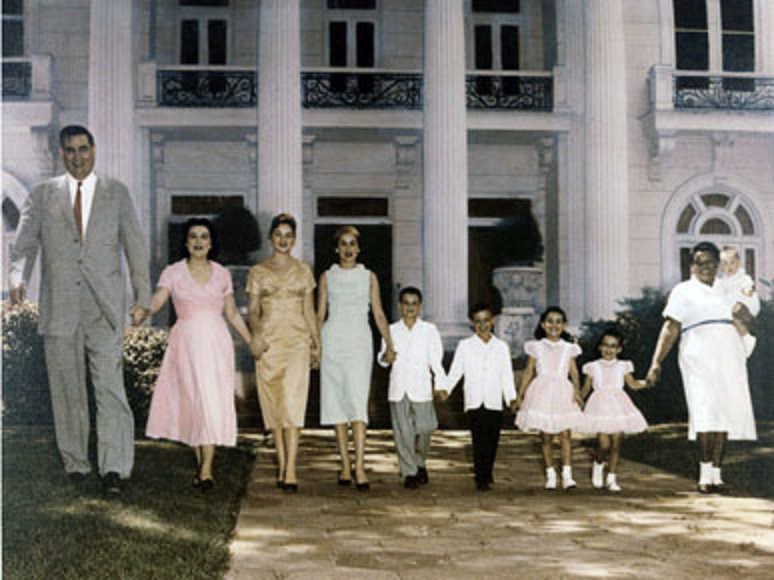 I Drew the Winning Number
I remember how tall and what a large man Mr. Folsom was. Then we moved on down the sidewalk to the 5&10 cent store, where there was a drawing to be held for a prize. The owner of the store was a good friend of my parents, so he asked Daddy if I could draw the winning number from the big fishbowl. Since my Daddy said it was ok, I reached in and pulled out a number. I thought that was really something special.
Our next stop took us to the preacher who had been preaching in the same spot on the corner, pretty much most of the day. A large crowd stayed around him, and I could hear the "Amens!" and "Praise God" from the audience. I was too young to know what that was about, so I got restless , and we moved on.
Unlock all Alabama Pioneers stories
Alabama Pioneers members see thousands of stories like this one everyday.
Wagon drawn by mules
My husband remembers the same type of things in Garden City. He also remembers  his great uncle Otis bringing his large family in on a wagon drawn by mules, then later, in the first truck Uncle Otis bought!  There was the same band , the same "Big Jim" Folsom politicking, and there was also a preacher with a loud speaker attached to his car. It really is a small world!!!
Garden City was a bustling, thriving city then, and all the merchants would put money in a pot for a drawing . Dale remembers there being a $40.00 pot once, and everyone wanted that! He also remembers riding his horse in the 'Strawberry Festival" Parade, in which his horse kicked a dent in Big Jim's car!!
Everybody was doing the same thing
Its humbling to know that in the 40's and 50's, probably in every small town in the South, everyone was doing the same thing on Saturday, or pretty close to it. I think it was so important to people for the communication and entertainment that they so desperately needed, and that it lasted as long as it did. The incursion of TV into our homes and the turbulent events of the 60s and 70s did more to change this tradition than anything. I didn't realize it at the time, but we lost a wonderful sense of family and neighborly contact when we lost the Saturdays in town in the country!
Faith and Courage: A Novel of Colonial America Inspired by real people and actual events, the family saga of colonial America continues with Ambrose Dixon's family. Faith and Courage presents the religious persecution of Quakers in Pre-Revolutionary War days of America intertwined with a love story.