EAST LAKE ATHENEUM
Private School for Young Ladies
East Lake Atheneum in Birmingham, Alabama was a former private seminary of learning for young ladies.
East Lake Atheneum ca. the 1890s (Birmingham Public Library)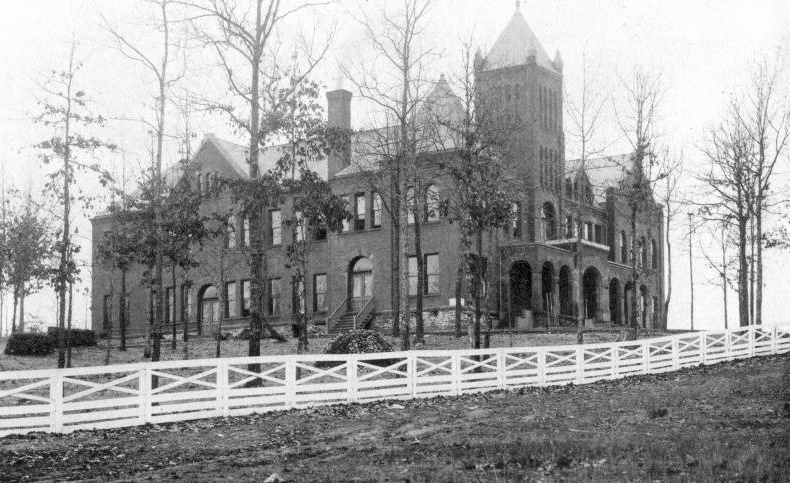 It was founded by Dr. Solomon Palmer, for years a leading educator of the South, and at one-time state superintendent of education. Located at 4th Avenue South and 82nd Street, the land was donated by the East Lake Land Company.
The school was locally promoted by a number of public-spirited men of Birmingham and the community of East Lake, then a promising suburb, and by the East Lake Land Company. It was chartered by the legislature December 5, 1890.
Number 62 Trolley Car advertising opening of East Lake Atheneum ca. the 1890s (Birmingham Public Library)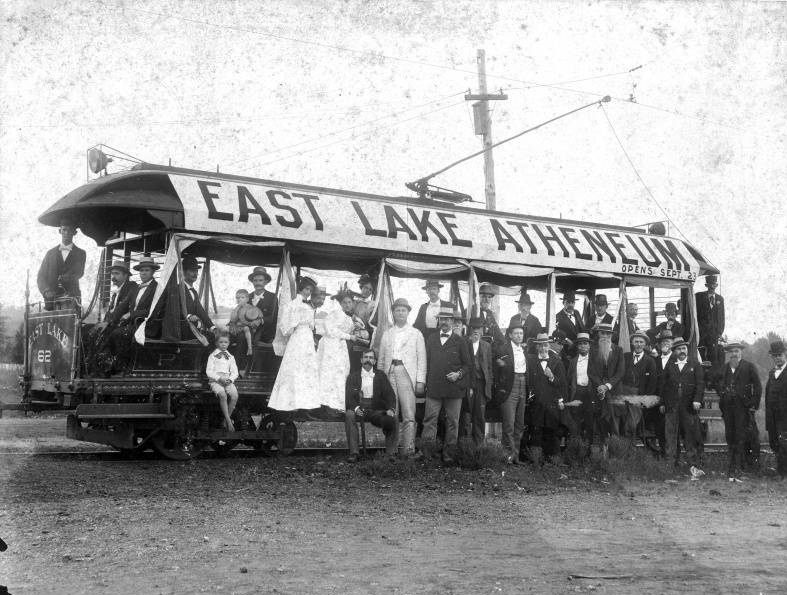 Trustees were from Howard College
Many of the school's trustees served were also trustees of Howard College.
Its first board of trustees included Robert Jemison, Solomon Palmer, A. D. Smith, Dr. J. H. Phillips, W. H. Wood, S. L. Robertson, R. G. Hewitt, M. V. Henry, C. C. Jones, J. H. Finch, James Van Hoose, Henry H. Brown and James Wilson.
The charter declared its objects to be the "establishment, organization and maintenance of an institution of learning of high grade for the education of young women, in the arts, sciences, and practical industries."
Steam heated building
The first session opened October 7, 1890, with an enrollment of 180 students. The main building, a large brick, and stone Romanesque-style classroom and dormitory building was completed in 1892 and 212 girls entered the school the next Fall. The stone was taken from a local quarry a mile away. The building was heated throughout by steam and had a chapel, recitation, dining and enough bedrooms to accommodate 150 to 200 pupils.
Ten to twelve experienced teachers taught preparatory, classical, scientific, normal, musical, art, elocution, stenography and industrial courses were offered.
In 1893, the school had to cause briefly due to the 1893 financial panic.
Dr. Palmer continued as its head until his death May 15, 1896. He was succeeded by Rev. J. B. Cumming, who served for two years, followed by Dr. W. S. Weissinger.
Became an orphanage in 1900
About 1900 the school closed, and the property passed into the hands of the Sisters of Charity of the Roman Catholic Church and they operated an orphanage there until 1971. The orphanage was called St. Thomas Home=on-Hill. When the orphanage closed the building was used for the offices of the Diocese of Birmingham.
East Lake Atheneum when it was an Orphans home in 1900 (Birmingham Public Library)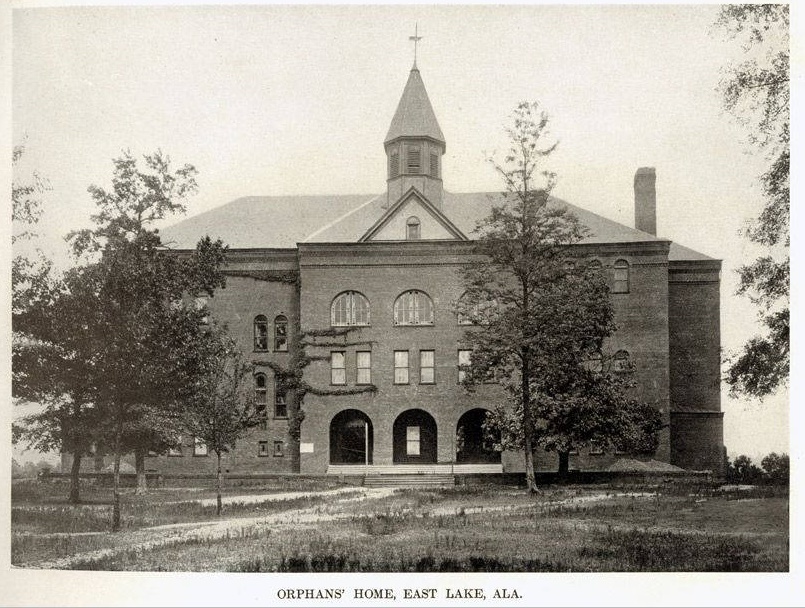 Ossie Ware Mitchell Middle School in 2006
In 2001, the property was purchased by the Birmingham City Schools and a new school was built which opened as Ossie Ware Mitchell Middle School in 2006.
SOURCES
Kce Child Welfare activities.
References.—Catalogues, 1890-1896.
History of Alabama and dictionary of Alabama biography, Volume 1 By Thomas McAdory Owen, Marie Bankhead Owen
Riley, Benjamin Franklin, Alabama as it is: or The Immigrants and Capitalist's Guide Book to Alabama, Brown Printing Company, State Printers and Binders, 1893
READ THIS BOOK FOR FREE ON YOUR COMPUTER!
THEN SIGN-UP FOR THE 30-DAY FREE TRIAL BELOW: