(Transcribed from The Grand Bay News, Grand Bay, Alabama, October, 1915)
The political pot is beginning to boil in Mobile county. The Mobile Item mentions that Judges Semmes, Berney, Brown and Smith will offer for reelection with a possibility that Mr. J. W. Goldsby may also enter. Mr. Dorion will run for tax collector and Mr. Lourendine for assessor. It is rumored the latter will have opposition in the person of ex-Sheriff Thos. T. Palmer and Chief of Police Crenshaw. The Orange Belt section will have something to say about these offices for there will be several hundred voters in this part of the county when the next election rolls around.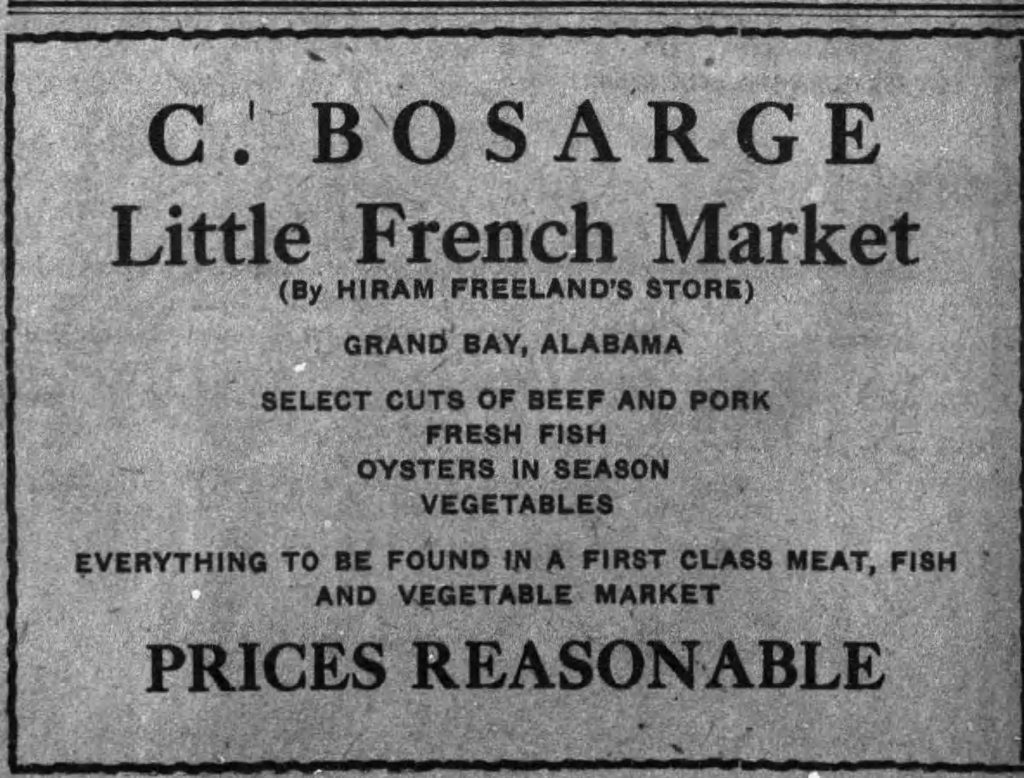 SCHOOL CONDITIONS AT GRAND BAY
At a special meeting of the Mobile County School Commissioners it was decided not to open the Faulk School near Grand Bay this year, but to transport the children to the Grand Bay school; this necessitated the hiring of another teacher for Grand Bay and Miss Inga Olsen of Mobile, was selected for the position. The extra room will be provided by using the union hall. It is the opinion of the Board that better work will be done at less cost by consolidating schools wherever it can be done, and this policy will be pursued in the future.
Indications are that another teacher may be necessary, before the year is over if all the new people come in who have signified their intention of coming to occupy their lands, and, of course, that spells a new school house of greater capacity for another year. The people of Grand Bay are determined when that time comes that it shall be a brick building of which the community may be proud. The present building is not two years old, but it already too small.
More high school work will also be asked for by the patrons, and no doubt will be supplied by the board. In the past, it was not a hardship to sent the advanced pupils in to the city school to finish, but with the increased population this will soon be impracticable and too much to ask of the people outside of the city. The general school interests are advancing so rapidly it will be a big problem to care for advanced students.
Efficiency and best results can only be obtained by hearty co-operation between patron, teacher and school board, and this is why Grand Bay is forging ahead as fast as it is in an educational way.
The commissioners recommended a local board of trustees for Grand Bay School composed of Colin Macdonald, C. W. Stillwell and H. W. Freeland, who will have general supervision of the buildings and grounds, and who are asked to make recommendations to the commissioners.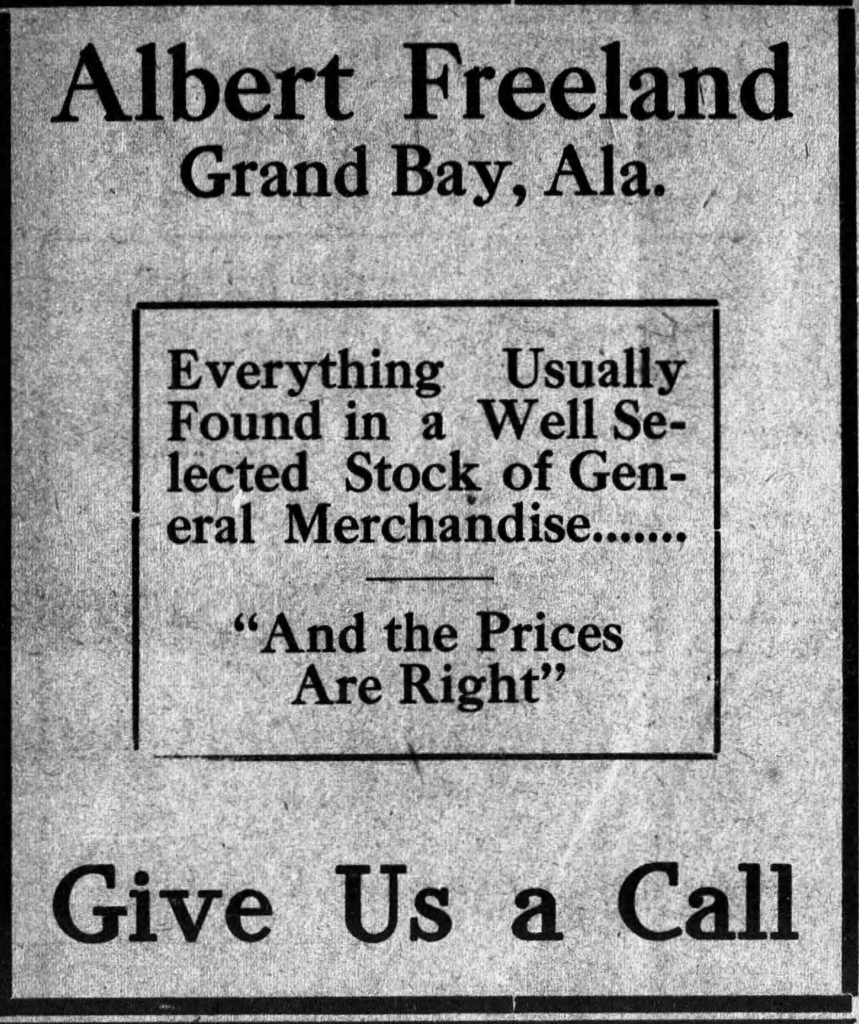 HANDSOME DISPLAY
Of Fruit and Jelly in City Bank Office
Bottled pickles, jellies and preserves in most attractive style and "too good to eat" have been added to the display of Cashier Arthur C. Tonsmiere of the National Bank of Mobile, and drew the attention of hundreds of people as they passed in and out of the bank building.
These fine examples of culinary art were the handwork of Mesdames J. S. Persons, G. T. Rosson and F. E. Smee and Miss Dora Smee, of Bayor la Batre, Ala. This attractive display, said Mr. Tonsmeire, will be added to by the ladies named in a few days. the display will be kept in the bank until the Gulf Coast Fair opens when they will be transferred to the women's building at the fair grounds.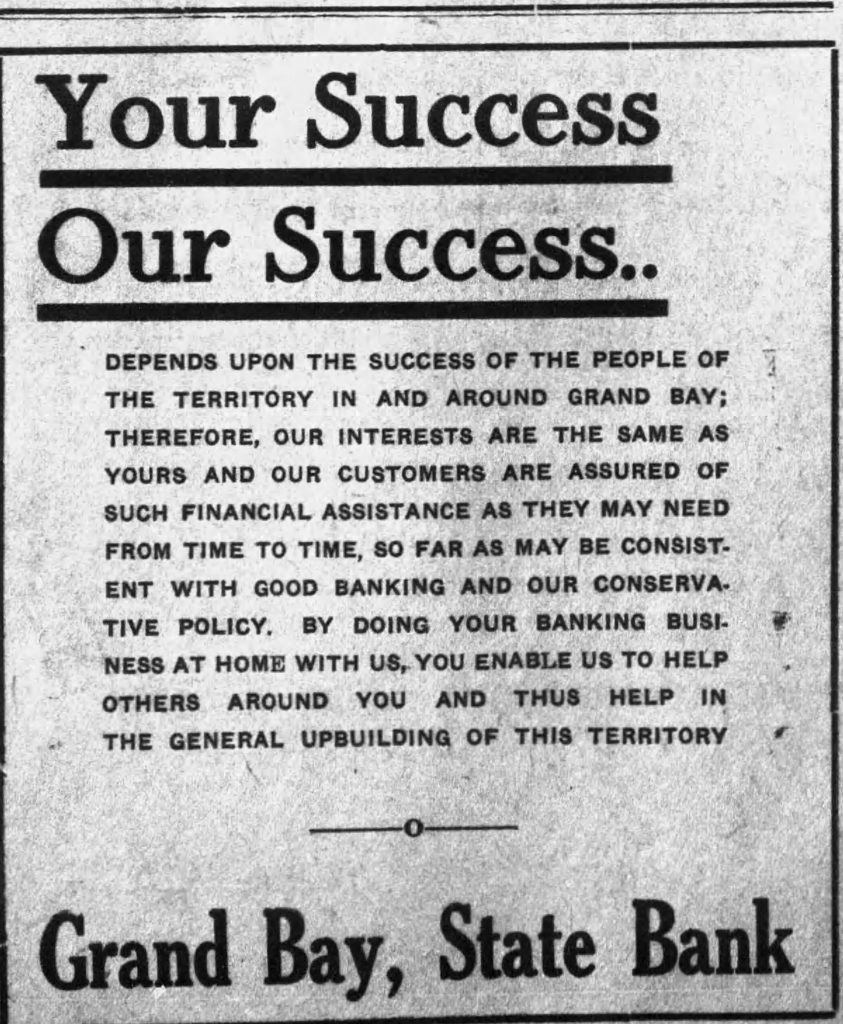 FRATERNAL
Grand Bay Lodge No. 767 A. F. & A. M. Regular communication on the second and fourth Tuesday in each month at 7:40 p.m. J. C. Kelsey, W. M.; E. F. Hemphill, Secretary.
Odd Fellows meet every other Saturday night at 7:30 o'clock, I. O. O. F. Hall. Visiting Odd Fellows cordially invited.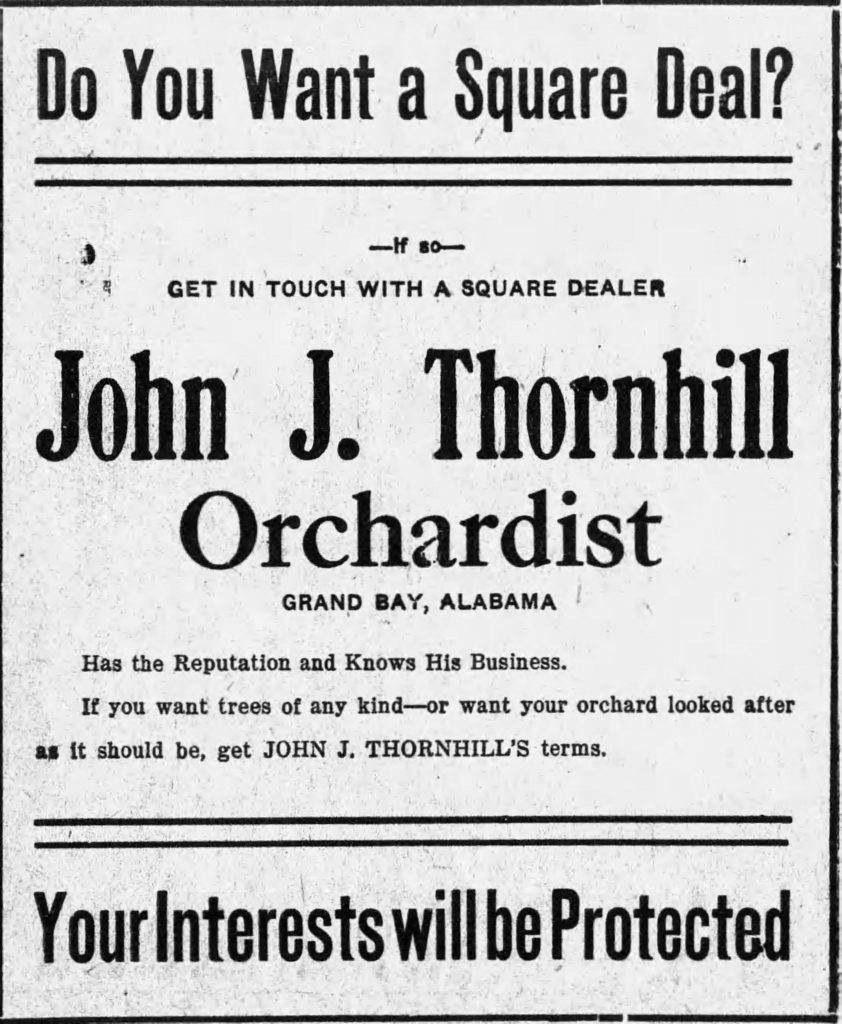 K. &. L. of S.
President, Mrs. Fannie M. Hebert;
Vice-President, W. R. Long;
Second Vice-President, J. V. Sims;
Financier, Mrs. Nellie Chapman;
Secretary, Pearly R. Murray;
Prelate, Mrs. Jennie L. Epperson;
Conductor, Harry T. Hawkeshead;
Sentinel, Walter D. Rhodes;
Guard, Thomas J. Dowling;
Mrs. M. A. Fort, Scribe;
Meets second and fourth Fridays, I. O. O. F. Hall.

GRAND BAY CHURCH SERVICES
Methodist Church
Rev. Clendening, Pastor – Service Sunday: 11:00 a. m. and 7:30 p. m.; Sunday School 10:00 a.m.; Prayer Meeting, Wednesday, 8:00 p. m.
Baptist Church
Rev. D. D. Harmon, Pastor – Sunday Service: 11:00 a. m. and 7:30 p. m. Sunday School, 10:00 a. m.
Episcopal Church
Services fourth Sunday in each month, 3 p. m. at Town Hall. Rev. Chipman of Pascagoula, Miss. Rector.
ALABAMA PIONEERS Transcribed Wills and Abstracts of Wills Book I