Schools and Discovery of an inscription on a stone in Cherokee County, Alabama mound land!
CHEROKEE COUNTY, ALABAMA
REMINISCENCES OF ITS EARLY SETTLEMENT
By
Part III
A clipping from the Gadsden Times
(Transcribed from The Alabama Historical Quarterly, Vol. 08, No. 03, Fall Issue 1946)
THE INDIAN MOUNDS
Yet remain a standing mystery to the whites. It is clear to every thinking mind that they were erected by a nation much farther advanced in civilization than any of the Indian tribes known to the whites. They certainly date far back into the ages of antiquity, and were erected as monuments of great victories, or to commemorate the virtues of their renowned warriors.
There was a mound on the bank of the Coosa, on the farm of William McCoy, about three miles from Howel's X Roads, that presented one feature not commonly found connected with the mounds of Cherokee. Before the land was cleared for cultivation, there was a trench or ditch clearly perceptible, about eight feet wide. It was traceable from the second bank of the river, running in a straight line west; then turning at right angles, it ran due south; then in a direct line back to the river. A poplar tree ten feet in diameter grew in and on the ditch.
INSCRIPTION ON A STONE
In the centre of the area enclosed by this trench there was a mound eight or ten feet in height, covering about one-half acre of land. The trench enclosed about four acres. The second year McCoy cultivated the mound land, his plow struck an oilstone, breaking off a piece about six inches long.—He then dug down and took out the remaining portion of the stone. It was octagon in shape, beautifully polished, and bore upon its surface an inscription which no one there, alas! could read. What a pity it was not sent to some museum! I have often thought that stone; in the hands of a scientist, might have become the key to the mysterious history of the Cherokee Indian Mounds.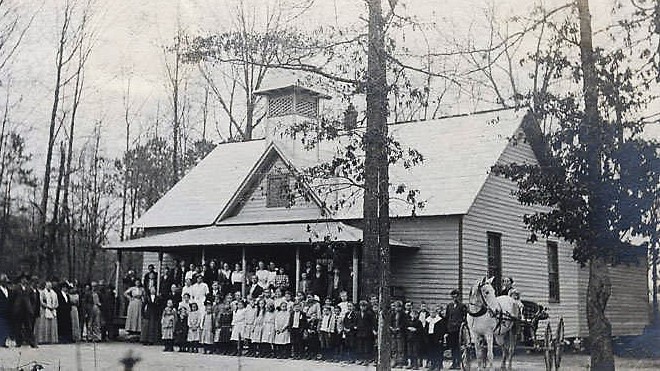 Children and adults in front of a school building in rural Cherokee County, Alabama ca. 1913 (Alabama Department of Archives and History)
EDUCATIONAL FACILITIES
A year passed without the establishment of any school in our neighborhood. William Kincade taught our first school. He was from North Carolina. His school was small.—Silas Spann taught the second.—Both these were three month's schools. For many years our schools were taught by very incompetent men. I remember that one of our teachers wrote a copy for me to write after, of which the following is a literal copy:
"THE RILE OV THREA PURPLEXIS MEE"
Another: "Burds ov a feether allurs flock tugether." The same pedagogue gave out in the spelling class the words hereditary and dy-sentary. There were many applications for positions as teachers by adventurers, many of whom could not work a simple sum in addition. It was said that one of these, before a board of examiners, had given to him to spell the word coffee, which he spelled "kaughphy." There was a good school at Franklin Academy, taught by Britton Webb. The little town of Porterville now occupies the former site of this academy. This school often numbered over one hundred pupils. I think it was instituted in the-year-1838 or '39, and continued in successful operation for many years. A Mr. Smith, whose given name I think was Roberts, also taught a large mixed school in the neighborhood of Gaylesville.—He taught in the same neighborhood for several years. There were two competent men who taught in our neighborhood each term of five months, viz: Dr. David Murrell and Snelson Roberts. With these two exceptions, the schools for several years on the south side of the Coosa, in Cherokee, were schools only in name.
Continued in Part IV
ALABAMA FOOTPRINTS Confrontation: Lost & Forgotten Stories

 is a collection of lost and forgotten stories that reveals why and how the confrontation between the Native American population and settlers developed into the Creek-Indian War as well as stories of the bravery and heroism of participants from both sides.
Some stores include:
Tecumseh Causes Earthquake
Terrified Settlers Abandon Farms
Survivor Stories From Fort Mims Massacre
Hillabee Massacre
Threat of Starvation Men Turn To Mutiny
Red Eagle After The War